Do you need to replace your old gaming headphones but still have no idea how to make this? This article is dedicated to the best open-back headphones for gaming that you can order from Amazon right now and indulge yourself in a good way.

While open-back headsets are only gaining their popularity worldwide, there are still many gamers who have not yet revealed the true comfort of using them on a regular basis. To help more persons get familiar with the pros and cons of open-back gaming headphones, I have prepared this detailed article featuring eight amazing options waiting for their turn to please your ears. Keep in mind that the products mentioned below are from different pricing categories, so you can find both cheap and expensive models with outstanding technical characteristics. Read this article carefully and you will not only find your ideal model but also get informed about the loudness level offered by open headphones for gaming.
Open Back Headphones for Gaming Reviews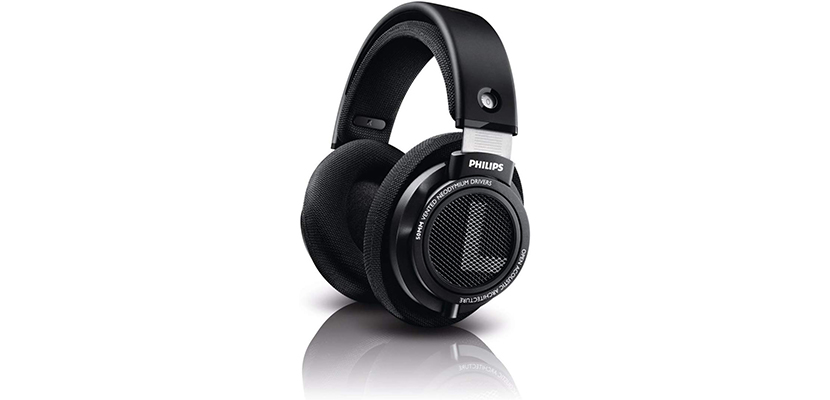 Philips is a well-recognized brand that does not need any advertisement, though I think that this model is a bit underrated today despite a long list of benefits this product can give to its owner. The first thing I would like to praise this product for is the use of 50mm neodymium drivers that are focused on delivering a full spectrum of sound. The second thing to be emphasized is a comfortable double layered but breathable headband cushion that ensures excellent user experience even with the headphones working all day long. This cute headset also has a decent frequency response range of 12-35,000 Hz and sensitivity of as much as 101 dB.
What also needs to be mentioned is that these Philips open-back headphones have a reliable steel headband that combines strength and durability. With almost 5-ft removable cable, this model has all the virtues to be actively used indoors. Similar to other open-back headphones, this model comes with a mini-jack plug of 3.5mm and a 6.35mm adapter. However, I do not think that these headphones should be actively used outdoors as they mostly target gamers and average audiophiles.
Pros
This is a very affordable option with a rich sound range.
The cable looks sturdy and reliable.
Cons
The ear cups cannot be replaced in this model.
There can be some issues with potential sound leakage.
Video Philips SHP9500
I'm not afraid to say that the introduction of this model into the market of open-back headphones in 2019 became a real breakthrough. The first thing that deserves highlighting is the use of specially designed acoustic silk that gives flawless precision damping over the entire frequency range and significantly reduces THD to an unbelievable 0.05 %. Moreover, this item has an incredible frequency response ranging from 10 to 39,500 Hz, which is unreachable for most headsets sold on the market today. Being stuffed with high-power neodymium magnets, the HD 650 for gaming offers maximum efficiency.
Another positive feature I would like to be highlighted here is the item's aluminum voice coils that give a very quick and transient response. The product's high-quality titanium/silver finish will be admired by most users. As you might have already guessed, this model comes with a standard mini-jack plug of 3.5mm and a 6.35mm adapter. My verdict will be that these professional hi-fi stereo headphones should be recommended to esports starts, amateur gamers, professionals, and just those demanding audiophiles whose user expectations are always very high. Just be ready that you can afford this purchase, though I'm not sure that somebody can get disappointed with these wonderful headphones.
Pros
The item is lightweight but durable.
Great choice of materials and catchy design.
The model sits comfortably even during extended sessions.
Cons
The item is very expensive for casual users.
Video Sennheiser HD 650 Open Back Professional Headphone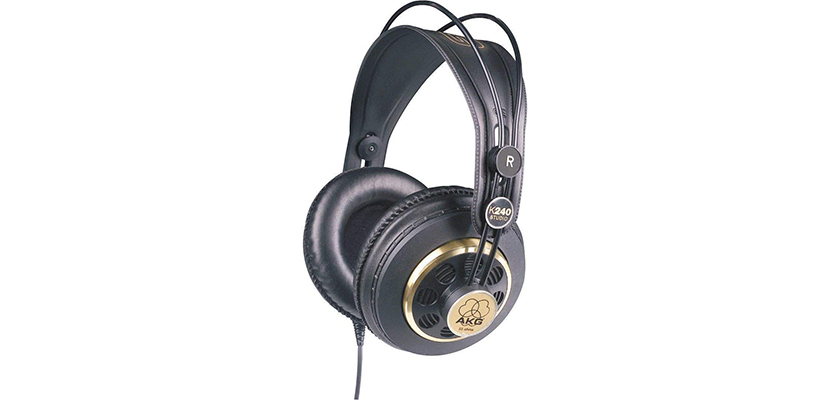 These semi-open over-ear headphones have a conventional design that is intrinsic to most gaming headsets. The first idea that popped in my mind when I was testing this product was that the Austrian manufacturers should not be underestimated. In my opinion, the most notable feature of this model is the use of a detachable input cable that can be easily replaced when needed. By the way, the cable and headphones feature mini XLR connectors providing excellent contact and securing the mechanical connection. What I also like about this model is that it comes with XXL transducers and AKG's patented Varimotion diaphragm that both ensure perfect response at different listening levels. These innovative transducers are also the main reason behind the headset's ability to provide life-like three-dimensional sound.
It is also necessary to point out that the AKG open-back headphones have a self-adjusting headband with a flexible steel structure aimed at delivering ideal fit for different users. However, I do not think that this headset is suitable for outdoor use as neither their simple design nor their mediocre sound isolation can ensure positive user experience in a noisy environment. Therefore, make sure that you are going to buy this semi-open headset for domestic use mainly and playing computer games in particular.
Pros
The item is pretty cheap.
The product looks sturdy and durable.
Cons
These headphones are not that good at delivering bass sounds.
There are some issues with sound leakage.
Video AKG K240 Studio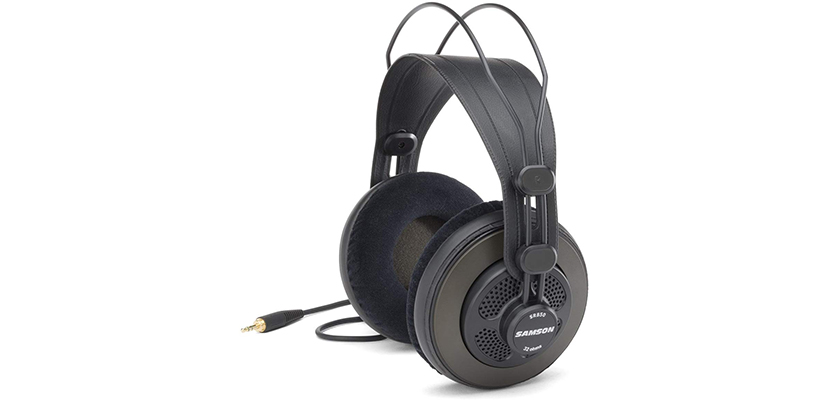 In my opinion, these open-back headphones are a good fit for gamers who spend a lot of time at home playing and need to get distracted from the outer world to enjoy their gaming process. At the same time, they will unlikely work well for those persons seeking open-back headphones that can be used outdoors very often. At the same time, they deliver a high-quality sound as they were designed specifically for tracking, mastering, mixing, and playback, so they are ideal for domestic use. I want also to praise the Samson SR850 frequency response that is provided by the proprietary large neodymium 50-mm drivers having rare earth magnets. Moreover, velour cushioning is a feature that helps your ears and head feel comfortable during long-term listening sessions.
I also like the fact that these headphones can be adjusted easily for optimal fit. Keep in mind that the 6.3-mm adaptor is also included in the purchase. As a conclusion, these headphones are very good for home usage, while customers who follow an active lifestyle should better look for other options.
Pros
They are very cheap.
The velour pads are pleasantly warm and never get overheated even during long sessions.
The product delivers a wide soundstage with a perfect bass response and extended highs.
Cons
Their usage is marked by a noticeable sound leakage.
The item may seem too tight and require some sort of stretching to be used comfortably if you have a big head.
Video Samson SR850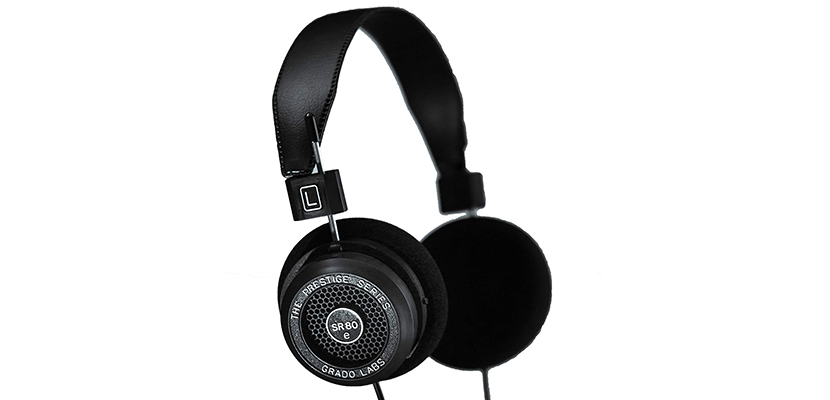 The final option to be mentioned here has a modern design and I truly believe that this headset will soon achieve wide recognition with gamers. I should say that the Grado headset utilizes a 4-conductor connecting cable and large ear cushions to let the users get amused with the immersive sound produced by these pretty-looking headphones. What really differentiates this model from dozens of other good but not the best open-back headphones for gaming is the inclusion of improved bass resonance. This is why they are equally good for gaming and music purposes. I can even suppose that there might be no problems with wearing them outside as they seem to have excellent noise-canceling properties. The vented diaphragm is called to provide deep and clear sound. At the same time, the absence of a resonant air chamber does not spoil the overall impression left by this awesome model that has everything to get the admiration of a wider audience. The earpieces are made of plastic, though it seems to be that solid one that cannot be broken easily.
As a brief conclusion, I am going to say that buying this option is highly recommendable if you appreciate the immersive sound and cute design.
Pros
The model is lightweight and comfy.
It can easily fit different users.
Cons
The cables seem to be very tangle-prone.
The model has no potential for being upgraded significantly.
Video GRADO SR80e Prestige Series
In my opinion, this model stands out of a great variety of open-back headphones as it has many distinctive features that turn it into a differentiated product. For instance, the Audio-Technica ATH-AD700X gaming headphones boast superior power handling thanks to bobbin-wound CCAW voice coils that are called to ensure outstanding user experience. Also, they have a reliable 3D wing support that guarantees comfortable usage of these open-back headphones during long listening sessions. Moreover, this model outperforms many similar options in the same price range thanks to a highly conductive OFC single-sided cord having elastic TPE sheath for preventing tangles. However, this is not the end of the list as this product comes with a gold-plated stereo connector (3.5-mm) and a 6.3-mm adapter. You will also like the fact that the Audio-Technica open-back gaming headphones are stuffed with flexible raised-fabric velvet ear pads that offer not only comfort but durability as well.
As for me, this model performs really great in terms of a frequency distribution. Furthermore, provided with 53mm drivers, these headphones offer both clear midrange and treble. Finally, I would like to say that the Audio-Technica ATH-AD700X is a wonderful option for gamers, while wearing them outside may be not very convenient because there are sound leaks and the user will hear everything that is coming into the headset from the outside.
Pros
These headphones are pretty lightweight.
It has a self-adjusting wing support system to fit any head size.
Cons
I don't like the quality of the cable.
These headphones are very sensitive to external noises.
Video Audio-Technica ATH-AD700X Audiophile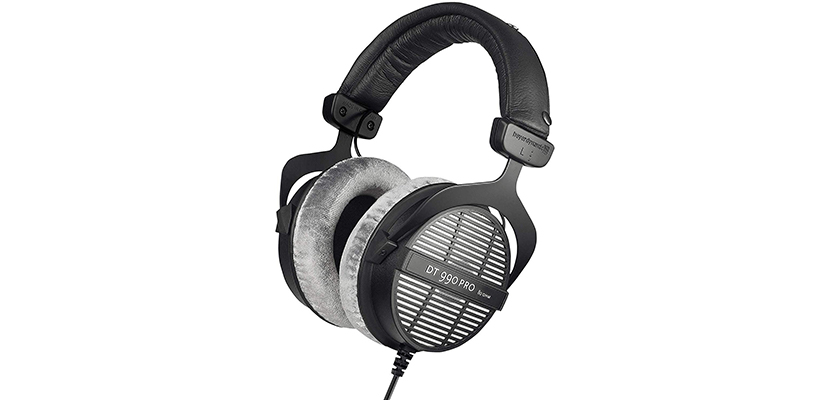 This product is made in Germany and its popularity is backed up by creative design and outstanding technical characteristics. You should just wear them once and feel the comfort of these wonderful open-back headphones. What I really like in this model is that it is very versatile, so you can wear it for esports needs or sing in the studio or just listen to your favorite songs in public transport. They are really cool for each of these purposes. Additionally, this model comes with the soft replaceable ear pads that are made of velour to keep your ears relaxed even when using the headphones all day long. The DT 990 PRO for gaming purposes also boasts a versatile frequency response ranging from 5 to 35,000 HZ as well as excellent sound pressure level of as much as 96 dB.
While many headphones may have some issues with their headband, this particular model features sturdy steel headband meant to ensure great fit and durability of this headset. It should be also mentioned that this product has a standard mini-jack plug of 3.5 mm, while a 6.35mm adapter is included in the purchase as well. Overall, this amazing headset will meet the expectations of both gamers and audiophiles in case they are ready to pay for this relatively expensive model.
Pros
The item is built using high-quality materials.
It gives detailed and transparent sound.
Cons
There is no noise cancellation installed in this model.
The model does not give any basses.
Video Beyerdynamic DT 990 PRO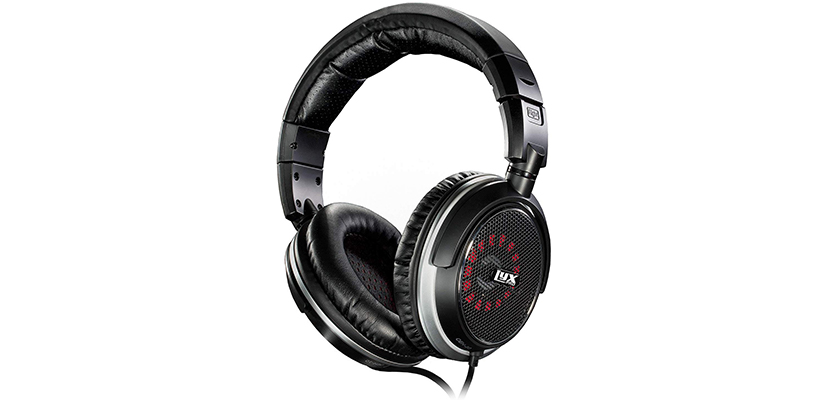 The first pair of open-back headphones to be represented here is the one made by very reputable U.S. brand LyxPro — the LyxPro OEH-10. Generally, this product has lots of advantages to create a wide audience of music lovers with different tastes. First, they provide a very clean and loud sound that will satisfy both gamers and music fans. Second, they come with interchangeable cushioned foam/fabric ear pads that are very pleasant to touch. With these soft pads, your ears will not get tired while sound will be delivered directly. Moreover, this model is also characterized by perfect adjustability as it has 90° rotating ear cuffs and a stainless steel headband stuffed which is very comfy due to soft leather cushion.
What I also like about this product is that it has a rather cool design that suits both youngsters and adult users. At the same time, the 8-ft long cable is pretty good when it comes to pairing these headphones with a PC or laptop, while a carrying pouch is meant to ensure excellent portability. The 6.3-mm adaptor is another useful accessory following this product. Overall, I will highly recommend this model to those audiophiles who want to get good quality for an affordable price. With the sensitivity of 95 ± 3dB, the item is considered one of the most popular models in this price range.
Pros
The headphones are lightweight.
They have tight and powerful bass.
The item has a very open soundstage.
Cons
The product seems to have a decent burn-in period.
The build quality does not look that good.
Video LyxPro OEH-10 open back headphones for gaming
Buyer's Guide
Open-Back Headphones for Gaming – Advantages
If you hesitate whether open-back headphones can become a great addition to your gaming experience, then this piece of information is prepared specifically for you. So what are the main advantages of having a pair of great open-back headset for gaming? Well, there can be many of them.
First, they are very cool in terms of comfort. This is explained by the fact that the ear cup housing remains open via some sort of grill the headphones breathe, so there are usually no problems with heat accumulation inside the ear cup and on the surface of its padding. This means that you should not vent your ears regularly, as the heat is mainly trapped inside causing no discomfort to the user. Moreover, while most models feature velour pads having a breathable texture, gamers can sit with the headphones on for literally 12 hours with no complaints.
Second, the majority of open-back headphones are designed in such a way that they allow users to get in touch with the environment, which means that you will most likely hear the doorbell or your phone calling. This feature is very useful, as you will not be scared every time somebody enters your room or miss the important call.
Third, these headphones tend to have a stylish design and lightweight construction, so using them is a total pleasure. Overall, you should simply try them out once and you will realize how great open-back headphones can be!
How Loud are Open Back Headphones?
Well, the loudness of open-back headphones differs from model to model. However, there are some common features with the way they sound that can be met in these and those models. First of all, it is necessary to clarify that most open-back models rarely offer much isolation from the surrounding environment due to their design characteristics (specifically the way the air flows in and out). This is why the user is meant to hear some very loud sounds produced nearby and does not lose the full connection with the outside world.
The second issue to be explained is that the ear cups on such headphones are rather open and airy, so the sound flowing out of the headset has a wider and deeper soundstage compared to closed-back headphones. However, this may also result in the situation in which sound leakage occurs affecting the loudness to a certain extent. Overall, this does not mean that this type of headphones is characterized by silent performance, open-back headsets are definitely not those ones with the glass-breaking loudness.
Are Studio Headphones Good for Gaming?
This question sounds a bit strange, as most open-back headphones are designed in such a way that gamers are considered their target audience. So why they are particularly good for gaming purposes? First, they keep your ears relaxed all the time no matter how many hours in a row you are using this device. The second benefit of using studio headphones for gaming lies in the fact that they almost never get hot enough, so there is no need to remove them from your head due to hot ear pads. The third obvious advantage of using these headphones for gaming derives from the fact that they are pretty lightweight and can fit different users. Moreover, they also provide a rich sound palette, while still keeping the listener aware of what happens around in the gaming room. With this kind of headset, you will never miss a call (unless you want to miss it on purpose).
They are fantastic for games if you want to get really clean but not too bass-heavy sound. Such a headset is able to give a total advantage in gaming. The player is able to hear everything around him/her. For instance, it is easy to determine where you are being shot from or when your teammates or NPCs are coming. With this headset, you will be able to hear all voices around you – behind, in front, or on each side. That's why you should consider this type of headset if you are looking for total immersion. Nevertheless, open-back headphones let hear everything that is coming into the headset, so you will be able to hear if someone is talking to you in real life. But high volume shuts disturbing things out from the external environment so that is not a problem.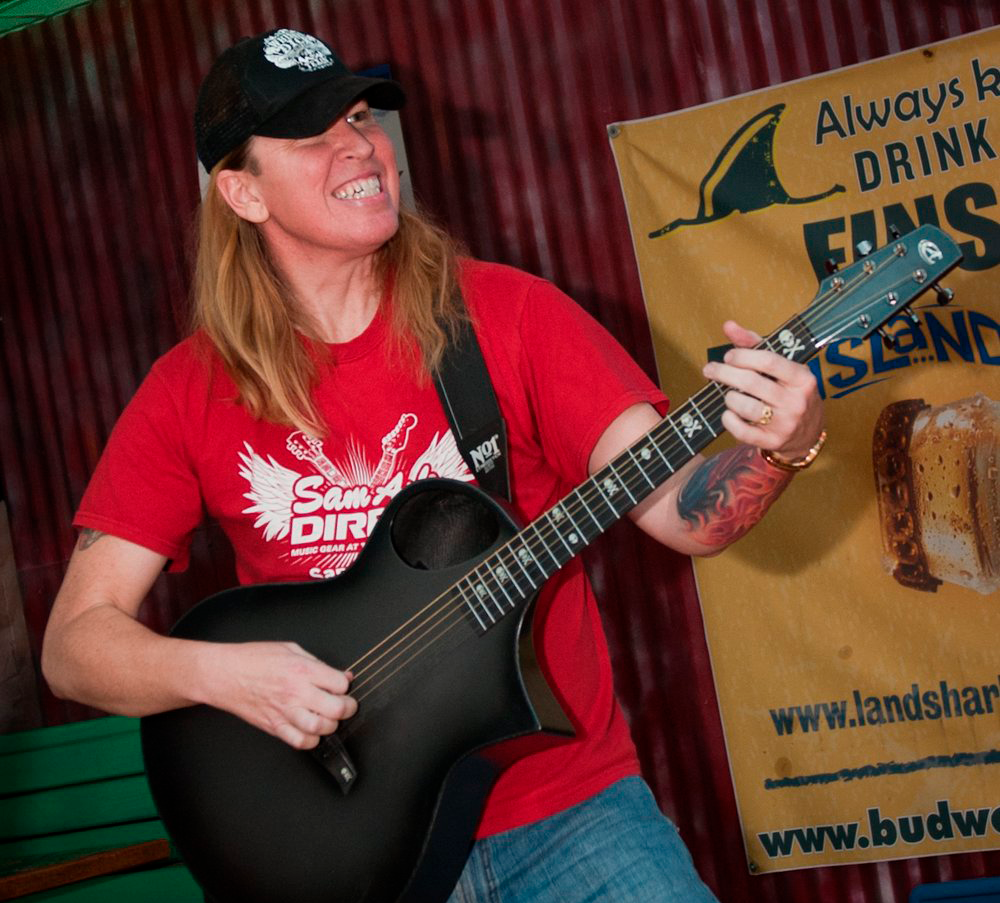 Hi everyone! I'm Thomas Moody, also known as Guitarzan.