Satellite speakers are designed as small units to be used as parts of the multi-channel system. They are usually placed on the left or right sides of the room, as well as in front or behind the listening area or the main source (a TV or projector, for example).

Usually, the best satellite speakers are able to enhance the sound within either stereo or home theater system. They can also improve the sound of the laptop or TV's built-in speakers.
The following satellite speakers' review is about wired models that aren't Bluetooth enabled. All of the items below are easy to set up, lightweight, and compact. They can be integrated with a wide variety of sound equipment – speakers, TVs, receivers, amps, and subs. The satellite speakers' primary goal is to create an immersive effect and surround sound. However, keep in mind that such speakers can never be a full replacement to big tower speakers, for example. They just can't physically produce such huge volume and power. But, still, satellite speaker can sound awesome, being a good option if you are looking for rear (front or side) surround sound speaker to place in an average room. With this aim, we selected several models that are worth your attention.
Satellite Speakers Reviews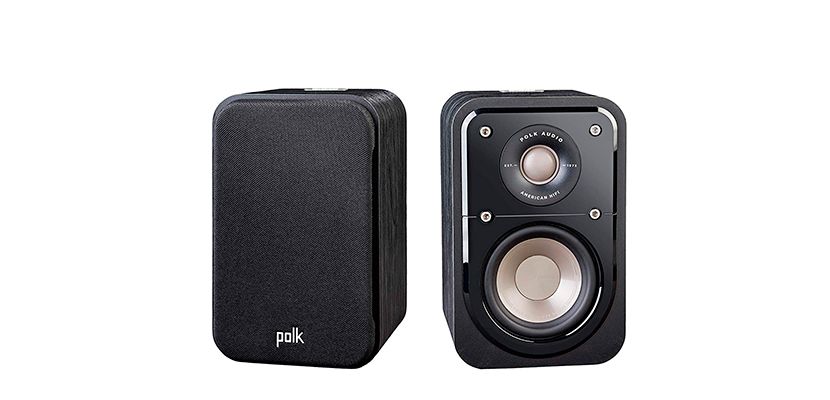 These satellite speakers come in pair. They are small enough for wall mounting but not tiny (6.1 x 5.4 x 8.4 inches; 6 pounds). So, reliable mounts are required. The units come with a good-quality binding post from the back to accept speaker wire or banana plugs attached to speaker wire. Besides, the Polk speakers have removable grilles.
The recommended wattage rating is 20 – 100W per channel. These are passive models, meaning they need an external amplifier. So, the units cannot be hooked up directly to a device. An integrated amplifier is required to power the speakers and connect them to a PC/laptop, completing the system. By the way, with a rating of 8 Ohms, the majority of the amps can drive them.
The Polk Audio Signature S10 features excellent sound reproduction but can be hardly used as main speakers even in a small room because of the lack of power at the low end. Subwoofers provide low-frequency coverage, but the low end of midrange falls short of the main speakers. So, they are perfect as surround speakers or as a part of a home stereo setup for Zone 2.
Under normal conditions, these speakers should work at distances between 6 and 12 inches for optimum performance. It's possible to remove the rear mounting bracket to reduce the depth for shelf placement. However, in this case, some bass turbulence is possible, it will decrease clarity and detail in the bass.
Pros
The speakers are great, being both satellites for home theater and music stereo system.
They make instruments more noticeable in the songs if compared with the previous experience of listening to the same singles with other speakers.
Cons
Average efficiency (87 dB) requires top-quality sub.
Video Polk Audio Signature Series S10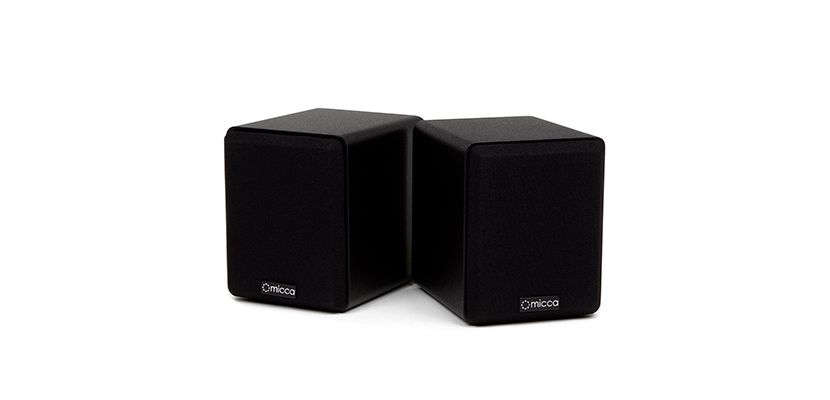 The units can be used as the rear and front satellite speakers within the multi-channel music or home theater system. This model lacks the internal amp and needs a receiver. If you intend to hook it up the turntable, it's important to pick the AV with a phono option and speaker wire.
They are 6–8-Ohm units and, certainly, they are too small (they contain just the 3-inch woofers) to produce powerful bass or extreme volumes. The speaker dimensions are 5.1 x 4.2 x 5.2 inches and weight is 2 pounds. Besides, it has no separate tweeter. This model features a coaxial design, meaning that it's in the middle of the woofer that also reduces volume and power. This spec makes them not efficient as full-fledged home theater satellite speakers.
However, the highs, mids, and lows are very clear that make them good for near-field listening. They feature a balanced tone and they will sound adequate by themselves while listening to music, but a sub will enhance bass response. By the way, it will sound extremely clear due to a unit's high response floor (90 Hz).
The speaker's cone and its mounting hardware protrude 1/8 inches above the surface of the box. It's possible to compensate for this shortcoming if you remove the grill: it will save 1/4 inches.
Pros
The wires are bundled well enough to prevent rattling around.
Cons
They don't have threaded holes of any kind in the sides or back for mounting. They come just with self-adhesive rubber feet and it adds work in the case of wall mounting.
Video Micca COVO-S Compact 2
Fluance SXBP2 – best rear channel speakers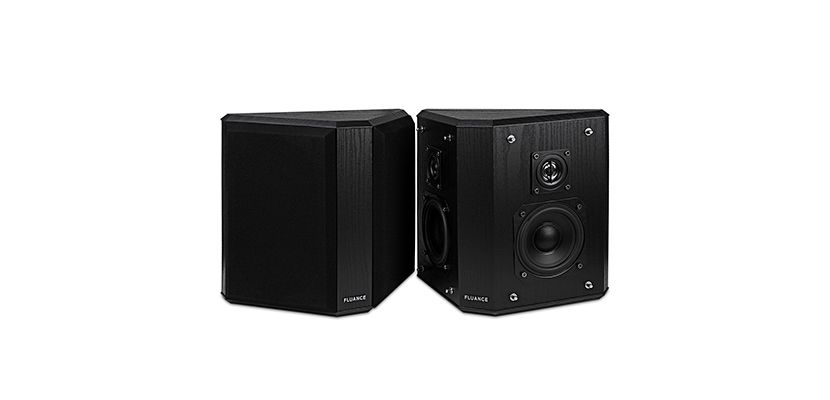 The satellite speakers operate at two 45-degree angles that's why they make ideal rear speakers for Dolby Digital home theater. They're designed with a trapezoidal configuration to be wall-mounted using the keyhole mounts attached to the backs. Its posts are constructed for using both wire and banana plugs for connecting the speaker to the amp. Yes, an AV receiver or any other amplifier is required since these surround sound satellite speakers are not self-powered.
They are rated at 100W per channel. It's not much, but still, they produce the sound effects (voices, a dog barking, a gunshot, etc.) in two directions making them perfectly dispersed. The neodymium tweeters provide accurate highs and dual 4-inch midrange drivers enhance cinema quality of the home theater system. Actually, they bring up the rear sound to a new level of clarity and make it loud, rich, and deep.
The bipolar form factor bounces sound off the walls and around the room for more surround, less localized sound. So, the product might be the best satellite speakers for home theater systems that are arranged in the limited space rather than in an open space. They can be also used as height speakers if you purchase compatible stands. Speakers themselves have 5.5 x 11 x 10.2 inches in size and weight 6.8 pounds.
Pros
They perform great with both regular stereo music and home theater system.
The units are made of audio-grade MDF wood to reduce distortion and resonance.
The treble is well balanced across the spectrum.
Cons
The keyholes that the speakers put on the hanger are tiny and require screw heads that are smaller than 1/4 inches.
Video Fluance SXBP2
Bose 161 – best small satellite speakers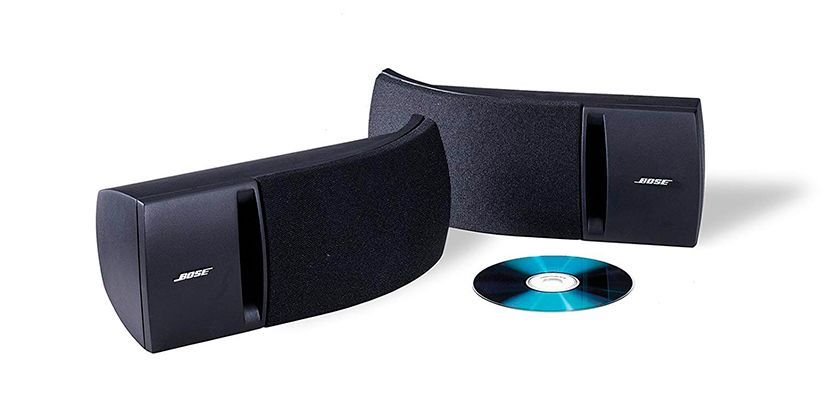 These small satellite speakers are not top of the Bose line, but they are compatible with an older sound system of a cassette player, CD players, receivers, turntables via regular speaker wire. Just don't crank these up to prevent distortions. It requires an amplifier or a receiver (the speakers are not amplified be themselves) with the power less than 100W. Besides, it's necessary to check output resistance that should be 4 or 6 Ohms.
The units come in pairs, but it's possible to purchase four of them and install them as both rear and front speakers. They have mounts to hook them up to a wall. This model has standard connections on the back that requires bare rather than banana plug wire for the secure connection.
Note that they can also be placed on furniture with the included rubber feet, but they aren't mountable to universal speaker stands. Besides, keep in mind that originally, the speakers are designed to work outside. So, the sound is different when installing it inside. They feature good separation between the right and left ears. The Bose 161 speakers produce natural sound and it's necessary to adjust frequencies in order to add lows when adding a subwoofer to a system. Speaking about dimensions, it has 5 x 11 x 4.2 inches and 3.31 pounds.
Pros
The Articulated array design helps the sound spread throughout the room.
It's a multi-purpose model that can be used as the rear, second-room speakers, or even side speakers within 7.1 system since they deliver rich, full sound from music or movies.
One can turn them either vertically or horizontally.
Cons
They come with the sealed grill.
Video Bose 161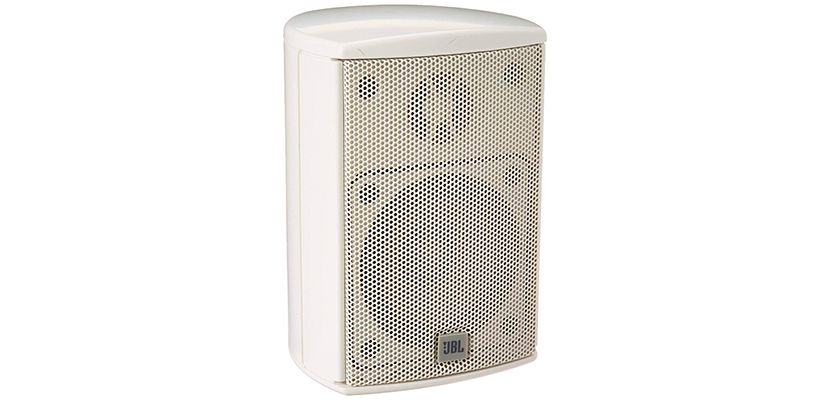 The Leviton satellite speaker isn't self-powered. It needs a receiver or amplifier. It's possible to hook it up to a soundbar, only if the latter is powered and has the output connections on the back. The unit comes as single but, actually, there's no need to buy two of them if you are going to connect it to monitor or to set up sound in the children's room, for example.
The speaker is made of sturdy plastic with a metal grille. This model comes with the metal post that has a plastic ball on it and it screws into the back of the unit. Then, the ball pivots to make it possible to turn the speaker in different directions. The speaker has 4 rubberized feet.
It's an 8-Ohm speaker that produces a lot of sound for such a small speaker that can be enhanced via a sub. These white satellite speakers can be used as Dolby Atmos, surround, and surround back speakers. It produces a sharp sound that is strong in tone. The speaker really does its job, but it isn't suitable as a primary speaker since the woofers aren't large enough.
The speaker provides fine midrange and treble, not booming bass and excellent surround effect.
Pros
This model comes with the mounting hardware in the package.
The speaker is very lightweight (just 1.65 pounds, 7 x 6.7 x 5.7 inches) and one can mount it to drywall without a stud.
The brackets are stable and they hold the speaker at the appropriate angle.
Cons
This model doesn't accept RCA cables but only bare speaker wire or speaker wire terminated with an adapter.
Video Leviton AESS5-WH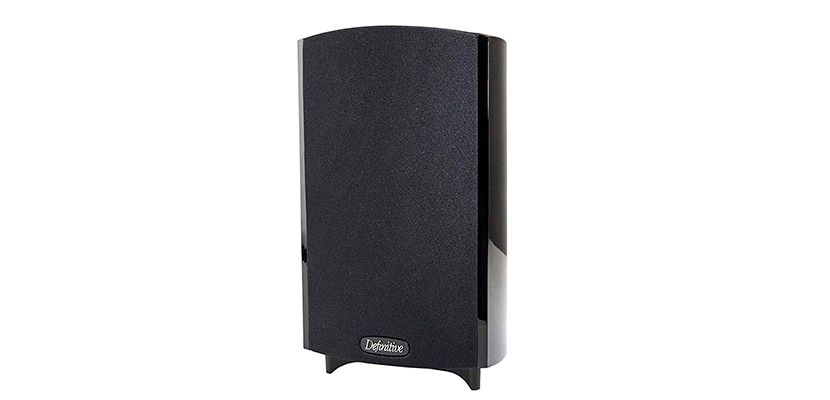 The speaker has ball-and-socket design and it's made of plastic mostly with a screw-down cinch ring. The latter holds the back of the speaker about 2.25 inches from the wall. The unit articulates about 65 degrees and its size permits doing that (5 x 4.8 x 8.4 inches, 3 pounds). The speaker has a usual pair of red and black binding posts on the back that is powered by a speaker wire from the receiver. If you use two of them as the height speakers, any universal stand will be suitable.
This model is able to produce some lows, but it needs a subwoofer to take advantage of it. It sounds clear from lows to highs and demonstrates a full capability even at low volume. One can use four of these to install as Dolby Atmos speakers in a 7.2.4 set-up or as front height channels in an 11.2 channel home theater system.
Pros
The speaker can produce 150 watts per channel that is great for dispersing sound across a large room.
The enclosure is well designed to prevent resonance and it has the bass radiators.
Cons
No way to mount them on their side by default. It's necessary to buy little rubber feet separately and then attach them to the speaker.
Video ProMonitor 800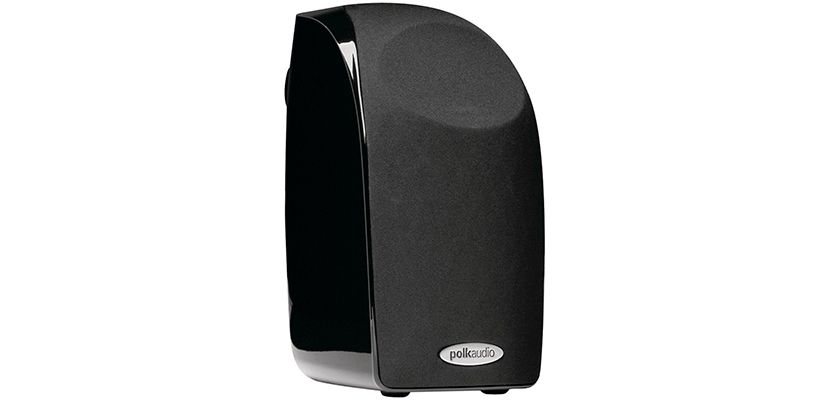 The Polk TL1 is used as a satellite speaker that can handle up to 100W per channel. It's possible to add more satellite speakers, a center one, and a sub when intending to arrange a 7.1, 6.1, or 5.1 home theater system. It is a passive (not amplified) model that is not able to operate with digital sources directly. The Polk Audio requires a receiver to be connected with other speakers for building an acoustic system. To perform well, it demands thorough manual calibration once being hooked up to a receiver. The speaker comes with a self-contained high pass filter, meaning it lacks bass. Make sure that the amp isn't overdriven to escape audio distortion that might damage the speaker.
It's better to use these Polk satellite speakers as rear ones rather than one of the right or left speakers, as they aren't bipolar. Besides, they could serve as front speakers if using a subwoofer. Its dimensions are 3.5 x 15 x 4 inches and weighs 3.35 pounds.
With regard to the sound, the highs are smooth and, generally, all the frequencies are crisp and clear despite the content – whether it's about listening to music, watching movies, or playing video games.
These rear satellite speakers feature a high-quality design. The unique curved body design uses non-parallel surfaces to reinforce the acoustically inert body and provide less audible staining from resonances on the inner surface.
Pros
Good balance and response, even volume across the sound stage. For example, there's no need to turn the sound up and down during the explosions or fight scenes in the movie.
The voices and dialogues sound clear while enjoying surround sound.
Cons
It's necessary to buy two of them, as only one item is in the package.
Video Polk Audio Blackstone TL1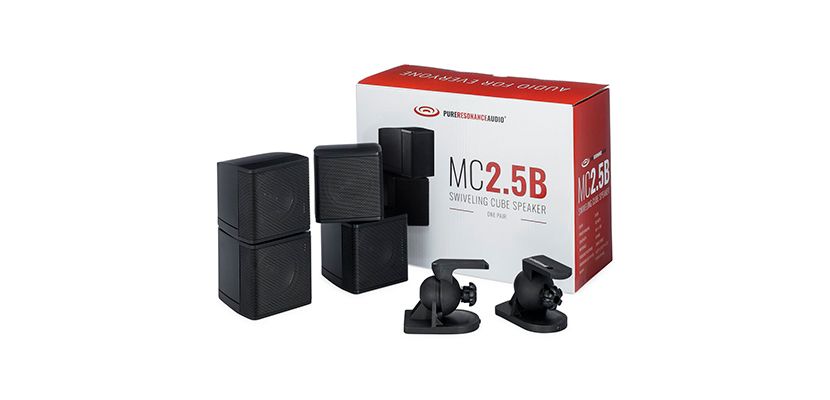 These wall-mountable satellite speakers feature many options of usage – as side speakers, two main ones in a small room, or four units as satellites. One can hook them up to the home theater or stereo system. They are perfect as the backchannel speakers due to their ability to rotate the top and bottom sections. It swivels them in different directions to cover more area and it provides good dispersion for the rear channels.
Technically, they can be used as Dolby Atmos speakers that can be mounted up to the ceiling, but since they only have a limited up and down adjustment, they will have to be mounted horizontally. However, the manufacturer doesn't mark them as Dolby Atmos speakers. These speakers are quite small with their 3.2 x 4.2 x 6.3 inches and 2 pounds of weight.
It's possible to get clear and loud lows by adding one or two subs. It produces outstanding clear highs, good midranges, and warm vocals. There is no distortion at all, even at high volume.
Pros
Wall mounts are included.
The speakers feature a compact design to mount them in any room without being intrusive.
Cons
The mounting brackets don't allow hiding the speaker wire. To solve the problem, it's necessary to drive a hole in the middle of the bracket.
The grill could be tighter.
Video Pure Resonance Audio MC2.5B
Buyers Guide
How to Choose Satellite Speaker?
When looking for the best satellite speakers, it's necessary to think about the scope of their application first – whether they will be a part of a home theatre, 2-channel, or multi-channel stereo systems. Then, it's important to consider the space. Some models sound better in closed rooms and the others might be used in the open floor spaces. The range of power per channel help understand whether the speakers will work well in a large room or they're designed just for smaller spaces. Besides, it's necessary to pay attention to the speakers' design, sound quality, and the techs that are able to enhance some of their characteristics.
Design
The whole range of satellite speakers on the market includes compact models (with some differences in their dimensions) since they should be low-profile. However, they all have different types of design and that is also meaningful.
For example, all the speakers come with grilles – dedicated covers that protect the driver from dust and damages. However, some listeners prefer to take them off. It's not a matter of sound quality, but it's more about preferences. That's why there is an option with removable grilles.
The majority of the models are wall-mounted, but if you want to use them as the bookshelf speakers, consider the rubber legs on the bottom. In the case of mounting them to the wall, take into account that the speakers' weight and the type of the wall. For example, only the smallest and the lightest models will be suitable for drywall.
Most of the budget models are made of plastic, but still, it should be sturdy. It's better to choose the models that have anti-resonant cabinet design (the manufacturer usually marks this spec on the package).
Sound
No one can expect powerful bass from the satellite speakers since they are able to produce it only with the aid of a sub. However, being connected to an external subwoofer, only high-quality models' bass will be clear and not too booming. When testing the speakers before buying them, pay attention to highs that should be distortion-free and not harsh. With regard to the home theaters, it's important to create a wide soundstage. For this purpose, it's better to opt for bipolar models.
The satellite speakers are developed to deliver directional sound effects with the interaction with other elements of the system. That's why the number of channels determines the number of satellite speakers to buy. For example, a 5.1-channel system requires two of them to install to the left and right of the listening area. For a 7.1-channel system, you will need four speakers to use them as both side and rear surrounding speakers. Speaking about the Dolby Atmos system, it requires speakers that are able to produce sound above the listening position.
Technology
"Are satellite speakers wireless?", — this question rises very often. Note that they are always wired and should be connected to the other component of the system via bare wire or banana plugs. To make the sound adjustments easier, it's better to use powered subs that can be wireless. In this case, there is no need to make wired connections with many components but just with a subwoofer.
The speakers from the list above simply cannot be wireless since they are produced without the internal amplifier. So, they're not designed to transmit the sound from the source of the signal remotely. They should be hooked up to an amplifier or AVR that, in its turn, should be connected to other elements of the acoustic system.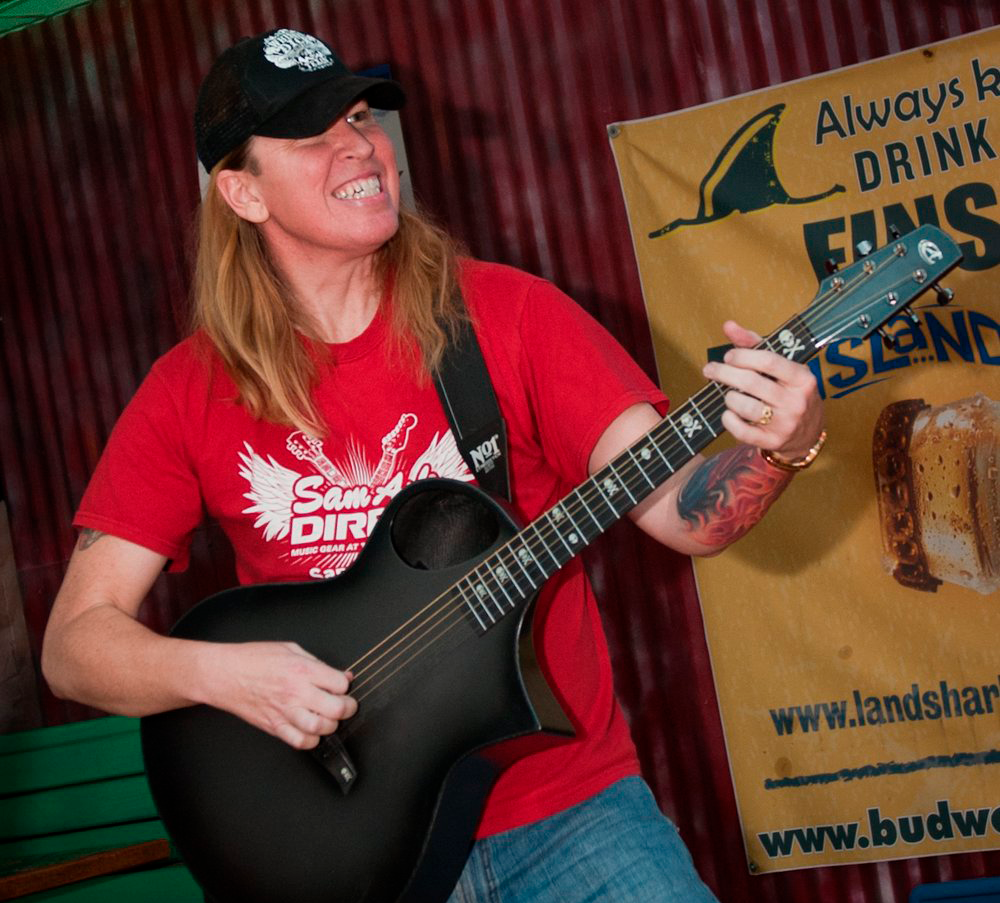 Hi everyone! I'm Thomas Moody, also known as Guitarzan.