Do you hate your earphones keep breaking every three months: you pay more and more money but nothing changes? They either sound too loudly or the cord is very thin and it is the reason why only one ear works in the long run. Whether you need earphones for music or video games, it is vital to buy the best gaming earbuds to feel at east when you listen to music or go multiplayer in the room you share with other people.

How to pick up the best gaming earbuds out of a myriad of options on the market? First off, you should build on your budget as well as your expectations. For instance, if you like wireless headphones, it is obvious that their price is a bit higher than wired ones. Next, you should think about the quality of materials and their ability to resist wear. This feature defines a lifespan of your earbuds. Besides, they vary in sizes. Some earbuds can be one-size-fits-all, while others have a set of variable cushions.
Keep reading to discover seven high-quality earphones that are fit for both video gaming and music and determine which ones can deliver superb listening experiences.
Gaming Earbuds Reviews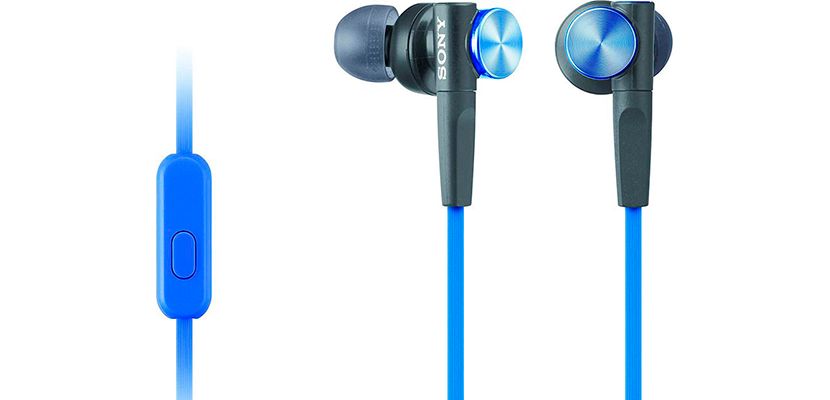 This Sony MDRXB50AP is a smart choice for all audiophiles that like a well-defined and nuanced bass response.
Sony created a simple and stylish design that combines multifunctionality and ease of use. The headphones are made of silicone and feature neodymium magnets that make the low range sound stronger. The major advantage of this headset is extreme isolation that dulls the ambient noise and lets you fully focus on your game.
The Sony extra bass earbuds are versatile and fit for all music styles. They are equipped with a microphone and control button that enables you to adjust the volume level without tapping on your screen.
What you may also like about these headphones is that the flat cord is durable enough to avoid untimely breakage. Similarly, it is not prone to tangle when carried in a bag. The item comes in three colors and is compatible with any smartphone. It is followed by a small and handy carry pouch that will help you store this headset safely. These gaming earbuds for PS4 have an 1/8-inch TRRS audio cable with an inline remote microphone that's able to be used with the PS4 and Xbox One controllers.
My recommendation is to go with this Sony model if you look for bass of amazing quality or need effective noise-isolating headphones.
Pros
The headphones seal in the ears tightly.
It does not vibrate your ears and let you hear the details of sound.
The Sony earbuds have a budget-friendly price.
Cons
Unlike Sony, Shure has a smaller audience but still manufacturers amazing headphones among which you should heed the Shure SE215-CL.
This model provides absolute comfort and lets the user enjoy music on the go as well as play video game. The earphones have a high level of isolation and dumb the ambient noise reaching up to 37 dB. The Shure configuration ensures an excellent fit for your ears and allows you to feel at ease even when shaking your head intensively. It uses advanced technologies that boost the power of sound and improve your listening experience as you can hear each tone and detail of sound. The principal distinction of this headset is that it comes in two forms: wireless and wired that includes multiple options, such as Bluetooth, Lightning, and USB-C. Whatever you choose, it delivers a superior bass response.
The Shure headphones are super-light and easy to use. It has a lock-snap mechanism that allows you to rotate the earbuds to achieve maximum comfort. The item comes in four different colors and with a convenient soft-zip carrying case. Sizing is also variable and involves three levels.
I see the Shure SE215-CL Sound Isolating Earphones as one of the best earbuds for gaming. If you are a passionate gamer that wants to delve into an immersive listening environment when playing PC games, these Shure earphones have all the necessary features to play this role perfectly.
Pros
The earphones are fit for professional use.
The cord is durable and detachable if needed.
The headphones do not bear on helmet causing fatigue.
Cons
The price point is fairly high.
The bass response is very strong and needs attenuation.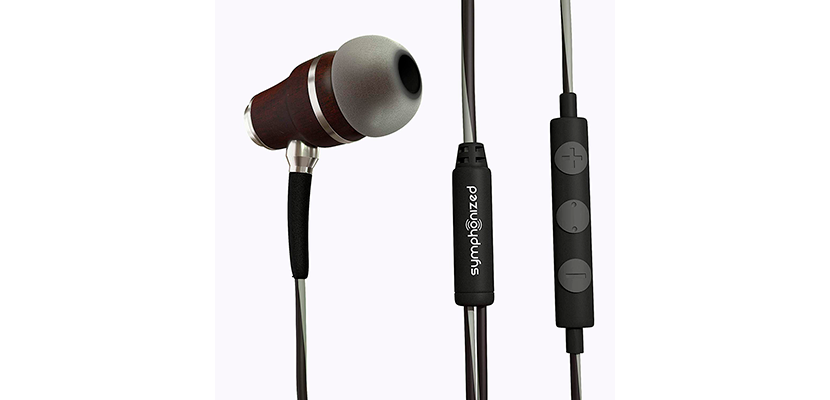 My Symphonized NRG 3.0 review describes one-of-a-kind earphones that promise superior sound with crystal clarity and defined bass.
The earbuds have a luxury design that gives you great comfort and excellent listening experiences. The headset is fit for noisy environments as it eliminates the ambient noise and lets the user enjoy their favorite playlists. The ear tips are made of silicone and seal in the ears tightly. They come in three sizes and hence suit both young and adult listeners.
The earbuds are user-friendly and offer maximum control over music on the go. The built-in smart mic is activated by the answer/end call button, while the volume control button is designed to adjust the volume level instantly. Both features spare you from taking your phone out of the pocket to feel full control over your listening.
The Symphonized earphones are durable and suited for long-term wear. The item is basically versatile and compatible with the latest devices including tablets, mp3 players, and Apple products. It comes in six different types of wood, each looking fashionable and stylish.
I suggest buying this headset for people that value acoustics and love natural tones in sound.
Pros
The wires have a rubberized coating and feel hard enough.
The price is reasonable and fits the bill.
The buds are lightweight.
Cons
The bass in voice reproduction is not strong.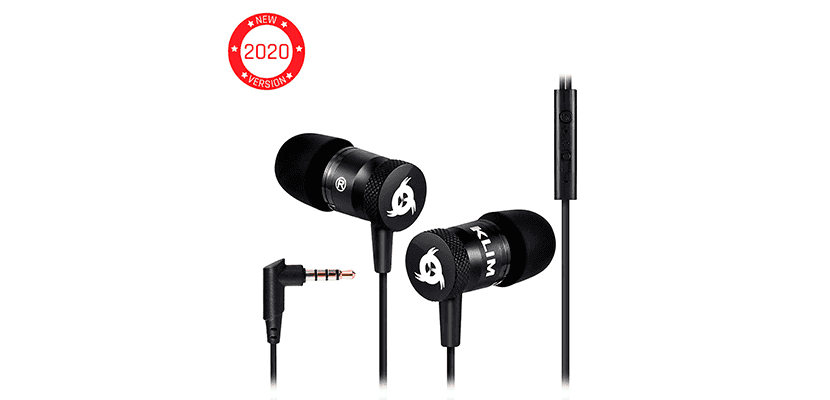 With so many options, only a few are good PC gaming earbuds. But the KLIM Fusion Earbuds were designed exactly to play this role. They combine comfort and usability and allow the gamer to feel at ease when upgrading their skills and winning battles one after another.
The design boasts smart buds that have unique memory foam. It remembers the shape of your ears and makes the buds super-comfortable and ultra-light. The quality of sound is premium and reminds of that you can hear in more costly and branded headphones. The earphones block out the ambient noise and let you delve into your gaming adventures. This feature allows you to clearly hear speech and vocals, especially when playing multiplayer games online.
The major advantage of this model is a 5-year guarantee that gives you compensation if your earbuds appear to be flawed. Since most electronics tend to break down within the first year of operation, this guarantee is proof that you make a secure investment.
My point is that the KLIM Fusion Earbuds are good earbuds for gaming that isolate you from the outside noise, so helping you to fully devote yourself to gaming experiences.
Pros
The price is extremely low and affordable to any buyer.
The bass response is awesome.
The wire is L-shape that prevents breakage.
Cons
The core is a bit long.
The ear extensions get dirty very quickly and are hard to clean.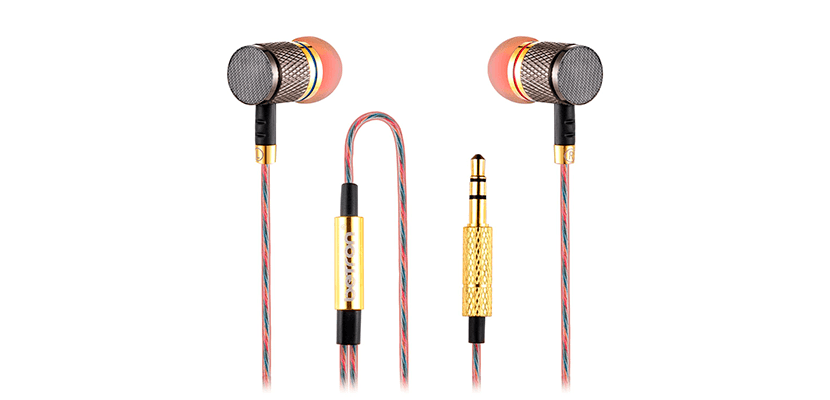 If you are an active video game player, the Betron earbuds might be your perfect accessory to feel empowered and undefeated.
The design is focused on producing top-level and flawless stereo sound. The high, mid, and low ranges are all well-defined and nuanced. The isolation system successfully dulls the ambient noise. It allows you to be fully involved in gameplay and makes your listening experience more immersive. The headset has metal inserts that promote damage resistance and protect the 3.9 ft wire and earbuds in the most vulnerable points. The 3.5mm connector has a thin gold coating that provides protection against corrosion or oxidation.
The Betron earphones are suited for all portable gaming systems and devices, including tablets and smartphones. The item comes with a little rubber storage case. What you may also like about this product is a bag of variable cushions that are fit for different ear sizes. This feature is of great value if you plan to share your headset with someone.
If you are in search of the best earbuds for Xbox One, the Betron YSM1000 earphones have all the essential advantages, including the mic and control buttons, to accompany you in your gaming achievements.
Pros
The price point is budget-friendly.
The cable is not prone to tangle on the go.
The audio is well-balanced and crystal clear irrespective of music style.
Cons
They have a substantial weight due to the magnets on the backside of the buds.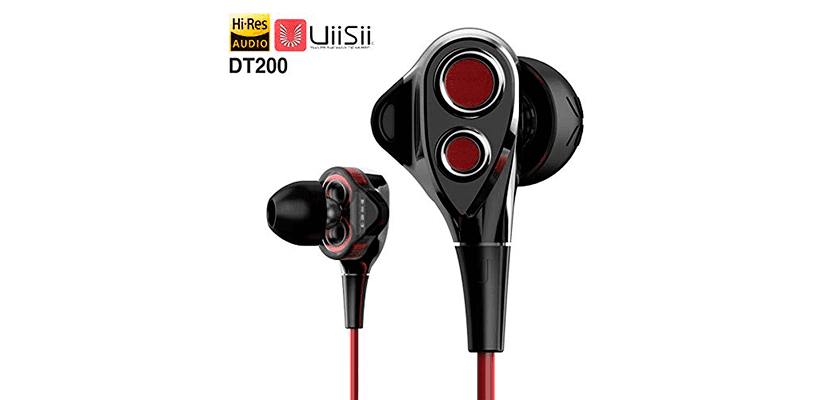 If you are looking for an in-ear gaming headset producing superb sound with powerful bass, this UiiSii DT200 is worth giving a think.
The design involves advanced technologies that minimize high-frequency glitching and allow for natural sounding. The entire frequency range has a detailed definition that does not degrade with all music styles. The earphones are handy and don't fall off the ears on the go. The buds are made of silicone that delivers enhanced isolation from the ambient environment. The headset gives you easy control over the sound that can be adjusted with the volume button. The built-in mic helps you take calls without using your phone. These characteristics make the UiiSii DT200 equally good for both gaming and music.
The headphones have a protective waterproof coating that shields the earbuds in rainy weather. They also feature an oblique shape that results in perfect fitting with your ears. The item works with all Android and Apple products as well as any portable device having a 3.5mm audio jack. It is followed by a soft carrying case.
My view of the UiiSii DT200 in-Ear Earbuds is pretty simple. It is most suited to individuals that seek an all-in-one headset that excels at any kind of sound reproduction.
Pros
The price point is attractive.
It comes with a lot of earpiece sizes.
Cons
No wireless alternative.
No warranty.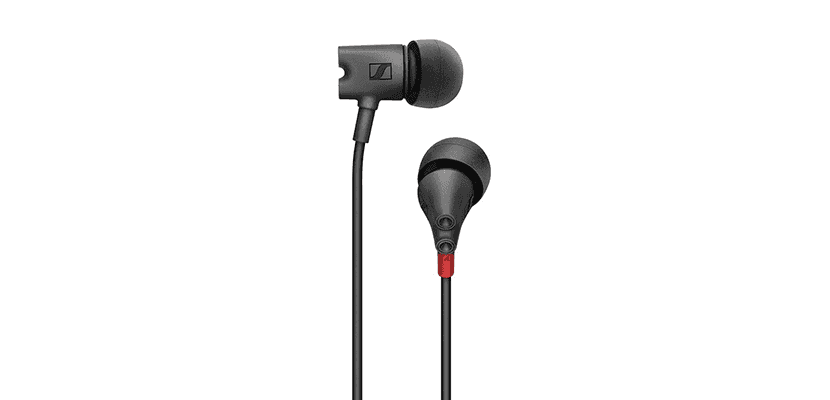 These in-ear earbuds are fit for PC gaming as well as music. Its extraordinary design delivers clear and crisp sound and creates an amazingly immersive and true-to-life listening environment.
The Sennheiser IE800S is an ergonomic and user-friendly model. It features memory foam that imitates the shape of your ear and boasts Sennheiser's proprietary Extra Wide Band drivers that define optimal performance. The earbuds are empowered with 7mm transducers that make the sound more like on stage. The sound is deep and saturated. With this headset, you will be able to clearly hear speech and at the same time background music of the game. The bass response is precise and nuanced. So if you are a bass geek, you will find these earbuds
My conclusion is that the Sennheiser IE800S in-Ear Headphones are based on the latest innovative technologies and meant to provide high-end and impeccable sound. They are fit for professional use and can be of much use to individuals involved in the music industry.
Pros
They can be used as in-ear monitors.
Ergonomic design. The IE800S headphones are able to provide less ear fatigue if we compare it with cheap models.
They provide good noise-isolation.
These headphones offer incredible sound experience with their high-quality trebles and heavy bass.
They come bundled with a leather case of good quality so you can take them anywhere.
In the kit, there is a set of different foam, silicone tips, and cables (3.5mm jack, 4.4mm Pentaconn, and 2.5mm balanced connectors).
Cons
The product is extremely expensive and not targeted at buyers on a low budget.
Buyer's Guide
What are Gaming Earbuds?
Earbuds or earphones are small-sized headphones that are easy to use because they seal in the ears tightly and provide good isolation from the ambient noise. Unlike headphones, earphones are much more comfortable to wear as it allows a gamer to move actively without having the sound degraded or spoiled. Earphones are typically remarkable for a superior and immersive sound that a true-to-life listening environment. They are also good for users who need to hear speech clearly, especially when sitting in a crowded room. Some costly and high-end earbuds have built-in drivers that help improve the clarity of sound as well as tune the sound configuration in order to ensure earbuds optimal performance.
Features to Consider When Buying Gaming Earbuds
When trying to buy the most functional in ear gaming headset, you should check out whether the buying option that caught your attention has a desirable set of features ensuring unbelievable user experience. Hence, knowing these most significant features is a key to a successful purchase. Read this list carefully and follow these recommendations to act like a pro when choosing your next gaming earbuds.
Look for headphones having a high-quality microphone. Every gamer knows how important it is to communicate well with teammates. Surely, some persons may prefer using a stationary microphone, this is not as convenient as having a microphone and earbuds in one piece.
Think about frequency response. This point sometimes remains underrated with most customers, though it still should deserve a more thoughtful attitude. Those models having a frequency response of 5-40,000 Hz can be already considered quiet cool, you should never view this range as a limit. Preferably, opt for those headphones embracing the sounds from 4 up to 80,000 HZ, so you will be able to hear every particular sound in your game.
The issue of compatibility and connectivity should be also mentioned among the top features. While most users get used to a standard 3.5mm jack point, the recent trends in the industry spur manufacturers to produce wireless Bluetooth earbuds that can potentially fit more devices.
Noise cancellation. Recent technological advancements have made it possible to improve the user experience of gamers through the introduction of noise cancellation. If a gaming earbud features this technology, this means that the user will be able to dive into an immersive experience, in which no outer sounds will spoil the game and your communication with teammates.
Overall, these are the most essential properties that any gaming earbud model should possess, though you are free to add to this list anti-sweat protection and noise isolation to acquire the model of your dream.
Wired VS Wireless
There are many gamers today who are uncertain about whether they should opt for conventional wired headphones or experiment with the newly invented wireless headsets. In this context, it can be useful to briefly describe the core benefits and most obvious downsides of both classes of headphones.
Wired headphones have a cable to enable you to plug them into your PC or laptop. They either have a USB interface or most likely a 3.5mm jack. Traditionally, wired headsets are known for their rare ability to deliver high-quality sound, though this upside is leveled when you are just playing the video game or listening to music. Moreover, wired devices are usually set at a reasonable price, which makes them more affordable against their wireless counterparts. However, using them may be less convenient compared to Bluetooth headsets. Again, broken cable wires are also considered the Achilles heel of wired products.
Wireless headphones, in their turn, are associated with great convenience as you are not required to deal with long cables. Although the sound quality is yet not their most notable feature, this weakness is believed to be fixed soon by the manufacturers. Using Bluetooth earbuds for gaming purposes mostly is a good way to eliminate the dissatisfaction with sound quality. However, the biggest problem of wireless headsets derives has its roots in the necessity to have them charged properly. Battery life is still a huge problem for most wireless items sold today. Hence, by purchasing Bluetooth headphones, you get maximum convenience sacrificing the usage time.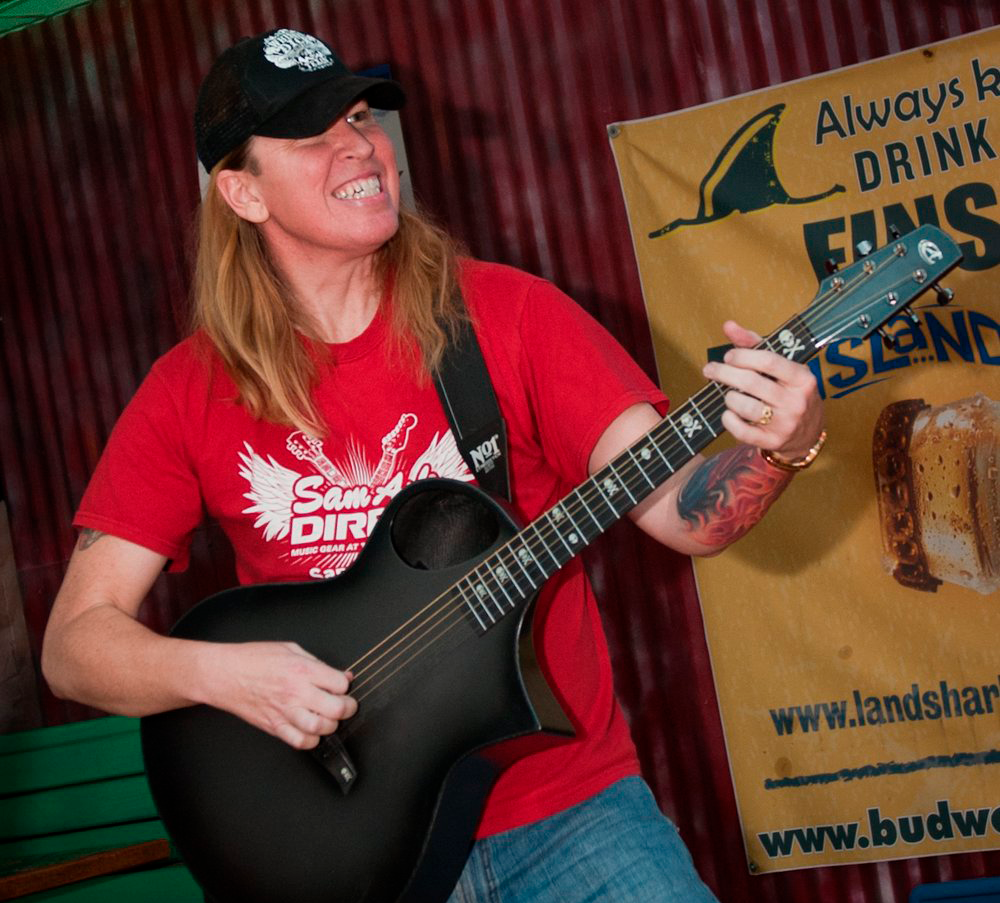 Hi everyone! I'm Thomas Moody, also known as Guitarzan.