The simple earbuds don't do a good job with giving out a mighty bass mainly because they are just tiny. Luckily, modern sound technologies give the possibility to enjoy a mighty bass without the necessity of using bulky headphones. That is why it's worth buying the best bass earbuds if you want to obtain some additional bass without parting with the convenience provided by compact earbuds.

There are a lot of music styles that just won't sound as they meant to be when your earbuds don't have enough bass. So if you are into electronic music, the standard earbuds won't just work for you, even if they are very pricey.
However, the choice of the right earbuds with an enhanced bass may require some serious research. This way, if you don't feel like searching for some earbuds with good bass among hundreds of models, don't worry, our list of selected bass-focused earbuds is aimed to please the bass lovers. It will help you catch up with what you've been missing with your usual earbuds. Plus, our buyer's guide will supply you with some essential info that you should take into account when selecting your perfect earbuds with bass.
Bass Earbud Reviews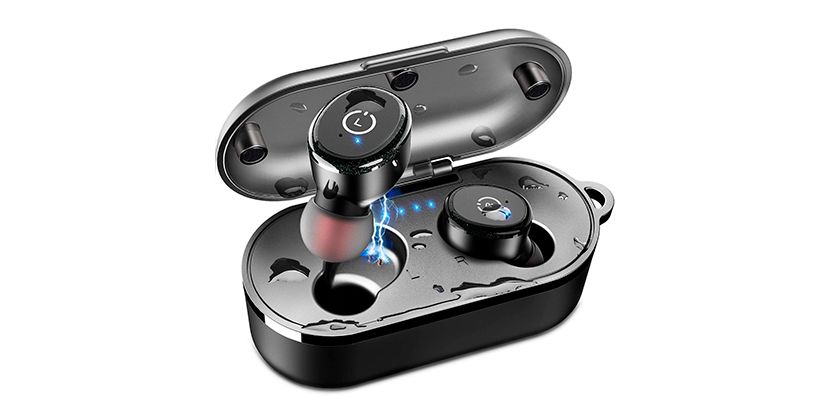 This model from TOZO can be the best bass Bluetooth earbuds for those who are searching for a truly waterproof device. Both earbuds and the charging case with inner nano-coating reach IPX8 of waterproof rating. This way, they not only can't be affected by both sweat and rain: even if you accidentally drop them in a bath with water, they won't be damaged. In fact, they are waterproof for 3-feet deep for 30 minutes.
The manufacturer managed to make the earbuds really comfortable to wear. They are made with gel-flexible silicone noise-reduction caps for comfortable fit and weight only 0.18 ounces.
With 8mm large size speaker driver (1.77 times larger than the normal driver area), the TOZO T10 provides truly powerful bass reproduction.
Note that these earbuds don't last on charge as long as the other wire-free models: you get only 3.5 hours of non-stop playtime on one charge. The charging case will provide only 9 extra hours of work.
Pros
The Bluetooth 5.0 technology provides stable transmission without interruption.
The charging case is compatible with wireless charging.
Cons
Sometimes you get only one earbud paired with the device, not two as it should be. In this case, you have to reconnect them.
Video TOZO T10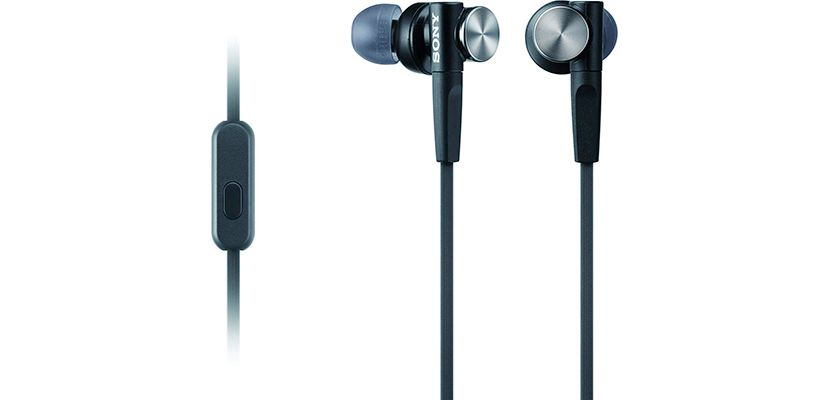 In my Sony extra bass earbuds review, I would like to point out that the Sony MDR-XB50AP/R has decent sound isolation thanks to the tightly-sealed acoustic design. The earbuds come with four pairs of silicone eartips for perfect fitment and a soft case for convenient storing and carrying.
The Sony earbuds are supplied with a highly-sensitive microphone which is placed on a flat wire. They also have control buttons to switch/pause the track and to answer the calls. You can also use a Smart Key app for better control functionality directly from your smartphone.
The 12mm dome type driver ensures a deep bass. The 4-24000 Hz frequency response also contributes to even more mighty and punchy bass.
The Sony MDRXB50AP extra bass earbud headset weighs 3.6 ounces and has quite large housing which creates certain difficulties with wearing: your ears may get tired after 3-4 hours.
Pros
Available in 5 different color options (black, white, red, blue, and yellow).
The wire with a corrugated texture doesn't tangle.
Cons
The earbuds glossy finish is not scratch resistant.
The wire is thin and not durable.
The earbuds can't work with devices relesed before 2015.
Video Sony MDR-XB50AP/R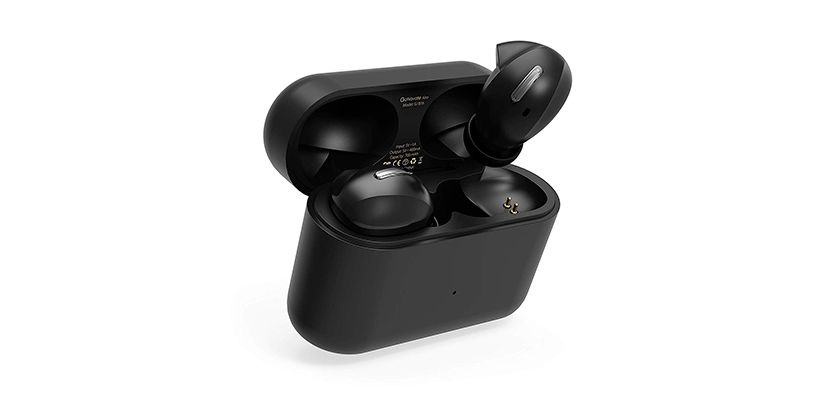 This model from GoNovate can possibly be one of the best bass wireless earbuds for sports activities. The "shark fin" design allows the earbuds to be firmly fixed in your ears during intense workout and the anti-sweat feature keeps you calm about the safety of the earbuds. They are also supplied with a colorful LED indicator which informs you when the device needs to be charged.
With the CVC 6.0 noise reduction function, the earbuds give an exact sound transmission. They also feature a true stereo Hi-Fi sound quality.
The GoNovate Airo is aimed to cope with a common problem of all wireless headphones: lag in data transfer rate. Besides, this feature not only ensures stable transmission speed, it also contributes to the reduction of power consumption. You get 6 hours of non-stop playtime on a single charge and a convenient, compact charging box which provides the additional 30 hours of work.
The earbuds allow controlling music, accept and reject calls, and activate a voice assistant with just one multi-function button.
Pros
The left earbud can be used individually.
The earbuds automatically pair with your device as soon as you remove them from the charging case.
With only 0.27 ounces of weight, the earbuds are very light.
Cons
The earbuds charge slowly.
Video GoNovate Airo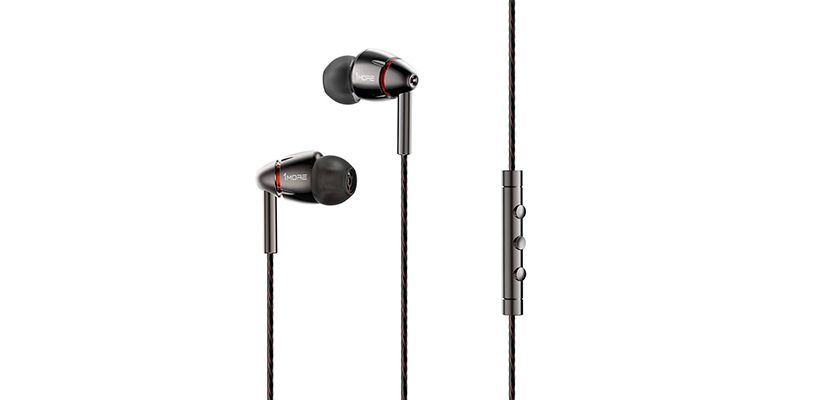 This model from 1MORE can be one of the best earbuds with bass on the market. Its supplied with a diamond-like carbon dynamic driver, they will make you feel like you have four speakers in each ear. The frequency range of these earbuds extends up to an impressive 40,000Hz. Plus, 3 balanced armatures work like mini tweeters and deliver a dynamic sound and punchy bass.
The aluminum sound chamber with great ergonomics provides comfortable wearing and noise isolation. Additionally, these earbuds have an adjustable 45° angle ear that perfectly matches your ear canals and ensures a secure fit. They also have an extremely durable and tangle-resistant Kevlar core cable with an oxygen-free copper to provide more natural sounding. The L-shaped plug contributes to even more security and durability.
The earbuds go with a great set of additional accessories: except for the device itself, you also get a carrying case made of leather, 9 ear tips sizes, an airline adaptor, and a shirt clip.
The in-line remote has three buttons to control volume level, switch songs, and accept calls. The advanced MEMS microphone provides a high-quality and natural transmission of your voice.
Pros
The earbuds go already tuned so you get fully balanced and ultra-realistic sounding right out of the box.
Cons
Bass can sometimes be even too loud.
Video 1MORE Quad Driver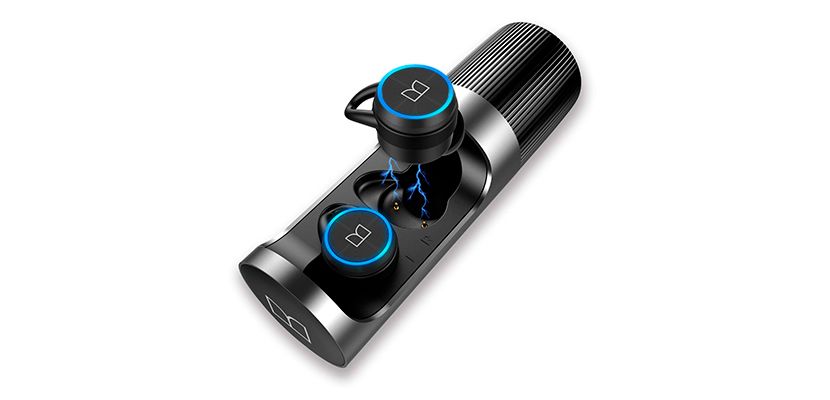 These earbuds are supplied with 6mm drivers to deliver a decent bass performance. They are lightweight (2.05 ounces), have a stable fit, and can be used during workouts. The eartips in 3 sizes are included in the kit.
You will get 6 hours of continuous playback and 30 hours of external power from the magnetic charging case. They are also one of the best bass wireless earbuds in terms of charging time as they can be fully charged for less than an hour.
The multi-function button allows controlling the incoming calls, playback, volume level, stereo modes, and tracks order with just one touch.
The earbuds deliver clear voice quality so you can clearly hear the person you are talking to even in noisy environments.
Pros
The earbuds have IPX5 waterproof rating so they are splashproof.
The earbuds automatically turn off to save battery life.
Cons
Sometimes you have to press the button hard making the earbud to be put further into the ear.
Video Monster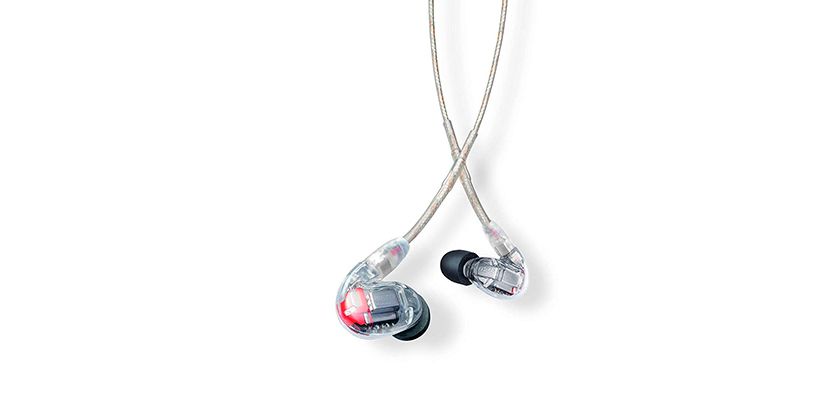 This model from Shure is one of the best earbuds for bass thanks to four drivers which contribute to an impressive low-end performance without even sacrificing clarity of details. They feature a sound-isolating over-the-ear design and block up to 37 dB of the outside noise.
These earbuds are universal in terms of compatibility: they work with all gadgets with Bluetooth 5.0 connectivity.
You can adjust the frequency response to make the earbuds adapt to what you are listening to (balanced, warm, and bright options are included).
The earbuds provide 10 hours of battery life and have 30 feet of wireless range. The in-line remote allows controlling phone calls, voice commands, volume level, and music playback.
Pros
The three-way system configuration provides dedicated frequency distribution.
The earbuds feature multiple connectivity options.
Cons
There is a slight buzz and distortion on higher volume levels.
Video Shure SE846-CL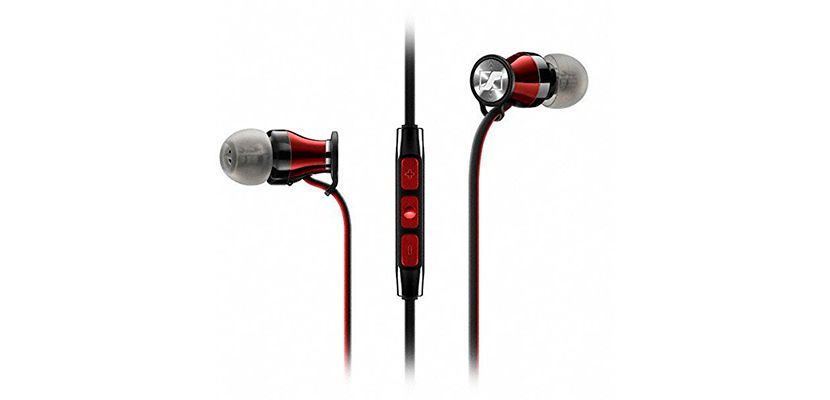 This model is considered to be one of the best Sennheiser earbuds as they have a low distortion level and an impressive 15Hz – 22000Hz frequency response. The earbuds feature a tangle-free oval cable which minimizes the sound loss and has a remote with an integrated microphone. There are three buttons on the remote which allow controlling the volume level and answer the calls.
It should be mentioned that these earbuds have the high-gloss black and red finish with mirror-chrome accents. The housing of the earbuds is made of low-resonance stainless steel which doesn't contain plastic and contributes to accurate sound reproduction. The in-ear canal design provides good noise-cancellation. The earbuds have high-quality dynamic transducers which give out plenty of bass response.
Thanks to an adjustable angle of 15°, the earbuds perfectly adapt to your ears. They also have an extra-small sound tunnel so it's easy to forget that they are in your ears. This means that you can use them when exercising.
Pros
The earbuds go with four ear sleeves of different sizes.
The hard-shell carrying case is included in the kit.
Cons
A noise canceling/voice focusing feature is absent.
Video Sennheiser HD1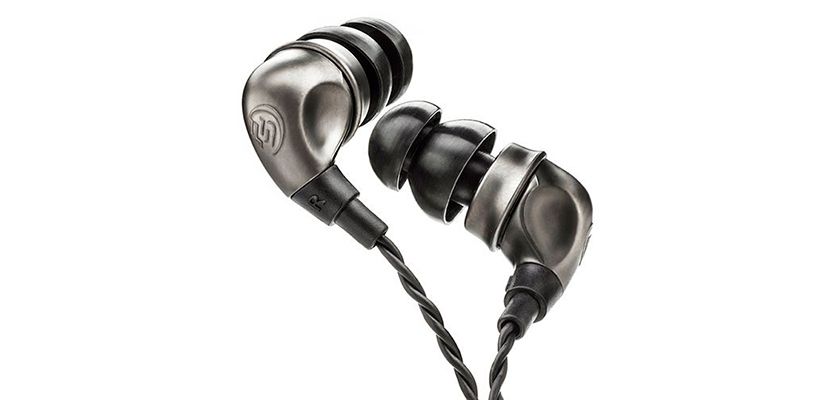 These model from Future Sonics is designed for professional use. It's supplied with a large 10mm driver to provide a mighty bass performance. The earbuds have a very sturdy overmolded metallic housing and the strengthened twisted cable which minimizes any possibilities of wire damage. However, they somehow still feel light in the ears. Plus, the earbuds have a micro-profile design so they are comfortable to wear for long hours.
The FutureSonics G10 goes with four silicone ear tips so you can find your perfect fit. It also includes a bunch of grey foamies and a loop cleaning tool. The zippered carrying case is included as well.
These earbuds work well with any type of music as the mighty bass doesn't interfere with the clear and accurate mid-range. Despite the fact that these earbuds are vented, the noise isolation is very good: the G10 attenuates up to 29dB of ambient noise.
Pros
The sound is very balanced.
The soundstage has a good 3D presentation.
Cons
The 50-inch cable is way too short.
Video Future Sonics Spectrum Series G10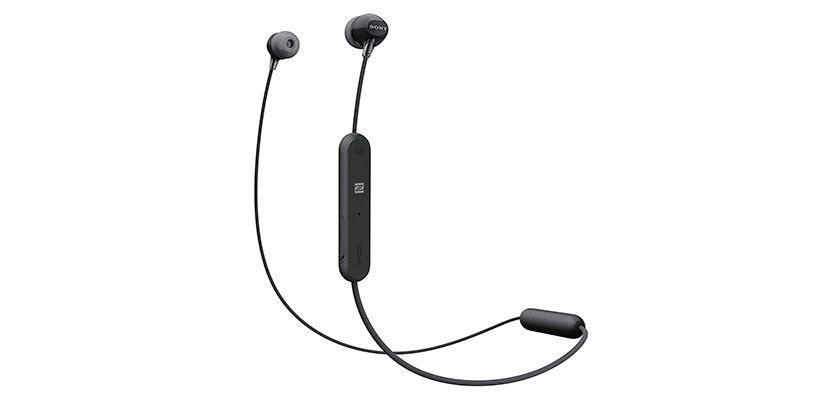 These Sony extra bass wireless earbuds go in the behind-the-neck design so they are comfortable and it's not so easy to lose them. This feature also makes the earbuds good for sports. They almost don't contact the outer part of the ear which makes them less tiring to wear. Three pairs of silicone caps are included in the kit.
There is an in-line remote with flat buttons to start and pause playback, skip tracks, and control the volume level.
The earbuds are supplied with Bluetooth 4.2 and an easy NFC one-touch connectivity. They provide up to 8 hours of work on a single charge and it's more than the usual wire-free earbuds are able to offer.
The 9mm drivers are responsible for outstanding bass performance. These Sony extra bass earbuds also offer the possibility of hands-free calling and are compatible with voice assistants.
Pros
The Sony extra bass earbuds allow choosing from four color options to match your taste: black, white, blue, and red.
Cons
The earbuds have quite shallow soundstage.
Video Sony WI-C300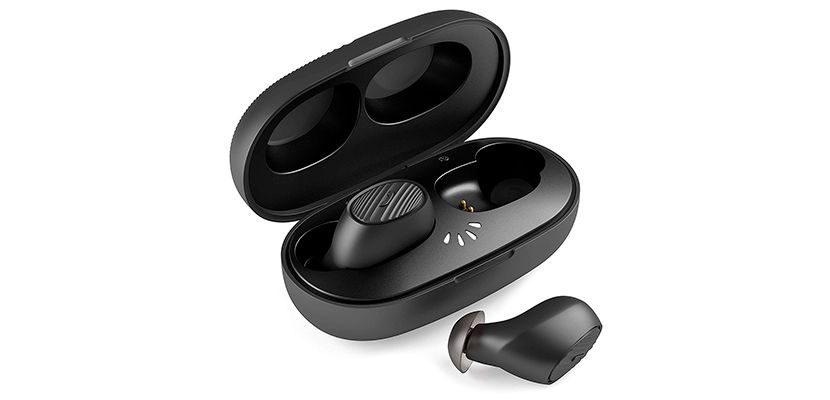 The present extra bass earbuds from Diginex are supplied with an advanced Bluetooth 5.0 so you don't have to worry about unstable sound transmission and audio interruptions. Besides, these earbuds provide a true Hi-Fi sound and have a noise cancellation feature.
This wireless model ensures long-lasting work (8 hours on one charge) thanks to the powerful lithium-ion 100 mAh battery and up to 40 hours of extra power are provided by the charging case. The earbuds will be pairing with your phone automatically as soon as you pair them with your gadget for the first time.
The earbuds feature a mini in-ear lightweight (3.88 ounces) design with comfortable and secure fit which won't let them fall out of your ears even while you are doing some exercises. Additionally, they are waterproof, thanks to the Liquipel Nano Coating the earbuds have IPX6 waterproof rating and accordingly can survive sweaty workouts and accidental dropping into water.
Pros
The earbuds have a large signal range (up to 50 feet without obstacles).
They need only one hour to get fully charged.
The package includes a carrying case and a USB charging cable.
Cons
The surface of the earbuds housing easily gets scratched.
Buyer's Guide
How to Choose Bass Earbuds?
There are a few things that should be considered when you go for the best bass earbuds:
Sound volume stability. The main characteristic which distinguishes bass earbuds from the regular ones is the ability to reproduce sound without a sharp drop in volume. It guarantees an accurate signal transmission.
Low frequencies. When you need a powerful bass, you must consider low frequency as a priority. Of course, that means that you won't get superb mids and highs, but if they are very important for you as well, you may just try to search for earbuds with equally high low and upper frequencies or just buy a pair of additional earbuds.
Diameter of the membrane and the number of sound emitters. These are the fundamental rules for choosing bass earbuds: the membrane should be as large as possible and there should be two sound emitters. Such design is essential in order to get a really deep bass sound. However, note that the device with two sound emitters, one of which is responsible exclusively for low frequencies, will significantly increase the price of the earbuds. It also adds some external weight to the device.
Well-organized air circulation. Proper air circulation in the ear canal allows you to perceive the low-frequency sound in more detail.
Balance of sensitivity and resistance. The balance between these two indicators primarily affects the signal quality. The distortion may not cause problems with the overall sound picture, but it can affect the quality of reproduced bass in a drastic way.
Wired or Wireless Earbuds?
Despite the fact that the wireless earbuds are considered as an evolved version of wired ones, there are still millions of people who find wired earbuds as a better option. Since there is no one opinion regarding which earbuds are better, let's run through the positive and the negative sides of both wired and wireless models:
Wired
Most people prefer such earbuds because there is no need to charge them: they will quit working only if the source of sound will shut down due to the dead battery. Plus, thanks to the wire, it's not so easy to lose them. The wired earbuds are also a cheaper option. If you are on a budget, you will most likely be able to buy the wired earbuds of a normal quality than to afford the cheapest wireless earbuds.
If you lead an active life, the wired earbuds will restrict your movements as they depend on the source of the signal and have a wire that tangles.
Wireless
The wireless models provide increased convenience, you can wear them all day long without feeling any discomfort. Plus, you don't have to always carry your phone or tablet in the pocket or hand as they aren't connected to your gadget by a wire.
They are tiny, lightweight, and can work for many years without repairs because they don't have the short-living plug and wires. The wireless earbuds often have many additional features: built-in memory, music switch, etc. Since they are supplied with their own battery, your phone will discharge more slowly.
However, the best bass Bluetooth earbuds are costly. Plus, they may discharge in the most unexpected moment and it's almost impossible not to lose them from time to time as they are very small. They also may require the installation of some additional software or app.
Where the Bass Boosted Earbuds Can be Used
The earbuds with an enhanced bass normally serve for some specific purposes. I mean, you are hardly aimed to buy them to just talk on the phone or to watch random videos on the Internet.
They are perfectly suitable for workouts, for example. It's a known fact that if a person listens to music while doing exercises, he/she feels more energetic. Frequently, people listen to hip-hop or dubstep when doing sports. Such types of music obviously require earbuds with the best bass to sound as they are meant to be.
Bass earbuds, of course, cannot be compared to large speakers with a powerful subwoofer, but if you don't want to disturb people around you, the earbuds with decent bass are your way to go. Turn up the volume, activate the noise cancellation function, and immerse yourself in your favorite tunes without bothering anyone around.
If you are watching an action movie via your smartphone or tablet, it doesn't mean that you have to sacrifice a high-quality bass. A pair of some bass-heavy earbuds can make you feel like you are in a real movie theater. You can also use them when playing games. Small and lightweight, the bass earbuds are definitely more comfortable and less tiring for your ears than bulky headphones but still can deliver some realistic bass.
What about Bass and Sound Quality?
The bass-focused earbuds are a specific option. The quality of bass may obviously influence the quality of sound. Some earbuds with an extra bass will have better sound and precision. It all depends on the size of drivers, sound tuning, and additional features like noise cancellation which allows focusing on sound more. The bass enhancement also slightly degrades the sound detailization.
Except for low frequencies, you want to be sure that the mids and highs are also doing good. Since all bass boost earbuds are great for movies and music, they may not be essential for podcasts and e-books. Although, you may opt for earbuds with a more pleasing tone. Or you may just try to experiment with sound settings in order to make your bass earbuds adapt to what you are listening to.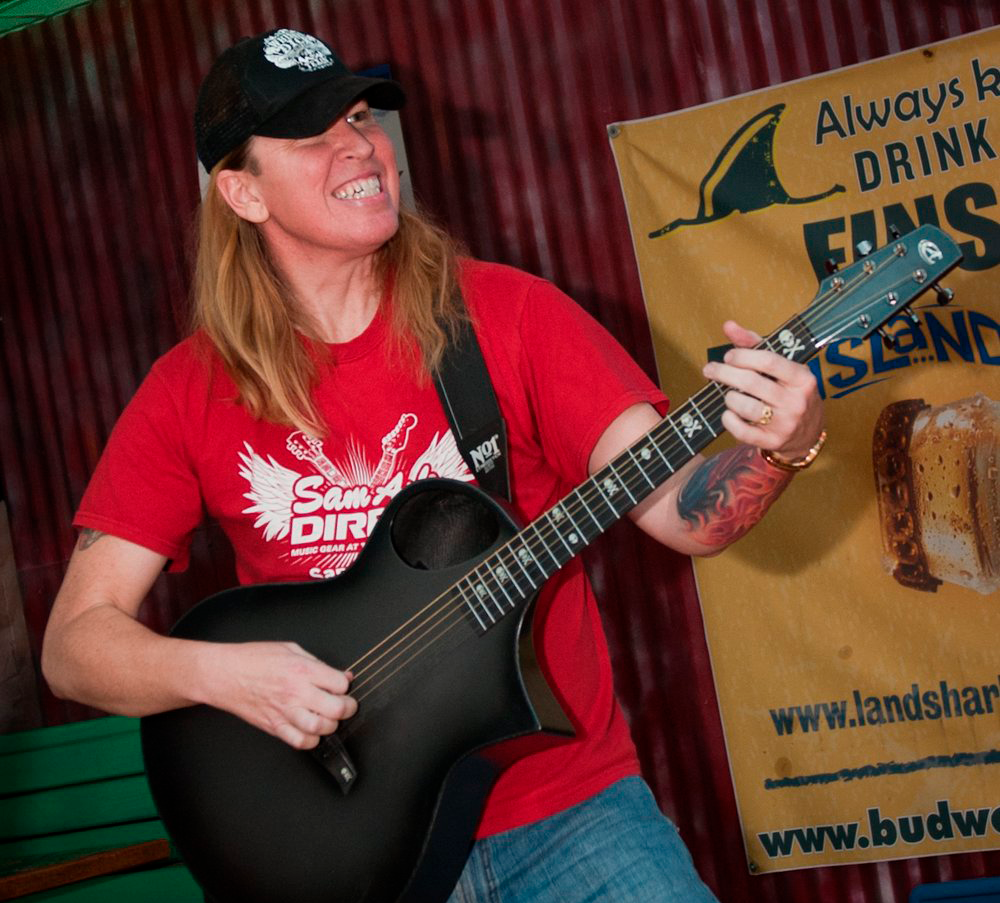 Hi everyone! I'm Thomas Moody, also known as Guitarzan.