You'll need a powerful computer if you plan to do a lot of sound editing on your 49-key MIDI keyboard or a synth. It takes a lot of RAM to combine and mix compositions, apply various effects, and change parameters. If you only need to record a composition or do some basic editing, however, you can use your iPad. It is possible to connect MIDI to an iPad, but don't expect full-featured professional DAW functionality.

The battery capacity is another issue that arises when using the iPad for MIDI applications. The MIDI software requires a lot of RAM and processing power to run. Do you intend to use your iPad for a variety of sound editing tasks? Although you can connect a MIDI keyboard to an iPad, make sure there's an outlet or a power bank nearby, for continuous work.
Follow these steps in order to know how to connect a MIDI keyboard to an iPad:
Depending on the connections of your MIDI keyboard, you can use a MIDI interface (two MIDI jacks on one end and a USB Type-A on another) or a USB cable (Type-B to Type-A). Plug the MIDIs or a USB Type-B into the relevant slots of the keyboard. Then, plug another end into the iPad. If there's no USB Type-A port on your iPad, proceed to the step after that.
For iPad models without USB Type-A, you can use the ready-to-use rigs connecting the USB Type-B port on the keyboard with the Lightning slot on the iPad. The USB3 Camera rig for iOS devices is another option. It features a female USB Type-A port (and two more connections) that you can plug your interface or a USB cable into. The simpler and cheaper option is a mediator device with the USB type-A female port on one end and the Lightning on another.
Turn on your iPad and download the software for MIDI applications. This can be NanoStudio, Tabletop, etc. You can use any version that is CoreMIDI compatible in order to ensure the signal flow from an iPad to MIDI and vice versa. Pay attention to the system requirements of the software as well.
Run the software and see if your keyboard is listed among connected devices. If not, disconnect the Lightning connector from the iPad port and plug it in again. If the problem isn't solved yet, enter the settings of the software you use. Find the "Inputs" or similarly called menu (e.g. "Devices", "Connection"). Enable the Lightning port for MIDI data transmission by checking the box or selecting the option. Press some keys on the keyboard to check if the signal goes through.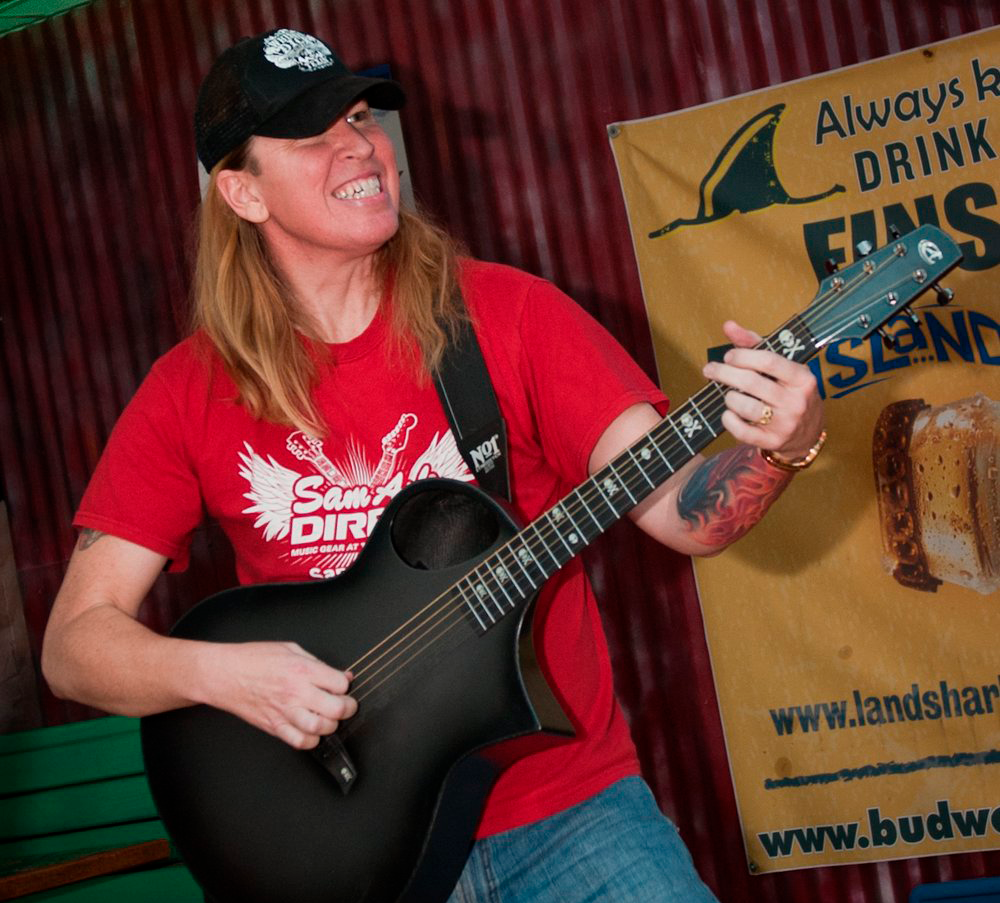 Hi everyone! I'm Thomas Moody, also known as Guitarzan.