A chorus pedal is a device used to generate chorus, which is a kind of modulation effect that makes a single instrument seem like many instruments are being played at the same time. So, if you want to play and create more compositions, you should definitely think about getting the best chorus pedal. It can significantly diversify your tone if used properly.

In fact, the guitarists use a chorus pedal to thicken an audio signal enough to make it sound as if there are multiple guitars playing at once. This device can be useful if you both prefer classical playing or like to experiment with sound. A chorus effect is used in some of the most popular rock songs dating back from 70's and 80's. Its distinctive sound can be heard on a number of records of those periods: compositions like Welcome Home by Metallica, Purple Rain by Prince, Paradise City by Guns N' Roses, and Come As You Are by Nirvana. The chorus effect is still among the most widely used effects in the music industry. Nowadays, it's most often used in rock and indie pop music as well.
The factors that decide a chorus effect's overall quality depend on the right equipment. Finding the top-quality chorus pedal can be difficult because of the number of various models on the market. Whether you are an amateur or a professional guitar player, you will need reliable equipment that will be a helpful assistant in performing various compositions. This way, we offer you to read our reviews. Learn about various models, their features, quirks, benefits, and drawbacks, and then choose the best choice.
In the case, if you are still not sure if you need a chorus pedal or don't know how it works, what it's capable of and how you can use it, read our buyer's guide to supply yourself with all the necessary information.
Guitar Pedal Reviews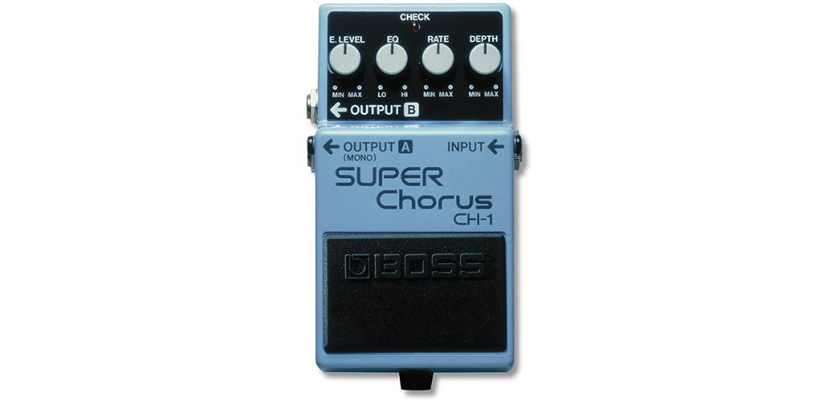 The BOSS CH-1 is a compact stereo pedal which goes in a pastel blue color and has a solid metal construction that is able to survive rough use. It's a versatile model that can be used with acoustic or bass guitar and even with a keyboard instrument. Except for standard Rate and Depth knobs, it also features Level and EQ controls. It has stereo input/output and output mono which means that you can split the pedal over several amplifiers.
Its sound variations depend on the distance between the left and the right speakers. Generally speaking, the BOSS CH-1 has a natural sound and adds clarity to your performance. It also works well with any kind of signal: whether you are on a clean channel or on a distorted one.
Along with the device, you will also get the instructions on how to adjust the pedal to achieve a particular effect.
Pros
It's compatible with any pedalboard.
Suitable for studio recordings.
It can be powered either by 9V batteries or from a power supply.
Cons
Professionals may find it too basic because it doesn't have as many tonal settings as the other models.
It produces noises on high volume levels.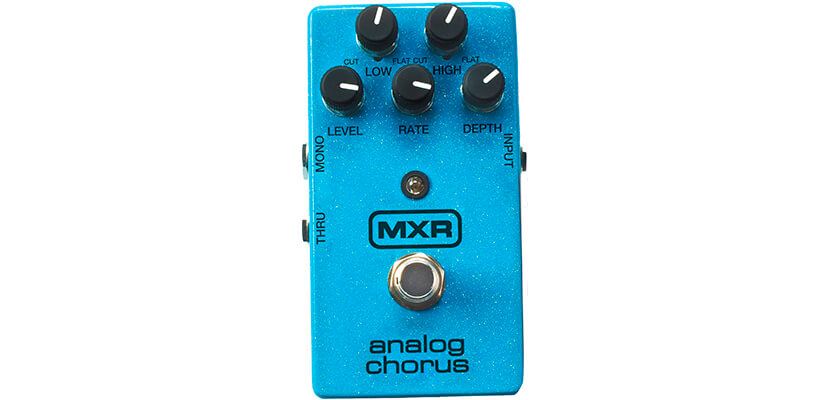 This mid-range analog chorus pedal from MXR goes in a sturdy metal corpus which is not subject to corrosion and has a classic brick-like look. This model may be precisely what you're looking for if you want to create a retro sound. It features an old school all-analog bucket-brigade circuitry that allows you to create classical, smooth textures or recreate the sound of vintage guitars. Additionally, in combination with distortion and a delay pedal, it also can help with the creation of more robust modern tones.
The sound production provided by this pedal is almost limitless thanks to five control knobs: Rate, Depth, Level, High, and Low which ensures an ultimate tone control. The MXR analog chorus can produce a mixture of subtle sounds, with warm and smooth shades. It's also supplied with two outputs that allow reaching an impressive stereo chorus effect.
As for the power supply, the MXR M234 goes with a 9V battery.
Pros
The pedal is light (only 1.2 pounds) and so compact (2.6 x 5.5 x 4.4 inches) that will fit onto any pedalboard.
Suitable for live gigs.
The AC adapter, patch cables, and picks are included in the kit.
Cons
The side-mounted power makes it more difficult to hook up several units on board in series.
LEDs are excessively bright.
The tone on this pedal lowers by itself when the effects loop is on.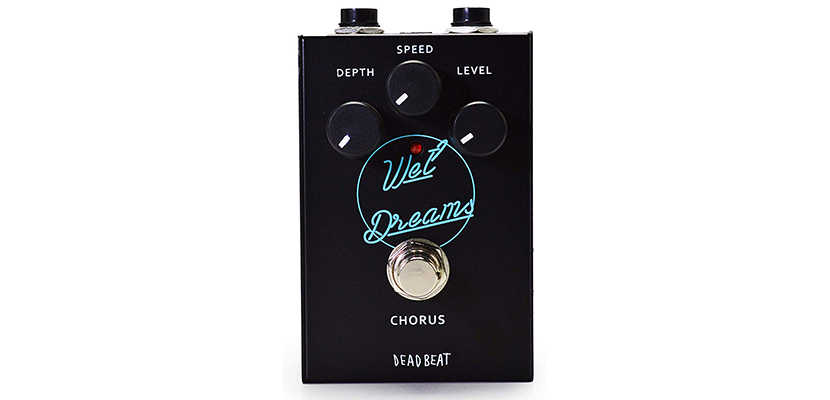 This analog pedal from Wet Dreams delivers clean classic chorus sound with clear highs and simmering lows. As the name implies, it also adds a nice wet feel to the sound. It features three control knobs: Depth, Speed, and Level. They are precise and well-crafted, exactly like the pedal's body.
This unit can be among the best chorus pedals for your live performances as it carries an accurate representation of what you're playing in real-time and doesn't introduce a noticeable signal interference. This means that you can keep it plugged in, only adjusting the dials when it's needed, without compromising sound quality.
Besides helping in the creation of some classic chorus sounds, this chorus pedal from Wet Dreams can add some surreal, distorted effects if you experiment with the settings a bit. As a result, it is very flexible and may be used in a variety of genres.
It has a current draw of 200 mA and also comes with a power supply for 9V DC power.
Pros
This pedal can be used not only with the guitar but also with other instruments.
It goes with two patch cables.
Cons
The mid levels aren't very bright.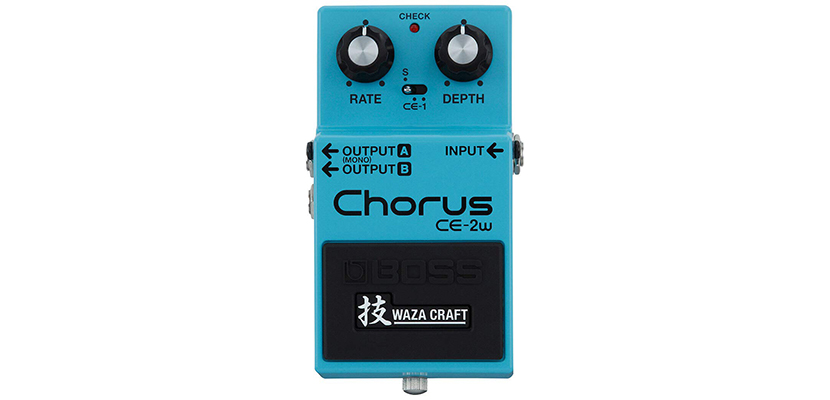 This chorus pedal from BOSS works in three stereo modes: Standard, CE-1 Chorus, and CE-1 Vibrato. It can potentially be the best chorus pedal in terms of simplicity as it has only two standard knobs: Rate and Depth. So if you are buying your very first effect pedal and don't want to deal with complex units that have five and more knobs, this one may be suitable for you. It's easy to use and provides quick switching between modes which is good when you are on stage.
Overall, this pedal is suggested for guitarists who want to reproduce vintage analog tones but don't want to spend too much time fine-tuning. The BBD technology makes the classic soft modulated tone available in stereo. However, it doesn't work well for the creation of any experimental chorus effects and can't offer great tonal versatility.
This BOSS chorus pedal features a stereo output which allows you to connect the pedals to two amplifiers to get a louder sound.
Pros
The CE-2W offers buffered bypass.
Cons
It is not suited for live performances since it sometimes produces hiss.
It lacks some parameter controls, like Level knob and controls for mid and low frequencies.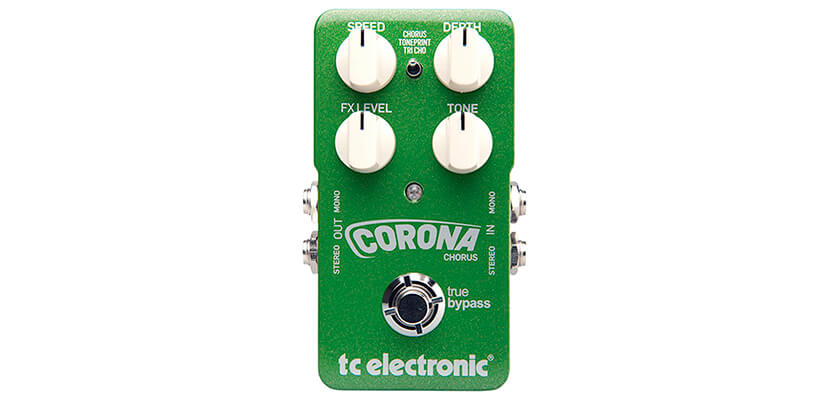 This chorus guitar pedal from TC Electronic has four knobs (Speed, Depth, Color, and Level) and true bypass control which provides optimal clarity. It offers full control over your chorus sound thanks to the Tone Print technology support which allows designing your own chorus effects. In addition, it gives the opportunity to upload special settings, made by professional guitarists, onto the pedal via USB (or via your smartphone with the help of the TonePrint app). Thus, if you don't like the factory chorus that comes with the pedal you can freely control how the TC Electronic Corona is going to sound like.
The implemented TriChorus technology consists of three choruses that work simultaneously. The interaction between those choruses can be modified to get some outstanding chorus effects.
If you like crystal clear chorus sounds, this pedal from TC Electronic may be just the one you need. You may utilize both stereo and mono outputs to provide some richer sound.
Being a stereo chorus pedal, the TC Electronic Corona also allows experimenting with a stereo rig.
Pros
The Tone Lock protects your presets.
Easy battery access.
Sockets for two inputs and outputs.
Cons
When used with other pedals, it doesn't function very well.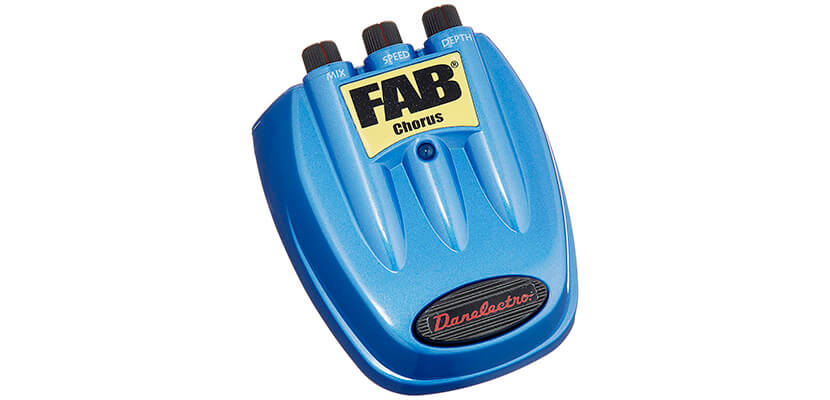 This digital model from Danelectro reminds of some old 80's chorus pedals. It can be the best guitar chorus pedal for those who would like to experiment with chorus without breaking the bank or for those who don't use chorus much but would like to have it in the arsenal.
You shouldn't expect too much from this unit, but it does give a basic chorus sound. However, it has three knobs (Mix, Speed, and Depth) that can give you more control than some of the expensive models. The Danelectro D-5 Fab can also give more clarity to your tones and it is universal for any pedalboard.
The pedal is made of a strong plastic that can withstand rough treatment, but its odd spherical form makes it difficult to strike with your foot. However, thanks to such design, it's much smaller than most of the brick-like pedals (4.6 x 4 x 2.2 inches).
It can be recommended for those who use a chorus for very first time because it is quite simple, allowing you to achieve both clean tones and crazy sound effects without long and complex adjustment.
Pros
It sounds impressively warm as for a digital pedal.
It provides a subtle doubling.
Cons
The battery is not included in the package.
The pedal provides a significant volume boost which is hard to adjust.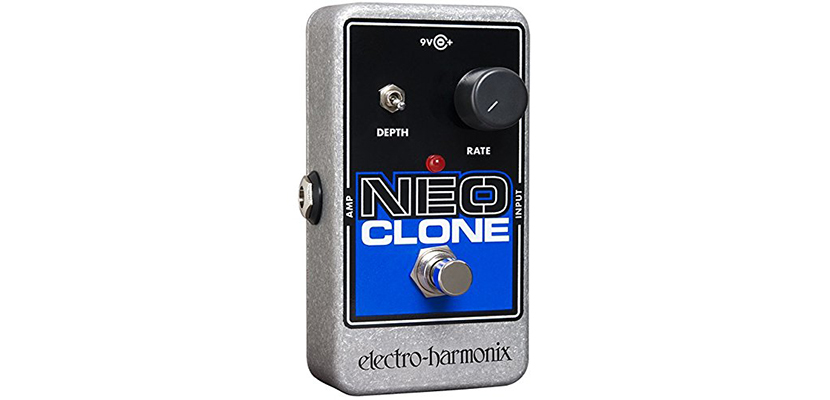 This model from Electro-Harmonix has only two control knobs (Rate and Depth) which makes it convenient for live performances. Since it goes in a mini-pedal format, it's much simpler than the standard models.
The pedal uses a bucket brigade chip to provide superior sonic qualities and additional accuracy. Its analog circuitry is able to produce very clear tones. It is also worth to be noted that the Neo Clone is based on the original Small Clone which was used by Kurt Cobain, so it's perfectly suitable for play grunge or similar to it sounding. Sound effects, on the other hand, are limited.
This chorus effect pedal comes into a road-tough, compact chassis and will easily fit into any pedalboard. It's powered by a 9V battery (which is already included in the kit) but can also use a 9.6DC-200 power supply.
Pros
The true bypass prevents unwanted distortion.
It can offer a classic chorus tone.
The Electro-Harmonix guarantees low-noise operation.
Cons
The depth adjustment can't be fine-tuned.
It's not durable enough to be used for long hours.
This pedal may fail to work with some other pedals.
Buyer's Guide
Chorus Pedal Possibilities
The chorus pedals are one of the most popular effect boxes used by guitarists. They can be used to add faintly discernible modulations to your sound or in more radical ways. However, if you have never tried to use any additional equipment to add some effects to the sound of your guitar then you probably don't know too much about the chorus pedal possibilities.
So what does a chorus pedal do? And how it affects the sound of the guitar?
The chorus pedals functionality range actually depends on the model: some models perform only some simple functions and the others allow reaching really wild effects. However, generally, all the chorus pedals thicken, multiply, and color the sound created by a guitar. This allows reaching a more powerful sound in real time without the need to use a phonogram or additional guitars. Besides, you will need two guitarists playing very tight with one another to get sounding, similar to the chorus. The effect, created by chorus pedals, can be compared to the ringing, chiming sound that the 12-string guitars produce due to their paired strings that differ slightly in pitch and time. A chorus can also sound like a vibrato or tremolo effect on extreme speed.
The chorus pedal may also be used to supplement the other sound effects, creating a 3D impression in the listener's ears. If used along with a stereo amplifier, the chorus pedal adds even more spaciousness to the sound.
There are two types of chorus pedals: analog and digital. The digital units are more modern and more advanced. They have more control knobs and more sound variations than analog chorus pedals which, in their turn, are distinguished by warmer and more natural sound.
Chorus Pedal Working Principle
Even if you have been using a chorus pedal for some amount of time, its working principle may still be a secret for you. So how does a chorus pedal work?
The chorus pedal works by dividing the input signal into two independent signals, one of which remains unchanged. The other signal is delayed by 20-30 milliseconds and then, at the output, is mixed with the original. The key to the chorus effect is the subtle variations between those two signals: the small variations produce thicker and fuller sound than what you would be able to create with two identical sounds. The differences between the sounds result in a bigger and more complex overall sound.
To shape the sound with the help of a chorus pedal, you can adjust the output signal using control knobs. The number of those knobs depends on the model. The simplest models usually have only two knobs: Rate and Depth. The Rate knob controls the number of milliseconds of delay, and the Depth knob controls the intensity of signal modulation. More advanced models often have an EQ knob to control treble and bass, and the Level knob to control the amount of chorusing that will get mixed with your straight guitar sound.
Reasons to Buy a Chorus Pedal
Let's shed some light on the reasons to get the device that will allow reaching a chorus effect if you are still hesitating whether you need it or not.
The chorus pedal will let you:
Reproduce famous compositions

As it was already mentioned, some of the most popular songs use a chorus effect. This way, you won't be able to accurately reproduce those songs without special equipment that can provide a chorus effect.

Expand the number of tones

If you're bored with the tones provided by your amp, the chorus pedal is a great method to broaden your musical horizons.

Play more complex compositions without putting a lot of money into equipment

Most songs obviously require more than one guitar, whether you play it or create it. However, the thickness and richness of sound provided by a chorus pedal will make one guitar sound much more voluminous. And its cost, on average, varies from $15 to $400 which is much cheaper than buying another one guitar, for example.

Experiment with sound

If you like doing covers, create a variety of different compositions or just experiment with sound effects, a chorus pedal is your way to go. Even the simplest pedal will offer you a various range of sound effects (a uni-vibe type of effects, for example).
How to Use a Chorus Pedal: 5 Ways
The chorus pedal is a multifunctional device that has a lot of different applications, and we will take a closer look at some of them. Before, we have to talk about the proper placement of the chorus pedal in the signal chain. Due to its nature to copy, delay, and put back together with the input signal, the chorus pedal must be located at the end of the signal chain if you want to get a clear tone that will sound just right.
Ways to use a chorus pedal:
With clean channel

The usage of the chorus effect with clean sections can give a quite outstanding result. You can set the right tone, using Rate and Depth knobs, adding some volume to the sound. This is especially relevant when you play songs where you are the only one guitarist.

For your solo

If you feel that your solo is a bit thin and weak, the chorus can definitely add some authority to it. This is especially effective when you play in a band with two or more guitarists. However, it's important to know when to use chorus in this scenario: the sound of other instruments will fall behind if you keep the chorus for too long.

To enhance the lead tone

By turning down the Effect Level control (or Rate and Depth controls) you can add some color to the lead tone and thicken it up.

With acoustic guitar

This kind of guitar rarely sounds good with different effects, but the chorus is an exception. If you have a pickup in an acoustic guitar, try to play around with your chorus pedal to add some color to acoustic parts.

With several guitars

If you have a few guitars playing together, you can use the chorus to spread them out by processing each guitar with compression and EQ.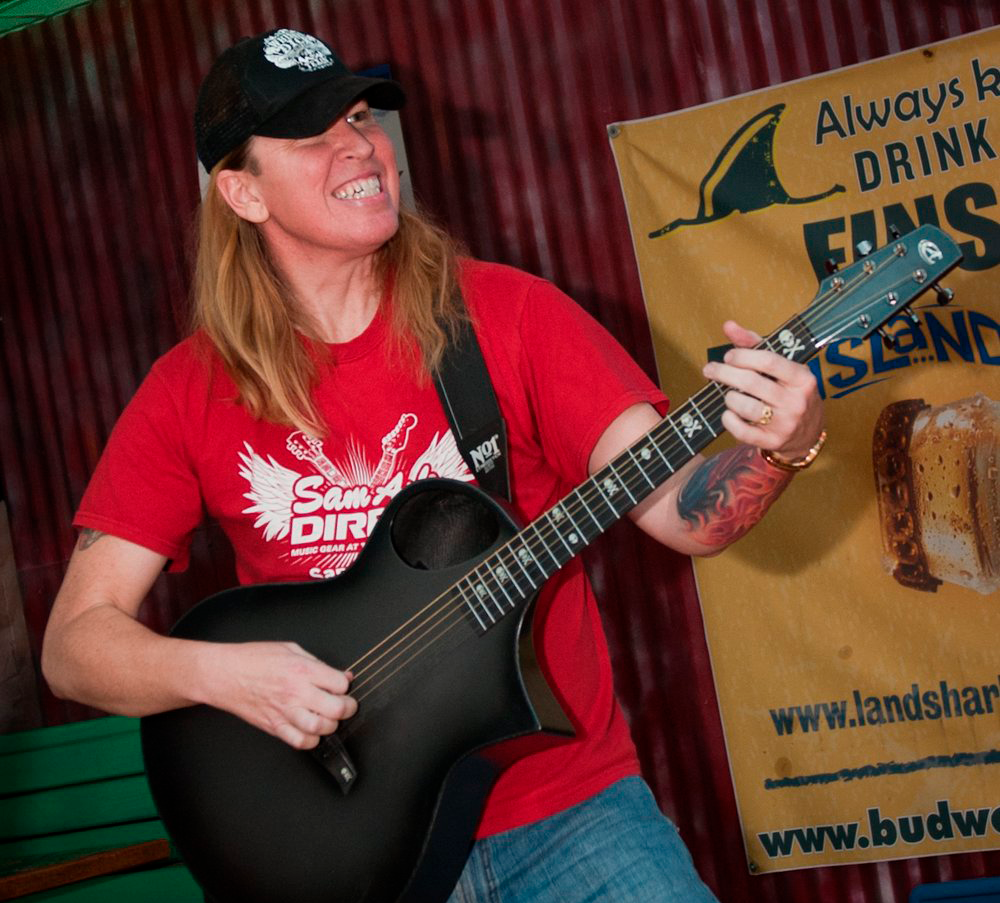 Hi everyone! I'm Thomas Moody, also known as Guitarzan.