Unlike traditional musical instruments, a hang drum is a recent invention. It was made in Switzerland in the 1990s and quickly gained the public interest. The hang drum instrument relies on the Helmholtz resonance phenomenon. It produces sounds out of resonance that exists between two surfaces.

The hand drum is a popular item on the market, but it has plenty of variants that are called handpan, hank drum, tank drum, tongue drum, etc. Each variant has its peculiarity, but the main idea remains similar. You can play this instrument without musical education. It produces superb sound and combines an average of 8 tones. However, some models have a range up to 11 tones. This extended range will result in a better polyphony and a more immersive sound environment.
This musical instrument is very popular with people practicing meditation and other forms of consciousness techniques. The nature of sound coming out of the hang drum enables its usage for anti-stress purposes as it greatly helps in dealing with negative emotions.
If you've made up your mind to purchase this item, there are a few factors to consider. Firstly, you need to decide on which type of hang drum for sale good for you. Some of them can be played with bare hands, while others can be also played with mallets. Secondly, you should think about the price because tongue drums are usually about ten times cheaper in comparison with hand pans. Those persons who are buying a hang drum must get familiar with these 13 variants of handpan drums that feature different characteristics and vary in the price. Read more to find out the most convenient options for your needs and your budget.
Hang Drum Reviews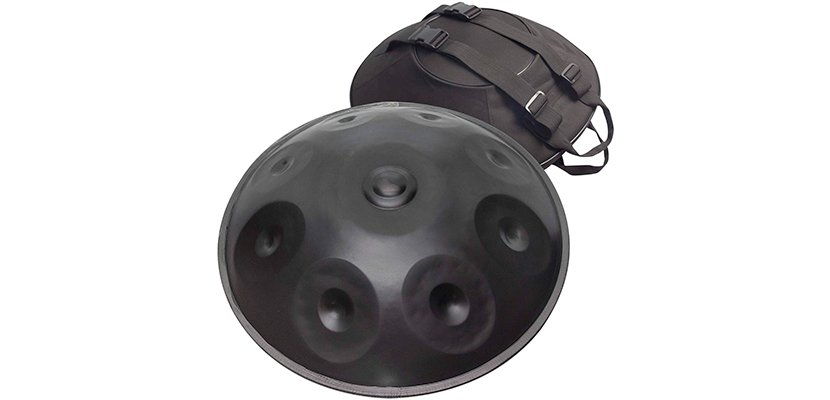 To briefly introduce the major benefits of this product, I would like to start praising its build quality. This handpan drum is made of a high-quality carbonized steel that is meant to ensure outstanding durability of this musical instrument. By the way, its edge us fully coated by special protecting plastic that serves for extra safety. Additionally, this UFO-shaped drum is tuned to provide 9 notes in D minor (D3, A, Bb, C, D, E, F, G, A). Surely, you can play it both with hands and mallets. When speaking about its musical properties, the LUVAY Percussion performs pretty well due to its ability to retain its tuning for a long time. However, I don't like the fact that this 22-inch drum is 14 inches in height, despite its declared weight of just 8 pounds. Hence, the item may be a bit bulky for children. Overall, my verdict is that this particular instrument is a wonderful musical instrument that is played by the principle of Helmholtz-resonator.
Pros
The tones of this good hang are soothing and pleasant.
The item comes with a comfortable drum stand and a cleaning cloth.
It naturally combines with a wide range of musical instruments.
Cons
The tuning process seems to be very hard.
The higher notes sound very thin with rather poor resonation.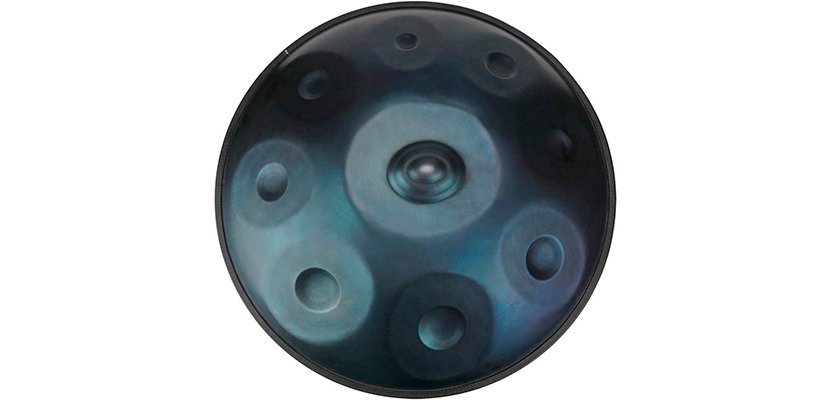 This very model is another decent handpan drum for sale that can be recommended to both professional musicians and average customers. Although this drum looks a bit bulky due to its 22.8-inch diameter and 10-inch height, it does not mean that the item has an ugly look. Surely, it is not as slim as most other models sold on the market today, but it still has a pleasant design with deep black color that creates the feeling of mystery. However, its weight is definitely not the strongest side of this hand drum, as it weighs sensational 11.35 pounds. Therefore, I cannot say that the item is recommended for small children, though teenagers might face no problems with this heavy musical instrument. Made of steel, the Lark Music offers 9 notes in D minor (D3, A, Bb, C, D, E, F, G, A). By the way, the item is ready to be used right out of the box, as the manufacturers have already tuned the item thoroughly to avoid even minimum possible fluctuations. Nevertheless, you won't describe this drum as a cheap one, so this is not the ideal purchase for those seeking for the low-budget handpan for sale. As a conclusion, I should say that this model provides very beautiful sounds and overtones, though it also has several notable disadvantages for the item from this price range.
Pros
This product has a very sturdy design.
The item provides perfectly clear sounds even after slight hits with your fingers.
Easy-to-do tuning.
Cons
The cloth cover may contain poorly sewn seams.
It does not come with a drum stand.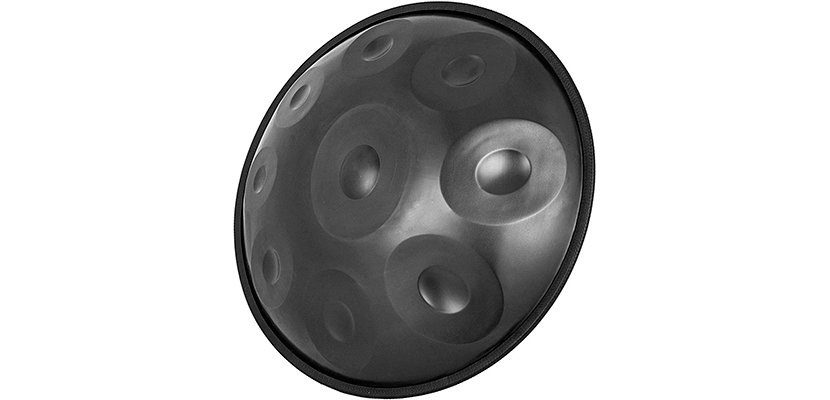 The first item to be reviewed in this article is the one made of nitrogen steel material that is the main reason behind its outstanding durability and sturdiness. When describing its structure, it should be noted that it has a common construction with two half-shells of deep drawn and a hollow inner part. The item itself looks like a convex lens. With this amazing hang drum, you will be able to play 9 notes in D minor, from D3 to A3. Surely, this one instrument is capable of producing extremely melodic vibration sound that hit exactly the note you're going to hear. Each note has been checked with the tuner thoroughly to avoid even minimum fluctuations. In my opinion, this particular model can have various applications, such as playing at home just for fun or perform in front of the crowd, as its sound can be really loud when necessary. Overall, this gray 22-inch handpan can become a good long-term purchase for you, as its reliable design and handmade construction promise pleasant and durable usage.
Pros
The product comes with two hammers, so you can turn it into a percussion drum.
It also comes with a portable carry bag and tripod metal stand for increased portability.
The item rarely requires tuning.
Cons
Novice players might find it difficult to tune the item.
The model has a relatively plain and dull design.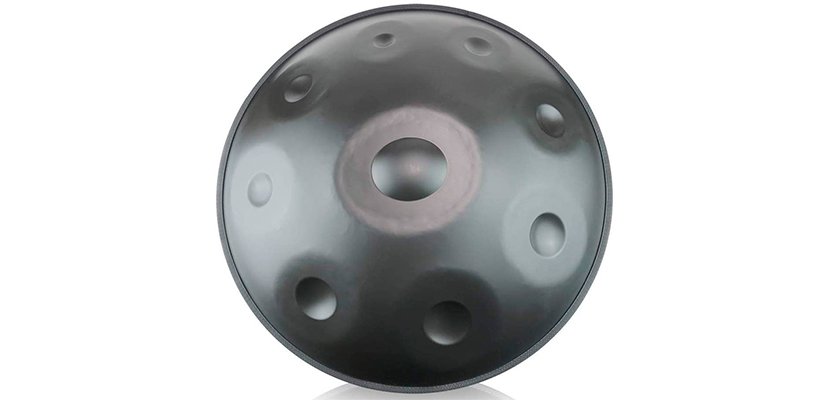 To be honest, I am firm in my opinion about this musical instrument as one of the greatest hand pans under $1000. Similar to other popular models, this one is 22.8 inches in diameter and 10 inches in height. The color of this item can be described as accentuated black. Being made of high-quality steel, this handpan for sale is not only reliable in terms of usage, but it also sounds really great even in the hands of those users who have no sense of music at all. By the way, the drum's edges are also protected with the special plastic cover. Again, like most other hand pans, this one has 9 notes (D3, A, Bb, C, D, E, F, G, A) in D Minor. I think it is necessary to point out that you do not need to hit this item strongly in order to produce pleasant sounds, as hitting just with your fingertips will be more than enough to retrieve beautiful melodies. Nevertheless, the Lark Music Soft is pretty heavy weighing almost 12 pounds. Also, you should keep in mind that the product does not tolerate high humidity and long-term exposure to direct sun rays. If you are going to buy a handpan, I will highly recommend this item to any customers who want to relax enjoying magnificent sounds produced by such a great musical instrument as a hang drum.
Pros
The building quality of the item is quite good.
The item arrives in a well-insulated box with a cleaning cloth.
The drum bag looks very durable.
Cons
This hang drum for sale tends to lose its tuning relatively fast.
The item is not that great in terms of portability.
Video Lark Music Soft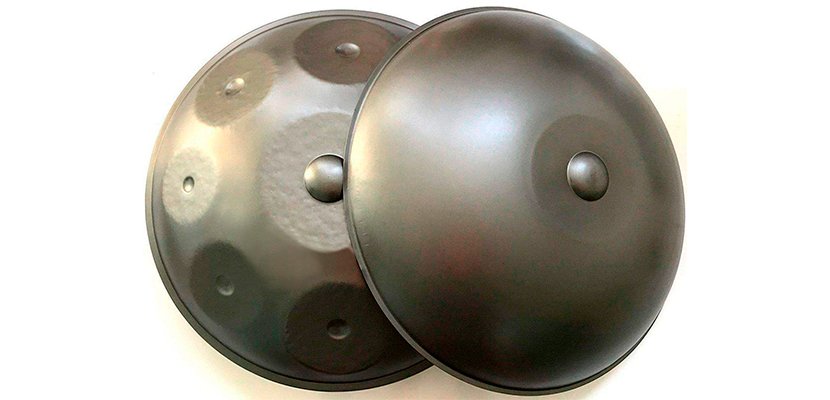 While many models of hand pans seem to have an identically dull design, this one differentiates a lot from them with its sophisticated lines and metallic color polished ideally to please your eye. This authentic convex steel drum comes with a stylish hanging bag that turns carrying this musical instrument into an easy task. It also offers 9 notes in D minor (D3, D5, C5, G4, D4, A3, C4, F4, A4). After spending some time to test this model carefully, I can confirm that each and every note of this handpan drum for sale has flawless resonance vibration that you would expect from a high-quality product. However, it is necessary to point out that the product looks considerably large (22.8 x 22.8 x 8.7 inches) and weighs nearly 10.5 pounds. Overall, this Vietnamese product is a high-quality pieced that is sold at an affordable price, so it can be freely recommended to those customers who want to get a decent handpan drum without paying too much for it.
Pros
The item ships with special protection for the notes.
This product is covered with an anti-corruption layer to raise its durability.
Extremely hard and sturdy steel is the core material for this handpan instrument.
Cons
Some notes may have not that good responsiveness.
It arrives with neither drum stand nor cleaning cloth.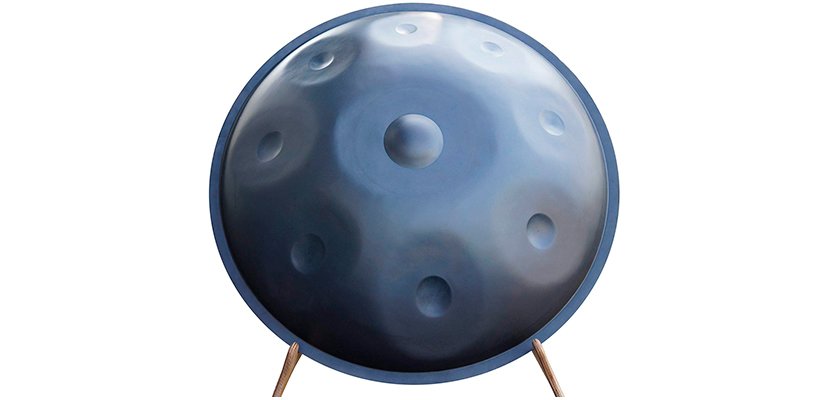 If there were professional convex steel drums, the Tzevaot would be definitely advertised as the one that is meant to be used for commercial purposes! The first thing that surprised me in this item was its ergonomic design with clear and smooth lines and perfect UFO-like shape. It is also worth mentioning that the design of this item symbolizes the clash between Dark VS Light to reflect a natural balance of energies. When buying this item, you will get the authenticity certificate with register serial number, so you can be sure that your new handpan instrument has been made by real professionals. When speaking about the notes, this one has 9 ((G), C, D, E, F, G, Ab, Bb, C). The product's dimensions are also relatively small compared to other popular models (21 x 21 x 10 inches). Its weight is also rather pleasant, as 10 pounds is a normal weight even for children. The main secret behind its charming melodies lies in the fact that this model is nitride- and nitro-carburized to acquire a warm and soothing sound. However, this product is very expensive, partially because it is made in the USA. As a conclusion, I would say that this hang instrument has lots of positive features that are rarely found in most projects, though its price may serve as a repellent for many customers.
Pros
It boasts crystal clear sound and easy-going tuning.
It comes with the hard case that guarantees excellent protection against dust, physical damage, UV rays, and solvents.
It has a high resistance to rust, which is ensured by nitride- and nitro-carburized instruments.
Cons
Two of the highest pitches in the scale may resonate very poorly from time to time.
Such an expensive product does not have shoulder tones.
Video Tzevaot Aeolian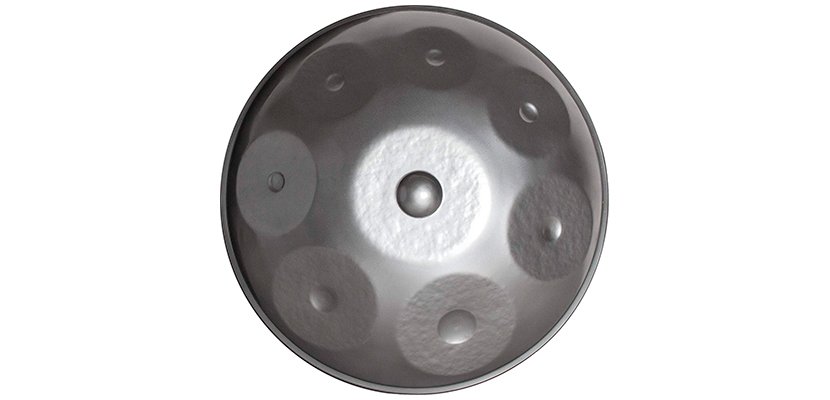 The final product on the list of 7 amazing handpans is a guest from Vietnam that also boasts perfect musical properties combined with an ergonomic design. Gray metallic color of the item does not look very dull as the item is thoroughly polished, so it looks really great. At the same time, I would like to warn you that this product has only 8 notes ((F), Bb, C, C#, F, F#, Bb, C) in its range, while most handpans are sold with 9 notes. The steel construction of the item is locked within a protective plastic circle. It should be also noted that the product not only has the Ding Side with 8 notes but also the Gu Side to be used as a percussion drum. The availability of tonefield will make your music even richer. Nevertheless, the product's dimensions are pretty large (22.8 inches in diameter with a height of 8.25 inches). This particular hang drum instrument is expected to serve long enough just if the user is ready to maintain it carefully. Overall, the item is great for its price, but its weight of almost 12 pounds is its obvious downside.
Pros
The notes are very responsive and have a pleasant vibration.
It is equally good for playing with both hands and mallets.
The item features a special anti-corrosion cover.
Cons
The notes are reportedly not always what they are stated to be.
The tuning process is too long compared to other similar items.
Steel Tongue Drum Reviews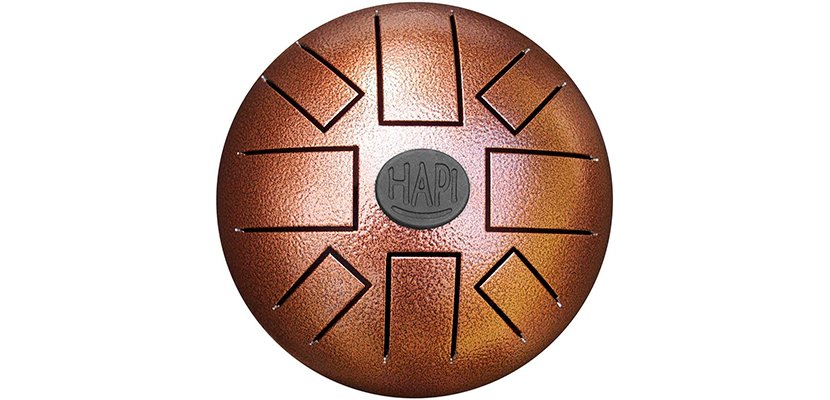 The Hapi drum is the wisest choice for those customers who want to enjoy pleasant melodies with a compact drum sitting on their legs. The dimensions of this musical instrument are really pretty small (8-inches wide with a height of 5.5 inches). Moreover, the item can be called extremely portable with a weight of just 3.4 pounds. A pretty-looking travel bag is also included in the purchase, so you can easily transport the item from place to place. When describing the scale of this instrument, it has the D Akebono Pentatonic scale (D4, E4, F4, A4, Bb4, D5, E5, F5) that originates from Japan. This scale is equally good for playing western music, as well as for using it for meditations combined with traditional eastern musical instruments. In my opinion, the strongest benefit of this model is its creatively designed bottom port that is meant to let the sound go out filling the room. This is why this musical instrument sounds really great when played both inside and outside. Additionally, special rubber feet attached to the bottom allow users to set the drum comfortably on any surface. However, it feels like the item lacks some sturdiness, which most drums tend to have. My verdict is that the Hapi drum mini could be a good purchase, though you should treat it very carefully.
Pros
The HAPI is covered with the special anti-corrosive and protective powder coat finish.
The item is easy-to-play even for novice users.
This product keeps its tuning for a long time.
Cons
Its size is too small to be placed ideally on the lap of most adults.
It is rather difficult to play with fingers if you want to produce a very nice tone.
Video Hapi HDminidake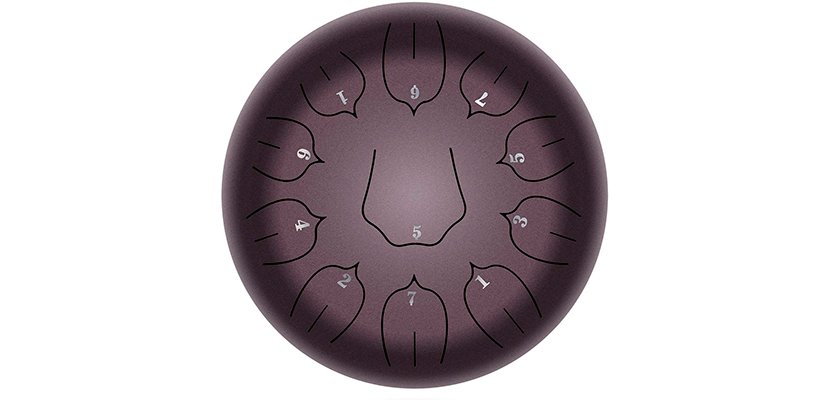 I think this cutie musical instrument fully deserves its place among the top-rated tongue drums. The product looks very sturdy, being hand-made of reliable steel-titanium alloy for increased durability. Its owners are usually very pleased to find out that their newly acquired tongue drum is coated with a special green spraying-paint that prevents the item from getting rusty. Furthermore, this sounds a bit crazy, but this product has sensational 11 tones that consist of pentatonic scales to generate just gorgeous melodies with minimum effort. This means that this item gives increased versatility in terms of mixing notes. Based on my personal experience, I can say that this musical instrument is simply fabulous for jamming. By the way, the item's sandalwood color is just awesome too, as it makes this drum even more attractive paired with the purple spraying-paint. However, the manufacturers offer 10 different colors to please any customer. Moreover, this drum has just perfect dimensions (12.9 x 12.8 x 8.3 inches) and weight (7.7 pounds), so it can be easily placed on the lap. Silicone feet further help stabilize the drum's position on any surface. Overall, this product is a cheap but really effective musical instrument that fits both children and adults.
Pros
It comes with a set of useful accessories including music book for novice players.
The item can be easily played by users with no musical background.
The build quality is very high.
Cons
Some notes may sound louder than the other ones.
Playing with mallets gives considerably better sound quality against playing with hands.
This mid-priced steel tank drum will be an excellent decision for every individual that values the magic of music and collects unusual musical instruments. It plays D major scale (A, B, C-sharp, D, E, F-sharp, G, A-D the next octave up). The LUVAY allows creating incredible music with bare hands even if the player is very young. The steel tongue drum body is made of a steel-titanium alloy that ensures extreme durability and damage resistance. The body is protected with paint coating that gives the tongue drum a better look and at the same time protects from scratches. The advantage of the LUVAY tongue is that it is corrosion resistant and won't deteriorate under humid conditions or if you accidentally left it outside. There are also silicone feet that enable you to fix the drum's position solidly. The LUVAY is made in glossy brown and features lotus-flowers carvings on the top, each indicating one note. The instrument generally has 11 key notes that let you create a multitude of polyphony with different sounding. The item comes in three sizes varying between 6 and 22 inches. There are a number of necessary accessories that come in the kit. These are a couple of mallets, a carrying bag, a set of notes stickers, and a set of picks.
Pros
The Luvay is followed by a music book teaching how to play this particular instrument.
It produces smooth, clear tones that are pleasing to the ear.
This steel tongue comes perfectly tuned to D scale by default.
Cons
No tuning options.
Fingerprints are of low quality and tend to break down quickly.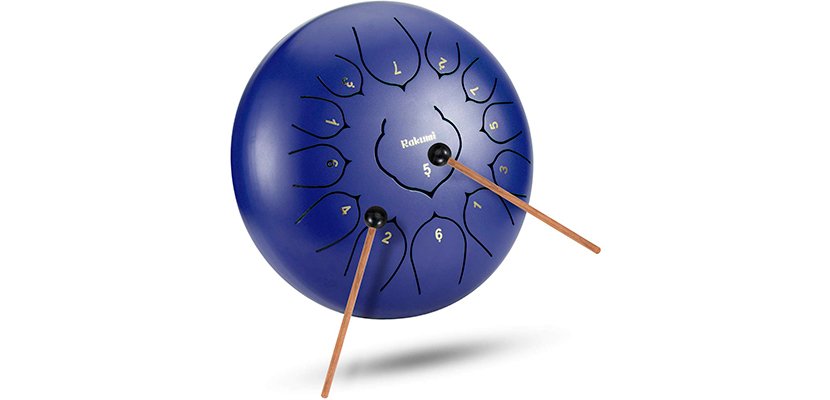 This 12-inch tongue drum will be an amazing gift for every person that is passionate about music. It is an independent and multifaceted instrument that allows creating magic and gentle melodies even when it is in the amateur's hands. The Rakumi is made of steel and covered in eco-friendly paint that has no hazardous chemicals in its composition. The Rakumi's construction is simple but convenient. It lets the user play with both hands and hammers as it has a perfect tapping position that results in purely crystal sound. Its range includes 13 tones and is sufficient to reproduce any type of music. The instrument is easy to play and requires no musical accompaniment as it creates an immersive sound that is pleasing to the ear without background. For that reason, the hank drum is also fit for yoga practice or meditation and can be used in other fields that are not directly involved with music. The 13-tone tongue drum features an unusual design print that reminds of a lotus flower. You can also see 13 numbers indicating tones. The item comes in six beautiful colors for all tastes and weighs 7.3 pounds. The set also includes a pair of drumsticks, four finger sleeves, a carrying bag, and a music book.
Pros
The Rakumi Note Steel can be tuned from underneath.
There is a music tutorial guiding into how to play the Rakumi well.
Cons
It takes time to master all the multitude of notes available to play, both major and minor.
The tutorial does not say what number refers to what tone.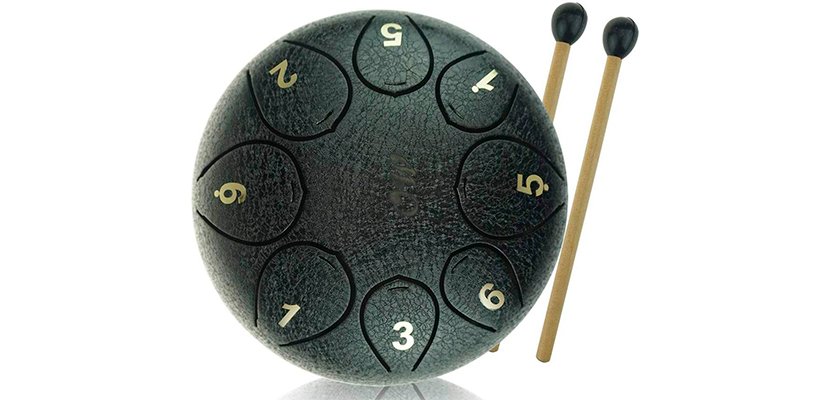 This OcarinaWind is a small and classic tongue drum that works ideally for individuals that love playing music wherever they go. The drum weighs 1.17 pounds and is only 5.5 inches and covers 8 tones, but it is extremely handy and easy to carry around while traveling. Likewise, it is a good instrument for children that want to improve their musical skills since childhood. The OcarinaWind is easy to play. You just need to hit the middle of the tongue head to get vibrant and earth-vibrating sound. The nature of sound is soothing and best fit for meditative and relaxing purposes. The OcarinaWind design features distinct cuts between tongues. They contribute to better and more accurate sound production. It is also an advantage for newbie players that need to perfect their tapping. Though the range embraces only 8 tones, it still suffices to play a great variety of melodies and songs. The OcarinaWind comes in black only, but it is followed by a number of essential accessories that will make your playing more comfortable. The package includes a couple of drum mallets, one carrying bag, and a tone seeker for quick tuning. The OcarinaWind is a smart choice for an audience that intends to use it as a means to relieve stress and cultivate a peaceful mind.
Pros
The sound is magical and penetrating in spite of the OcarinaWind small size.
Amazing tones with pretty good stability.
Cons
No user's manual on how to play this instrument is included.
The stickers are really flimsy.
There are no tuning options.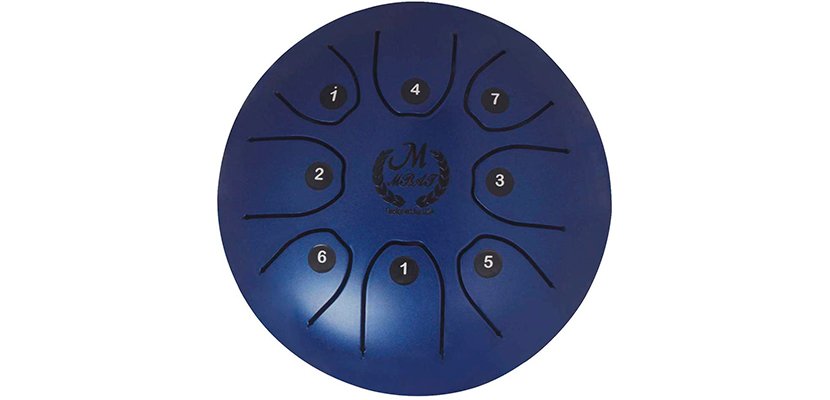 This ultra-light and handy zen handpan is suited to every person that strives to polish their musical talent. The main distinction of the Younar design is the size of 5.5 inches and 1.8- pound weight. Such a mini-size makes this drum a good match for both young and adult players as much as it is a perfect choice for active travelers. The Younar Mini easily fits into a bag and causes no big difficulties when you need to transport it. The construction is made of steel and boasts high damage resistance for this reason. The design is unique and hand-made. The drum is also covered with an eco-friendly paint that protects the surface from deterioration. The Younar does not require lots of experience to play it well. You should rely on cuts between tongues that delineate the spaces to hit. Like other similar models, the Younar Mini can be used to create a meditative and soothing environment when you need to calm down or get rid of negative emotions. The item comes in six colors, including both vivid and classic. It is able to match every taste and every mood. The tank drum comes with a pair of drum sticks and a durable carrying bag.
Pros
The bag is handcrafted in national style and boasts a bright and appealing print.
The sound is resonant and deep.
It has the instructions sheet with a number of songs to play on it.
Cons
Buyer's Guide
Tongue Drum vs Hang Drum
Although these two types of drums generally produce very similar sounds, they have a series of unique features that help them differentiate significantly from each other and from other musical instruments. The first hand pan for sale had the original Swiss design and was called a "Hang Drum" due to its UFO-shape that resembles the musical flying saucer a lot. Hang drums usually have a bit elevated keys that are used to produce certain notes by hitting on them slightly.
At the same time, the steel tongue drum usually looks like an old-fashioned propane tank. They have special slots that are cut into the steel to serve as a particular note. When speaking about sound quality and richness, hang tend to have more clear and long-lasting overtone compared to steel tongue drums. Also, I would like to emphasize that most hang drums sound equally great when played either with hands or mallets, while tongue drums should be better played with mallets if you want to get the deepest and clearest notes.
Short history
I bet that most readers have a mere understanding of the origin of these two melodic drums types, as they both were invented not so long ago and had very little time to gain all-embracing popularity. The Trinidad steel drum appeared in Europe in the 1970s as the ancestor of what we know today as the hang drum. The thing is that unusual sound produced by the Trinidad steel drum inspired Felix Rohner from Switzerland to invent his own version of this exotic musical instrument that originally did not have the flying saucer shape. In the 1990s, Felix Rohner founded his own company PanArt that is specialized in making these concave instruments. Later he was joined by Sabrina Scharer who also played her significant role in presenting the first two-sided hang drum in the UFO-shape to a wide audience in Frankfurt, Germany in 2001. Since that time, these handpan drums have become widely advertised and quickly gained popularity among European jazz musicians.
The steel tongue drum, in its turn, was designed by Dennis Havlena in 2007. He called the tongue drum — Hank Drum, as the mediator-word for the Tank and Hang Drum. This musical instrument was meant to serve as a cheap alternative for the hang that rarely costs less than $1000. In fact, the steel tongue drum quickly gained the affection of those customers seeking new emotions in music at a reasonable price.
Difference in sound
Although you can't remain very objective when comparing the sounds of these two very similar musical instruments, there are indeed some dissimilarities in the way they sound that can serve as the main criteria for differentiating them. Most experts would say that the hang musical instrument has a clearer and louder sound compared to the tongue drum, and this statement has a couple of arguments supporting it. The first one is that the hang drums can be played equally good both with hands and mallets, while the tongue drum is a musical instrument that is predominantly played with the special sticks only. When using your fingers to play the tongue drum, you will get a bit muted or even subdued notes. This situation will never happen with the hang drum unless it is broken. The second argument also derives from the fact that playing with hands gives the musicians rare diversity in the way their instrument sounds. Experienced players use not only their fingers but also palms and even hands to create their wonderful melodies with the help of the hang musical instrument. Doing the same with the tongue drum without losing the quality of sound seems to be a merely impossible task. The final one derives from the fact that the acoustic structure of hang drums allows them to produce loud and clear sounds with minimum efforts, while tongue drums may require more accentuated hits with mallets.
Is tongue drum an alternative for hang drum?
In fact, it is rather difficult to give a very precise answer to this question but I will try. First of all, both these drums derive from the same family of musical instruments, which are drums in the idiophone class. Consequently, it is absolutely natural for them to have some common features. Secondly, the tongue drum was planned by its inventor as a cheaper alternative for the hand pan. Hence, it also possesses some features intrinsic to hang drums. Finally, the tongue drum could be considered a cheaper alternative for the hang in terms of price, as even many authorized sellers at Amazon say so. While hang drum price is usually set in the range between $1000 and $3000, tongue drums can be even as cheap as $50.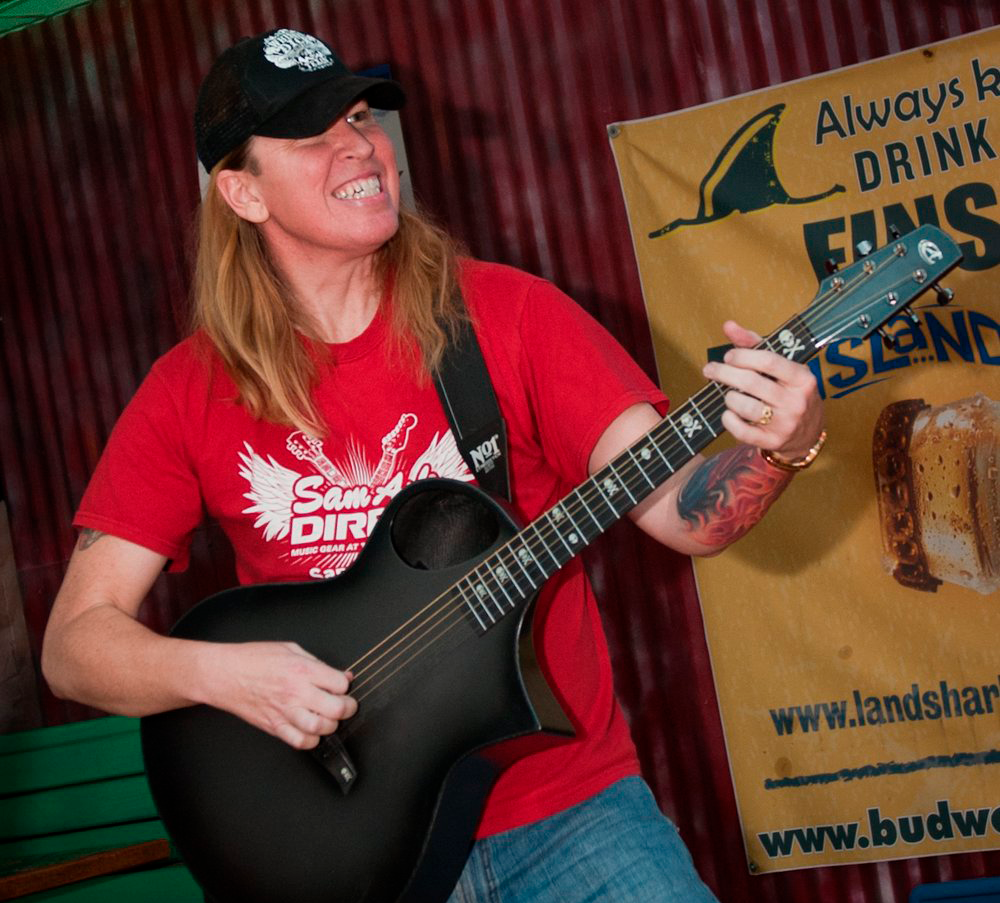 Hi everyone! I'm Thomas Moody, also known as Guitarzan.