A MIDI controller is a particular device that lets have all self-made music be saved and transmitted to a computer or other controlled device (sampler, sequencer). It isn't easy to choose the best 25 key MIDI controller because every device has an advantageous design and practical features combination.

Being very lightweight and small, the best MIDI keyboards include 25 synthesizer mini keys and are an excellent tool for automating recording. Such a keyboard facilitates and simplifies the process of arrangement/mixing, so is regarded as an important element in DJing.
A 25 key MIDI keyboard is one of the most useful choices for those who take musical instruments on a trip. Moreover, these keyboards produce a sound that is similar to full-sized pianos.
Apart from 25 key MIDI controllers, the market presents the following types:
49 key MIDI controllers provide more musical extra features than smaller 25-key midi versions, but still, they are compact and mobile. It's perfect for those who want to use two hands while playing and for those learning how to play. These portable MIDI keyboards are widely used for making beats in electro house music and hip-hop tracks.
61 key MIDI controllers have considerable weight and size, and allow a musician to play more complex music pieces with two hands. They can be an ideal option for those who want to get a sound very close to the real sound of a piano.
88 key MIDI controllers have the same number of buttons as an acoustic piano. Thus, these devices are great for newcomers and experienced pianists. Such a keyboard isn't easy to transport since it has quite impressive dimensions.
Now, without further ado, here are our Top 6 best MIDI keyboard controllers I'd recommend most of all.
Best 25 Key MIDI Controller Reviews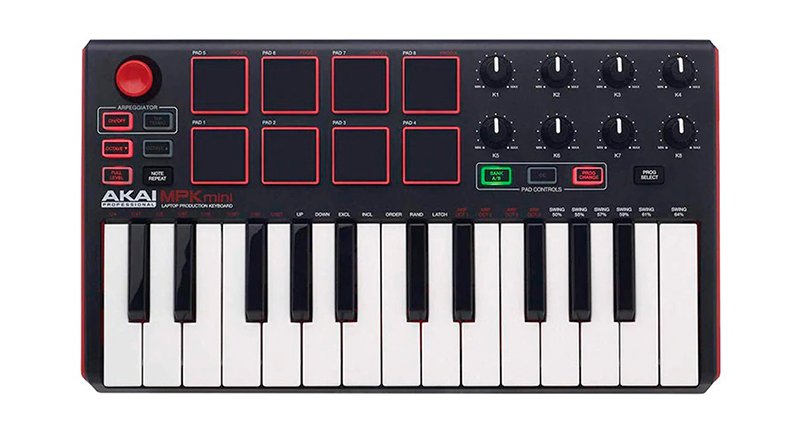 I can get manual control of mute and volume while using this MIDI keyboard with 25 keys with a computer-based DAW. There is a special Akai Editor app on an official website. Everyone can download and install it only after registration. The Akai MPK mini MKII 25-key USB MIDI/pad controller has 4-way joysticks for pitch control and modulation, which are made as separate units and help preserve the compactness. The key size is rather small (no more than a penny), so it is difficult to get used to them, especially when the musician gets used to a full-size keyboard. However, the Akai Professional MPK mini MKII 25 key can be considered as the best MIDI keyboard for beginners because it produces relatively natural sound, it's lightweight, and the keys are easy to press.
Pros
The keys and pads have very good velocity sensitiveness. The keystroke intensity determines the volume and saturation of the sound.
Support of the Note Repeat and Full Level makes the Akai potentially the best 25 key MIDI controller for drums program composing.
Cons
There is no user mode. I can use the pads to start clips, but can't monitor the Impulse drum rack.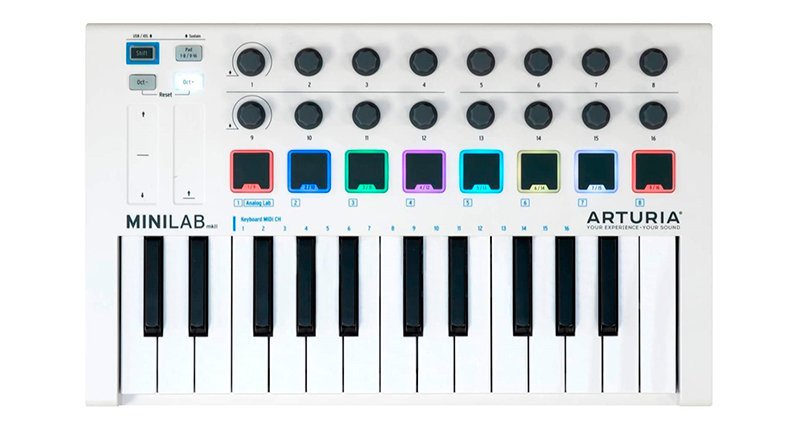 Except for 25 keys, the Arturia MiniLab MkII 25 slim-key controller incorporates all the knobs and pads that you are going to need to create your own virtual studio and start making music. More precisely, there are 16 rotary encoders (divided into 2 banks), 8 velocity and pressure-sensitive trigger pads, and 2 touch sensors for pitch and modulation. Not to mention that there are 500 built-in classic synthesizer sounds. The controllers are responsive and easy to use. All of them are accessible from the front panel and clearly labeled. The keys have just the right level of responsiveness and are convenient to press. The pads have RGB backlighting. The velocity pressure of the keys can be adjusted for your convenience.
The unit uses USB bus power as a source of energy. The setup process is straightforward. All I had to do is just connect the unit to my PC via USB. The driver installs automatically after connection. However, to use this MIDI controller at its full, you will also have to install the provided Analog Lab Lite program. It also comes with some other free software (Ableton Live Lite and UVI Grand Piano) which have tons of sounds to expand your creativity. The keyboard is compact and slim. It has an all-plastic body although the unit seems to be solidly built. The housing of the keyboard has a white matte finish and reminds me of a classic acoustic piano.
Pros
There is a special Shift button that lets you switch between 2 banks of rotary encoders.
Certain sounds can be mapped to a specific color which significantly helps in the working process.
There is an input for a sustain pedal.
Cons
The included free software doesn't allow you to export your edits.
The touch sensors work less accurately than classic modulation wheels.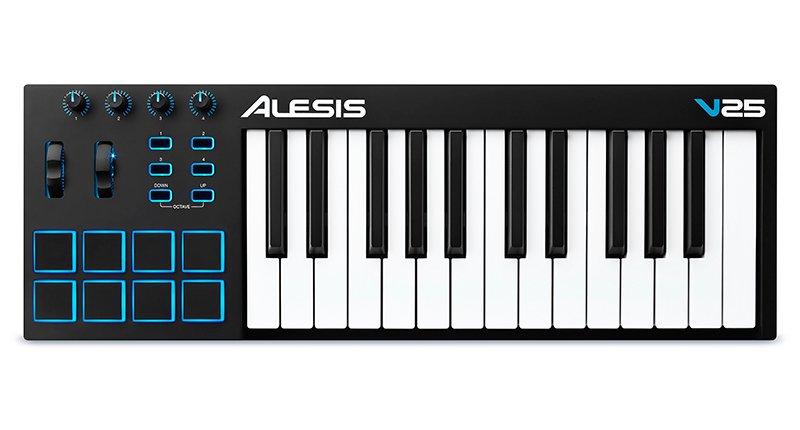 This Alesis V25 review is dedicated to a keyboard, equipped with 4 assignable knobs and buttons. This means that you can set each of them to function for a certain effect activation, or as volume level control, etc. The keyboard includes 8 MPC-style drum pads for beat making and clip launching. However, these drum pads double hit sometimes for no reason, but it's not an issue when using them for fast drumming. There are also 2 octave up/down buttons that allow accessing the full keyboard range of 127 available MIDI notes. You can adjust the level of sensitivity of pads and keys for your convenience. Plus, the control panel includes 2 modulation wheels. As you can see, this keyboard is fairly minimalistic.
The unit comes with a V25 Editor software and other editing programs (Mini Grand, DB-33, Pro Tools, etc.) that will be useful for artists, musicians, and singer-songwriters. This model is compatible with both PC and Mac and uses a standard USB cable for connection. All the controls have a blue backlight. The keyboard's body has a black semi-matte finish.
Pros
The positioning of the pads is very convenient — you don't have to reach over keys and buttons to use them.
The included Ableton software supports auto-mapping so you can assign buttons and knobs with just a few clicks.
The keys are semi-weighted and provide a close to acoustic piano feel.
Cons
Pads require some significant force to trigger medium and high-velocity notes.
The keys slightly squeak sometimes.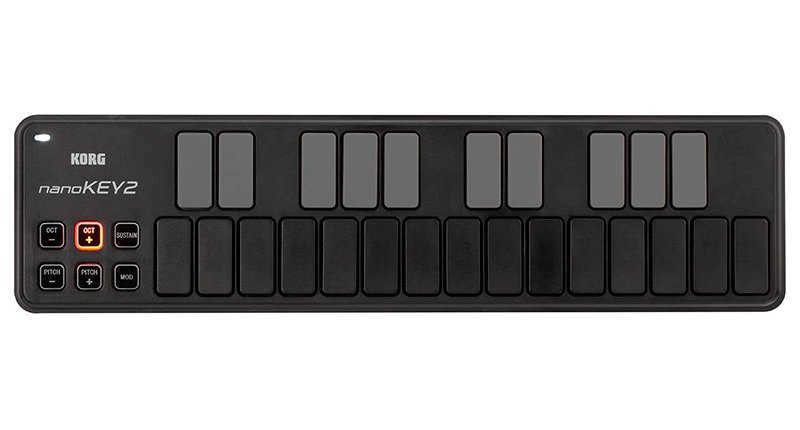 This affordable MIDI keyboard allows a quick and easy playing obtaining because of improved key design. "Black" and "white" keys have identical sizes and sensitivity, so the musician can hit the black keys the same way as he or she does with a regular piano. The buttons that control octave location go through some lighting and color modes for every octave modification. It's easy to transport the device and it also can be a great choice for traveling. At the same time, the Korg can't be called the best mini MIDI keyboard because it looks very cheap (the plastic has a smell and is very thin, the brand image is easily erasable), and not always delivers a clear sound.
Pros
A software mixer that controls and maintains the stereo system in constant mode is possible thanks to the basic MIDI setting.
The mini MIDI controller easily fits even in a backpack.
The LED Status light is very helpful and complements the process of playing with bright colors.
Cons
This MIDI 25 key keyboard makes a noticeable vibration.
The sound sometimes seems very artificial and setting adjustment doesn't solve this problem.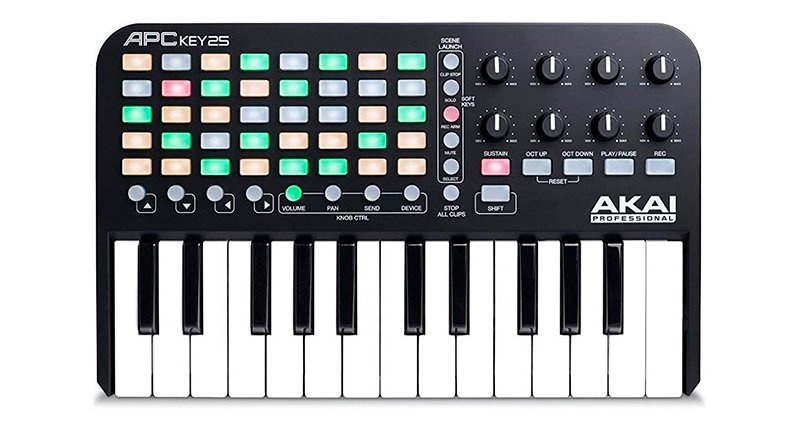 This 25 key MIDI keyboard greatly implodes with Ableton Live for mobile performances and home studio music creating. The musician has to map the buttons with the help of MIDI mapping to get rid of any delay. Some functions require a Shift key using. This means the owner can't use many options with one hand or he or she has to use this feature.
Pros
40 tri-color LED pads help launch clips. They work well and create an inspiring atmosphere.
The Akai APC key has a high-leveled build quality because all the elements are made of thick plastic and covered with special scratching protection.
It greatly works with MAGIX Music Maker and Traktor 2.
Cons
This 25 keys MIDI keyboard has only a regular USB. Mini or micro USB ports are absent.
The keyboard is very stiff. Even experienced musicians can't play chords really fast.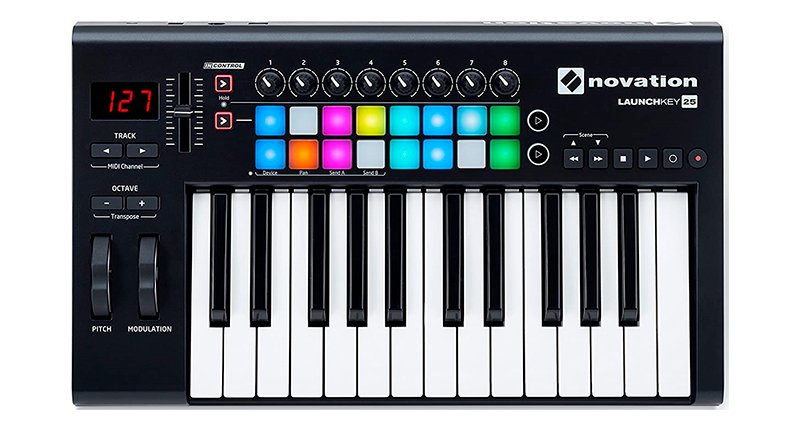 There are no inbuilt arpeggiators or chord modes for the pads, but with the unit's help, it's possible to make beats in amazing RGB colors. The setup process appeared to be easy-to-understand. It's easy to adjust the device in Studio One. The only thing I had to pay attention to was the volume fader. The Track Next/Previous buttons help me switch between native instruments and songs in a matter of seconds. The build quality is rather questionable because the frame seems to be light and plastic. A few keys appear to sit lower than other keys and they require more force to press.
Pros
This 25 key piano is run with only one cable, so transportation is rather easy.
Most keys respond to velocity. A light touch is enough for getting a soft sound, while aggressive striking makes the sound louder.
RGB pads work amazing for Ableton Live sequencing.
Cons
It's hard to call it the best 25 key MIDI keyboard controller for full-fledged melody writing.
The 3/4th-inch pads don't allow playing freely because the finger periodically catches the next key, because of it the music becomes inaccurate.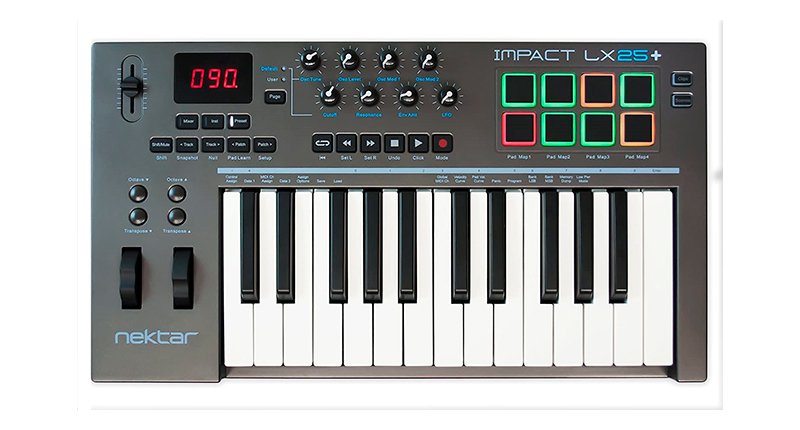 This small MIDI controller is able to work with different software, the keys are big enough and very easy to press. Moreover, 4 Octave and Transpose buttons allow making sound changes even while playing the melody. The Pad Learn feature is a great opportunity to make assignments by selecting a pad, playing the note, or desired drum sound. The assembly quality is perfect; there is no plastic smell and all the elements look really reliable.
Pros
It's possible to monitor the DAW and transform a soft synth into a real hardware synth.
All the necessary software can be found on an official website.
The backlit pad changes colors when you play it.
Cons
Keys are very stiff. The playing process requires some effort.
This 25 key keyboard is too lightweight and unstable. It has to be kept in an explicit place in order to stay motionless.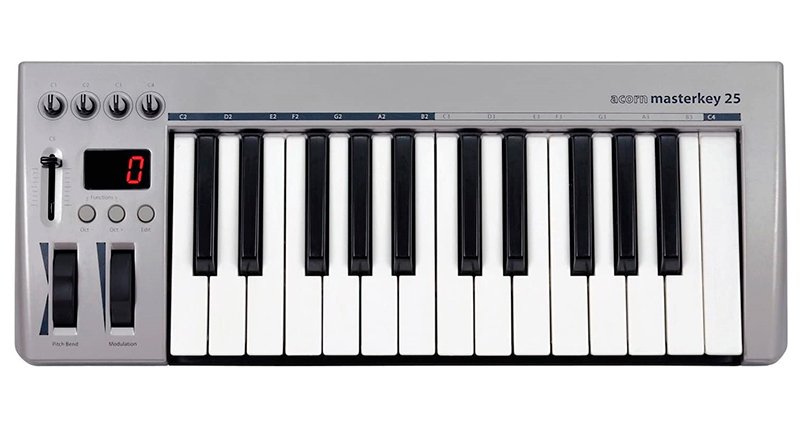 The configuration of this small MIDI keyboard is very quick because after plugging the device into the USB port, it installs all the drivers automatically. The music production relies upon the pressure. The unit is lightweight and has a very modern design. However, this 25 key MIDI controller consists of thin plastic and might break after the only one falling.
Pros
It has a very solid USB port, a special plug for a sustain pedal, and a well-arranged modulation wheel.
All the rotary knobs and switchers are greatly visible and are placed conveniently.
Cons
This portable MIDI keyboard feels cheap. It does not smell very pleasant.
There are latency issues while pressing the keys. The sound doesn't appear immediately but after a couple of seconds.
Buyer's Guide
25 Key Controller Advantages
The 25 key MIDI can be an outstanding solution for creating transposition, additional pitches, modulation, and exceptional effects. The mentioned device has other valuable benefits as well.
The unit is portable and compact.
It can replace a synthesizer or digital audio piano (in combination with a PC).
The controller can easily become a part of the studio.
Convenient for learning music.
The controller can be an ideal tool for producers and composers who use the sequencer software (DAW).
The 25 key devices include hundreds of sound variations.
The construction includes the drum pads, which helps get a really great sound mix.
Each portable MIDI keyboard with 25 keys has special q-link knobs that are used to interlink the keyboard with software controls.
Controller mapping is the best opportunity to interface available software with the keyboard.
Most of the regarded devices are the embodiment of modern technological capabilities and have everything to become the best 25 key MIDI controller for musicians.
How Not to Be Mistaken in Choosing 25 Key MIDI Controller?
After understanding that you really need a MIDI controller, there is a question of buying the right device. Before making the final decision, it is better to answer the following questions:
How will you use it?
If you are looking for the best mini MIDI keyboard with 25 keys for making exciting live performance, then you should pay attention to the environmental influences, resistance, and reliability, as well as the preferred mechanism type and the number of keys. Compact controllers can become a stellar choice for club DJs. Remember that the controller still needs a lot of knobs and sliders to monitor the program's parameters. If you do most of your recordings on the run, focus on the device's portability.
What mechanism is used?
The mechanism must match the application of the controller. If piano realism is important to you, choose a hammer mechanism. It perfectly combines resistance and springiness.
How many knobs, sliders, and buttons do you need?
Find the way of managing and make a choice, premised on the most comfortable elements.
Do you need a USB connection to a PC?
A USB-connector amends almost all modern controllers. Many of them have 5-pin MIDI connectors, so you can plug in an external sound module to the mentioned unit.
Do you need a built-in audio interface?
If you need a comprehensive solution for MIDI and audio, choose a unit with an audio interface.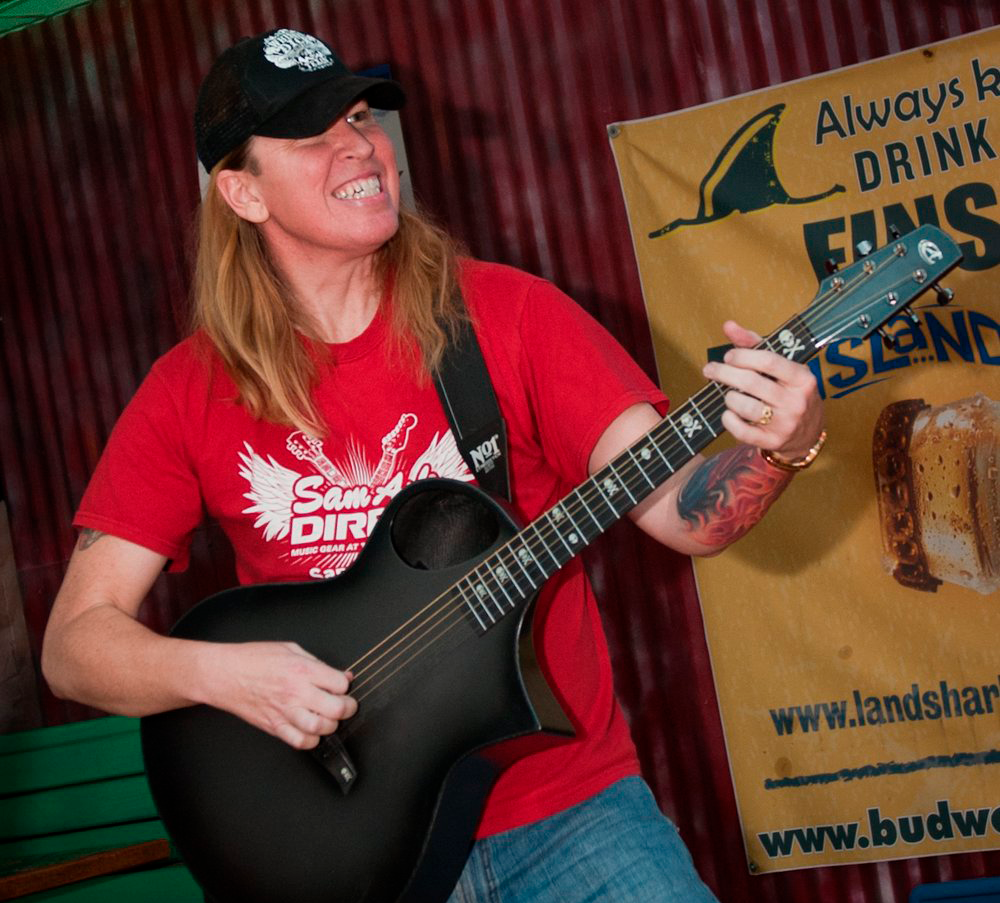 Hi everyone! I'm Thomas Moody, also known as Guitarzan.