If you have headphones and want to get the absolute best performance out of them, you are going to need a good headphone amplifier. We're here to help you decide on the best headphone amp to fit all your needs. This article will run down through the best amps on the market according to their amp rating, price, and mobility. We're hoping this will be the only headphone amplifier review you will need so we'll start with a few portable options for those of you who use your headphones on-the-go. Then we'll discuss the products that need to be plugged into the mains for home listening. So, without further ado…

Headphone Amps Reviews
Portable Headphone Amps
Best Headphone Amp Under 100
FiiO A3: Long Battery Life in a Competent Compact Design


This small device from FiiO exemplifies the statement, "good things come in small packages". The A3 is a handsome headphone amplifier with a powerful battery. This device is covered in brushed aluminum that feels nice in the hand. The construction is very sleek and premium feeling with only the company's name on the front of the device and A3 branded on the back. On the front of the A3, you'll find an indicator LED light, the volume dial, and the gain and bass boost switch on either side of the dial. The switches and the dial all have a satisfying click, but the LED is small and not that bright.
On the other side of the A3, is the aux in, 3.5mm port and the micro USB charging port. The device also comes with two white rubber buffers and two thick rubber bands to attach your phone to the device. This could be the best headphones amplifier when it comes to battery life. The A3 has a 1400mAH battery for up to 16 hours of continuous play, which is outstanding. However, the device does take 4 hours for a full charge. The A3's audio performance is nothing to sneeze at either. It adds significant texture to your music and makes it sound full, rich and loud.
Pros
Compact and lightweight
Good quality build
Long battery life
Cons
Monoprice 611502: Small Lightweight Device for Guitar Players


The 611502 is a super cheap device that is small and compact, and at 2.4 ounces it is lightweight. This potentially the best portable headphone amp uses two AAA batteries to allow you to carry it anywhere. The Monoprice product is a great solution if you're a musician that would love to practice without others listening in as you hone in your skills. You will no longer be prohibited by neighbors or family members of when and how long you can practice. The Monoprice headphone amp lets you do what you need without making noise for others.
When you're playing your sound can get distorted and so if that's not what you want, you will have to play around with the dials to get the right blend. You'll have to be mindful that this amp is intended for acoustic guitars and is not a good choice if you are using a bass guitar. If you're simply looking for something to make your music sound better, then there are other options for you.
Pros
Very cheap
Small and easy to use
Allows you to practice guitar without disturbing anyone
Cons
Can only be used for guitars and specifically acoustic guitars
Need AAA batteries
Distorts sound which can be a problem if that's not what you want
BEHRINGER POWERPLAY HA4000: Simple Set-up with Four Independently Controlled Outputs


The Behringer is a simple amp for headphones that is a reliable option to let musicians monitor their sound as the mix their music. This is a great value product that can amplify up to four sets of headphones, each with their own volume control. That means the Microamp HA400 could let four different people hear the main mix while recording and let each listener set their own volume level.
This is a high-quality product that is exceptionally rugged to ensure longevity. Unfortunately, there were two main problems with this product. First, the Behringer only has one input, so if you wanted to plug in multiple instruments, you would need a mixer to accomplish that. Second, the HA400 doesn't amplify much and is more of a splitter, producing four independently controller outputs, than anything else. No matter, this amp is easy to set up and doesn't lose any audio quality in the process.
Pros
Splits audio to give up to 4 independently controlled outputs
Plug and play setup
Rugged construction
Cons
Requires additional equipment to add multiple inputs
More of a splitter than a booster
Best Headphone Amp Under 200


The DragonFly Red is a nifty USB-stick sized Digital-to-Analog Converter (DAC) that enhances the layers of the audio you're listening to. The Red definitely makes your audio more dynamic, richer, and with more depth. However, it does not amplify the sound by that much. The build of the device is quite good and durable, though the red paint does easily chip away. The dragonfly logo is actually an LED that changes color to let you know what type of file the Red is processing which is a cool feature that makes this device stand out from the rest.
AudioQuest's device supports all music files from MP3 to NQA files which are used for streaming high fidelity digital audio. The DAC/Amp is ideal for headphones that don't require too much power to drive them on a laptop. It's also a great add-on to your laptop or mobile phone thanks to its small size. If you're going to use this device with your smartphone, you don't have to stress because the DragonFly Red is compatible with both Android and iOS. However, you will need additional accessories and purchase the relevant apps with both software systems to let the audio play correctly through the DAC/Amp.
Pros
Improves audio quality
Lightweight and durable
Compatible with most smartphones
Cons
This is not a budget headphone amp
Accessories to use with a smartphone are sold separately
Doesn't have its own battery so it will drain phone battery

Topping continues to produce the best portable headphone amplifier on the market with the NX4 DSD. Music is a pleasure to listen to with the NX4 DSD. There is a nice warmth to the sound especially the Mids. High are shimmery and natural sounding while it adds bass to the lowest frequencies without coloring or distorting the sound.
The device comes with a micro-USB to NX4 DSD cable, a Type-C to NX4 DSD cable and an ingenious addition of Velcro feet, among other accessories. This USB DAC headphone has a good build, made out of aluminum and feels durable. It is also lightweight, only weighing a few ounces and fits perfectly behind any smartphone. The NX4 DSD also has two micro-USB ports: one to charge the device and the other for a data connection. This way, Topping has made it so the DAC/amp doesn't drain your smartphone battery as you use it. Something not many other headphone amps can do.
Pros
Doesn't impact the battery life of portable devices it's attached to
Has Velcro pads to attach it to a music player/smartphone
Long battery life of up to 8 hours
Cons
Windows users need to install drivers to use the NX4 DSD
iOS users need a camera kit to make use of this amp
Have to do a trial and error in order to use the device with Android


This tube headphone amp is a godsend for frequent travelers. At only 17g and measuring at 3.75 x 0.44 x 0.44 in, this tiny device is sleek and unobtrusive. The smooth aluminum build feels nice in the hand and won't catch on anything with its rounded edges. It bodes well that the Spectra works with Android and iOS. The DAC/amp pairs seamlessly with any smartphone device, however, the newer generation of cell phones have Type-C ports. And so, you will have to get a Type C to Standard USB connector to use the Spectra with your smartphone.
The Spectra provides excellent bass clarity but only if you're using middle-tier headphones or speakers. It produces a balanced and non-exaggerating experience that works well with music but doesn't give the weight and heft to vocals. It robs the listener of the intimacy with the performer, but this may just be a compromise due to the physical device's design.
NextDrive have priced this device in a sweet spot. It is not cheap but definitely more value for its buck for the price.
Pros
Excellent design with smooth edges that don't catch on anything
Slim, lightweight and portable
Easy set-up
Good quality sound
Cons
Need to purchase an additional accessory to work with newer generation smartphones
Won't satisfy bass enthusiast headphones
Best Headphone Amp Under 500
Chord MOJO-BLK: Long Battery Life and Quality Sound


A real heavy hitter in the world of audiophiles, Chord released the Mojo as the cheaper version to their Hugo product. The Mojo maybe the low-end product, but it is made with aircraft-grade aluminum that is beautifully machined to give a product slightly bigger than a credit card. This device has three round buttons that change color with the volume level and status. Chord has built this device to take in multiple inputs including a 3.5mm digital coaxial, a pair of Micro USBs; one for charging and the other for audio, and an S/PDIF optical socket.
When you first get the Mojo, it will need 10 hours of charging and once fully charged can run up to 8 hours depending on the headphones you're using. Thereafter, the device only requires 4 hours of charging time.
Unlike other manufacturers, Chord produces their own solid-state DAC chips and software that give a beautiful aural experience. The Mojo accentuates every detail of the music playing, giving a full-bodied sound without excess richness at the mid- and low- frequencies. It conveys power and scale when the music requires it yet still has the finesse for the more delicate arrangements.
Now, you are probably thinking to yourself, "well surely this is the best headphone amp?" And the answer is yes if you can afford it. While the Mojo may be Chord entry-level device, it's not very cheap. At over $400, it is one of the most expensive products on this list. But if you have the money, this is potentially the best headphone amp under 500 bucks.
Pros
Excellent sound
High-quality build of the product
Dedicated charging port ensures smartphone battery is not drained while using the Mojo
Cons
Hefty price tag
The Mojo heats up when it is charging
Doesn't come with accessories to hold the device and smartphone together
FiiO Q5: Flexibility, Function, and Features


Any headphone amp review praises the Q5 from FiiO, and this one will also be part of the bandwagon. The brushed metal front of the FiiO Q5 has a silver-blue finish that reflects light exquisitely. Plus, when you turn the device on, the metal slab glows to indicate its state depending on the input. The only thing letting it down in the aesthetics department is the leatherback, which though functional by preventing scuffs and scratches with your music player/smartphone, is not very good looking.
The Q5 packs in a lot of features while offering both wired and wireless connectivity. It offers apX to transmit high-resolution sound with advanced sample rate and DSD files. This wireless option and the many wired connections, all offer good audio quality. FiiO provided a plethora of accessories which, compared to other manufacturers, is insane. The slim black Q5 box comes with a lightning-to-micro cable; rubber bands, different types of 3.5mm cable, spare screws, an optical connector, and a screwdriver.
"What would I need a screwdriver for", you may ask yourself. Well, FiiO has given you this tool so you can change the amplifier circuitry for another module. With the Q5 you literally have the power to change the device to suit your taste. There are eight different modules to choose from varying from a non-amped module for DAC purposes to a "monster drive" which is used with big headphones.
Pros
Free reign to customize the DAC/amp with the modules
A multitude of fun accessories
Multiple ways to connect audio
Decent battery life
Cons
Unattractive leather back
Not a good choice if you want a simple product
Desktop Headphone Amps
Schiit Magni 3: Beautiful Design and Aesthetics, Plus a Powerful Amp


This is probably the best headphone amp under 100 bucks. The Magni 3 has power, performance, and versatility to meet all your headphone needs. There's a reason this device is a fan favorite among the audio enthusiasts. First, the sound from this device is clean and precise, the is a beautiful balance to the music playing and it enhances the vocals without making them sound distorted or artificial. Impressively, the Magni 3 delivers a sound that is worth more than its price point, but it's to be expected from Schiit.
This is a beautiful desktop headphone amplifier, no doubt about it. Schiit has produced a distinct design with the silver brushed aluminum and curved edges. And the aesthetics are very functional making it so easy to operate the Magni 3. This is one of the most well-made headphone amps you'll come across.
One of the grips with this device is that it sometimes doesn't feel like it is giving enough power. While you could run any type of impedance headphones with the Magni 3, there is always this feeling that there could be more powerful. But honestly, with a little bit of tweaking and you could get the volume you need.
It's important to know that you won't get much in terms of accessories. In order to keep costs low, Schiit stripped down many of the extras. All you can expect is a wall power supply that is honestly too big. The thing is almost as big as the amp itself. Aside from this the Magni 3 is a brilliant desktop-friendly headphone amp and definitely bang for your buck.
Pros
Can power almost any headphone
Incredible value for the price
Cons
Few accessories in the box
Massive power supply
LOXJIE P20: High Quality Sound for a Fraction of the Price


This one of the more peculiar looking headphone amps, with the military grade 6N3 electronic tubes on top, making it look more like a mad scientist contraption than a device to make your music sound better. This amp gives the audio a nice smoothness, warmth, and incredible dynamic to top-notch headphones. It's somehow able to do all that while keeping the sound clear and balanced and being under 200 bucks. The sound quality on this thing has truly made the idea of being an expensive amp seem ludicrous. The sound is clean with no hiss or noise. The mid-range and lows are really good, but the highs could be better. There isn't any sound distortion when the volume is high, so that's a definite plus.
The P20 isn't perfect though. Firstly, in order to take full advantage of some of its features, you will have to purchase additional accessories. Then you have to be aware that this device cannot power some headphones. The headphone amp has the volume but not the bass needed for certain higher impedance headphones. That's just something to be mindful of. Otherwise, Loxjie's product is a good size with excellently adds tube character while still maintaining the detail of the sound. You'd be hard pressed to find something with this quality at that price tag.
Pros
Probably the best headphone amp under 200
Excellent sound quality with little distortion
Cons
Accessories sold separately
Doesn't have the bass for high-impedance headphone enthusiasts
PreSonus HP4: Simple Design that can Expand System


Looking for the best desktop headphone amp on the market, the HP4 is worth your attention. It has a small footprint and a rugged metal build. It is an excellent option for home recording with its four outputs. This device is very easy to setup and use. There is no unnecessary fuss, just plug and play. This amp uses two balanced mono inputs rather than an unbalanced stereo input which makes sense. Practically all audio interfaces use two balanced mono output and so the HP4 negates the need for any weird cabling to compensate for this.
The build of the device is top notch, with the dials feeling firm and smooth, while the overall device has a nice weight to it despite its small size. The product looks good with its royal blue front and silver nobs and the simple design would be absolutely perfect if it weren't for the cumbersome power switch that downgrades the overall experience of the HP4.
Putting that aside, PreSonus made a device that truly makes an impressive improvement to the sound quality. The HP4 produces a lot of gain for whatever headphones without the need to max out the volume to really feel the music. Overall, this is a great product with a simple yet functional design.
Pros
Simple use and connection
Durable build
Can be used to connect multiple headphones by daisy chaining multiple HP4 units
Cons
Cumbersome power supply cable
Buyers Guide
Are Headphone Amps Worth Buying?
So, headphone amplifiers are worth it but usually in one of two situations. First, you have spent upwards of $150 on headphones. The second time is when the headphones are physically large and are over ear headphones. With the first situation, in order to get your money's worth with your headphones, a headphone amp will definitely be beneficial. An amp will add clarity and detail to your audio especially if you are listening to content via your laptop, smartphone or tablet. These devices all have power limitations and will not truly drive your headphones without a little boost.
With the second scenario, you need to be aware of a headphone impedance rating. Impedance describes the amount of resistance and reactivity that a load (in this case the headphones) pose. High impedance headphones require more voltage while low impedance headphones need more current. A headphone amplifier will provide the extra voltage for high-impedance cans that can't get it from portable players. While in the case of low impedance headphones, the amp improves the overall sound quality that is lacking without it.
It's important to note, that while a headphone amp is a good idea for large over-ear headphones, you won't need one if you are using earphones. These are more than capable of delivering high-quality sound from your smartphone.
Do Pricier Amplifiers Produce Better Sound?
If you read a lot of headphone amp reviews, you may get the impression that if you spend more, then you'll get a better product. The truth this isn't always the case. More expensive devices tend to be bulky and not very portable. So, if you want to use it with a mobile device then the price doesn't warrant the hassle. Something else to note is that the pricier the device, the more features it has. If you have no use for the features then there really is no need to spend more money if a cheaper option will do the trick.
Choosing the Best Amp for Your Headphones
If you are stepping into the world of headphone amps for the first time, you need to be cautious not to get sucked into the newest exotic design. The product you chose should be easy to use and affordable.
At its core, a headphone amp is a miniature speaker system. Its main purpose is to give the user a fuller, immersive audio experience with little to no distortion. Since headphones are generally used with mobile devices, you will need to consider how to incorporate a headphone amp into your life. Is it an eyesore or can it easily integrate into your life? How big is the device? Is it lightweight? Is it compatible with your device, in terms of ports and drivers? And does it have features you will actually use? These are all important questions to answer in order to find the right product for you.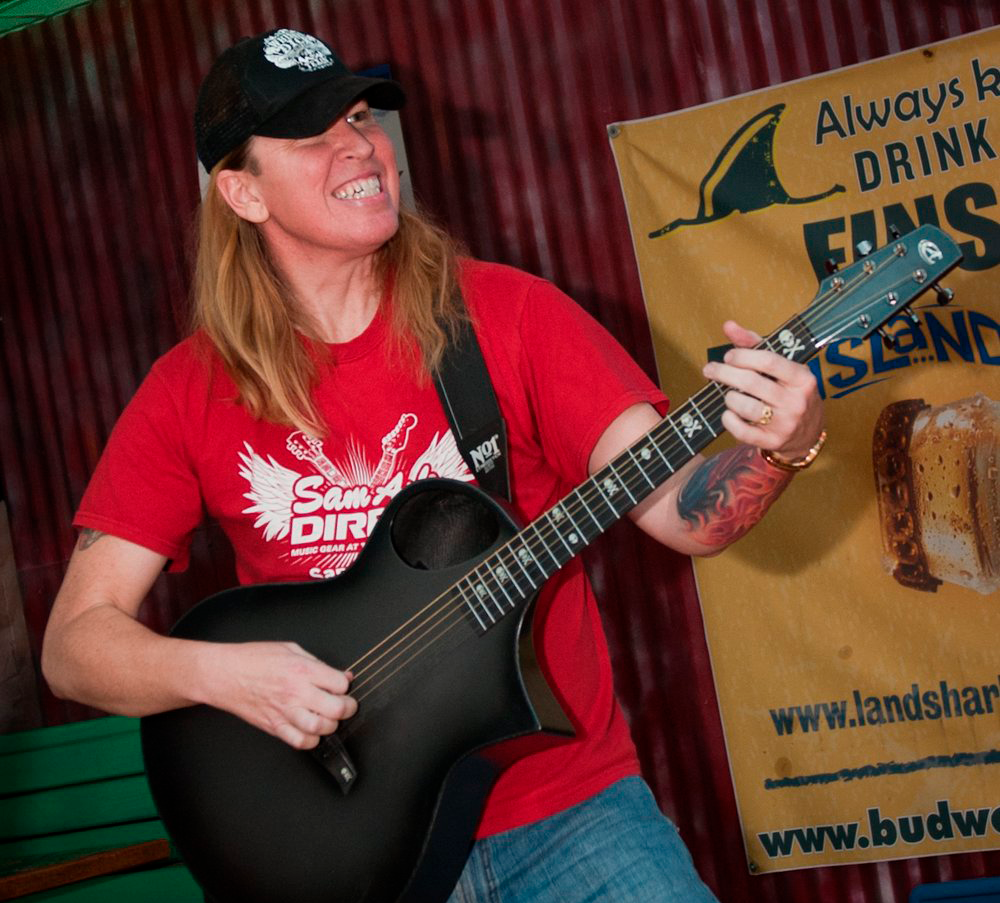 Hi everyone! I'm Thomas Moody, also known as Guitarzan.