Opting for the best portable keyboard piano can be not so difficult as it seems to be at first glance. If you are a professional musician or songwriter, you should be already aware of the features you are expected to have when buying your new digital piano or synth.

However, amateur musicians or those persons who are going to buy a piano for their friends or children are rarely properly informed about the methods of choosing the best portable piano keyboard. At this point, this article comes to the scene to show you five amazing digital piano models to fit the needs of different consumers. It often happens that once persons visit a store full of musical instruments, they cannot focus on a particular model and they have their attention dissipated. To avoid such situations, it can be useful to learn about the main technical characteristics of modern keyboard pianos and know what features your future digital piano must have to make your or other owners happy with it. This article also contains a short glossary of basic digital piano terms to make it easier for you to orient yourself to various models and their core features.
Portable Keyboard Pianos Reviews


This Casio's portable keyboard piano is an affordable option for many customers. The first thing to be said about this model is that it features 61 touch-sensitive keys that are called to deliver a pleasant user experience. Although this piano with 61 keys is far from being called a full-range piano (most modern pianos tend to have 88 keys), you can still use it to play lots of amazing two-handed melodies. The piano sounded pretty good during tests and it opened up a vast space for music experiments with as much as 400 total onboard tones, 150 rhythms, and various digital effects.
I was very impressed to find out that the CTK-3500 has a dance music mode. I also believe that this particular portable keyboard piano can be recommended to both beginners and experienced musicians. Those persons making their first steps in music can use Casio's well-known step-up lesson system to feel more confident. The item also has audio inputs for an MP3 player, which is another great reason to buy this awesome product.
I should also say that the model seems to be very compact (12.1 x 37.2 x 3.6 inches) and lightweight (just 7.5 pounds), so everything is fine with its portable design characteristics. However, the absence of the USB port may add some bitter notes, though you can still plug into your laptop via the audio cable.
Pros
This portable keyboard piano has a pretty appealing price.
The item does not require tuning.
Cons
This device has no LCD display.


After testing this pretty-looking electronic keyboard, I can advice this device as a perfect gift for your child's birthday. While this model does not boast a wide range of technical specifications to please amateur songwriters and those persons paying piano very decently, the SA-77 is a great option for children dreaming about the piano.
This cheap keyboard piano has 44 soft mini keys which are perfectly sized for tiny childish hands. Moreover, this portable keyboard piano offers as much as 100 different tones, 50 various rhythms, and 10 integrated songs. I should also mention that the 8-note polyphony and the LSI sound source are intended to deliver impeccable sound quality for a children-oriented piano.
I am also satisfied with the fact that the model uses the LCD screen to guide children through multiple music options they can choose. The model has decent speakers and a headphone output to let your child enjoy a piano without disturbing others. I think that the greatest feature of this item is that it has a change-over switch to let the user choose between piano and organ modes. The model seems to be of medium dimensions (25.5 x 9 x 3 inches), but it is still amazingly lightweight (nearly 3 pounds). However, I think that the manufacturers could have staffed this portable mini piano keyboard with at least one USB port for allowing better connectivity of this device.
Pros
This is an easy-to-use device that can be recommended as the first piano for very young beginners only.
Cons
It seems that the portable keyboard piano is made of cheap materials of not the highest quality.


The ES100 portable piano is another semi-professional option which should be mostly preferred by songwriters. This is an 88-note keyboard with very soft and sensitive-to-touch keys. I really like the fact that this model is formed from accurate stereo maps of sections through the whole dynamic range of the original piano so you can enjoy the authentic sound of a grand piano while still playing this electronic musical instrument.
I think that it is worth mentioning that this device has Dual and Split modes, which can be interchanged depending on what sound you are going to extract from this piano. The Dual mode layers two sounds mixing them over each other in a sophisticated and controllable blend. The Split mode assigns one sound to the right side of the keyboard and another sound to the left side. I find it very cool for songwriters that the model has a remarkable memory function that promises great saving options. Moreover, you can also find a built-in 3-Song Recorder in this portable keyboard piano to further improve your songwriting experience. The built-in digital metronome coupled with 100 different drum rhythms will also establish the right tempo for your music.
Nevertheless, the model is not perfect in its every moment, as it seems to be extremely bulky (51.6 x 11.2 x 5.7 inches) and weighs as much as 33 pounds, which is surely too much for a portable keyboard piano. It is also very strange that the model does not go with any USB port, but instead just has MIDI jacks. At this point, I feel that it will be very challenging for you to connect the piano to your PC or laptop. At the same time, I still find it very helpful that the ES100 is provided with an excellent piano-like damper pedal, which can also give a half-damper capability.
Pros
The item has a customer-friendly price.
The product will be always perfectly tuned.
The piano's built-in speakers sound really great for this price range.
Cons
The item definitely lacks an LCD display.


I am sure that this 76-key electronic piano will meet the expectations of most piano lovers. This option can be even picked up by some professional musicians and songwriters, as this synth goes with a broad range of ready-to-play professional sounds for different music genres. I also find it rather convenient that the model has a microphone input, which means that you will be able to both play the piano and impress others with your vocal. The product also boasts state-of-the-art vocal reverb and Auto Pitch to add the "stepped" electronic vocal effect to your singing. While the model also has a built-in vocoder, it becomes much easier to sing and play in the same tone. Moreover, this synth also has a Wave expansion slot that is intended to help users download new sound waveforms and patches, which can be found for free at Roland Axial website. I was also pleasantly surprised by how easy sample import can take place with the function enabling to play WAV files on the synth, as the product allows for multi-sample import for delivering cool and creative sounds.
However, be ready to accept the sad reality that the JUNO-DS76 is a bulky electronic piano (54.3 x 20.3 x 8.7 inches) and weighs as much as 20 pounds. The only thing that compensates for its huge dimensions is its design allowing for easy packing. It also should be stated that amateur musicians may find this tool to be very complicated for them. At the same time, this item is perfect in terms of its connectivity as it offers not only a microphone and headphone jacks but also the USB port, which most options in this review lack.
Pros
The product's setup is pretty easy as for a professional synth.
The item provides awesome sound thanks to built-in speakers of very high quality.
Cons
This portable synthesizer costs a lot for an average customer.


Yamaha is a well-recognized brand in the musical instruments industry. Famous for its pretty-sounding portable keyboard pianos, Yamaha has recently come up with the model YPG-235, which is intended to please a broad range of consumers due to its exceptional sound quality and acceptable price for a semi-professional item.
I like playing this model a lot as it has 76 sensitive and soft piano-style keys, which will definitely enhance your performance thanks to the Graded Soft Touch Technology. The YPG-235 also offers nearly 500 voices (361 XGlite voices), 30 preset songs, and 160 preset styles, allowing for experiments with song-making due to a built-in recording feature. I find it also really cool that the manufacturers have staffed this tool with their learning technology called Yamaha Education Suite (Y.E.S.), so novice users and children can use this advanced set of built-in learning tools to master this musical instrument and achieve continuous progress in piano.
What is also worth mentioning is that this portable keyboard piano can be connected to a PC or laptop as it has a USB port. However, the item seems to be not that lightweight (26 pounds) as you would expect from a portable keyboard piano having such compact dimensions (16.2 x 46.4 x 5.4 inches). To my mind, the weight of the product can be called the most significant downside of the Yamaha YPG-235.
Pros
This device goes with the perfectly-working auto-accompaniment chord recognition, which is a rare option for the electronic pianos in this price range.
The item sounds pretty loud even when you play it outdoors.
The product is always perfectly tuned.
Cons
The model lacks the power supply or a battery, so you should buy it/them somewhere else.
Buyer's Guide
Tips on Choosing a Digital Piano
With thousands of models available in the market today, finding the best portable keyboard piano tailored to your needs and placed in the desired price range may sound very challenging. However, if you know the aspects you should look at when buying your new electronic piano, the buying choice will be as easy as you could only imagine.
The first thing you should care about is to determine how much money you are going to spend on the piano. The bigger your budget is, the more options you are able to choose from. Unfortunately, this also works in the opposite direction, so you should cut off your expectations if your wallet is thin enough right now to afford an expensive synth.
The second issue that might influence your choice is the level of play you (or a person to whom you are going to gift this musical instrument) have right now. The best portable digital piano must be chosen only with respect to the piano skills of its future owner. Professional synths might be used by musicians or experienced songwriters, while semi-professional or simplified models can be advised to both advanced players and amateurs.
The third thing is the purpose for having a piano. Professional musicians should focus straightly on models with impeccably perfect sound quality, while casual players should be less scrupulous in their buying decisions, though paying due attention to the issue of sound quality.
Moreover, you should always stay concerned with how many sounds and tones your projected synth is staffed with, as models rich in sounds and different modes should be always preferred over plain pianos. Built-in speakers and amplifiers are also must-have options for a decent digital piano. Finally, try to check the touch response (read reviews if you cannot go to the store) before paying for your new piano.
Digital Piano Glossary of Terms
These are some common terms you should be aware of in your search of a new electronic keyboard piano.
Aftertouch – is a control activated by a pushed key past the point when the note sounds.
Arpeggiator – is a keyboard function that delivers an arpeggio.
Auto-accompaniment – is a keyboard feature playing backing performances, frequently made up of various instruments.
Damper pedal – is a pedal that maintains the note's sound when being pressed.
DSP (Digital signal processing) – is a feature that is intended to produce various effects that can be applied to a standard audio signal.
Effects – special sounds modifying such tones as delay, reverb, vibrato, etc.
Filter – is an electronic circuit altering a tone by changing specific frequencies.
MIDI (Musical Instrument Digital Interface) – is a special protocol allowing for appropriate communication between acoustic and digital musical instruments.
Polyphony – is the number of tones that can be produced by a keyboard at once.
Sampler – is a device that has an aim to record digital audio and alter it by playing it back in different ways.
Touch sensitivity – the keyboard's ability to respond to the way a player is pressing the key/keys.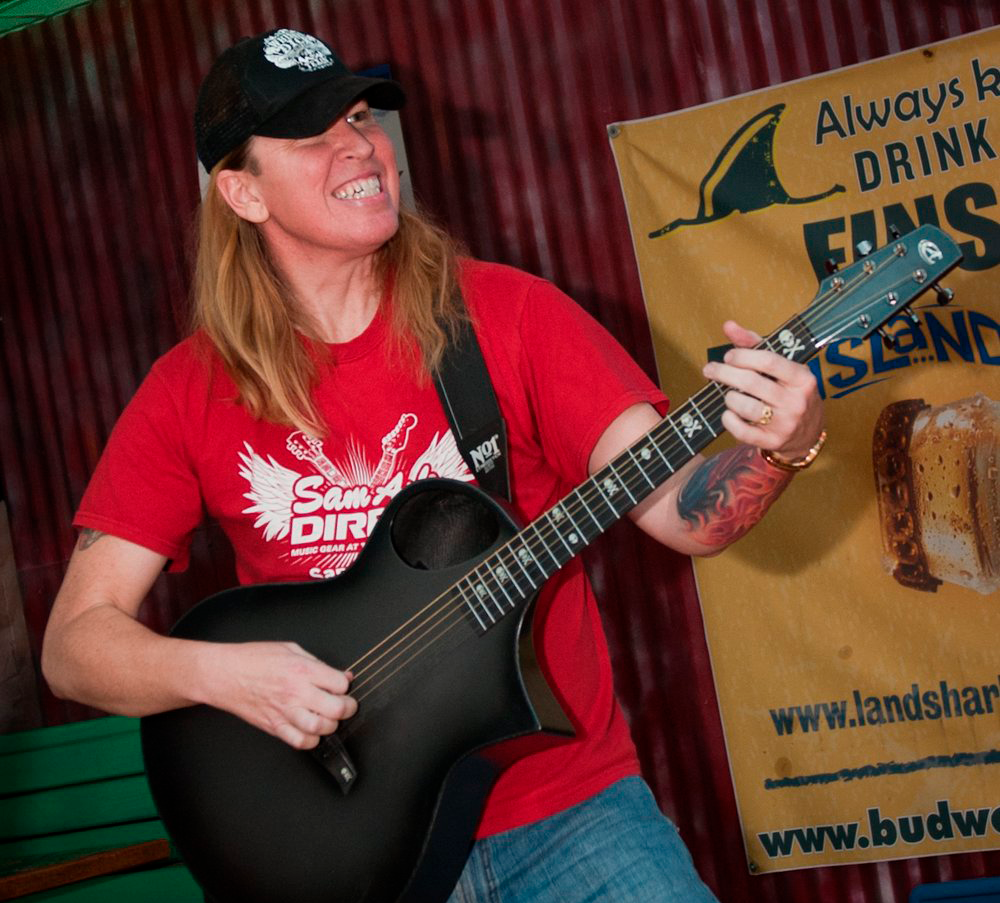 Hi everyone! I'm Thomas Moody, also known as Guitarzan.