The signal level is a key sound parameter that influences the recording process and defines the quality of its result. It's easy to get an ideal level with the help of the microphone preamps, which allow working with microphones of various types – instrumental, vocal, dynamic, etc. Each mentioned device can be regarded as the best microphone preamp because it can amplify the signal to the linear level and let you achieve a high-quality sound.

Many devices (mixers, sound cards, recorders, etc.) have integrated preamps, however, like all additional modules, they do not always provide the necessary signal quality. External ones are safer and more efficient. It should be noted that each model has the property to improve the sound characteristically, so if you decide to buy a preamp for a dynamic microphone, you should pay attention to its basic properties.
It is necessary to determine the number of connected microphones and select a preamplifier according to these features. Also, the possible owner has to think about the frequency of use. Only professional devices can cope with heavy loads, while even the best budget preamp won't be able to withstand prolonged use and increased workload level.
Microphone Preamp Reviews
Single-Channel Preamps
The mic preamps of such type can become useful helpers for those, who are not satisfied with a fixed number of channels. If he/she doesn't know the exact preamps number, manufacturers have created special single-channel devices, which can be connected in a cascade of 8 pieces in special open rack systems. So if you run out of channels, you can add more.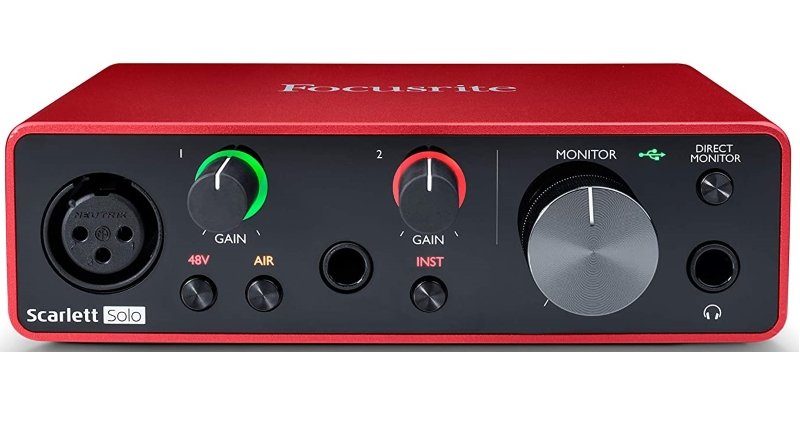 This quick-start model comes equipped with a very simple, USB interface, so there is no need to have any special skills. It's designed to help you create studio-quality recordings with your mic or guitar. Despite its simplicity, it includes enough features to satisfy even advanced musicians. It has a special Air mode designed specifically for a clean recording. This mode also gives you a brighter and more open sound. There is also a phantom power switch which enables 48V phantom power for mic input.
Its front panel includes a 3-pin XLR socket for the microphone, either condenser or dynamic, and a latency-free jack for headphones. There are also two Gain knobs: the first one works for the microphone signal, and the second one enables you to adjust the gain of the instrument signal. Both knobs have tri-color LED rings that confirm the signal level. This model also has 2 (left and right) noise-free line outputs (for speakers) which keep the audio playback pristine. The electronics is housed in a durable, metal body. This USB mic preamp connects to your PC or Mac via USB cable and comes with software that you are going to need to get started (Ableton Live Lite and Pro Tools).
Pros
Every customer gets a free 3-month subscription to Splice. This platform contains millions of samples, loops, and presets.
There is a dedicated Inst button that allows you to easily switch between inputs.
The unit includes a Kensington security lock.
Cons
It doesn't have MIDI outputs or inputs.
Sometimes, the audio randomly produces some distortion.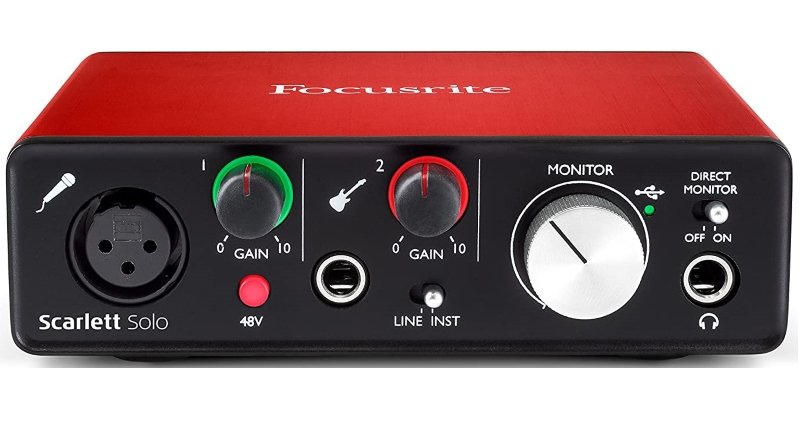 The device is a well-known pre amp for microphone with phantom power +48V. It has 2 inputs, and each of them has its own multi-color LED indicator, inscribed in the GAIN input volume control. It shows both the normal signal level and clipping. The unit is intended for recording from a microphone with an XLR connector or instruments (for example, guitars), respectively, as well as for recording from line sources. The unit is compatible with all popular DAWs like Avid Pro Tools, Ableton Live, Steinberg Cubase, and others. The device has ultra-low latency and supports ASIO and Core Audio drivers. The Focusrite Scarlett Solo can be called one of the best microphone preamps for guitar players and solo-songwriters.
Pros
The build itself is rather good and has a sustainable bottom grip.
Amazing DAC allows listening to music through this device.
Cons
I can't properly record a keyboard due to the 2 line-in level inputs' absence.
Drivers for Windows 10 are awfully unstable, they crush from time to time.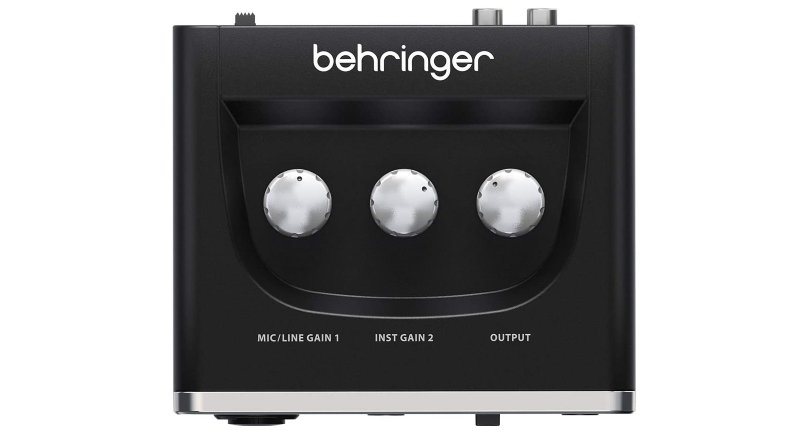 Despite the fact that this device can be called the best cheap mic preamp, its body is made of metal, which has a beneficial effect on reliability in mobile conditions. It's possible to plug in the interface to Avid Pro Tools, Ableton Live, Steinberg Cubase, and all other professional software. It is supported by both Mac OS X and Windows (XP and higher). The LED indication of the signal and overload are noteworthy. If you listen to music through Behringer, the high frequencies sound unnatural. But when I tried to record via the U-Phoria UM2, these small flaws immediately faded away because this product records surprisingly well.
Pros
It's easy to reach all the jacks, knobs, and buttons.
It's able to work with different DAWs.
The installation doesn't require additional drivers or software.
Cons
It makes noises during the working process.
The maximum DAC is 48 kHz (although sometimes I need 96 kHz, but the device can't give it to me).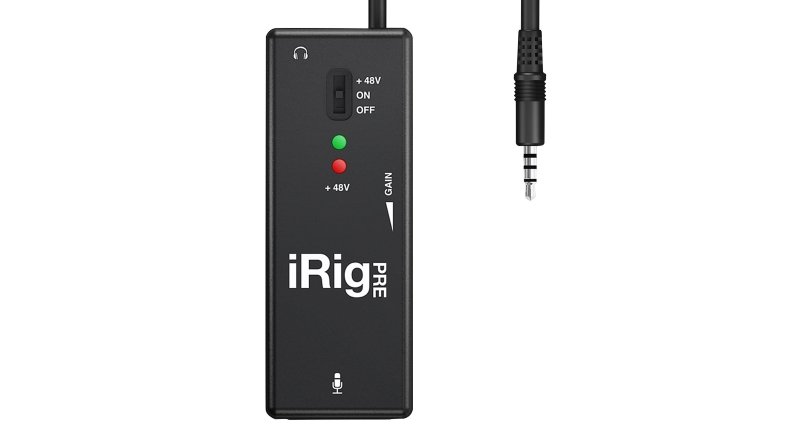 With the unit's help, I can connect better mics when making live streams with Mevo. It's very easy to set up the device. All I have to do is get the unit from the box, place the 9V battery, and connect XLR to the mic into the iRig. After that, it's possible to plug into the standard 3.5mm jack on the unit and start the professional audio recording process. The IK Multimedia iRig has everything to cooperate with various types of microphones.
Pros
The IK Multimedia iRig is space-saving and is a splendid device for indoor recordings.
Long-lasting battery life (30 hours) is enough for making all the basic tasks.
It works with an iLine Camera Adaptor cable without problems.
Cons
It's easy to break this device.
The manufacturer claims about 10 hours with phantom power on, but in reality, it's only nearly 5 hours.
dbx 286s — Best Mic Preamp for Vocals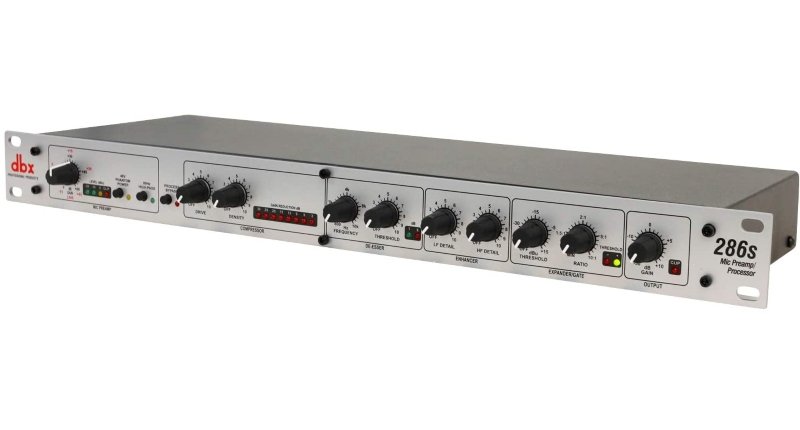 This unit is hard to call the best preamp for vocals, but the construction is able to smooth out uneven acoustic tracks, provide an excellent pre-amplification for all microphones, and instrument sources. The inbuilt dbx OverEasy compressor greatly smoothes out the unevenness of the acoustic songs and produces a pure sound. The de-esser removes vocal fizz and high-frequency distortion from the instruments. The enhancer adds completeness, profundity to bass instruments and vocals, and clears the clogged middle frequency range.
Pros
The balanced microphone input accepts different connections, making it easy to plug in both professional studio and simple home microphones.
There is a built-in expander/gate for adjusting the level of sound in headphones and for clipping the noise of guitar amps.
The unit can propose the simultaneous independent operation of 4 processors.
Cons
Sometimes extremely loud noise appears, which disappears only after reboot.
The LEDs work non-permanently, and some lights incorrectly display what is happening with the device at the moment.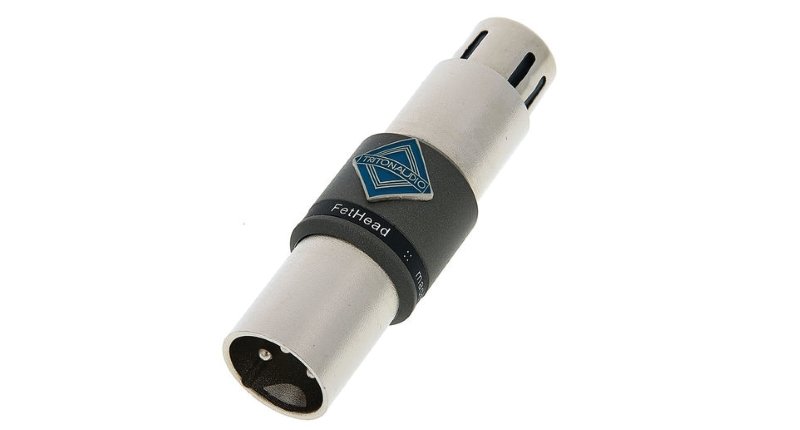 The Triton Audio is an in-line mic preamp that is intended to be used with ribbon and dynamic microphones. However, I recommend using it with any passive mics as it's really capable of cleaning up any signal. This simple, tiny preamp can be used at home, in studio, or during live performances. It's housed in a really sturdy metal chassis. A shielded enclosure not only provides better durability but also protects the signal from additional noise. There are a 3-pin female XLR input and 3-pin male XLR output. It plugs straight into the microphone, so it's really simple to use.
This model uses phantom power but protects the mic from its influence. In other words, it prevents your mic from getting power surges. It's able to give a strong signal which is especially relevant for quietly-sounding and low-impedance mics, adding about 20 – 27dB of clean gain. It also allows your mic to develop a more responsive frequency response and increased dynamic range.
Even if you don't need more signal, this hardware also works great in improving the overall sound from the mic, giving you a more open, "airy" vocal. Note that this preamp requires the mic's input to have an impedance between 500 – 1000 Ohms. Otherwise, the gain level will drop.
Pros
This device is helpful when you have to record in acoustically inappropriate spaces (with hard surfaces and high ceilings, for example).
It works equally well with both budget and premium-quality mics.
This model allows recording with more clarity and presence.
Cons
It requires a mixer or other unit that has a phantom power generator.
The preamp won't work with a USB mic.
ART TubeMPSTV3 — Best Tube Mic Preamp For Vocals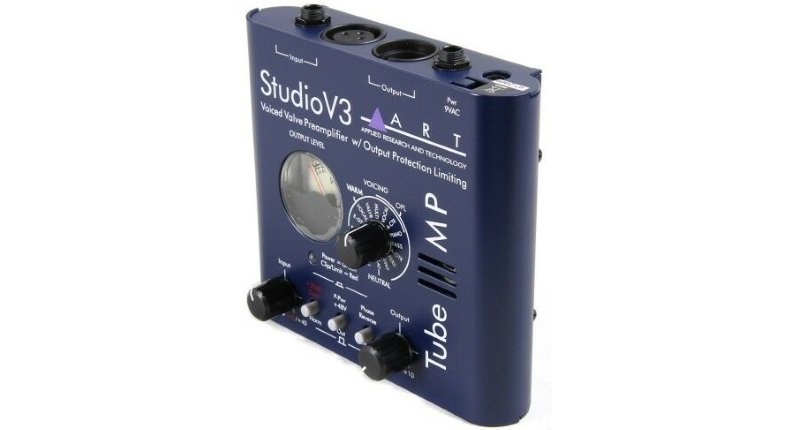 The unit is well constructed; it has metal corps with rounded edges. Whereas the small dimensions and visual fragility, the device looks really brittle, but that small unit is strong and can propose XLR, 1/4 inch input, and output jacks. Analog meter has a very pleasant to the eye incandescent backlight. I definitely like the device's well labeling because there is no need to lift this preamp for home studio to distinguish rear ports. It's possible to make a recording process at a variety of high-quality bit rates and sample rates. The unit's temperature stays the same even after a long working day.
Pros
Limiter and tone selection works perfectly.
The phantom power switch is very helpful, especially when the condenser mic requires it.
Input and output volume controls have high sensitivity and react quickly to changes.
Cons
Limiter and tone selection works perfectly.
The phantom power switch is very helpful, especially when the condenser mic requires it.
Input and output volume controls have high sensitivity and react quickly to changes.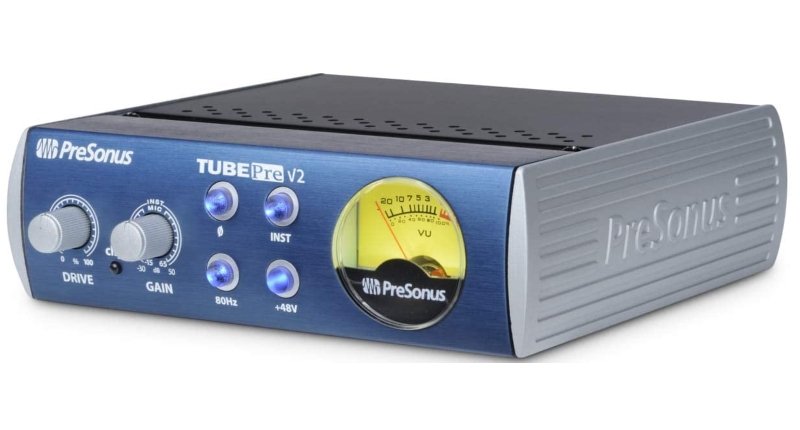 The TubePre v2 has compact chassis which is built from metal in order to be able to withstand rough use, so you can safely take it with you or simply mount it on a standard rack tray.
Despite its compactness and minimalistic design, this model can be considered the best microphone pre amp in terms of versatility. It has two dedicated knobs that allow you to control gain and drive. The last one is able to add more color to the sound. There are also such additional features as highpass filter, phantom power, and phase reverse. This model implies a solid hand-selected XMAX Class A preamp which offers high-voltage operation. This tube-based model is designed to add the right amount of tube distortion to the signal of guitars and mics.
This model is pretty straightforward to use — I didn't even have to look at the manual. There are 2 inputs (for instrument and mic) and a handy VU meter, backlit with yellow light. This model also provides low-noise operation thanks to the dual-servo gain stage. This way, you can boost the signal without fear of getting excessive noise.
PreSonus ensures a clean and transparent sound without hearable distortion. In general, this device is suitable for both live and studio use and it's not hard to get a good sound out of it.
Pros
This model works very well in capturing details.
The treble doesn't even have a hint of harshness.
It can make a cheap mic sound better by adding more warmth to it.
Cons
There is no on/off button.
The VU meter backlight fades from time to time.
You have to be careful with the Gain knob as it's overly sensitive and can add too much crunch to the sound.
2-Channel Preamps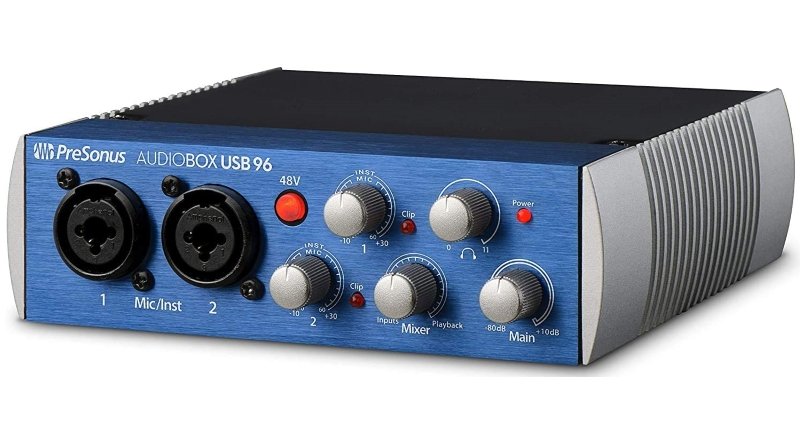 The present device can be a great recording solution for musicians, producers, and podcasters who are seeking a simple, durable, and compact yet affordable model. It offers all the functions that are necessary for basic recording needs and has an analog circuitry. This unit enables you to record in 24-bit resolution. This 2-channel mic preamp includes USB 2.0 and in/out MIDI ports for PC/Mac/laptop, keyboard, or MIDI controller.
Two mic/inst inputs are located on the front panel. They use Class A preamps that deliver 48V of phantom power to the channels. Each channel has its own input knob that allows you to set gain. There are also a Main volume knob and an individual volume knob for the headphones. A Mixer knob helps get rid of delays by allowing you to control the level between the input signal and computer playback.
It's easy to set up and use. Just plug it in, connect your mics, and start recording. One of the greatest things about this 2-channel mic preamp is the fact that it's compatible with any recording software for Mac and Windows. The unit itself comes with a free license for Studio One Artist DAW software. It is well-manufactured. Its durability is provided by a heavy-duty steel chassis.
Pros
You can use both channels simultaneously.
A very low latency level being suitable for detailed monitoring.
Each channel features LED indicators that turn red when the gain is too high. This assists well in adjusting the levels and prevents clipping.
Cons
The included software seems to be too complicated.
There is no line level input.
4-Channel Preamps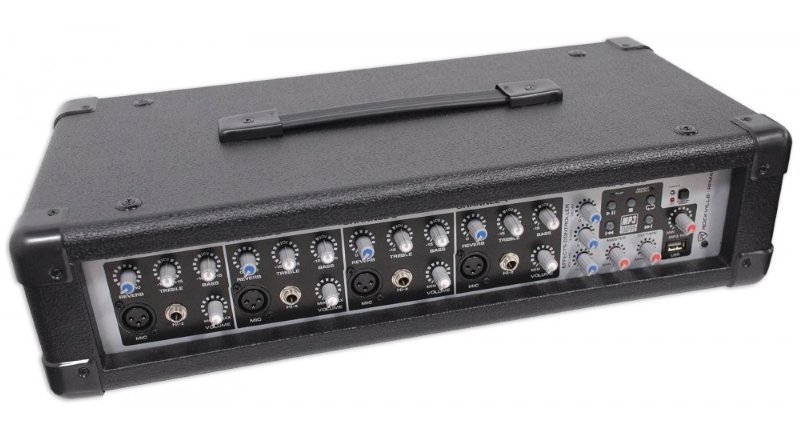 This 4-channel mic preamp can be considered as one of the best professional preamps for mics thanks to its smart and intuitive interface and clean signal transmission. There are 4 sections with controls dedicated to each channel. Each of them includes Reverse, Treble, Bass, and Volume knobs. Each section contains XLR input for a mic with low input impedance and line input for high-impedance mics and line-level devices such as MP3 player, laptop, guitar, or keyboard.
Except for these sections, it has a control panel with wide functionality. For example, there is the effect controller which allows adjusting such effects as Echo and Delay. There are also two volume controls (for MP3 and AUX). This model has 2400W of power and USB connectivity. It also provides +15V of phantom power. The output for 4-Ohm or 8-Ohm speakers, as well as effect loop input/output are available on the rear panel.
The housing of this unit is made of top-quality wood. It even has a carrying handle on its top. Its operation can be described as extremely loud. Even if the volume turned up halfway, this preamp stays very loud. It also stands out for its high clarity level — the sound stays clear even at top volume levels. The Rockville RPM45 has a competitive quality of sound and provides plenty of power. Thus, this model is a suitable option for gigs and parties.
Pros
This model uses a high-quality fan vent cooling system, so there is no reason to worry about possible overheating.
All of the XLR inputs for mics are balanced.
It can make a cheap mic sound better by adding more warmth to it.
Cons
It can't provide true stereo sound through the speaker's output.
The fan is loud.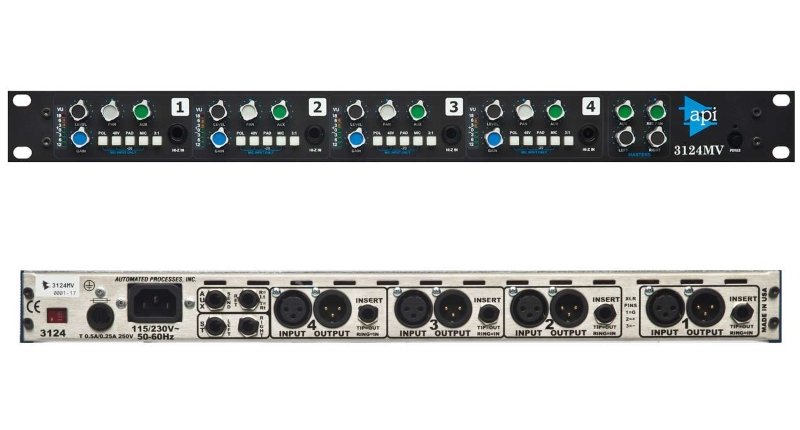 Four microphone inputs get the +48V phantom power from the built-in energy supply. Such power can be switched off for each channel on the front panel. A front panel also contains an attenuator switch of 20 dB, which equally influences the mic and line-level signals. The Hi-Z input allows stimulating input signals up to +22V and therefore it's an ideal solution for connecting keyboards and other devices with a high output level.
Pros
The device is able to work for long and stay cold.
The API 3124V is made in a compact package of 1-rack format and contains discrete circuitry, which provides unsurpassed stability.
Among conventional microphone inputs, the unit has instrumental inputs of the DI type.
Cons
It's rather heavy (11.95 pounds).
Some labels on the case are partially erased.
8-Channel Preamps
Tascam US-16×08 — Best Mic Preamp under 500 dollars

The present 8-channel preamp is a USB/MIDI model. It features a 16-input audio interface for Mac, Windows, and iPad. This means that it's able to capture 16 mic and line inputs.
Among all of them, 2 inputs can be switched to instrument level for direct recording.
There is a bunch of reasons why this unit appeared on our list. Firstly, a high level of sound clarity is provided by Ultra-HDDA preamps. They also deliver a noise-free operation (-125 dBu) and can offer up to 56dB of gain. Secondly, the unit provides low-latency digital mixing thanks to the inbuilt DSP mixer. It also delivers +48V of phantom power for all microphone inputs. In terms of connectivity, this model has 8 XLR connectors and 8 TRS inputs. Each of the channels has a four-band equalizer and compression. This model also stands out for its unique, modern design: the side panels have a honeycomb structure. The manufacturer claims that such a structure offers exceptional stability and flexibility.
Pros
This model has a Standalone mode which allows using it as an independent mic preamp.
The signal-to-noise ratio of 100 dB is quite impressive.
The cabinet has an ergonomic, angled design for convenient usability on a desktop.
Cons
The EQ settings don't return to the pre-link state when you unlink the inputs.
It's necessary to choose each input separately when you need to check its EQ and compression settings.

This 8-channel preamp has different microphone/line combo inputs, 8 balanced line out connectors, 2 ADAT digital optical outputs, and Word Clock in and out plugs that make it possible to use the unit on live concerts. The preamp for mic can work separately or in combination with an audio interface with ADAT inputs. A visual indication of the levels is on the front panel; these are 5-segment LED indicators for each channel independently. Preamplifier receives power from an inbuilt adapter.
Pros
There is a special pad on every channel for extra headroom. Such a peculiarity is perfect for loud musical instruments (for example, drums).
The device uses a JetPLL jitter reduction technology that helps avoid unnecessary vibration.
Metal housing protects internal components and allows creating conditions for ventilation.
Cons
The set contains a special manual for downloading Focusrite plug-ins, but such an addition is useless because all the information is presented incomprehensibly.
It's difficult to carry it in a bag constantly because its weight is 8.18 pounds.
Roland UA-1010 — Best Mic Preamp under $1000

The device includes a USB2.0, 10-channel input/output, and an all-metal body, which protects from mechanical damage. 8 microphone inputs and internal DSP with processing and the possibility of submixes receiving also affect the popularity of the product. I definitely like that each channel adjustment is simple and all the parameters are on the LCD display (on the front panel). It's possible to double OctaCapture inputs with one more installed interface easily. The device can work together with VS Streaming technologies, such as V-Studio 700 or V-Studio 100. First and foremost, the interface is suitable for track recording of small band's phonograms, where there is a need to record drums, guitar, and vocals separately.
Pros
The monitor mixer helps me create early 4 separate mixes and send them to headphone amps.
There is no need to set each mic because the Auto-Sens feature is doing this job with no trouble.
Cons
The drivers for OctaCapture sometimes freeze, and the reboot is the only solution.
This model picks up noise from different types of digital transfer. I can hear the programs closing and launching.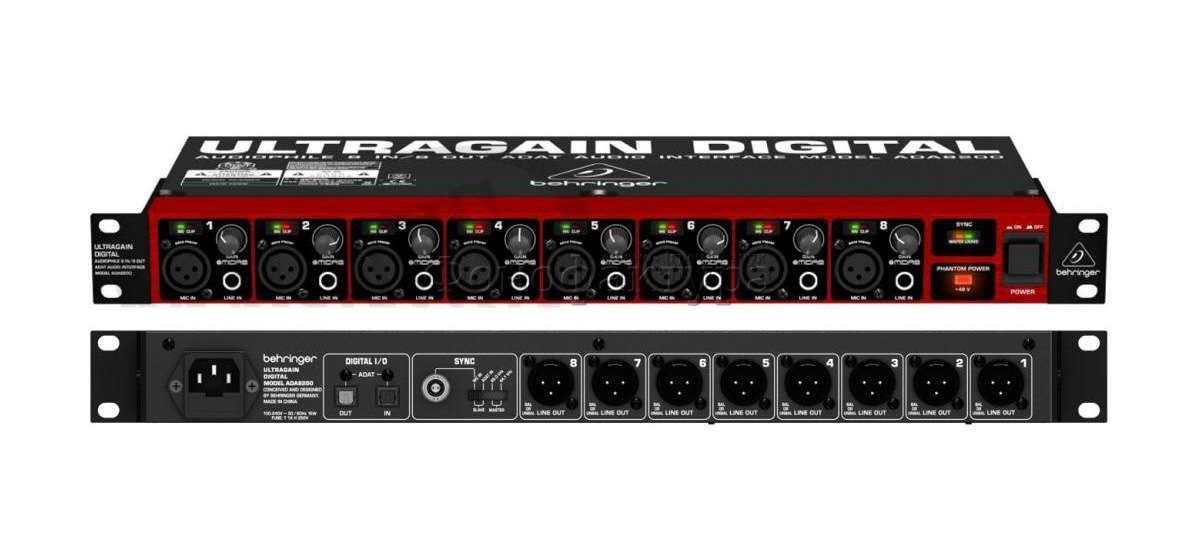 This professional 8-channel digital audio interface for recording and mixing signals in studios has 8 MIDAS mic preamps with phantom power. The ADAT inputs and outputs can operate independently of each other as long as you use an equivalent word clock signal. BEHRINGER allows the device owner to get a definitive signal conversion without distortion or signal degradation. All mic inputs support +48V phantom power.
Pros
The device doesn't require special settings and can work right out of the box.
The unit sounds very clean and quiet but with great intensification.
It doesn't produce a humming noise and is very lightweight.
Cons
During a long working session, every light on the front panel starts flashing, and I have to switch the device off.
The inputs are placed on the front side, but the rare placing would be much useful and habitual.
16-channel Preamps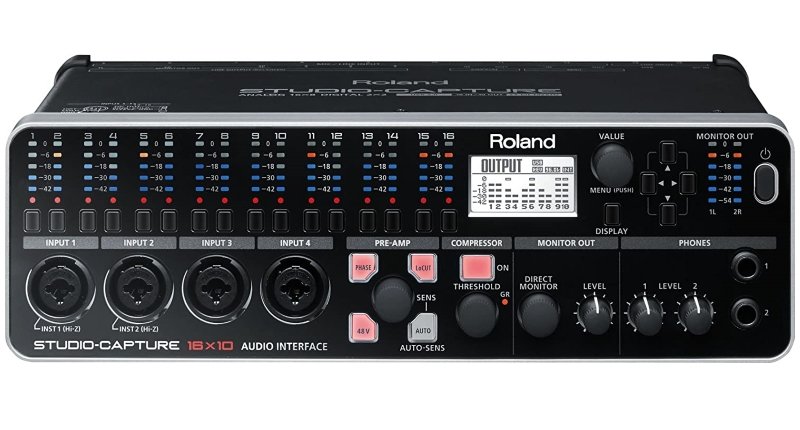 The device has a small housing with 12 premium mic preamps. The STUDIO-CAPTURE interface is affordable and convenient to work in any environment. 16 audio inputs and an extremely flexible monitoring system allow making different recordings without using separate equipment. You can increase the number of channels to 32 (24 of which will be with mic preamps) and record huge projects by using one unit.
Pros
The unit is compact, affordable, and convenient to work even under a severe workload.
The Auto-Sens feature automatically sets the optimal signal level and allows the recording of drums and the whole band.
I can create independent monitor mixes without delay and control them with the help of the software.
Cons
No new drivers for the Roland Audio Interface UA-1610.
I can hear some strange noise during the working process.
Buyer's Guide
What is the Microphone Preamp Task and Meaning?
A microphone preamp is a sound system component, which picks up the audio signal and amplifies it to the optimum level. This addition is very useful because the limited number of microphones is capable of generating a strong signal, so there is a discrepancy between this signal and the operating parameters of the end device. The preamplifier improves the audio content. The signal converting to a baseline is ideal for reproduction or further processing.
The preamp is the link between the microphone and the mixer. It has a direct impact on the final sound quality. By the way, without this device, the equipment of condenser type won't work. Such microphones can capture the finest vocal shades, but only with the help of preamp, which supplies phantom power. These devices are able to reduce the interfering noises and get rid of the voice distortion.
Which Characteristics Influence the Microphone Preamp Buying?
Before making a final choice, it's important to pay attention to the following features.
Price
First of all, you should evaluate the financial capacities and product characteristics that you can get for this price. Having purchasing possibilities analyzed, you can choose a good budget mic preamp or professional one, which can meet expectations and fit its price range.
Number of inputs
Everything is simple: many channels will allow you to record multiple microphones simultaneously. Check out that if you are recording or performing bass, play guitar, or other musical instruments, you may need a particular microphone preamp with HI-Z direct input, which has a much higher price than the standard one.
Low-pass filter presence
Such a device helps eliminate low-frequency interference. The microphone preamps contain particular filters, which can cut off frequencies below the level of 20 – 200Hz. Due to this, the sound can become much cleaner and sonorous.
Type
The tube, solid state, and hybrid devices are the most popular types. They greatly affect the audio; moreover, the tubes can create harmonious sound, while the solid-state units are great solutions for digital-sounding lovers. Hybrid components have main peculiarities from both mentioned types and produce a crisp sound.
Number of channels
This factor depends on the activity type because if you are performing live with different bands, you need a bunch of channels. Calm recording in the professional studio with condenser microphones and a few musical instruments at a time requires 4-channel or even 2-channel. The point is that in some cases it's possible to record instruments separately, not at the same time. Many manufacturers present 1, 2, 4, and 8-channel models, so it's easy to choose according to the needs.
Additional features
Some manufacturers add to their products VU meters (displays the signal level in audio equipment), phase selector switches (allows painless record from many microphones), equalizers (changes different sound effects), and other special techniques that can improve the preamp for microphone use.

Preamp vs Power Amp: What is the Difference?
These two concepts are quite often used in the same sphere and are integral parts of a complete system, but at the same time, they differ from each other. A preamp processes sound. It controls the tone's balance, defines the loudness contour, makes the bass more expressive, clears noise, and records the improved voice\music. It usually contains many controls, switches, and knobs. Most units don't use a lot of electrical power and they are AC mains powered.
A power amp receives line level inputs from the preamp output and increases its power to drive 8 Ohms and the speaker loads big acoustic volumes as set by the volume control. Only with the current and power gain, it's possible to perform this process. Usually, it doesn't have controls because they considerably dissipate the energy.
When and Why do You Need Microphone Preamps?
Such devices will be useful when:
You record silent sources and use a microphone with small output. The preamp will reduce the noise and make the sound clearer/louder.
You need to color the sound, make it more interesting, and diverse. The unit can create the specific character of the 60s tube preamplifiers, the smooth vintage sound of the classic 70's transistor devices, or modern sound with different trend elements.
The base preamps start to create some noise and artificial sound elements, which are significantly noticeable at high volume levels. It can solve this problem and confidently cope throughout the entire loudness range.
What is the Role of Channel Strip on a Mic Preamp?
A channel strip is an essential part of the mic preamps for vocals and sound recording because it contains additional integrated peculiarities and circuitry. This element can have a form of a single block or contain different units within a mixing desk/console. Sometimes these elements have inbuilt compressor and EQ, due to which the channel strip has enough power for signal processing and condensing it into a single product.
Usually, the strip and preamp manufacturers use solid state or hybrid technology. In order to release the studio workers from connecting and configuring various devices, strips are placed into a special box and allow manipulating the output very robustly from a single product.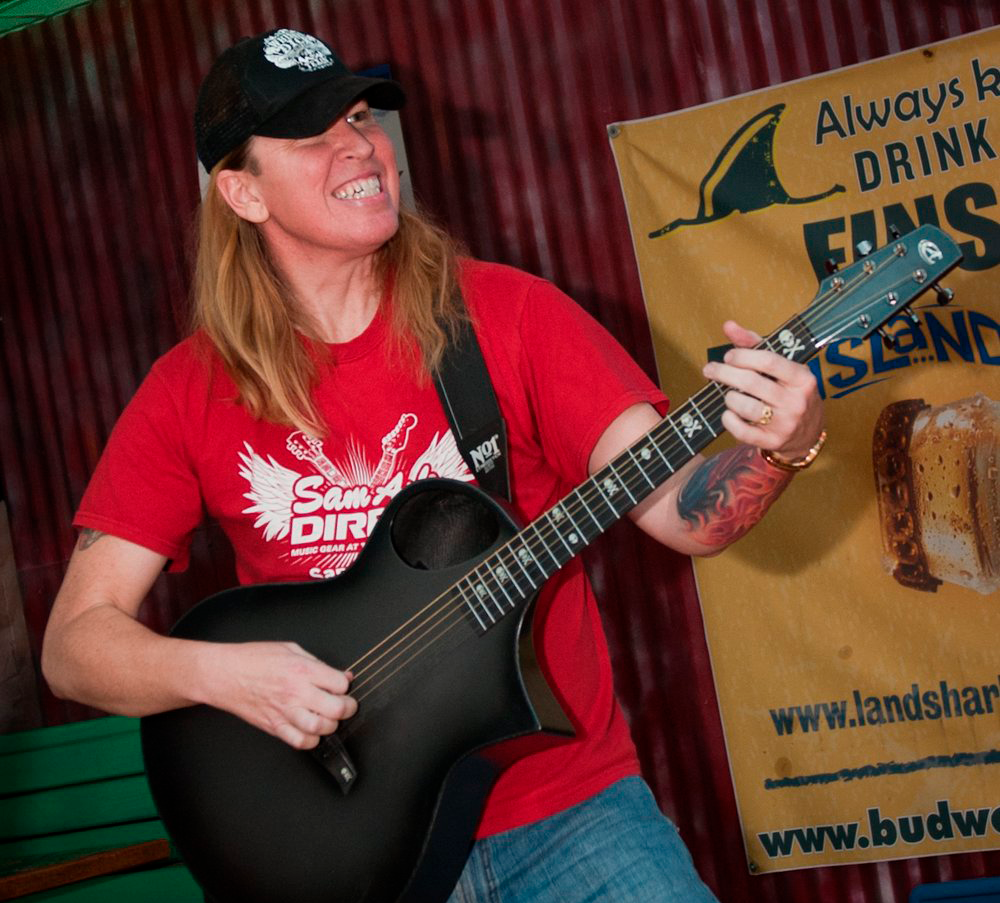 Hi everyone! I'm Thomas Moody, also known as Guitarzan.