Today, the Tonor microphone is not just a brand name but rather a symbol of successful streaming. With the ongoing popularity of YouTube, Twitch, and other streaming platforms, more and more people who are planning to build a career of charismatic streamer with lots of fans and subscribers must have a high-quality mic in their arsenal.

Tonor brand is well-known for the high quality of its products at an affordable price point. That's why Tonor mic is a good option for upcoming artists and streamers.
At the same time, it is absolutely natural that with the increased number of the Tonor products, there also increased the variety of different models that are actively sold on the Web today. This trend makes it rather difficult for inexperienced users to make a perfect buying choice at once. This is why I decided to test the most popular models and prepare the Tonor microphone review for 6 models that impressed me the most. Please, keep in mind that after reading this article, you will learn more not only about the Tonor mics but also about other types of microphones that are in active use worldwide.
Tonor Microphone Reviews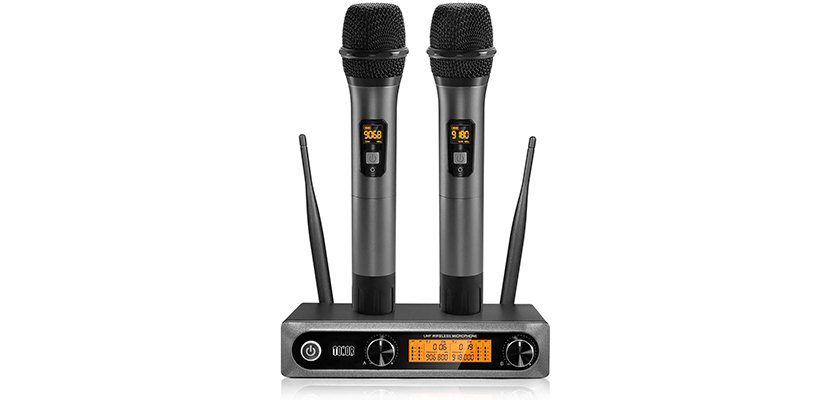 After testing this model extensively, I have mostly positive insights, as this mic performed very well in a wide range of aspects. First of all, this handheld microphone is wireless, which is an essential feature if you work on different events (e.g. weddings or parties) or perform on the stage. Honestly, I was impressed to find out that the working distance of this mic can reach up to 200 feet from the receiver when used in the open space.
Secondly, this device reproduces the sound clearly and fully due to built-in high-quality chip and cutting-edge digital decoding technology. Additionally, the mic has a built-in LNA line that is also responsible for eliminating background noise.
Thirdly, this Tonor microphone looks and feels very sturdy, as this an all-metal microphone that has a steel mesh grille. So I believe, it's not going to crack that easy after slipping from your hands accidentally. Besides that, the TW-820 is resistant to corrosion. By the way, the receiver box has a small LCD display screen that shows relevant info. By purchasing this item, you actually get two high-end mics and a receiver for a relatively acceptable price. However, I do not like the fact that the purchase does not include AA batteries that are required for each mic. Overall, the item is great for different applications except gaming maybe, as again, this is a handheld mic.
Pros
Super easy setup and operation, as the receiver and mics match automatically.
The item can support 15 devices used simultaneously without significant delay.
Switching between channels is fast and simple.
Cons
The mic is not compatible with laptops, smartphones, iPads, and AV receivers.
The item has a very deep tone, which might be unsatisfactory for certain customers.
Video Tonor UHF Wireless TW-820
I think this model has its main advantage in terms of affordability. While the item does not cost too much, it can still provide real value to the targeted groups of customers. The first to be mentioned about this Tonor condenser microphone is that it is a plug and play mic. Equipped with a USB A to B cable, this microphone can be easily connected with both Mac and Windows laptops with no need for special drivers or software. In terms of connectivity, it might be useful to say that the product works well with PS4 but you cannot use it with Xbox.
The second thing you should know about the Tonor USB kit Q9 is that it is stuffed with a 16mm large diaphragm and professional sound chipset, which both play a significant role in ensuring outstanding sound clarity and purity as well as an extended dynamic range with high SPL capability. The Tonor USB microphone is also pretty good at guaranteeing excellent noise cancellation. Also, I find it really beneficial that the purchase includes the whole package of useful accessories, such as a condenser microphone, adjustable suspension scissor arm stand, metal shock mount, desk mount clamp, foam mic cover, pop filter, 1.8M USB A to B cable and manual. Overall, I would like to say that this is a perfect item for indoor usage, especially for streaming.
Pros
The clamp keeping the system up works super reliably.
It can be easily clipped to any table or desk.
It can be adjusted according to your height and position.
Cons
It has no knob for controlling the volume.
The mic may turn itself off randomly.
Windows doesn't recognize the mic sometimes.
Video Tonor USB Kit Q9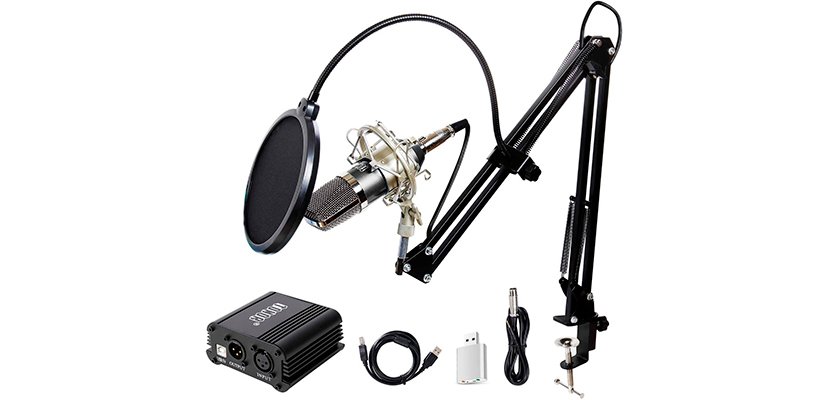 This is another top-class microphone from Tonor that is perfect for streaming and gaming purposes. In my opinion, the biggest upside of this product is its price and the number of benefits it can provide to customers. For your information, the Tonor XLR has a sound card, but the item cannot be used with cell phones or tablet computers. If you decide to purchase this microphone, you will also get a bundle of useful accessories, such as a shock mount, adjustable suspension scissor arm stand, windscreen, table mounting clamp, pop filter, and a set of XLR cables. By the way, the shock mount is pretty sturdy, as it is made of solid metal to reduce vibration. At the same time, a strong stand helps keep the mic in place. The tests have shown that its cardioid polar pattern is pretty effective when it comes to grasping the sound straightly from the sound source with good isolation. However, I cannot say that the Tonor pro condenser microphone XLR delivers the superb quality of sound required for song recording or singing on TV shows, as its technical characteristics are pretty modest for these applications. My verdict is that this model is a great match for those willing to purchase a reliable mic for streaming at a favorable price.
Pros
The setup is pretty easy and clear.
The phantom power supply works impressively in terms of sound amplification.
It has a nice mid range focus that can pick up even small signals.
Cons
The desk arm has a plastic base cap that does not look sturdy.
The power supply that comes with the product can produce some noise randomly.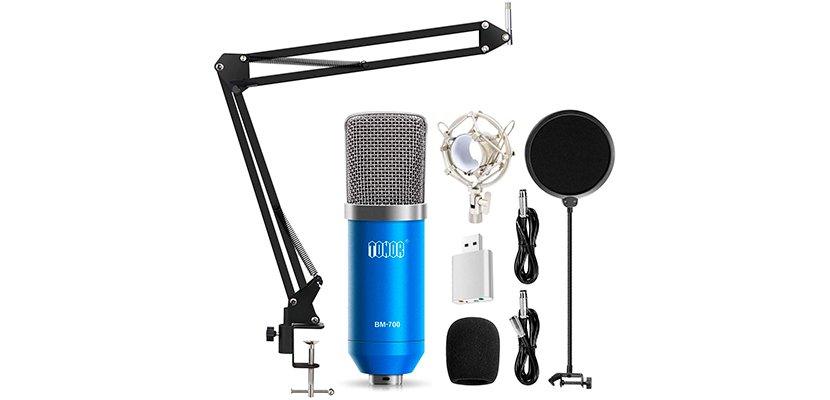 This super-cheap model can still offer many benefits, in case you use it for the correct application. You also get the Tonor pro condenser PC microphone kit that is full of useful accessories, such as phantom power, windscreen, mic stand, etc. The item is equipped with a cardioid polar pattern that helps get sound directly from the sound source without picking up unnecessary noise that may come from sides. This product comes with the sound card, so you should remember that such microphones require an external source of power (e.g. 48V phantom power). Similar to other condenser mics, the Tonor professional studio condenser microphone operates directly with cell phones or tablets. In case your laptop has no audio input port, then you can connect the mic to the laptop via a sound card using the phantom power. You can also connect the item into the mixer device using the XLR cables. Unfortunately, the Tonor PC microphone cannot deliver superb sound quality, which is obvious when keeping in mind its price. Overall, this product is ideal for regular users who are keen on games and upcoming streamers.
Pros
The height and position of the mic can be adjusted easily.
The cables are pretty robust and durable.
Cons
The clamp is weak and hardly holds the mic.
The scissor arm is awful as it often sags slowly at most angles.
Video Tonor XLR PC Kit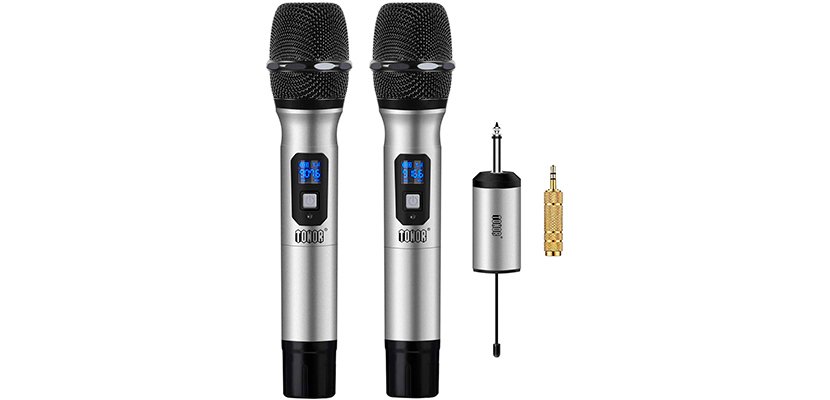 This superb Tonor System is an ideal option for any buyer that looks for smart wireless microphones. It is designed in compliance with the latest technology standards and for that reason produces impeccable and powerful sound within an extended frequency spectrum.
The Tonor mic is fit for any environment, whether indoor or outdoor, you will get a crystal clear and well-defined voice not corrupted by background noise. The design features a number of UHF bands that minimize a chance of interference or dropout. Besides, there are a lot of essential accessories in the set (USB cable, batteries, anti-skid ring, etc.).
The system is handy and convenient in use. It is compatible with most stereo speakers and devices because the microphone set includes a 6.35mm connector and a 3.5mm adapter. Hence, you won't have to pay extra to integrate it with your home stereo system.
What you may also find appealing in this model is that the Tonor battery has a prolonged lifespan and normally provides one full hour of continuous playback on a single charge.
Pros
Bluetooth support.
The signal works fine within the distance of 15-20 feet.
Cons
You cannot use the microphone when it is charging.
There are no instructions on how to set the frequency correctly.
Video Tonor System Handheld UHF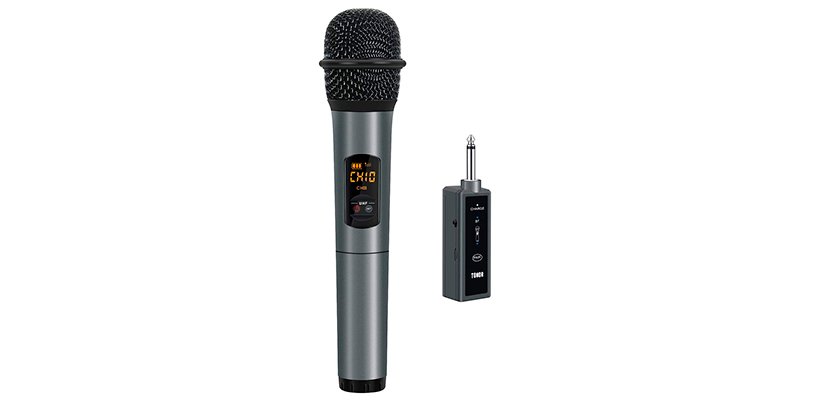 If you are in search of a durable and steady microphone set, this Tonor system can ideally meet your needs. Unlike the Tonor System Handheld UHF, the UHF TN-66BL design boasts a one-of-a-kind cardioid pickup pattern that allows for better sound recording and eliminates background noise. The microphone is equipped with 10 selectable UHF bands that enable quite a long operating distance of 65 feet. The Tonor system is also attractive in terms of connectivity. It is compatible with any audio system and devices, including amplifiers. The microphone set is strong enough to be used on stage as well as at different speech events.
The Tonor battery can operate for 8 uninterrupted hours. The microphone is powered by two batteries that provide for long and high-quality performance.
The item comes in one design and is followed by a number of essential accessories that help you improve your sound experience. They include a receiver, USB cable, anti-skid ring, and a plug.
Pros
It comes bundled with 6.5mm aux pin Bluetooth converter.
Good background sound rejection.
Cons
You cannot use two sets of this product at the same time.
Video Tonor UHF TN-66BL
Buyer's Guide
Dynamic Microphones vs Condenser Microphones
If it happens to you to face the necessity of getting a high-quality microphone, then you will certainly face the dilemma of dynamic microphones and condenser ones. The thing is that each type of microphones has its own benefits and downsides and you should decide which one will fully cover your needs. Basically, all mics are built with an idea that they are going to transform sound into energy signals. This is where the main technical difference between dynamic and condenser microphones lies, as they do this is in a principally different way. Let's talk about this in more detail.
Condenser microphones
This type of mics is also referred to as capacitor mics. You can commonly find them in different music studios and this is not just because of their attractive design. The Tonor microphone drivers for condenser mics ensure excellent performance. Condenser mics can be just impeccable in their ability to pick up different sounds with superb accuracy. Their principle of work is based on the fact that they have a very lightweight membrane that is suspended by a fixed circle called a plate. As the sound puts pressure against this membrane, it starts moving to create electrical output.
At the same time, it is vital to mention that condenser mics are mainly specialized in delicate sounds, which need to be amplified. This is why these products always have phantom power or external power source that will help them create high output. Actually, this means that the user will not need a lot of gain at the preamp for getting a clear and loud signal. Condenser mics are also known for their ability to stay focused on necessary details while eliminating various noises. The Tonor microphone setup for condenser models is also going pretty fast and easy. To sum up this point, I would say that condenser microphones are ideal when it comes to capturing voice or quiet singing but is definitely not that good when it comes to recording drums or other loud sounds.
Dynamic microphones
When speaking about the features of dynamic mics, it is necessary to point out that these items were created for targeting primarily loud sounds. The mechanism of their work is pretty simple. They have a wire coil inside that is used to amplify the sound that is captured by the mic's diaphragm. However, it should be noted that the output is much lower than a condenser, which allows dynamic microphones to cope with very loud and strong sounds. These mics are very reliable and durable. In most cases, they can be used with no batteries or even without external power supplies. The main feature of their sound amplification is that it takes place very smoothly, so the user gets a perfect signal-to-noise ratio. These items are particularly good for capturing the sound of loud musical instruments and reproducing it in the most suitable way for the listener. The Tonor microphone software will allow users to work on different devices comfortably.
Different types of microphones
Although condenser and dynamic microphones are the two types that are most commonly used today, there exist several additional types of mics that are less extensively used for different applications. For example, there are carbon microphones that are actively used in most cell phones for their small size. Also, there are ribbon microphones that can be good at capturing very delicate sounds with the help of their thin strip of metal that is suspended in a magnetic field. Actually, ribbon mics are very fragile and sensationally expensive, so most folks have never heard about them. The microphones also differ by their polar patterns, power source, sound amplification, and so on. However, I believe that there is no need in such a detailed classification for most readers.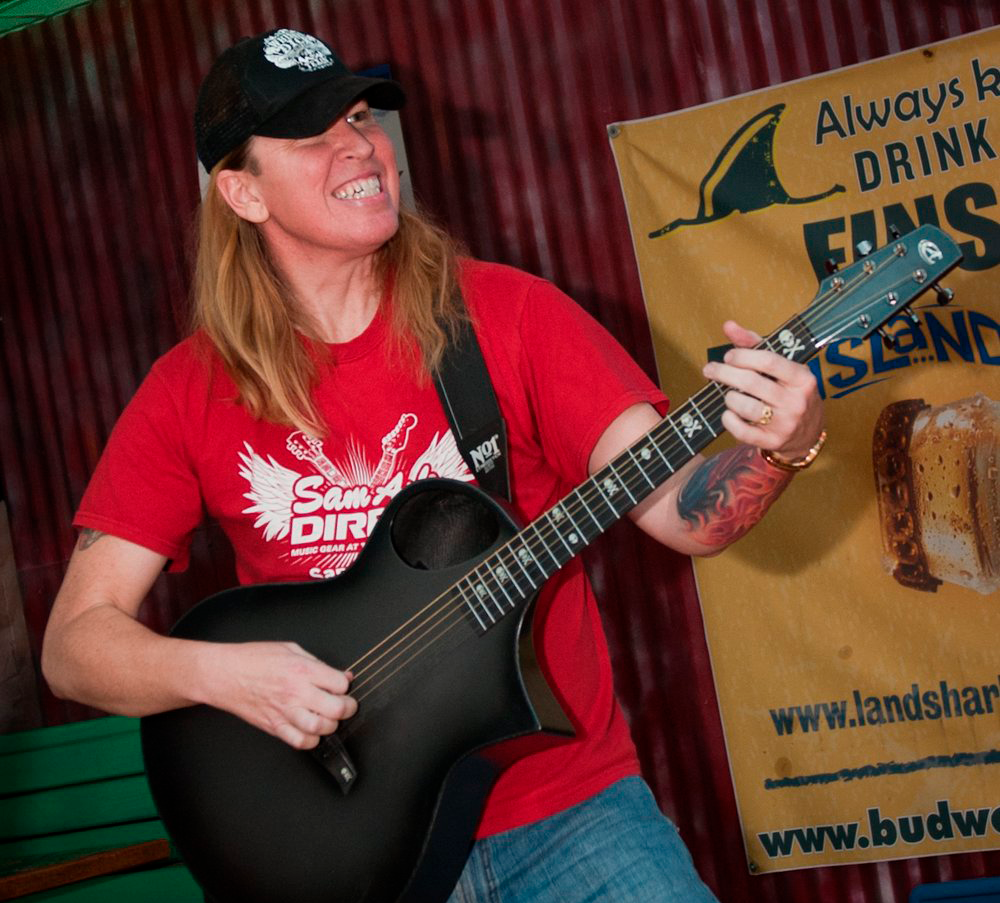 Hi everyone! I'm Thomas Moody, also known as Guitarzan.