A delay pedal simulates fading repetitions or echoes of an original sound by recording and playing back the resulting stompbox effect. It's realized by adding one or several copies of the signal to the original signal but delayed in time. So, if you feel like diversifying your guitar playing experience with a delay effect, you should purchase the best delay pedal.

To date, a delay pedal is among the most widely used guitar pedals. Delay pedals are a common tool in the toolbox of professional guitarists. Delay effect sounds very good when playing solo, adding a uniform background and highlighting your sound. It also allows creating interesting and unusual sounding, select various parameters to change the sound. The guitarists most often use the delay to fill in the spaces between their playing with more sound, to add more rhythm to guitar parts, etc.
A delay effect is used in the compositions of legendary Elvis Presley (Blue Moon Of Kentucky, That's All Right, etc.). Today, a delay effect still remains relevant among popular singers, it's used in "Just The Way You Are" by Bruno Mars, for example.
A delay pedal may be used to freshen the sound of your guitar while also organically enriching the tone of your instrument. However, it doesn't matter how you are going to use it, you will obviously need a top-quality and durable product. This way, we offer you our top nine models. Proceed to read to found out about the features they offer and pick the pedal that fits your playing style the most.
Delay Pedal Reviews
This TC Electronics device is very flexible; it has a plethora of different functions that allow for significant sound modification. The pedal features four control knobs (Delay Time, Feedback, Delay Level, and Looper Level), goes with 16 different types of delay and provides up to 40 seconds of looping. The delay time can be changed in the range from 12 ms to 7 seconds.
The True/Buffered Bypass allows switching between passive and active bypass. If you hold the power button for 2 seconds, you will activate the Audio Tapping mode which gives the opportunity to set the delay time by striking the strings.
The TonePrint function of the Flashback X4 provides access to a broad variety of presets made by pro-guitarists, allowing the pedal's tonal possibilities to be expanded.
The package includes two rubber feet for pedalboard attaching, a 9V power supply and a USB cable. The pedal is quite large (13 x 7 x 4 inches) and heavy (3.4 pounds), but it's fully justified by its wide range of features.
Pros
This delay pedal goes with Tap Tempo.
Cons
The Looper/Delay switch can be controlled only by hand which is not convenient during live performances.
Video TC Electronic Flashback X4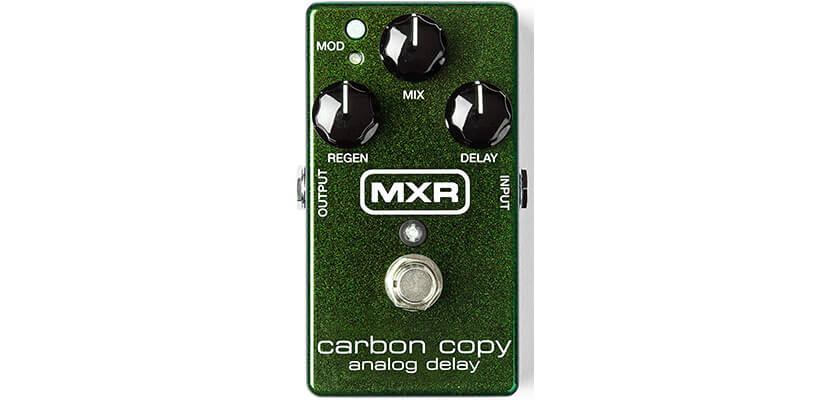 This M169 from MXR has an old-school bucket-brigade construction for a more genuine vintage sound and is intended for people who like rich, warm all-analog tones. It has True Hardwire Bypass and works on a single 9V battery.
This pedal from MXR can potentially be the best analog delay pedal for precise tuning since it has a number of knobs so the user had as much control as possible. The Delay knob allows setting from 20 to 600 ms of delay. The Mod knob provides an optional modulation effect which emulates tape echo tones. It also has two internal potentiometers: Speed (adjusts modulation speed) and Width (adjusts the modulation depth). With the Regen knob, you can set the number of repetitions, and the Mix knob works for adjusting the volume of clean and processed signals.
Despite such an amount of knobs, the MXR analog delay doesn't weigh more than one pound and still remains compact enough to fit in most pedalboards (5.5 x 2.5 x 4.5 inches).
Pros
The pedal has a bright blue LED light so you can work in the dark.
Cons
The modulation knob is inaccessible by foot.
Video MXR M169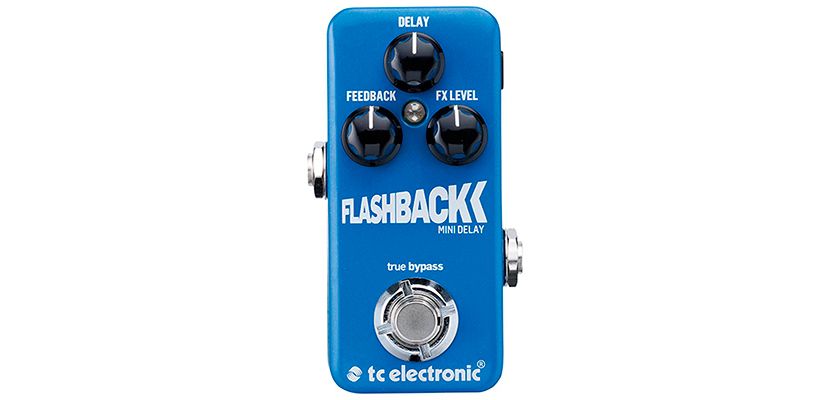 This TC Electronic is ultra-compact (2.5 x 2.2 x 0.6 inches) as it goes in a mini-format. However, this small unit still has impressively wide functionality.
The pedal has three basic control knobs: Delay Time, Feedback, and FX Level. Plus, it also features a True Bypass for optimum clarity and provides 7 seconds of delay time. With a built-in Tone Print technology, you get the opportunity to control all effects via an editor on your smartphone or PC. Additionally, there is a possibility to download hundreds of effects for free.
This mini delay pedal from TC Electronic features an Audio Tapping mode which allows setting the delay tempo by strumming your guitar. The Analog-Dry-Through function keeps the analog signal dry even when the delay effect is turned on.
Pros
The pedal works great with FX loop signals.
Cons
Despite its little size, the pedal weighs 3.65 pounds, making it far heavier than many of its bigger analog counterparts.
Video TC Electronic Flashback Mini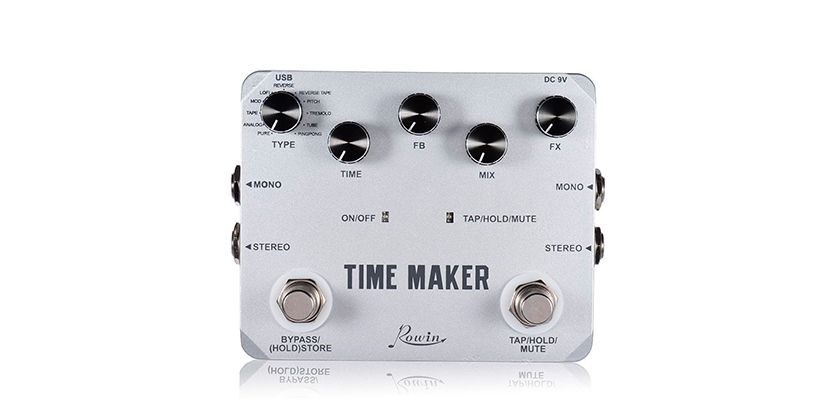 The present model from Rowin is one of the best delay pedals for bassists as it has 11 delay effects for more precise tone adjustment. It features five control knobs: Type, Delay, Feedback, Mix, and FX. The pedal provides 4 seconds of delay time. The Tap Tempo makes the adjustment much easier. The pedal also features 2 mono and 2 stereo inputs and outputs.
Advanced algorithms and DSP processors with floating-point precision are used in the device, resulting in better-sounding tones. The pedal works for different music styles as it gives the possibility to create both clear digital delays and some crazy kinds of effects.
For this bass delay pedal, you'll need a DC 9V power source, since batteries will not operate it. It weighs 1 pound and measures in 4.6 x 3.5 x 1.4 inches.
Pros
This pedal has a preset saving function.
Cons
Sometimes the pedal may emit loud hum for some reason.
Video Rowin Time Maker 11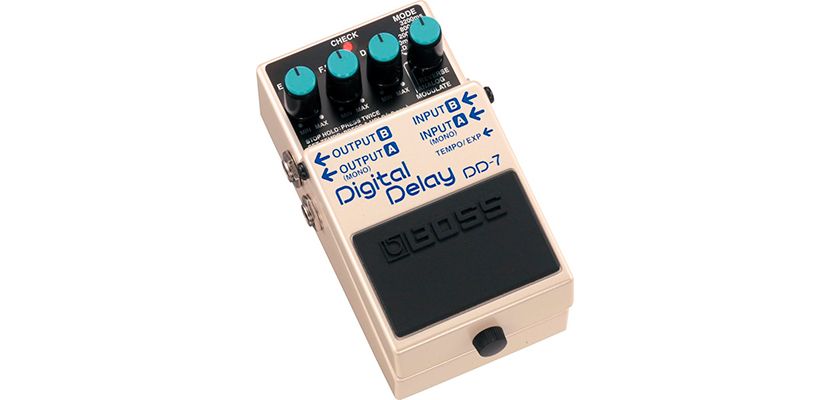 This Boss delay pedal goes in a sturdy metal case with anti-slip rubber. All the control knobs are made of durable plastic. With 5 x 3 x 2 inches of size, the Boss DD-7 fits right into your hand so it's a very compact model. It also doesn't weigh too much (1.23 pounds). The pedal has three main control knobs: Delay Time, Feedback, and Level. It also has an extended delay time – up to 6.4 seconds.
The Boss DD-7 can be the best digital delay pedal if you need a universal unit. It comes with a variety of modes in addition to the basic delay functions.
The Hold mode works as a looper and gives the possibility of 40 seconds recording. The Modulation Delay option enables you to change the sound in a variety of ways and create a chorus effect. The Reverse mode gives a usual effect, reproducing your notes vice versa. This model can even act as an analog one thanks to the Analog Delay mode, it imitates the classic warm sound of the famous old-school BOSS DM-2.
Being supplied with a Tap Tempo function, the pedal will let you adjust and check the delay tempo by tapping the footswitch.
Pros
The external footswitch is available on the Boss DD-7.
Cons
The delay can't be used when the pedal is on hold for recording.
Video Boss DD-7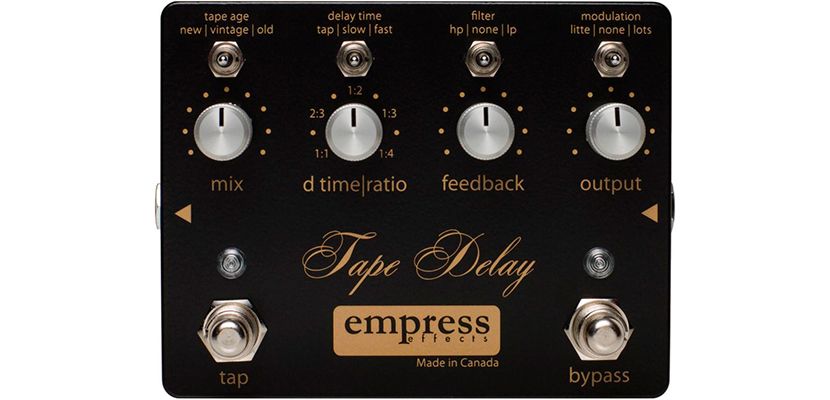 This Empress Effects Tape Delay goes in a solid aluminum case and offers an impressive number of various settings. It has three delay options (New, Vintage, Old) and three modes (Tap, Slow, Fast). It also gives the opportunity to vary how deep the tape delay should sound, while three filters (High Pass, None, Low Pass) and three types of modulation (Little, None, Lots) let you make even finer tuning. That is why I can assert that this model may be the best guitar delay pedal for those who prefer to have a large number of advanced sound features on the effect pedal.
The pedal has four control knobs: Mix, Delay Time/Ratio (from 5 ms to 256 ms), Feedback, and Output. It also has a True Bypass. The Tap Tempo function with the ratio multiplier mode allows you to set the rhythm with, for example, 8 notes.
The unit has 4.5 x 3.5 x 1.5 inches in size, so despite a wide range of controls, it still remains small and weighs less than a pound (15.2 ounces).
This Empress tape delay pedal features an advanced configuration mode, which allows you to save your preferred settings and use them when needed on stage.
Pros
The pedal has an all-analog clean signal.
The relay bypass switch ensures silent on and off switching.
The 103 dB signal to noise ratio provides high-quality sound.
Cons
There is no separate switch for cycling through presets.
Video Empress Effects Tape Delay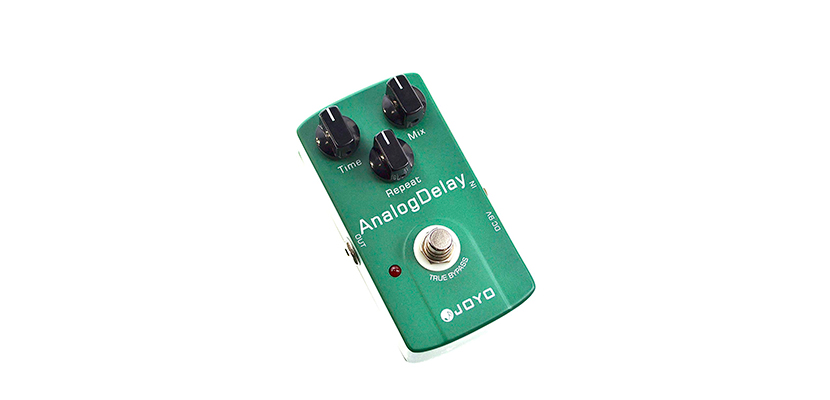 The JF-33 by Joyo may be the best cheap delay pedal for those who need a vintage-like unit with warm and subtle repeats but have a limited budget. This analog pedal goes in a robust aluminum case and has a bucket-brigade design and simple functionality just like old-fashioned devices. In general, it resembles delay pedals from the mid-1960s. It has only three heavy-duty switches (thanks to that, the device if very light, weighing only 8.5 ounces) to install the delay time from 25 to 440 ms, the number of repetitions and the ratio between the original signal and its copies. Turned to maximum, these knobs will allow reaching some psychedelic effects. Additionally, the pedal is supplied with the True Bypass.
This Joyo analog delay pedal can be powered either from 9V battery or from 9V AC adapter. It also features fast battery access, which is extremely handy. With 3 x 8 x 10 inches of size, the device is not among the most compact ones but still lightweight (8.5 ounces).
Pros
This pedal can be used for creating a slap-back echo.
Cons
The pedal may sound a little weak for someone without overdrive or a buffer pedal.
The Joyo JF-33 produces some hum into the signal chain when activated.
Video Joyo JF-33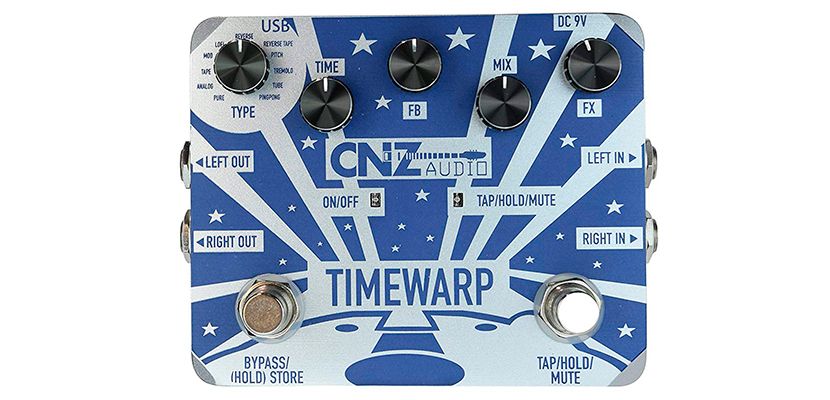 This dual delay pedal presented by CNZ features 11 delay effects with Two-Channel Stereo capability so you have a wide range to choose from. It has five control knobs: Type, Delay Time, Feedback, Mix, and FX.
The delay sounds may be bypassed or held using two switches. The right switch gives the opportunity to adjust the tempo by tapping. The pedal has left and right 1/4 inch inputs and outputs and a USB option as well.
To my mind, this pedal is a great option for beginners. It has an intuitive interface, all the switches and knobs are labeled very clearly, and despite this, the pedal doesn't have poor functionality.
Pros
The pedal is made of solid metal and has a thick anti-slip rubber pad.
Its small size (5 x 1.5 x 5 inches) and light weight (8 ounces) make the device portable and easy to travel with.
Cons
It is forbidden to use a USB port to charge the pedal as it may cause a damaging effect to the pedal.
Video CNZ Audio Time Warp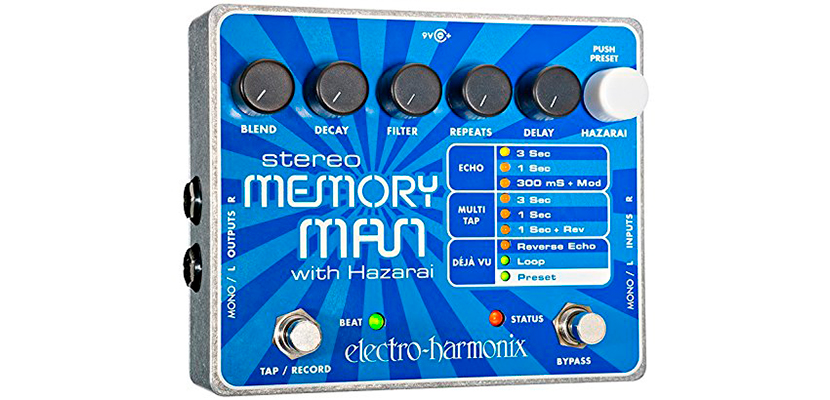 This stereo delay pedal from Electro-Harmonix is one of the most multifunctional ones and has almost countless combinations. It features six control knobs: Blend, Decay, Filter, Repeats, Delay, and Hazarai which allows shifting through previously saved modes. It has delay time up to 3 seconds. The device also has 2 stereo inputs and outputs and is powered via DC power input (24DC-100 power supply is included).
This model can act as a looper pedal with 30 seconds of recording. The loop mode also gives the opportunity to play the loops backward, change their tempo, or change both pitch and tempo. The Echo + Mod mode controls the delay modulation. The Tap Tempo button enables you to manually adjust the delay time.
In terms of dimensions, this unit has 8 x 3.5 x 7 inches in size and weighs almost 2 pounds.
Pros
You can save and load up to 8 presets.
The usage of mono input and stereo output allows creating a ping-pong effect.
The Multi-Tap control gives the opportunity to set the precise amount of echo repeats.
Cons
The pedal can't be powered by batteries.
Video Electro-Harmonix Stereo Memory Man
Buyer's Guide
How to Choose Delay Pedal?
Some beginning guitarists believe that delay is nothing more than an echo effect, yet they are unaware of the device's true capabilities. The high-quality multi-functional delay pedal with complex modulation chain and intuitive controls can help you create a whole range of sounds. The possibilities of this effect may seem simple at first glance, but if you choose the right unit, you will be able to change the sound in a drastic way.
However, it can be hard to select a high-quality product that has right characteristics and is perfectly suitable for your needs. Here is a list of things you should consider when choosing a pedal:
Functionality. It should have at least three control knobs. If it has some more controls, it's great for more precise adjustment. It also should have at least one output and one input.
Ergonomics. Consider the size and the weight of the unit: it shouldn't be too heavy and has to fit in your pedalboard. It also should have an easy-accessible location of all controls, inputs, and outputs.
Simplicity. Some delay pedals come with bells and whistles (with various modes and filters, modulation of different types, TonePrint technology, etc.) and the others have only basic features. Before you make your buying decision, ask yourself if you really need the advanced features or only the simplest ones?
Price-quality ratio. Don't buy a costly pedal only because it's offered by a popular brand or is used by some famous guitarists (especially if you only learning how to play guitar). Consider only the real specs of the product you are going to buy.
Digital or Analog Delay Pedal?
Which pedal is worth buying: analog or digital? In fact, it depends on your personal preferences. We will just supply you with all the necessary information about both types of delay pedals so you could determine which option is more preferable for you.
Digital
The sound of digital delay pedals builds on special built-in algorithms, doesn't have random distortions, and completely depends on how it was configured by a user. They also have more features and functions: duration and frequency of repetitions, tap tempo, reverse echo, looping, etc. They provide clear and cold sounding.
Analog
The analog model gives distorted repetitions and a shorter duration of a repeating signal. This kind of delay effect is more lively but gives unpredictable results. It sounds warm and blurry, gives more natural sound but, at the same time, has a clock noise issue (a high-frequency noise which appears at high delay feedback levels). It's also the simplest pedal and normally doesn't have a lot of options.
If you don't need a long delay in sound, the analog pedal is your choice. However, if you, on the contrary, want to get a high delay of repetitions, then you should turn to a digital pedal. However, the professionals recommend having both options on the pedalboard: analog for warmth and richness, and digital for greater possibilities.
What is Tap Tempo?
A tap tempo is a unique feature that enables the user to control the speed of a delay effect. You have to make two or more rhythmic taps so the device could understand the tempo you want to set. The pedal calculates the separation time you have left between each tap to obtain the necessary information about the tempo you want to work with. This way, this rhythmic effect can be useful when you want to match the delay time with a particular tempo.
Not all the delay pedals are supplied with a tap tempo since it's not an essential function. However, you can use it when you want to make the delay fit in the tempo of your song in the desired way. A tap tempo is used in the most rhythmic Queen's song "Another One Bites The Dust".
However, how to find out whether you need a tap tempo or not? In fact, if your delay pedal has the opportunity to save presets, the tap tempo is not really necessary: you can just set the specific delay time for each preset. However, if you need this feature, you should pay attention to the way it can be controlled: by a button or with the help of a footswitch. The footswitch is more convenient when you are performing on the stage as it gives the opportunity to set the tap tempo while playing. If it's controlled by a button, you will have to bend down each time when you need to set it.
Other Delay Pedal Features
The best delay pedal can provide a lot of various features: from basic to advanced ones.
Delay Time. This feature allows setting the interval between repetitions of the signal. Some models with a built-in screen give the opportunity to set the delay time down to milliseconds.
Modulation. A lot of delay pedals have modulation function which reduces or increases the delay time depending on the low-frequency oscillation. With a modulation control, you can get a flanger or chorus sound, or even make a whistle sound.
Feedback. It's the number of signal delays. If you set it to zero, there will be only one repetition. If feedback is set to the maximum, the delay pedal will produce an infinite number of repetitions creating an echo effect. 5-6 repetitions create reverb and slapback.
Level. It allows controlling the volume of the repeated signal in relation to the original signal. This way, if you set it to zero, only the raw signal will pass and you won't hear any effect. If you turn it to 100%, the volume of the processed signal will be equal to the volume of the original one.
Mix. It controls the contrast between dry and wet sounds. Set it halfway, and the delayed signal will be half as loud as the original one.
Delay types. As a rule, the analog delay pedals tend to focus only on one delay type, but the digital ones usually provide a lot more types of delay effects. One digital pedal can have up to 20 various delay effects like, for example, echo, reverb, multi-tap delay, stereo delay, ping-pong delay, etc.
Looper. If the delay pedal has an inbuilt looper that means that you can record an exact copy of your instrument sound for a given period of time and then reproduce it with one press of the foot. This is a great feature for songwriting and live performances.
Control via smartphone. Some delay pedals give the opportunity to be controlled by a special app with the help of your phone. This app usually contains an editor where you can save and adjust your own presets.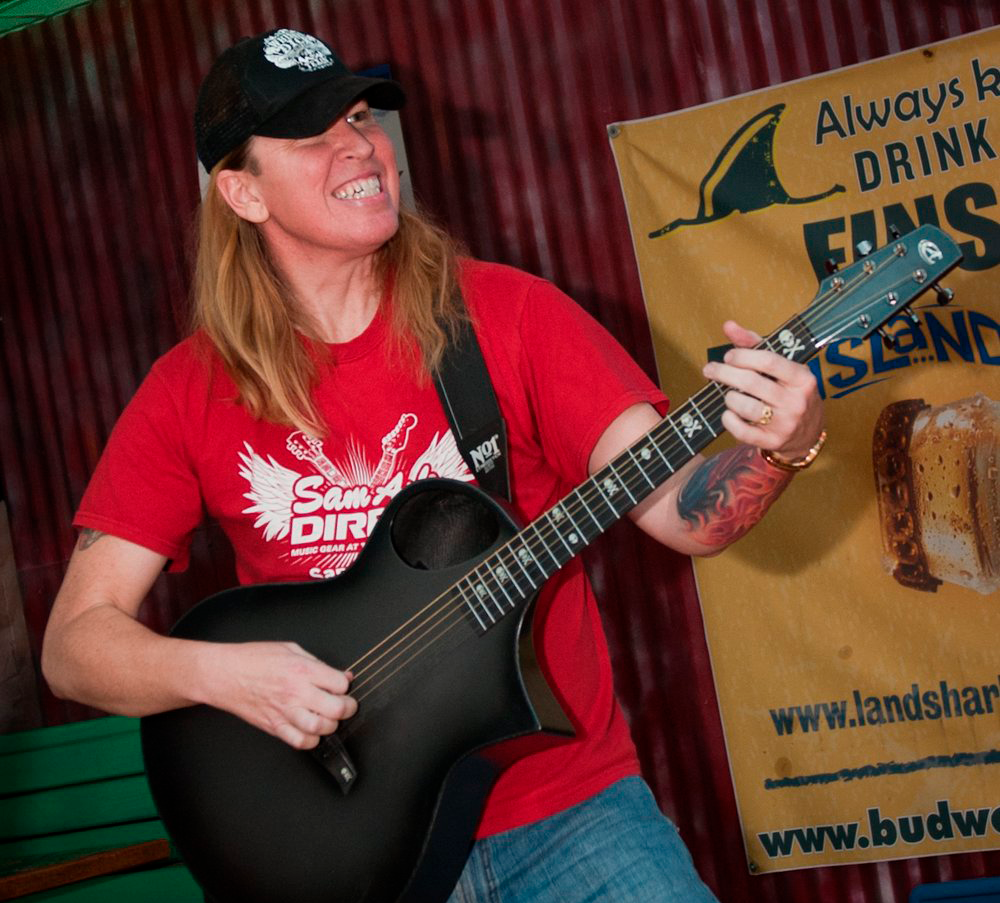 Hi everyone! I'm Thomas Moody, also known as Guitarzan.