Whether you are a beginner or a seasoned guitarist, a decent reverb pedal is essential for performing flawlessly on stage. This little device allows you to boost your guitar's sound power and add various effects that make your guitar sounding more expressive and personalized.

The best reverb pedal, however, should have a lot of advantages to transform your playing into a show. It should have a user-friendly interface, simple control, an extended range of sound modes, and a true bypass. The best reverb pedal should be powered by electricity, but it should also have a battery backup.
The market is full of diverse options. Some models have high-end specs that are close to professional, whereas others are strictly designed for pure music lovers. Below are presented eight top-level reviews that belong to different classes and manufactured by different brands. Continue reading to find out which model best fits your needs and expectations and can offer extra sound effects to your guitar.
Reverb Pedal Reviews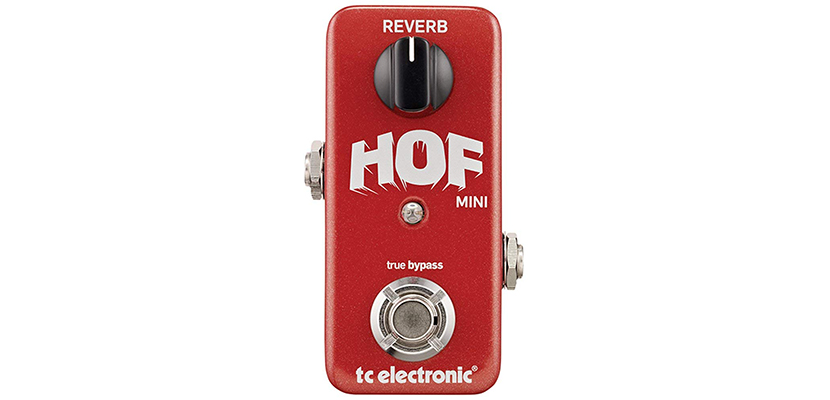 If you're searching for an excellent and powerful guitar reverb pedal that will enable you to customize your sound, the TC Electronic HOF Mini Reverb pedal is here to assist.
This mini-pedal features high-end specs that let any musician control sound effect and change their style of performance while playing on stage. The TC Electronic pedal offers a rich variety of tones. Each of them creates a unique sound environment and nature of playing. The device has simple control and bypass that maintains optimal clarity and zero loss when the pedal is not in use. The pedal performs perfectly with analog and FX loop signals.
The item is user-friendly and comes preloaded with hall reverb. You can also load a bunch of additional toneprints if needed. The user gets access to a branded free app that contains hundreds of various toneprints. The app is accessible via PC, iPad, and Mac. The pedal comes in two sizes and one color.
My verdict is that the TC Electronic HOF Mini Reverb pedal is most suited to musicians that seek to customize their playing and want to create their own tones to make their sound even more fascinating.
Pros
The quality of the pedal totally fits the bill.
You get superb and astounding sound.
It can substitute a delay pedal in some instances.
Cons
Battery connector cables are of poor quality.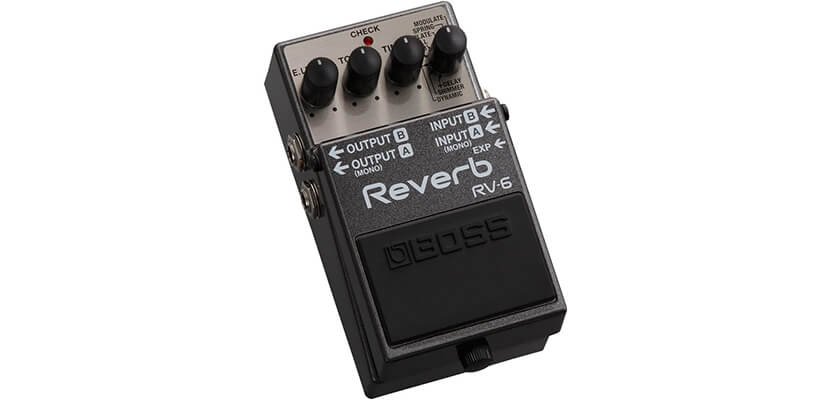 This BOSS reverb pedal is the perfect blend of faultless sound and flexibility. This top-level device is a smart choice for all instrumentalists that dream of rich and saturated sound.
The design is pretty simple and lets the player remain fully focused on their music. The BOSS uses advanced algorithms that allow producing authentic and earth-shaking sound. There are basically eight modes between which you can switch depending upon what effect you need to achieve. Some of the Boss pedal presets include Shimmer, Dynamic, and Delay+Reverb. Whatever mode you go with, the tone quality is amazing and not burdened with background noise.
In terms of energy consumption, the reverb guitar pedal is a win-win option. It runs on a regular alkaline battery that you can easily replace after this one goes dead. Likewise, you can take the battery out and run the reverb plugged when it is most convenient for you. Another significant upside of this RV-6 model is that it supports both mono and stereo operation. This feature allows you to create a powerful immersive listening environment.
Plenty of modern players expect to get a range of capabilities with their new pedal. The BOSS RV-6 Reverb Guitar Pedal can be called one of the top reverb pedals on the global market. It empowers you with stunning features and helps you forget about the washed-out sound you can no longer tolerate on stage.
Pros
The power supply is surprisingly low for such a digital reverb pedal.
The RV-6 specs are close to professional.
The unit is extremely durable.
Cons
The price is fairly high for buyers on a low budget.
Once it just stopped working during the performance.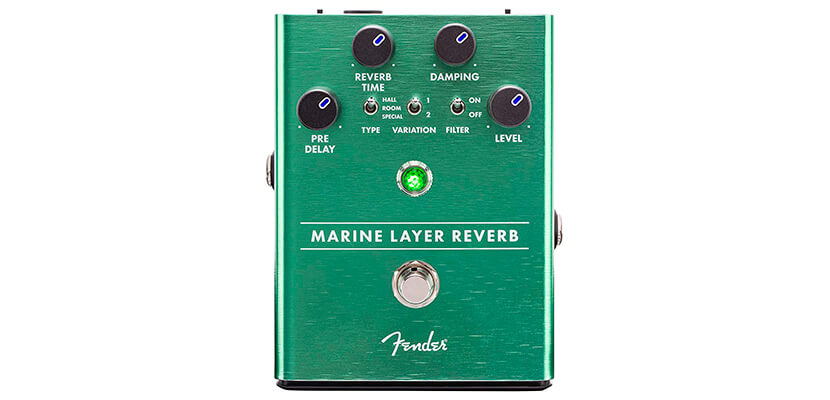 This Fender reverb pedal is ideal for artists that like shimmer effects and booming sound.
Its design boils down to authenticity and true-to-life nature that performers manage to achieve with the features of the Fender Marine reverb. The quality of tone is classic and offers reverb tails that naturally fade out and spare you from cutting them off. This fading out effect is beneficial to numerous guitar players and would make your playing even more convenient and easier.
Unlike other reverb pedals, the Fender is larger and has more extended control settings that are all LED illuminated. The settings allow for precise control and ideal sound adjustment to your preferences. This feature is particularly helpful if you like playing in dark places or on stages with inadequate illumination. One major drawback is that the unit runs only on battery power. You won't be able to keep playing once the charge is over. The average operating time is five continuous hours.
The Fender Marine Layer is a perfect stereo reverb pedal that suits primarily instrumentalists sticking to a traditional manner of playing and looking for no extra presets that make sound surrealistic or unusual.
Pros
Two-mode switches let you sculpt the mids.
The pedal covers a lot of music styles and offers a nuanced approach to fuzz.
Cons
The price is not budget-friendly.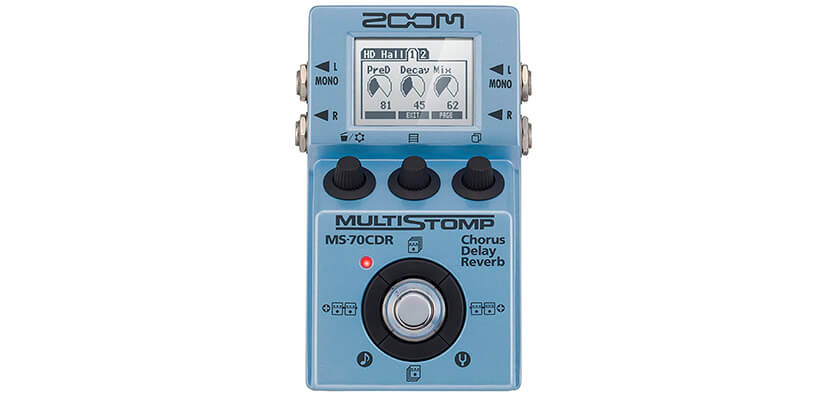 This analog reverb pedal is one-of-a-kind. Zoom's design indeed stands out on the market, and this is what makes the Zoom ZMS70CDR pedal extremely flexible and versatile in use.
The gadget features an easy-to-use interface that enables the musician to tune a guitar quickly and accurately. You can see a flat LCD screen displaying the user's settings and analog-style cursor keys needed to set the parameters if you want to change the mode of sound.
What is amazing is that the Zoom reverb has 86 effects that you can combine or apply in any order to create your own sounding. You will be able to choose among 16 different choruses, 26 types of delays, and 29 reverbs. This exceptional variety of options gives any instrumentalist a great opportunity to experiment and build their personal vision of music.
The device runs on both battery energy and power. The USB port is a significant advantage that makes the Zoom reverb portable.
My conclusion is that the Zoom ZMS70CDR model is primarily designed for composers who need a large palette of tones to turn their ideas into reality.
Pros
The sound quality is high-level.
The price-point is medium.
The buttons and knobs seem to be well made.
Cons
It is challenging to figure out intuitively how all the technologies incorporated into the design are applied.
It takes too long to bypass particular devices in the patch, which is problematic in real-world circumstances.
An AC cable does not come in the kit.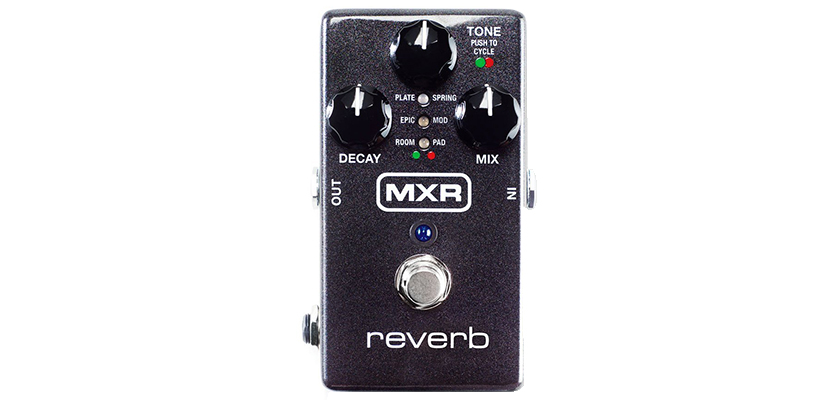 The MXR reverb pedal has an exclusive design focused on providing organic and authentic guitar sound.
Three knobs on the MXR body control six distinct reverb modes. Each mode has a unique detailed sounding. Whatever you choose, your guitar will deliver an incredibly beautiful and earth-shaking sound. Unlike other reverb pedals on the list, this one is digital and offers a new level of sound boost. The user's interface is simple but user-friendly. Despite the lack of an LCD screen, the user can easily tune its playing and interweave various lines and build unusual modulation to achieve better expression. The other advantages that improve the user's experience involve stereo inputs and outputs as well as trails bypass.
The substantial downside, however, is that it needs a power supply and has no alternative.
The MXR M300 has no chance to be called the best cheap reverb pedal, but it can be a perfect match for all guitar players that want to sound natural.
Pros
The unit delivers excellent and solid sound.
Cons
It is best avoided to use the MRX M300 reverb on vocals.
The price is is high and is out of reach for the vast majority of consumers.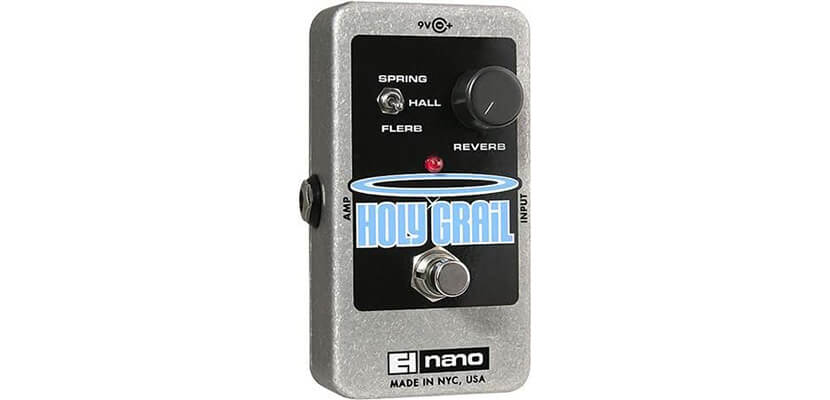 This HOLY GRAIL reverb pedal is perfect for all players that look for a superb and flawless sound.
The design is simple and lets you set the required tone precisely. There is one main knob that works in 12 different modes. You can turn it clockwise and counterclockwise to find the right signal for your instrument. The HOLY GRAIL design relies on three different reverb algorithms that create unique toneprints and allow producing amazing sound effects on stage. The most advantageous algorithm is Spring widely employed in guitar amplifiers. This feature increases sound power and allows you to create customized playing.
Because of the high quality materials used in its construction, this product is expected to endure for many years. However, you won't be happy to know that it has no battery and needs a power supply to operate.
If you are in search of cheap reverb pedals, the HOLY GRAIL NANO Reverb Pedal is unlikely to play this role well. But if your desire is to purchase a top-level and high-class reverb pedal that would boost your sounding, this item could be a wise decision. It is also recommended for those musicians that have no willingness to go through a hundred of settings for a certain sound.
Pros
The item comes with a user's manual helping you look into its operation.
The pedal is sturdy and acts better than an average amplifier.
Cons
The price is extremely high.
The reverb has a longer tail sound than other reverbs, which cannot be changed.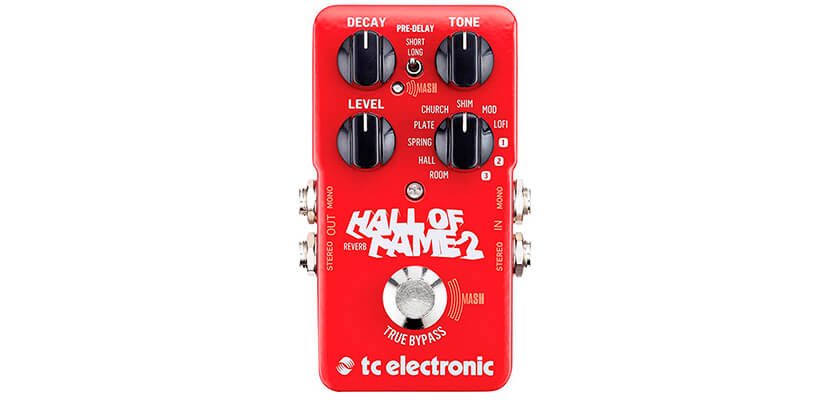 It is another reverb pedal manufactured by TC Electronic. This mode, when compared to the previous one, has even more powerful sound and expanded features that will completely change your performance.
The Hall of Fame design uses innovative technologies that are more sensitive to your touch. They respond to the pressure you apply while playing and change the quality of sound coming out of your guitar. This innovation makes you feel more comfortable and relaxed during the performance. The device has simple control and is compatible with FX loop signals.
You have access to the TC electronic pedal's app after buying it, where you can load a variety of tone print slots. Alternatively, you can make up your own sound signature by applying reverb effects on PC, Mac, or iPad.
The item runs on battery power. You can carry the reverb pedal around and to any place where you plan to play.
This TC Electronic reverb pedal offers optimal tonal integrity and offers an amazing experience to both young and mature musicians that look for the precious sound. This Hall of Fame 2 Reverb Pedal is one of the high-quality reverb pedals that allow creating unique and personalized sound.
Pros
The light changes brightness depending on how much pressure you're using.
The switch is sturdy and won't break with the active use of sound modes.
The sound has zero loss when you bypass other devices.
Cons
The price point is above average.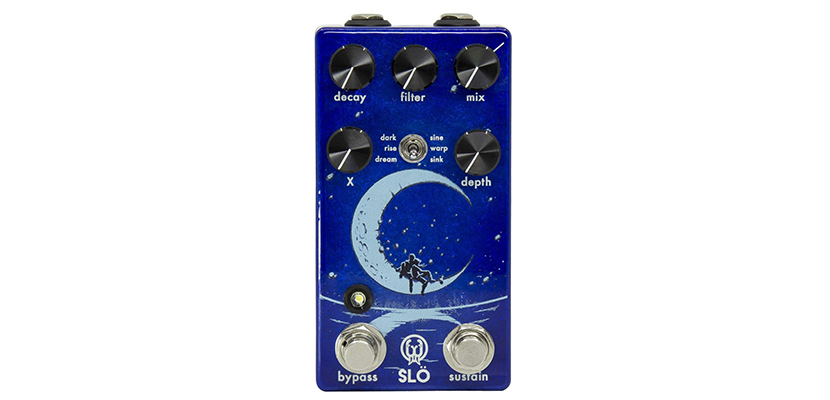 The design of the Walrus Audio pedal embodies different times of the day and allows you to enjoy this unusual concept while playing.
The design builds on three algorithms that refer to three different reverb modes such as Dark, Rise, and Dream. Each mode adds its unique reverb effects to sound and creates a beautiful tail. The system has also three modulation waves that you can apply to achieve ideal modulation in your performance. These are Sine, Warp, and Sink. The first modulation is smooth and even, while the remaining two are more asymmetrical.
The device is user-friendly. The user can control the speed of modulation by adjusting the reverb decay. If required, the pedal may additionally enhance the dry signal or blend it with reverb. The bypass effect is easy to use because the technology remembers the wave shape and settings you choose for the first time and use them by default until you decide to change it. The trail mode offers impeccable natural fading out even when you cut off the pedal.
I recommend this Walrus Audio Guitar Effects Pedal to guitarists looking for perfect balance and a dreamy tone, which this model can provide.
Pros
The item lets you produce lush, modulated, sleepy, and ambient soundscapes.
Cons
The price point is high and not fit buyers who seek low-cost options.
Power supply is not included.
Buyer's Guide
What Are the Most Common Types of Reverb Pedals?
There are five basic types of reverb pedals that are currently used by musicians.
Spring Reverb
The spring reverb design is based on a spring that vibrates and thereby produces sound. This type of reverb is remarkable for the rich and bright sound. Its operation reminds of an amplifier, and for this reason, spring reverbs are particularly worshipped by guitar players.
Plate Reverb
This reverb has a plate instead of a spring. It also responds to vibrations and modulates the sound coming out of an instrument. To create perfect voices or acoustics, the plate reverb may be connected to additional reverbs.
Hall Reverb
A hall reverb is good at imitating a large hall environment in which sound tends to become stronger and more saturated. If you dream of playing for a 10,000 audience, this reverb could help you delve into this atmosphere.
Room Reverb
This reverb is most suited to small or medium rooms that do not need extremely loud sound. It is good at creating subtle reverb effects and works well if you want to achieve warm and natural sounding. This reverb is a smart option for all musicians that value organic tones above all.
Chamber Reverb
The main peculiarity of this reverb is a shot decay time between 0.4 and 1.2 seconds. If you like soft and smooth sound, this class of reverbs would play this role ideally. The chamber reverb is also a good option for record studio owners.
What Is the Use of a Reverb Pedal?
Despite the fact that this versatile product is in great demand among professional musicians and guitarists, beginner guitarists are not enthusiastic about it. In my opinion, this can be explained by the fact that the real potential of this tool is not obvious at all for many folks. Hence, it can be useful to explain the main reasons for buying this tool and describe the benefits arising with the purchase of the reverb pedal.
In fact, reverb or reverberation is a popular audio effect that has a mission to recreate the natural ambiance of real spaces. It adds a sense of space to sounds and a softer edge to your guitar. In other words, this effect is meant to add some kind of a 3rd dimension to the stereo sound of your music. You might have already known that every sound on our planet has its natural reverb, so it can always spread in different dimensions bouncing off and reflecting from different objects. When speaking about its application in music, reverb is so appreciated by musicians for its ability to add a spatial dimension to the sound that is typically recorded in tight studios with sound isolation. This effect is what keeps every note you play sound naturally regardless of the dimensional aspect. Modern reverb pedals are called for replicating a wide range of the classic analog reverbs, as well as using digital processors for simulating the appropriate time and frequency responses of real rooms without losing the ability to maintain every parameter and variable. Advanced reverb pedals may empower your guitar sound with multiple essential effects. Overall, the combination of different effects generated by the reverb pedal can allow musicians to successfully simulate any sized room and help your guitar sound as if it is anywhere within that pre-determined space.
What Is a Good Reverb Tail?
A reverb tail is a decay that remains after you cut off the pedal. It results from late reflections of reverberation. Reverb tails take place at lower amplitudes. A real room environment provides conditions for a natural tail, but other sound environments that include halls, large stages, etc. require a reverb pedal to make tails last longer and sound natural.
Reverb pedals have variable settings to adjust the nature of tails. With a digital reverb pedal, you can make them more conspicuous or less wild. It entirely depends on your sound preferences. The major advantage of high-end reverb pedals is that tails keep fading out even when you stopped pressing the pedal. This feature helps you feel more relaxed while playing and lets you focused on the next sound effects you are going to apply on stage.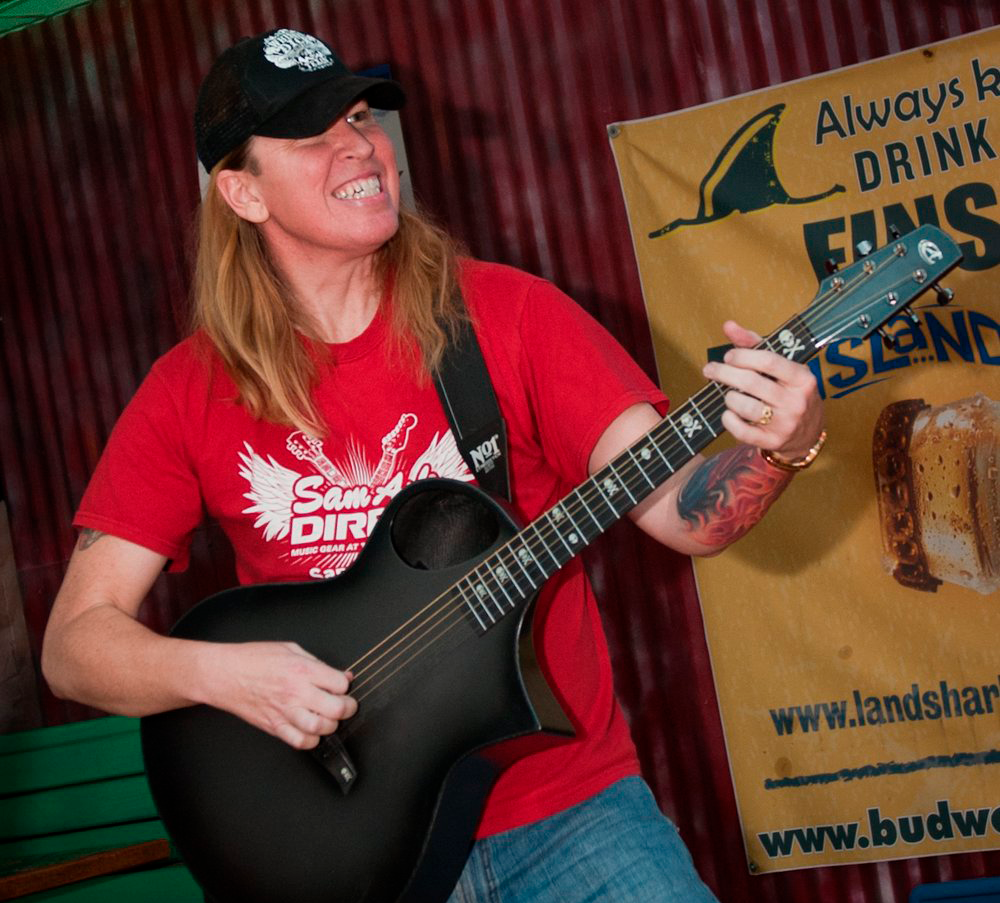 Hi everyone! I'm Thomas Moody, also known as Guitarzan.