Nowadays, you can choose from two types of speakers: modern (or even futuristic ones) or the ones that boast retro vintage style. That is why the best vintage speakers aren't only a good addition to your acoustic system but are also a great design solution. Except for being one of the most good-looking ones, they are also quite universal being suitable for both record players and modern stereo systems.

Thanks to the advanced technology, you don't have to sacrifice sound quality to get the vintage looking speakers. You can enjoy both authentic interior and superior sound quality along with increased convenience. The present vintage speakers are endowed with Bluetooth, inbuilt voice assistants, multi-room playback, and a rich, full sound at all levels.
However, when it comes to the vintage speakers, some manufacturers tend to pay more attention to the original retro look than to the sound quality which makes it harder to choose the right model. After all, even if the speaker's appearance is on top of your mind, you will still need at least an average level of sound quality. Thus, if you are into the retro look but want the speakers that do well with your favorite music, we offer you reading our article. We will take into account the speaker's performance, pros and cons, features, and their overall sound quality. This way, you will be able to choose the best vintage speakers relying on their real specs. Plus, our buyer's guide will help you form a deliberate decision.
Vintage Speakers Reviews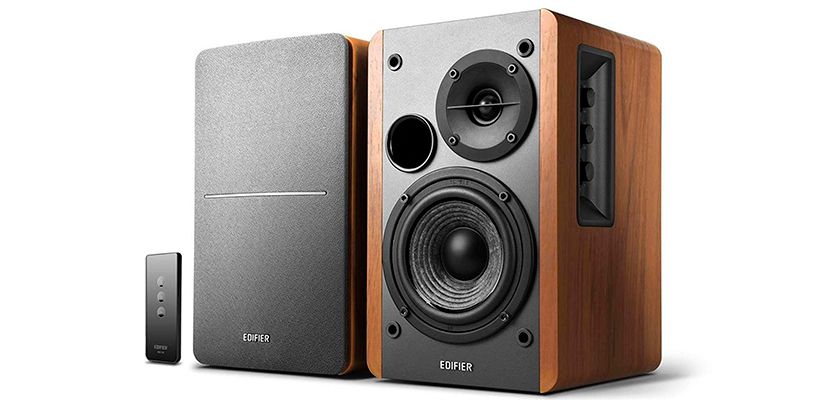 The R1280T is a set of two vintage speakers: passive and active. Their housing is made of solid MDF. They have a standard shape with rounded edges. The side walls of the speakers are covered with a bright PVC coating which imitates the lacquered wood texture. These speakers are compact enough to be placed on a table or even on a small shelf (6.9 x 9.5 x 5.8 inches) so they can be one of the best vintage speakers for the vinyl player. Plus, they are equipped with four soft legs made of foamed polyurethane to prevent scuffs and scratches on the table's surface.
The rear side of the active speaker has two AUX inputs, two RCA outputs, a non-removable power cord, and a power button. Their control panel on the right side of the speaker allows adjusting volume, bass, and treble. There is also a green LED indicator which informs about the status of the speaker's power mode.
The passive speaker has only the terminals for the cable which connects the speakers to each other.
These vintage bookshelf speakers from Edifier go with a small and handy remote control covered with glossy black plastic. It allows controlling the volume and enables/disables the mute mode.
Thanks to the 42W of power, these speakers provide a good volume level, but they lack a surround sound a bit. Regardless of the source connected to the Edifier R1280T, the sound remains balanced. The treble frequencies are crisp and bright. Their level is slightly raised, but not so much to muffle the mid frequencies. The bass is well but probably won't please you if you like the bass-boosted tracks since these speakers go without a subwoofer.
The Edifier R1280T is not a kind of acoustic system designed to provide an impressive amount of power. These vintage HI-FI speakers are more suitable for those who prefer the clear and dynamic sound.
Pros
The R1280 comes with two RCA cables so you don't have to buy them separately.
The volume control is automatically set to a comfortable level as soon as the speakers are powered on.
Thanks to the 13mm silk dome tweeter and the 4-inch bass driver, the speakers sound very deep and natural.
Cons
The highs are lacking in terms of clarity.
These speakers are prone to distortion at a maximum volume level.
Video Edifier R1280T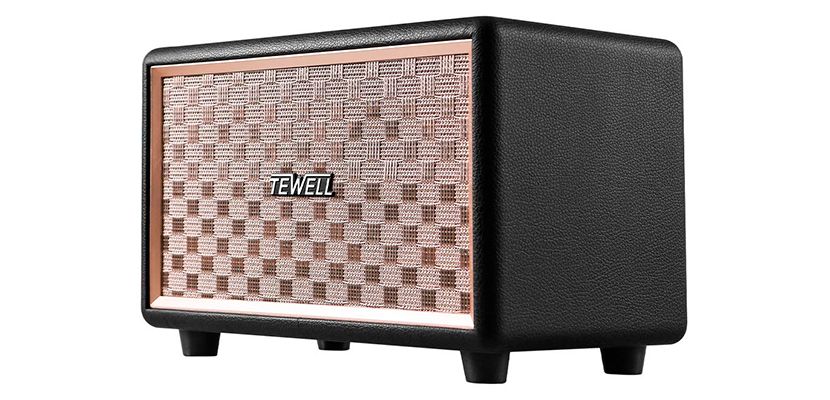 This vintage-styled model from TEWELL goes in a leatherette casing, with the metallic front face which endows this speaker with an original retro look. It also has an old-school toggle for a power on/off switch on its top panel. There are also the buttons for input mode and pause, an AUX input, and the volume knob with blue LED light which flashes rapidly during the pairing and goes steady when the connection is made. The AC jack can be found on the rear panel of the speaker.
This model from TEWELL is one of the most compact ones. With 10.2 x 5.9 x 5.9 inches of size dimensions, it can easily be placed next to your computer, for example, without taking excessive space. Its authentic look and small size also make this model one of the greatest vintage speakers for a record player.
The speaker offers both Bluetooth and an AUX connection. Bluetooth 4.2 ensures a strong and stable connection up to 33 ft away. The standard 3.5mm jack allows connecting the speaker to any compatible devices (computer, turntable, MP3, etc.).
The TEWELL Speaker contains two 12W speakers on the front side and the bass reflex system on the rear part. Generally, it has a decent sound with a balanced and deep bass. The audio reproduction is crisp and clear. The sound quality is stable at both high and low volume levels. The sound reproduction is also equally good with a variety of different music styles, from soft blues to heavy metal. However, note that this model is not aimed to please the needs of picky audiophiles. It's quite simple device, suitable for casual use.
Pros
The speaker comes with a power adaptor and a Nylon Braided AUX cable.
The TEWELL speaker has a minimalistic, user-friendly interface.
The 24W audio output makes the speaker powerful enough for a large room.
Cons
The speaker doesn't have a built-in microphone so it doesn't support the integrated Bluetooth phone calls.
The speaker has to be plugged in while using and can't be powered via batteries.
Video TEWELL T-1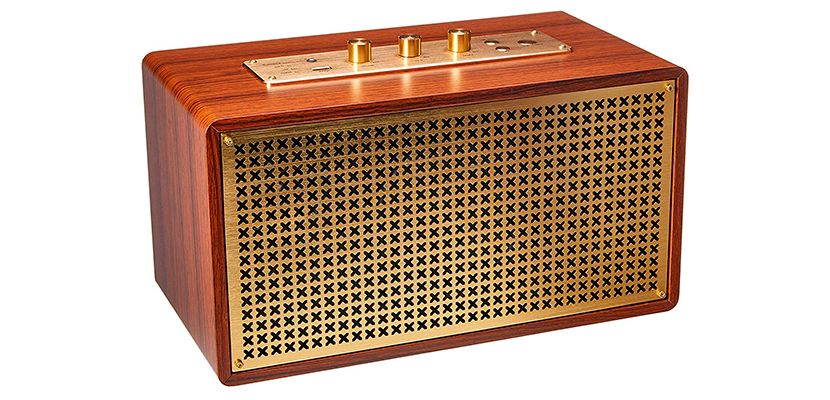 This speaker from AmazonBasics provides a 70s stereo console vibe. It goes in a wood housing with polished gold-tone metal accents. With 7.36 x 13.74 x 8.07 inches of size dimensions, you can place it in your kitchen, in the bookcase, or in a living room and it won't take too much place.
The control panel is located on the speaker's top panel. There are a 3.5mm AUX input and the USB port which allows charging your phone or tablet, for example, while playing music. The LED indicator lights up with a bright blue color when you turn the speaker on. The other three indicators inform you when Bluetooth, AUX-in, and USB are in operation. Three gold-colored knobs allow adjusting volume, bass, and treble. There is also a STBY/Source button, and two buttons designed to play/pause the playback and to switch the tracks. The terminal for the AC cord is located on the rear panel of the speaker.
This model is among those vintage stereo speakers that provide truly crisp and clear audio. Thanks to 40W of power, the speaker ensures a decent booming sound. It has a very smooth and balanced sound but may not satisfy your needs if you want a room-shaking bass.
Pros
The speaker includes a built-in microphone for speakerphone calls.
The AmazonBasics speaker is very easy to use: just plug it in, turn it on, and connect to the source in one of three ways.
The speaker provides an impressively loud sound that is able to fill even a large room.
Cons
The glossy wood finish does show fingerprints.
The USB port can't be used as an input for playing music from the iPhone.
The AmazonBasics logo, located on the control panel, interferes with the retro style.
Video AmazonBasics Vintage Bluetooth Speaker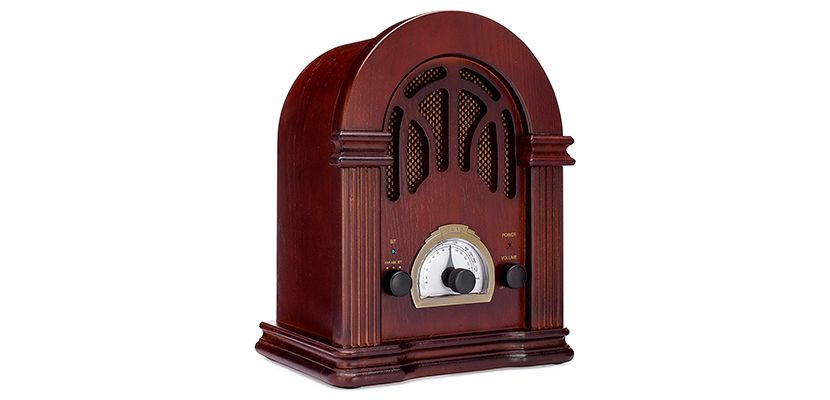 The present cathedral-style speaker from ClearClick is a classic wooden model with an arch-shaped design and multi-cutout forward-facing grille. It's made of a hand-carved hardwood and put together by hand as well. It's also a really small model having 12.6 x 10.5 x 8.1 inches in size.
The speaker is supplied with the front-mounted retro dials which allow adjusting both AM and FM radio stations. This speaker also has a Bluetooth receiver able to deliver an interruption-free signal from a distance of up to 33 ft. You can use it to play music from your phone, tablet, computer, or another Bluetooth-enabled device. This vintage radio Bluetooth speaker is AC powered and goes with a standard AC power cord.
There is an FM/AM/BT knob on the right side of the speaker's face panel. Above the knob, there is a LED light indicator which activates a blue light when Bluetooth is on. The red LED power indicator is located above the volume knob on the left side.
The sound of the speaker is impressively good considering its size, it is crisp and clear. It even tends to be a little bass-heavy so you have to equalize the sound via the Bluetooth source.
Pros
The speaker effortlessly pairs with other devices making it simple to use.
The tuning backlight stays on even in Bluetooth mode, providing an authentic look even when you are using Bluetooth.
A 4 ft wire antenna on the rear panel of the speaker pulls in plenty of stations.
Cons
The volume is not as soft when you use the radio as it's when you use Bluetooth.
The AM receiver tends to be a little bit noisy sometimes.
Video ClearClick Retro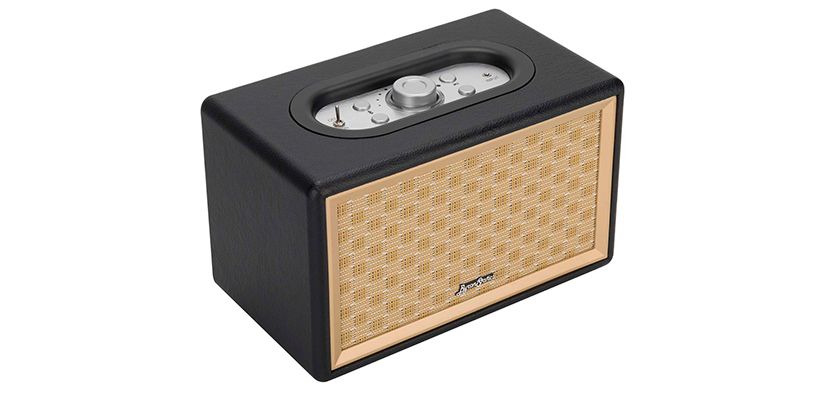 This vintage speaker from Byron Statics is covered with black leather material and has the gold grill cloth on the front. It can be powered by a built-in 3.7V 1200mAh rechargeable battery, so the manufacturer managed to make this model compact (10.49 x 5.17 x 7.11 inches) and easy-to-carry (3.96 pounds). It also comes with a USB cable. You can use the 5V DC adapter as well if you have one.
The speaker is equipped with Bluetooth 4.2 (with the maximum connection distance up to 33 ft) which is quite stable and fast. You can also connect the speaker to the non-Bluetooth-enabled devices via the included 3.5mm AUX cord.
There is a control panel on top of the speaker where you can find an old-school toggle to turn the speaker on/off. There are also three buttons to control the playback (pause/play and track switching) and one button dedicated to Bluetooth control. The large volume knob is surrounded by an LED light so you can see the control panel in the dark. The 3.5mm AUX jack is also located at the top.
Despite its size, the speaker is loud enough to provide a decent volume in a middle-sized room. It also provides a clear stereo sound with cleanly high trebles and can handle the low bass with ease. The mid range sounds naturally and clean.
Pros
The speaker provides a distortion-free sound at high volume levels.
The speaker can be fully charged from scratch in about 6 hours.
This Byron Statics easily and quickly pairs with both Android and iOS devices.
Cons
Bluetooth loses some audio quality.
The speaker doesn't have controls for a sound adjustment (treble, bass, etc.).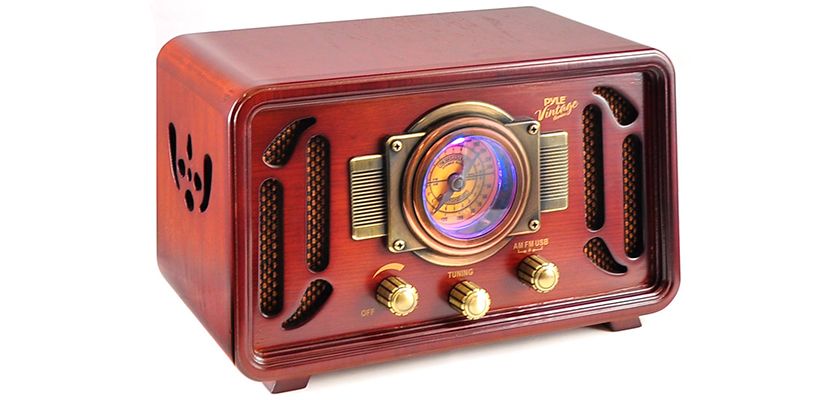 This customized speaker from Pyle features an original design: it goes in a stained wood case with the strategically-placed speaker grille cutouts. There is an antique metal panel with a glass dial in the middle of the speaker which makes it look very unusual. You can use this dial to tune the AM/FM. However, despite being very sensitive, it's not as accurate as digital tuning. Its front panel is equipped with the brass-colored volume, tuning, and AM/FM/USB knobs. The 14 x 8.8 x 10.2 inches of size dimensions make this speaker a space saving solution. It's powered by a 110V power cord and has no option for battery power.
The PUNP34BT combines modern and retro technologies as it supports both radio and Bluetooth 2.1 (with the range of over 30 ft). There is also a standard 3.5mm AUX input to connect devices like a tablet, a smartphone, a laptop, etc. It has a USB port that can be used for device charging, a USB flash drive, and an SD memory card reader (with 32GB of maximum capacity) as well. Thanks to the RCA (L/R) output connector jacks, you can connect the speaker to a TV or any external speaker systems.
This vintage Bluetooth speaker features the dual built-in stereo speakers for full-range sound reproduction and is meant to satisfy the needs of a casual listener. This means that it has quite average sound properties. You get pretty good bass, mids, and highs without distortion but quite a limited volume range. It sounds especially good with soft jazz and classic rock.
Pros
The speaker stands on the reliable wooden feet.
The PUNP34BT is compatible with both MP3 and WMA digital audio files.
The gauge backlight switches between blue and pink as you switch the stations making it much easier to find the station you need.
Cons
The tuner needs to be periodically adjusted with signal shifts.
The speaker may produce an electric feedback hum when you listen to music at a near-max level using Bluetooth.
This speaker comes in a wooden case with retro net cover, situated near the radio tuning knob, and has a convenient antiskid handle. It's powered by a 12V/4AH high capacity built-in rechargeable battery. However, it's not as compact (13.6 x 5.6 x 10.6 inches) and as light (10.93 pounds) as you normally expect the battery-powered speaker to be.
Thanks to the 5.25-inch subwoofer and the 1.34-inch tweeter, you get a wide audio frequency and mighty bass. There is also a vent on the speaker's rear panel which allows air to circulate in and out of the box helping increase the woofer's efficiency and ensure distortion-free mids and highs. Thanks to the 25W power amplifier, full-range drivers, and passive radiator, you get a powerful loud sound.
This model is remarkable for having a wide functionality. Except for featuring Bluetooth connectivity, the speaker's top panel provides a lot of other functions. There are a power toggle switch, a rubber antenna, a TF reader, a USB port, the DC and AUX inputs, and an input for a microphone. Two large knobs allow adjusting echo and mic volume. Also, there is a number of buttons: the mic. priority, source, previous/next radio channel, play/pause FM, auto scan, record and rec. play, TWS, and EQ.
Pros
This model is among the vintage PA speakers which means that it allows achieving a consistent high-quality sound reproduction.
The speaker has an LCD digital display which shows the current sound source mode, volume, radio, and residual electricity.
The speaker comes with a remote control.
Cons
The battery only lasts 6 hours on one charge.
The speaker mutes the volume sometimes, even when the charger cable is connected.
Video LuguLake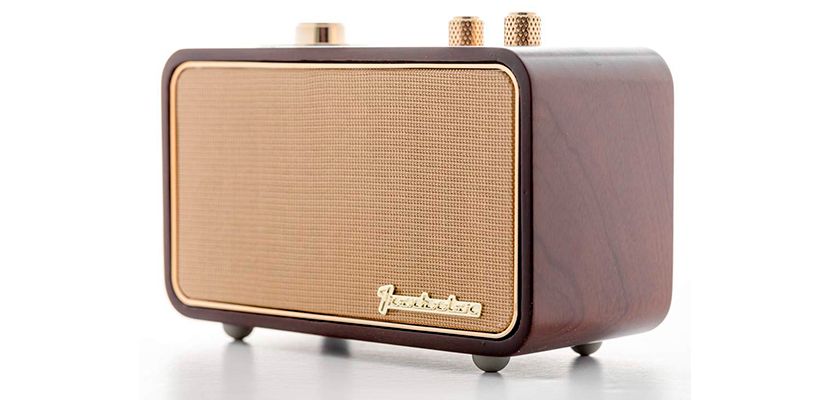 This handmade vintage speaker comes in a natural wood frame available in a variety of vintage colors: black, blue, etc. This portable speaker can be powered by a battery (recharged via USB) and weighs less than a pound. The most unique feature of this speaker is the customizable faceplate which means that you can paint on its cover designing your own art creation. The faceplate is also interchangeable and you will get an external one in the package.
The speaker is supplied with Bluetooth 4.0 with 33 ft of maximum range. Thanks to the internal full-range 3W speaker, this model provides enhanced bass and clear, crisp sound. Thanks to the resonance provided by the natural wood, you get less than 5% harmonic distortion which ensures enhanced clarity and fidelity. The speaker also comes with a built-in passive subwoofer, located on its rear side, which is rarely found in the compact-sized (5.32 x 3.62 x 2.38 inches) vintage home speakers. The subwoofer provides deep bass without distortion.
There are three knobs on top of the speaker: volume knob, radio tuning knob, and source knob. There are also an AUX connector and LED indicators (green/red for charging status, blue for Bluetooth, green for radio status).
Pros
A built-in microphone works with hands-free dialing and video conferencing.
The inbuilt battery works up to 12 hours on one charge.
The speaker supports AM/FM radio reception.
Cons
The source knobs could be a little easier to turn.
The volume doesn't go loud.
Video Trenbader
Buyers Guide
What to Look for in Vintage Speakers?
There is a large number of audio systems on the market, so it's not so easy to choose the best sounding vintage speakers. In fact, your choice should be based on your preferences and needs. However, it's worth remembering that you shouldn't consider the speakers with a bigger number of drivers as the better ones. It's a common mistake. If the speakers have more components, it doesn't mean that they are better and will outperform the speakers with fewer components at all levels. The quality of the components is what's actually important, not their number. In fact, some of the greatest modern speakers are made using technologies from the 70s-80s.
The size of the vintage-style speakers is also an issue for some buyers. Well-designed larger speakers with a big subwoofer or multiple smaller subwoofers will provide fuller and deeper bass and a higher volume level. However, if you want small and compact speakers but don't want to sacrifice a decent bass, you can just connect an external woofer to them.
Efficiency and Power
It's common to think that a 100W speaker can't be damaged by a 50W per channel amplifier, but that's wrong. An amplifier turned up until it distorts is a potential danger for many speakers. However, a lot of people don't pay attention to the efficiency rating when buying the speakers, but it may be even more important than the power rating. The more efficient the speaker is the larger the volume for a given amount of power it will produce. However, note that a more efficient speaker doesn't always mean a better sound quality.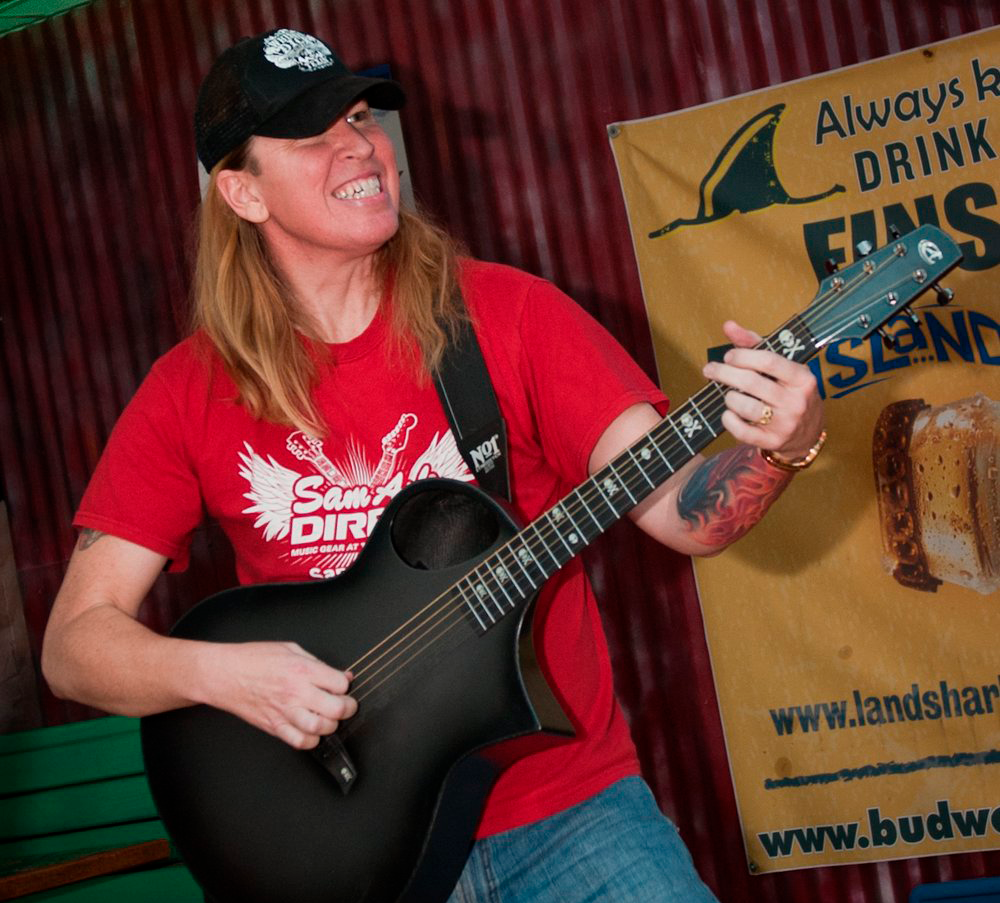 Hi everyone! I'm Thomas Moody, also known as Guitarzan.