Upon enjoying the Echo Dot for a while, I wished to extend its output to other rooms in my house. Besides, I noticed the room where it was placed could also sound better with another soundbox added. That's where the issue of the best speaker for Echo Dot began. The speaker should have been fully compatible with Amazon Echo Dot, have a loud non-distorted output, and be quick in connection / playback. For each particular situation, other requirements might add. For example, water resistance, to take it to the bathroom, wireless pairing for multi-room performance, voice control options, etc. Check what items I've selected below, and buy a high-value speaker matching your Echo Dot!

Speakers for Echo Dot Reviews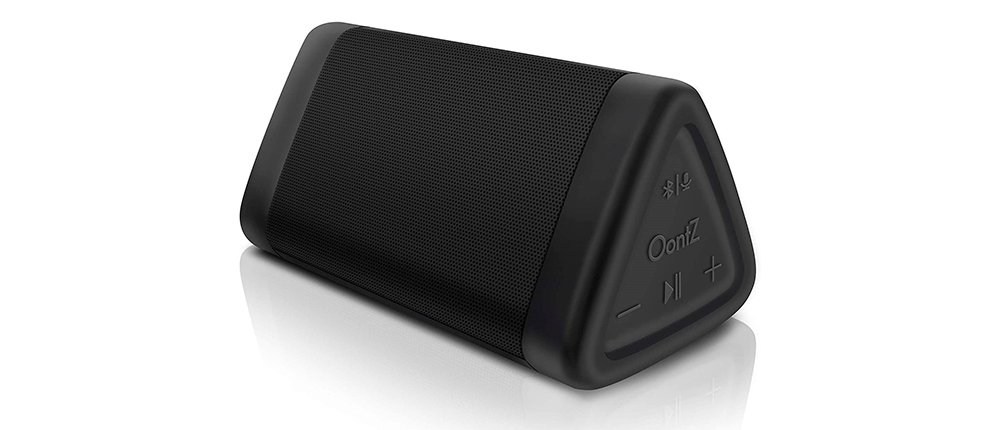 Want to boost the sound of your Echo Dot, make it a stereo one, or just want to have audio outdoors? The Oontz Angle 3 will do the task. It features two drivers emitting a stereo output that stays clear as the volume increases and makes probably the best speaker for Amazon Echo Dot. Still, no mounting options and two conical feet limit the areas where it can be placed, as it might be kicked over during the party or another event. At the same time, the speaker is compact (5.25 x 2.6 x 2.8 inches) and can fit into a cupholder or another small opening for a more secure position. It's also lightweight at 9oz, letting you carry it anywhere with you.
The drivers are full-range neodymium ones, supported with the passive radiator for bass optimization. They emit steady lows and clear mids. The back-tilted position makes the sound disperse widely into the air. The drivers are powered by the 10W amplifier to crank the volume high and fill a small and middle-sized room with ease. The integrated battery can hold a charge up to 14 hours of constant playback at a medium volume and is quickly charged via the micro-USB cable.
The Bluetooth 4.2 lets you connect to your Echo Dot within the range of up to 100ft, and makes it compatible with multiple devices including smartphones, tablets, laptops, etc.
Pros
The IPX5 water resistance level lets you use the speaker in the shower, under a small rain, or in humid weather.
Built-in microphone to answer calls when connected to the phone.
Features an AUX input for cable connection to audio gear.
Cons
Limited playback controls onboard (Pause, Volume Up, and Down buttons only).
Highs are a bit harsh.
Video OontZ Angle 3 (3rd Gen)
JBL FLIP 4 — Best Bluetooth Speakers for Echo Dot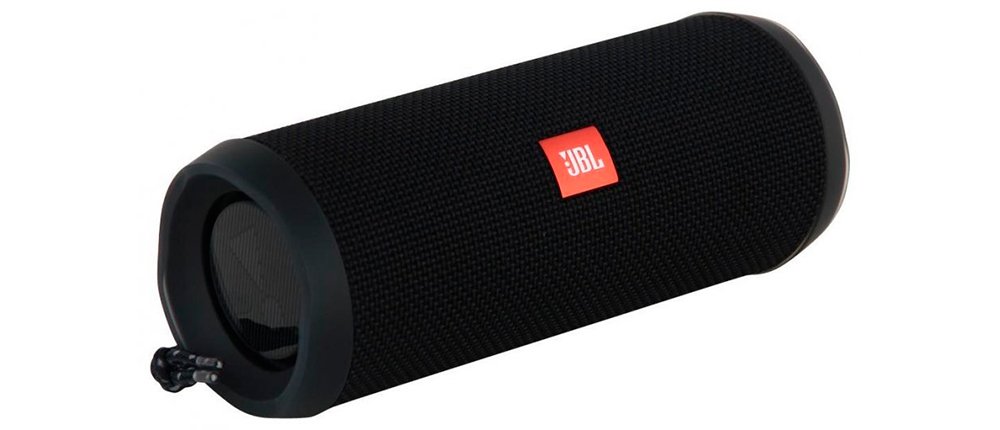 If you need a powerful speaker for your Amazon Dot, take a look at this speaker review. With a waterproof design, enhanced mic, and voice command support, it could be the best wireless speaker for Echo Dot. However, it has its limitations, too. For example, the onboard panel doesn't feature a button to flip back or forward to the tracks played. Considering there's a full set for other controls (Bluetooth pairing, volume up and down, play / pause), this is a minor downside.
The total output of this stereo speaker makes 16W (8W per driver), letting it get loud without bringing distortion. It has two radiators (passive style) dissipating the heat efficiently and supporting strong lows. The low-end starts with 70Hz and the treble reaches 20 kHz. The audio output is well balanced featuring clean highs and wide-range mids. The SPL level for this model makes over 80 dB while the bass becomes slightly muffled at high volume, with the treble staying clean.
The battery has a 3,000 mAh capacity, which is enough to listen to music for several hours (up to 12 hours). The speaker is 6.89 x 2.76 x 2.68 inches and weighs 1.14lbs. It can be placed horizontally or vertically while there are no feet that support the speaker in the horizontal position.
The Flip 4 can connect to the Echo Dot through the AUX port and Bluetooth. The smart functions include the smartphone app and voice assistant support (Google Now and Siri).
Pros
Can be paired with multiple other JBL speakers via JBL Connect+.
The integrated mic has noise- and echo cutting technology.
Can be paired with two smartphones at once.
Cons
The charging cable is thin and short.
The micro-USB port doesn't look solid and is quite stiff.
Video JBL FLIP 4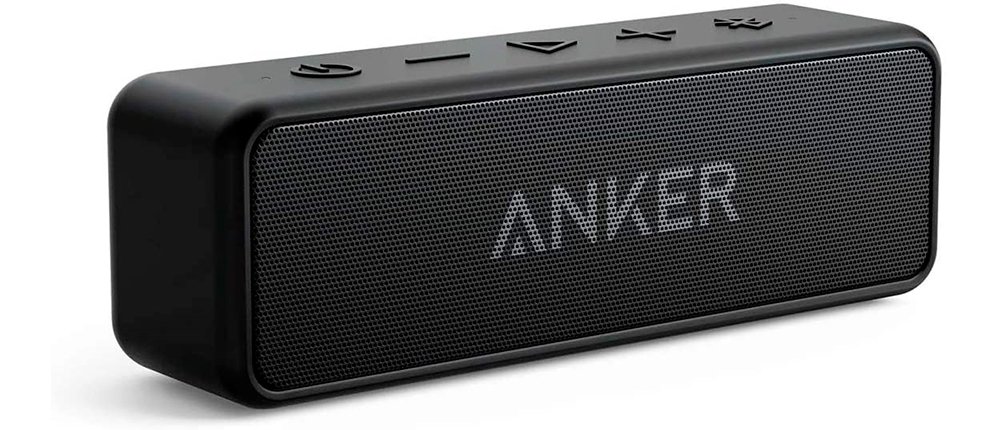 Compact and slim (6.6 x 1.9 x 2.2 inches), weighing less than 1lb, this smart speaker offers good volume and high sound quality, with extension opportunities. It can be paired with another Anker Soundcore 2 and customized for wireless stereo playback. The output of a single speaker makes 12W and it fills a small room with sound quickly. It has two drivers providing full-range playback, with enhanced low-end. The Bass Up technology brings a tight bass, and the spiral reflex port keeps the audio clear even when the volume is cranked up. Mids and treble provide distinct harmonics and sound confidently.
This model has Bluetooth 5 letting it claim the position of the best speaker to pair with Echo Dot. It pairs with the Echo Dot quickly and keeps the connection steady within the full range (about 60ft without obstacles between the source and Anker speaker). Besides, it provides better protection for your data. It's also backwards compatible with devices supporting older Bluetooth versions. The AUX and Micro USB ports are located on the side and sealed with the sturdy rubber cap. The device is waterproof, IPX7 certified, and can be used in a swimming pool area or camp.
The battery life is another factor making this model a worthy speaker for Echo Dot. It has a 5,200 mAh capacity for full-day playback at moderate volume. It's possible to use it plugged in as well, and there's no static to the sound during charging.
Pros
A play / pause button is multi-functional, letting you manage your calls and put a call on hold to accept another one.
Large buttons on top are easy to find and operate.
Rubber coating and rounded corners make the device resistant to damage.
Cons
Turns off at no signal even with the charging cable plugged in, and doesn't turn on when the signal is resumed.
Doesn't fit as a TV speaker due to considerable sound delay.
Video Anker Soundcore 2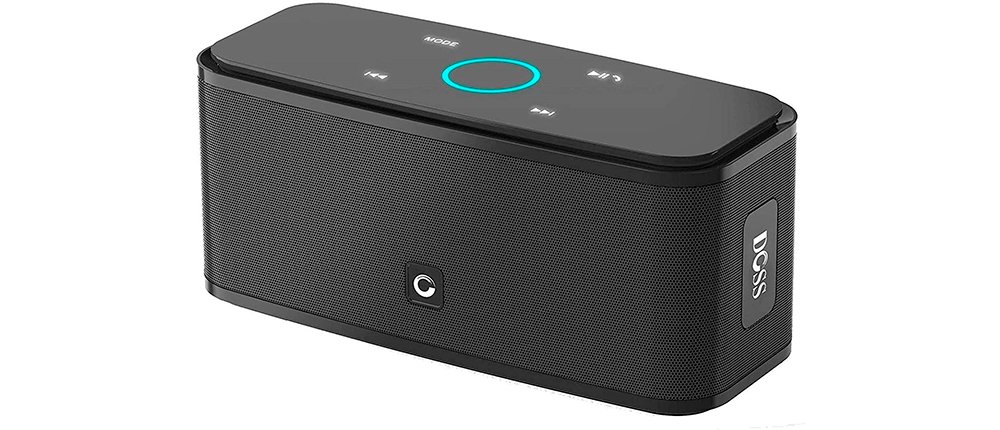 The somewhat bulky design is probably the biggest downside to be mentioned in this speaker's review. The soundbox is 6.6-inch wide, 2.9-inch tall, 2.7-inch deep, which is quite compact. However, it's not easy to grab with one hand and it is heavy at 1.2lbs. Other than that, it might well be the best speaker to use with Echo Dot. The Bluetooth 4.0 connection is steady and transmits the sound in HD quality. The unit also accepts the AUX cable to provide the wired playback from Amazon Echo Dot or another source. The audio is mostly neutral, with a slight bass accentuation. Mids are detailed, have good dynamics, and treble is distinct without harshness. The box contains two 2-inch drivers powered with the 12W amplifier and can get loud enough to entertain a small party (up to 10 persons). The volume rises gradually, without abrupt increases. Each volume level provides an audible difference while overall keeping the sound pure.
The internal battery is 2,200 mAh enabling the constant playback at a half volume for up to 20 hours. It gets recharged in 3.5 hours and can be used while replenishing the battery. The unit has smart touch-sensitive controls on the top panel. The volume is adjusted via rotating the LED ring letting you choose the exact level of sound that you need. There are the buttons for playback control, mode selection, and the multi-functional play / pause / answer call one. They're quick and responsive letting you manage your Echo Dot external speaker efficiently.
Pros
Features a microSD card slot.
Memorizes the last Bluetooth source used and reconnects in seconds.
Supports Dolby Digital 2.0 surround sound format.
Cons
Features a voice notification for Bluetooth pairing, which is hard to deactivate.
The low battery notification beeping starts long before the battery is drained and repeats constantly.
Video DOSS DS1681
This audio box is standing out among other speakers for Echo Dot for its durability and high battery capacity. Its battery is made of lithium-ion polymer and features 6,000 mAh. It means you can play it loud for at least 8 hours, while the economy mode (at a low level) would last up to 20 hours.
The casing is rugged consisting of a thick rubber and tightly-woven fabric that ensure the IPX7 protection level. The unit is waterproof and can be used during water activities, camping, in pools, in a shower, etc. The dimensions of the soundbox make 8.32 x 3.42 x 3.48 inches. It's not too lightweight, having 1.76lbs. However, it has a small protrusion on the bottom letting you put it horizontally. The vertical position is also supported.
The smart functionality of this speaker includes Bluetooth (4.1 version) for connecting 3 devices at a time. This feature lets you switch between connected sources in a second and without a notification sound from the soundbox. The voice assistant support makes it compatible with Alexa in the Echo Dot as well. Still, the pairing requires some fiddling with the settings.
The integrated mic lets you answer calls via the speaker. Thanks to the noise-cutting and echo-canceling functionality, the direct voice input is well distinct. For corded hookup to a smartphone or another audio device, this Bluetooth speaker for Echo Dot has an AUX port.
Pros
Can charge your smartphone via USB.
Supports JBL Connect and Connect + technology to pair with the newer JBL models.
Fits multiple music genres due to well-balanced output; has a wide and rich midrange.
Cons
The full charging process takes about 5 hours.
A firmware update is accessible through a JBL Connect app only.
Video JBL Charge 3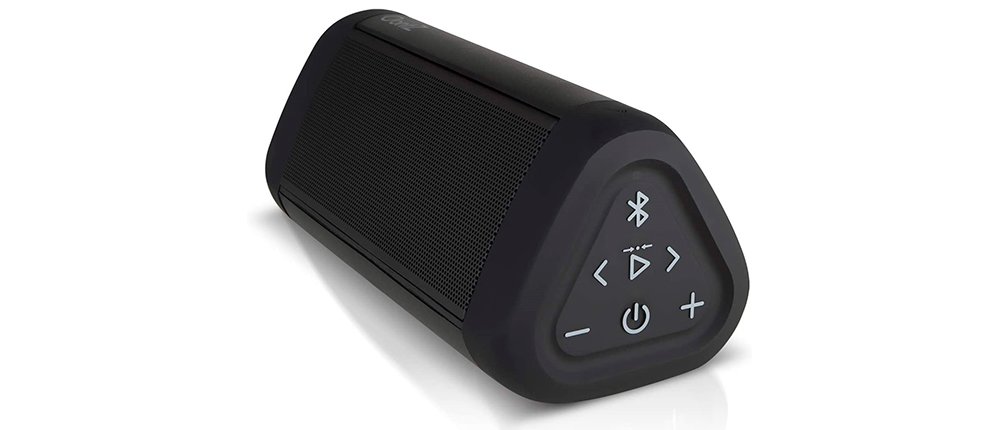 The Bluetooth 5.0 version is enough to call this model a good speaker for Echo Dot. The latter gets paired quickly, as well as a tablet, a smartphone, or another BT-enabled device. The speaker produces a balanced hi-fi playback of non-compressed audio files. You can also hook it up to a TV or another source with an AUX cable for lagless sound reproduction.
The unit takes little space being 6.4 x 2.8 x 2.75 inches in size and weighs 1.06lbs. It's rated at IPX7 level as waterproof and can withstand occasional water splashes, mud and dust. The casing is sturdy; it's rubberized to avoid scratches and damage from light knockouts. The internal construction is also solid and deserves to be mentioned in the current review. The 14W amp powers two drivers that are placed in an up-firing position. The bass radiator is facing down and has a separate grill ensuring distortion-free lows and mids. The treble produced by this speaker for Amazon Echo Dot is detailed; the voices are clear and rich.
Paired to another 4th Gen model, this music box can work in a dual stereo mode serving as a left or right channel. This functionality is accessible via the Oontz companion app, where you can also change the EQ settings, adjust the volume on each soundbox, and manage the speaker connection. This external speaker for Echo Dot can also work in the simultaneous playback mode producing the sound in two or more rooms at once. The battery lasts up to 20 hours and can be charged via the USB Type-C port.
Pros
Has a full set of onboard controls (flip back / forward, volume, play / pause, Bluetooth, Power on / off).
Supports surround sound mode when connected to up to 4 speakers of the same model.
Connects to Siri immediately when paired to the relevant device.
Cons
No battery level indicator.
The audio with the boosted bass might cause the speaker to jump around.
Video OontZ Angle 3 Ultra (4th Gen)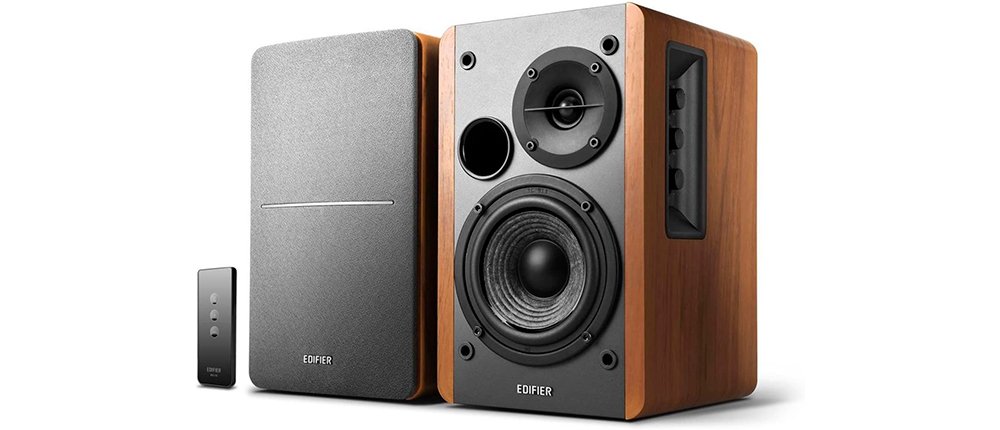 This set of bookshelf speakers features an internal amplifier, separate drivers for highs, and high output of 42W RMS. It doesn't have Bluetooth or NFC and isn't controlled via a smartphone app. However, the powerful and crystal clear audio output can make this set the best wired speaker for Echo Dot in the stationary hookup (connected through an AUX cable). It's not much portable, as each box is 9.5 x 7 x 5.75 inches, and the set weighs 10.8lbs.
The powered set includes stereo speakers, each featuring a 4-inch full-range driver accompanied by the ½-inch tweeter. The latter has a silk dome, and reproduces voices and high-pitched instruments with good dynamics, and creates a wide soundstage. The active box has the onboard dial knobs for volume, bass, and treble, letting you EQ the output directly. The volume level can be adjusted via the supplied remote control as well.
The dual RCA jacks make this set compatible with the majority of audio gadgets. It supports the RCA to RCA hookup, or RCA to AUX delivering the crisp loud sound. The sensitivity of these boxes makes over 85 dB making them a solid option as the corded speakers for Amazon Echo Dot.
Pros
The big bass reflex port brings a solid bottom end and concentrated bass.
Thick MDF panels and a quality surround filling ensure the vibration-free sound.
Immediate sound reproduction; no lag for TV or PC connection.
Cons
The volume knob doesn't have a stop; awkward to adjust.
A USB port for charging / audio transmission would be a nice addition.
Video Edifier R1280T
Buyer's Guide
What to think of when purchasing an echo dot speaker?
An Echo Dot speaker has the greatest value for individuals who are in the habit of listening on-the-go. Due to its small size coupled with high-end specs, more and more teens and adults prefer it over a common speaker which offers less convenience. These are the most crucial factors to consider in case you are about to make such a purchase:
Portability. If the speaker fits inside your hand, the size is right. Remember that you will carry it with you very often, so it should not take too much space in your bag.
Design. The cabinet should be made of premium materials to enable high resistance to shocks and vibrations and so prolongs the speaker life service. When it comes to the look, stick to minimal designs in either black or white colors which are unlikely to contrast your room whenever you move.
Wireless. None would be happy to struggle with cables each time they turn the speaker on. Avoid buying speakers with no Bluetooth or Wi-Fi support.
Simple settings. Pay attention to the user's interface. You have to understand how to navigate intuitively. Check the tuning options. If you expect an increased level of customization of your speaker, the settings must be well extended to let you reach the maximum sound adjustment. Check whether the manual is attached to the product. It is always of much help once the user has a problem.
Audio quality. To have flawless and accurate sound, you should opt for speakers with built-in woofers providing sound clarity. Those who cannot do without an excellent bass response should buy speakers with high-class radiators.
Brand. If you have an unlimited budget, it is more reasonable to select among globally recognized audio equipment manufacturers making only professional and certified products.
Top speakers for Amazon Echo Dot will have all of these high-level parameters. Otherwise, you risk buying a low-quality speaker with unreliable and short-term performance.
How to connect a speaker to Echo dot?
It's no big deal to connect an Echo Dot speaker. There are two methods to achieve it.
With a standard cable
Plug a speaker into the Echo Dot using a 3.5mm cable, and turn the Echo Dot on. Now you have the sound coming out of the speaker.
Via Bluetooth
Turn the speaker on, activate the pairing mode of Bluetooth.
Open Alexa app. Go into Echo & Alexa, and then choose Echo Dot.
Now click on Bluetooth Devices to open Settings.
At this point, you should tap on the left bottom box 'Pair New Device'.
If your speaker is still in pairing mode and seen, it will get connected to Alexa.
Once Alexa has remembered your speaker, it will pair automatically next time without your need to pair it manually. You will be able to see it on the list of available devices in the Alexa app.
Now, you can enjoy playing any audio content by telling Alexa what you would like to listen to right now.
If you have got enough music from the Echo Dot speaker, you should disconnect it by asking Alexa to do that. If you want to remove the device from the Alexa list, go to the setting and choose Forget Device to make the speaker invisible for the Alexa app as it used to be.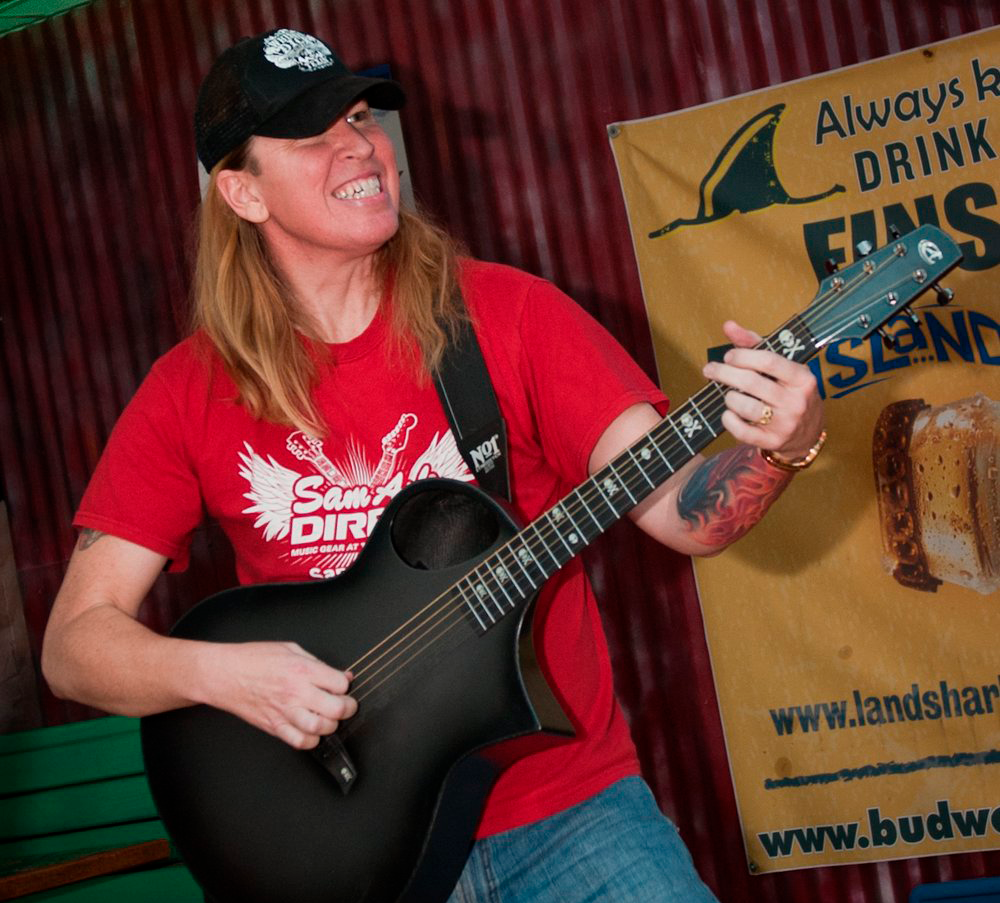 Hi everyone! I'm Thomas Moody, also known as Guitarzan.