Obviously, every DJ has distinct sounds and musical preferences. So, when looking for the best DJ headphones, the DJs opt for some specific features and qualities that meet up to their standards and preferences. There are quite a number of brands offering headphones with a ton of features. However, only quite a few matches these features with good quality to meet your standards.

In order to make your choice easier, I have narrowed down the list contained in this article, to only eight of the best headphones for DJing. In coming up with this list, I have tested different branded headphones, hence feel the need to demystify their varying qualities. This will also outline the major pros and cons associated with each one. By the end of these DJ headphone reviews, you'll be able to make an informed decision and go for those that meet your sound quality and design standards. Let's dive right into the list.
DJ Headphones Reviews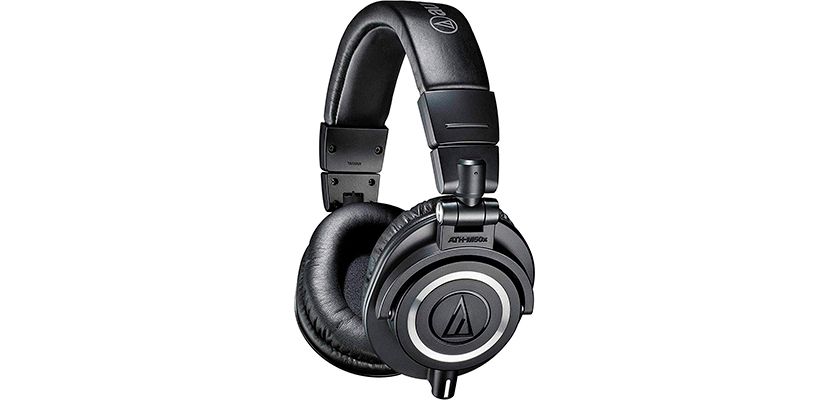 This is an upgraded version of the previous one, the Audio-Technica ATH-M50. In general, they are similar, but the ATH-M50x has a detachable twist-lock cable. The Audio-Technica combines quality with comfort. This is shown in the quality of materials used and it's unique fitting over the ears. With the Audio-Technica, you have assured durability because it is made with a metal headband that hardly breaks. The top and the cups are soft and comfortable. Besides, the top is very flexible and can fold.
This model comes packaged with replacement velour ear pads, 6.3mm audio jack, plus 3 sets of interchangeable cables (2 straight and 1 coiled). Note that cables always match the color of the headphones. Other accessories you should expect with the package are a carrier pouch and a 45mm adapter for plugging into other equipment.
The clarity and accuracy are guaranteed by the copper-clad aluminum voice coils. With this, you get a balanced sound with deep low mids, detailed highs, and very impressive bass. These headphones are a good fit for really noisy environments; nothing will disturb you. In general, the sound is great, there is no need to buy any additional amps.
One good thing I'm sure about using these m-series headphones is how detailed the build and design which keeps it lightweight. This is recommended for most professional DJs being one of the top DJing headphones available.
Pros
These headphones are perfect for neutral listening because they provide a well-balanced audio reproduction with the right amount of bass.
The ear pads are really comfortable to have these headphones on for several hours.
A built-in feature to seal out unwanted sound coming from the outside.
Cons
The cords are not interchangeable with different models.
The body is predominantly plastic, while some may find this appealing, others don't.
The soundstage while using this headphone is quite narrow; making most of the sound seem like they are close to your head.
Video Audio-Technica ATH-M50x
These are one of the good DJ headphones available on the market that have a closed-back feature with a unique clarity of sound. You can be sure of every sound coming from these headphones, without any interruptions from the environment. As it is closed-backed, most of the sounds from the outside are isolated. The quality of sound produced by this headphone is better enhanced by its high impedance (250 Ohms).
The stereo jack is 3.5mm, whereas the adapter is 3.5mm/6.3mm. The DT 770 PRO 250 comes with only one straight cable and as such the cable cannot be replaced. I will mostly describe the sound of these headphones as clean, with a natural feel to it. Although the bass on the low end is not so pronounced, it is commendable nonetheless. It has a great sound signature for playing music and produces accurate bass depth. If you are a DJ who enjoys hearing the sound of the instruments on every song, then this is a good fit for you. This is because of the unique sound quality and interpretation present in this headphone. Also, you would hardly feel any discomfort when using this pair because it is made with really soft and cushioned ear pads that won't clamp down so hard on your ears.
Pros
It is durable and made with good quality materials.
A portable casing is included when they're purchased.
Possesses noise filtering abilities.
Cons
The one-sided cable attached to it cannot be replaced.
Narrow and limited sound stage.
Vaguely recessed midrange.
Video Beyerdynamic DT 770 PRO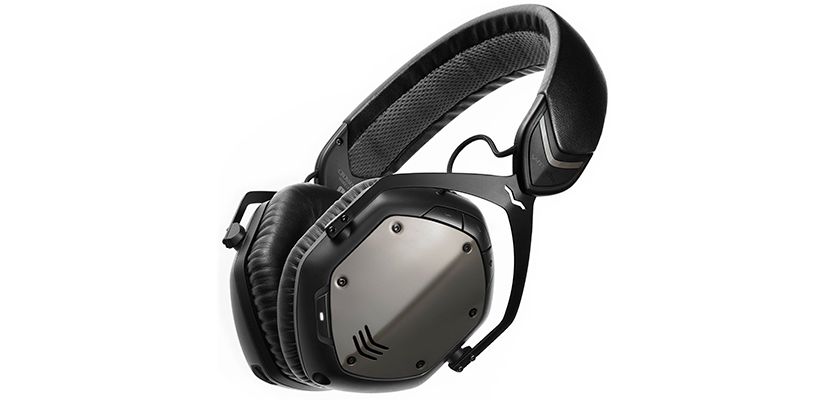 If you have a thing for wireless DJ headphones, you should probably check out this model. The wireless feature is not all that there is to it; there is more. The accessories include micro USB that you connect the left ear port (3.5mm), a single cable you can plug to the right ear pad, another USB cable of about 3.5mm, built-in microphone and volume regulator (located at the top of the left ear cup) I. They have a metal framed arm. With very minimal cushioning and weight under 300 grams, you'll hardly feel any clamping and pressure to the head when it is in use. The earcups on this headphone are tight; consequently, it produces a quality sound that is very suitable for mixing. These headphones are able to work for 12 hours and require 2 hours of charging.
If you consider yourself a stylish DJ, then you might want to pimp your headphones to suit your style. This brand offers a customized laser engraved metal shield for attachment on your headphones, upon request. The headband attached to it can be adjusted and locked in place to suit any head size. If you are looking to get one of the best Bluetooth DJ headphones, then you'll definitely love this one. As a plus to this, it can be paired simultaneously with two devices.
Pros
They produce clear and bright sounds.
Durable and solid construction.
They are foldable and can be packed in easily while traveling.
Cons
There could be some sound leak while using it, making the sound audible to those around.
The resolution of the sound it produces isn't so clear at higher volumes.
The headphones are relatively pricey.
Video V-MODA Crossfade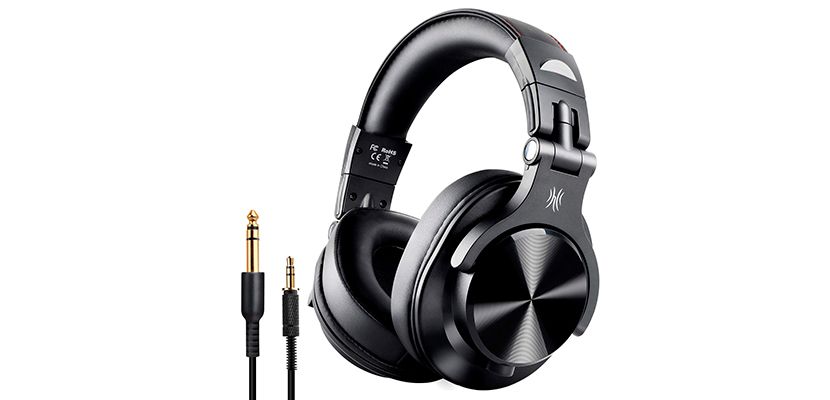 The OneOdio A70 can't miss our top. The oval ear cup installed on it fits perfectly over your ears and can be swiveled easily to 90 degrees. You don't have to worry about the stability of the ear cups because of the swiveling action; they are tight and stay in position. It is possible to find older versions with a round and more cushioned ear cups. However, both versions provide some level of comfort while in use. At the bottom of the right side, there are buttons for: volume up/next track, power/play, volume down/previous track, 3.5mm aux-in, and LED indicator, mic jack. I'm sure you'll be excited to know that it is one of those DJ headphones with a mic.
Another outstanding feature about this DJ style headphones is that the newer version has a system for both and Bluetooth connection at the same time. Another good news is that it comes with the right accessories to get started with it. This includes a cord, a micro USB, audio jack of 3.5mm/6.5mm and a convenient carrying bag.
Speaking about sound, If you are a bass lover, you'll really appreciate the heavy bass sound produced by these headphones. I love the fact that while using these headphones, you can share the listening experience with someone else by plugging the cables to other headphones. A DJ who works long hours will find the battery life of this headphone quite impressive. You'll be sure to enjoy up to 25 hours after 2.5 hours of charge. You'll hardly have a problem securely connecting the cable; the jack lock system takes care of that.
Pros
They come bundled with totally different cables: 6 ft and 3 ft long.
They have good lows and really rich bass.
The mids and highs are clean and crisp.
Cons
They need to be charged constantly, even to work with a wired connection.
It might not be as durable as other headphones.
It doesn't block out much noise.
Video OneOdio A70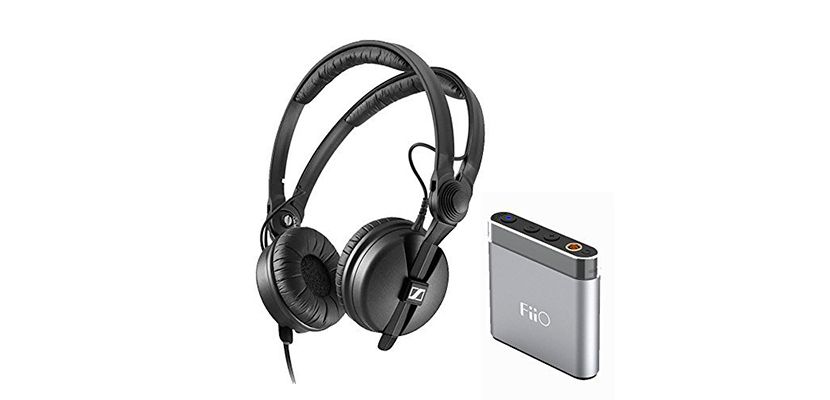 The Sennheiser DJ headphones match both amazing features with good quality, they are made of plastic but still, durable. Being very lightweight, they fit gently over your ears. With its closed-back, sound isolation is guaranteed. I find the impedance level on these headphones quite impressive and I'm sure you'll enjoy the quality of sound. The bass can be described as crisp, deep, and clear. The mid-range is forward and can pick up even the minutest sound. At a high volume, you should expect to hear some sibilance, but it's not all that bad. In my opinion, it resonates quite well with most genres of music. It is designed to handle accidental drops that may occur while working. Every other accessory comes with the package; including extra ear cushions, an adapter, and a carrier pouch. If you are always on the move, you should consider getting a spacious bag because these headphones are not foldable. One other plus side to this headphone that you'll enjoy is the fact that the headband can be split to get the maximum comfort. This can help reduce the pressure on top of your head after a long time of use.
Pros
Warm, even aggressive tone and robust low end.
They are able to provide one of the cleanest basses.
The design is versatile with superb noise isolation.
Cons
It is not so comfortable and causes ear fatigue after 2 hours.
It lacks a bit of treble.
The cable is steel and durable but it will develop kinks if you bend it often.
Video Sennheiser HD 25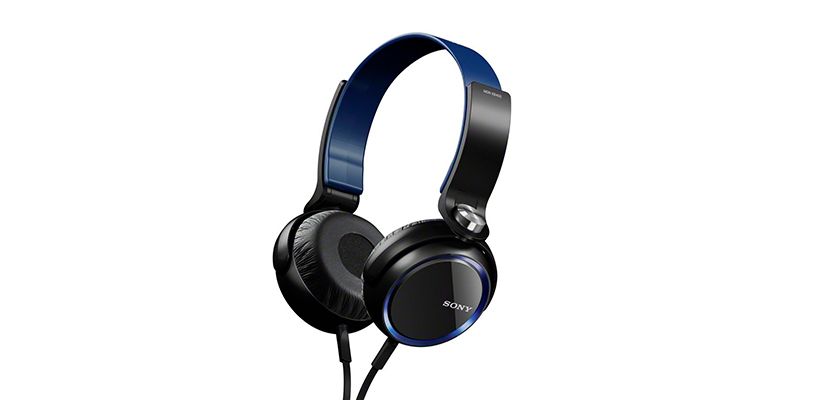 The Sony DJ headphones come packaged with some really nice features you'll enjoy. The ear pad can be easily swiveled and laid flat for ease of travel. The memory phone pads on these headphones hold much quality. However, the headbands don't have any padding and might get quite uncomfortable on top of your head. The good thing about the headband is that it can be adjusted easily to fit any head size. Bassheads will find these headphones up to par; the low-frequency bass is crystal clear. The seal formed by the earpads over your ears is probably the reason for the bass enhancement. I think Sony did quite a good job on the mid-range on this piece. This model would hardly break even when it is stretched; in order words, you can be sure they will last for a long time. However, this doesn't take out the responsibility of storing them properly. This model comes with a flat cord design, which is a plus because it hardly ever tangles. The jack design on it is flat as well and can be used on other devices like your phone. It is a good choice of DJ headphones with a mic that's in-built.
Pros
The mic on this IP version sounds very clear and clean.
The memory foam on this version is not only comfortable but will also brace your ears perfectly.
Cons
It doesn't have built-in noise cancellation capabilities.
Although it projects bass very well, the sound signature is not very detailed.
Ears tend to get sweaty after long hours of use because of the memory pads.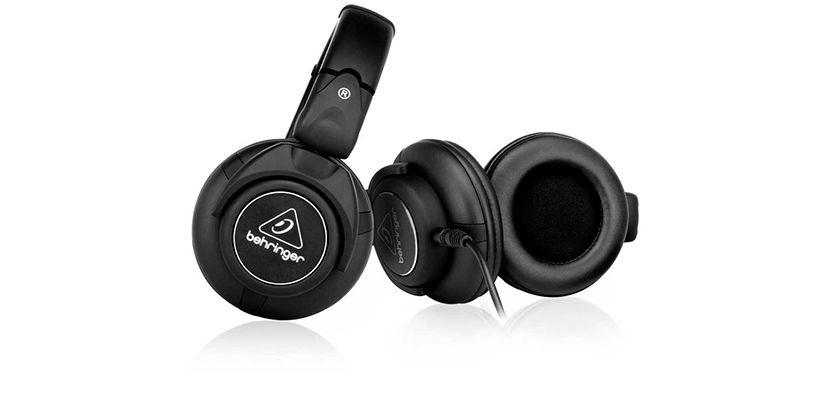 The Behringer HPX6000 is another brand that combines quality with cost-effectiveness. The earpads have a 50-millimeter driver, which makes a huge difference in the sound. The muffs around the ear are leathered with extra paddings that makes it quite comfortable. I think you'll appreciate the gel pads on the top especially if you work for long hours; it really reduces the pressure on top of the head. If you move around a lot while working, you will find the coiled cable attached to it, very valuable. The cable stretches enough to give you an allowance of about 9ft. Once the cable is attached to the headphone, it can be locked into it with a simple twist. With this in place, you won't have the cable falling off often when it is in use. These headphones are foldable and portable which allows for ease of carriage. This gets even better with the carrier pouch it comes packaged with.
The sound is very clear and clean, with a good bass concentration. When tested in different rooms, it proved quite suitable for a couple of them. The sensitivity on this model is a plus especially for occasions where volume is required. If you are in search of cheap DJ headphones, then you should consider this model.
Pros
It produces clear sounds with a good volume.
The cable is made from a hard rubber material, which makes it less likely to tangle.
It has good headband adjustments that fit different head sizes.
Cons
They are not as light and as such can be very unstable when in use.
The seal around the ear pads is not solid.
Sound isolation on this piece can be better worked on.
Video BEHRINGER HPX6000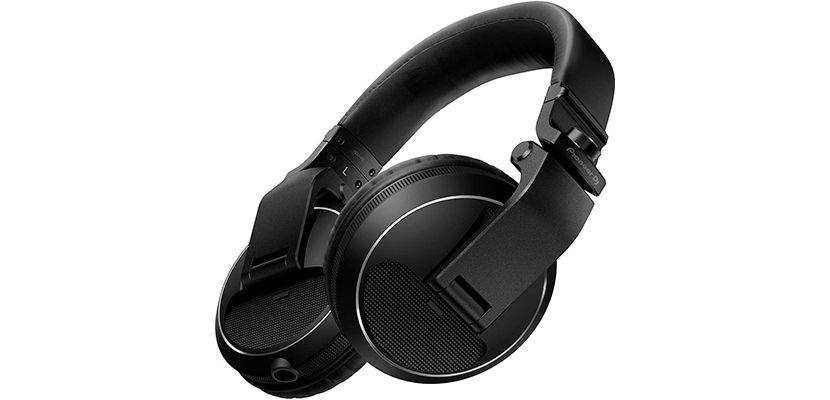 The Pioneer DJ headphones have quite a number of features that every DJ will find good. First of all, they are foldable and I believe they are those headphones that provide accurate monitoring for DJs. The impedance is about 55 Ohms, the sound pressure of 91dB, while the frequency range is about 15000Hz–25000Hz. The lock-in feature secures the cord to the headphones while it is in use. One common thing every DJ will enjoy about these headphones is a closed dynamic feature. Being Bluetooth enabled can be really convenient when working or traveling. The built-in amplifier pushes the Bluetooth signal as well.
Personally, I like the fact that the headband is moderately cushioned. This helps reduce the pressure from on top of the head when the headphones are in use. The same goes for the ear pads. Still talking about the ear pads, you'll find that they can be swiveled easily and laid flat for ease of carriage. It comes fully accessorized with a coiled charging cable, carrier pouch, and a 3mm adapter. The sound quality is not all that impressive, however, it is good and does a great job. Generally, if you are on the lookout for headphones that produce moderate sound, with superb insulation and separation, then you should consider going for this one.
Pros
It provides easy connectivity with iOS devices.
It has a semi-open cut design.
This model is equipped with large and rotatable ear cups.
Versatile listening to different music types.
Cons
Although it provides some level of comfort, it can really begin to hurt after some time.
No noise cancelation.
The lag caused by the Bluetooth connection can make using them a bit tough.
Available in only one color.
Video PIONEER HDJ-X5-K
Buyer's Guide
Factors to consider when buying DJ headphones
When picking out a professional DJ headphones, you first consider the genre of music. Some music genres sound better at certain frequencies but no so good on other frequencies. For example, a classic metal rock song will be more appreciated if reproduced in a headphone with high frequency. For the reggae genre, on the other hand, it will be best reproduced on a lower frequency range.
As a DJ with experience, by now you understand the importance of having a good headphone for DJing. There is no doubt that the quality of your work depends a lot on how you hear the sounds and how well you monitor the show. Before making a final decision, these are some other factors you ought to take note. These factors include durability, comfort, sound quality, and frequency range.
Sound Quality
While considering the sound quality of the DJ headphones you choose, the goal is not to find a perfect sound. No matter what musical genre preference you have, the sound quality will always have an effect on your work. Some of the features that make for a good sound is the quality of the bass as well as the clarity of the highs. You should really consider the following spec for the best DJ headphones sound quality:
Input. Quality sound is usually enhanced by the maximum input rating measured in milliwatts. The idea is that when the spec is higher, the distortion you'll hear when listening at a high volume will be lower. Headphones with higher input ratings, tend to be more expensive. However, the sound quality produced by them is usually worth it.
Driver diameter. As a rule of thumb, bigger drivers reproduce deeper bass sounds. The recommended sound measurement for drivers is at least 40 mm across.
Closed-back design. This design is mostly beneficial for DJ headphones because it blocks out external sounds. This is also known as the noise isolation feature. This feature is mostly appreciated by the DJs that work in very noisy places. These models of headphones also produce better quality bass sounds..
Frequency Range
The frequency range of your headphone is basically the sound signature produced by it. While some headphones have well-balanced frequencies, others are either high or low-frequency ranges. An average person under the age of 20 hears only from 20 to 20,000Hz. As one gets older, the hearing faculties begin to decline. Any age from 50, hears at a narrower range of 40 to 12,000Hz. When a large amount of noise enters through the ears, the auditory frequency range is reduced even more. The standard and accepted frequency range for most headphones are 20 to 20,000Hz. Some models offer a wider frequency range. However, this is no way to improve the quality of the sound. There are different levels of the frequency range that play distinct roles in how sounds are reproduced.
Low range. Deep sounding sounds present in music, make up the low range also known as the bass or sub-bass. Due to the high wavelength of these frequencies, they tend to sound deeper and less sharp. The low-frequency range is between 20Hz to 200Hz.
Lower midrange. This range serves as the base of all music. It is technically the powerhouse of musical bass and most of the major instruments. Without these instruments, there is practically no depth in music. This lower mid-range frequency is between 200Hz to 1000Hz.
Higher midrange. This frequency range is actually what defines the sound of the music. Without this range, there will be no music at all. This frequency range is between 1000Hz to 5000Hz.
High range. This frequency range makes up both the sharp and realistic part of the music. This frequency range is between 5000Hz to 15,000Hz.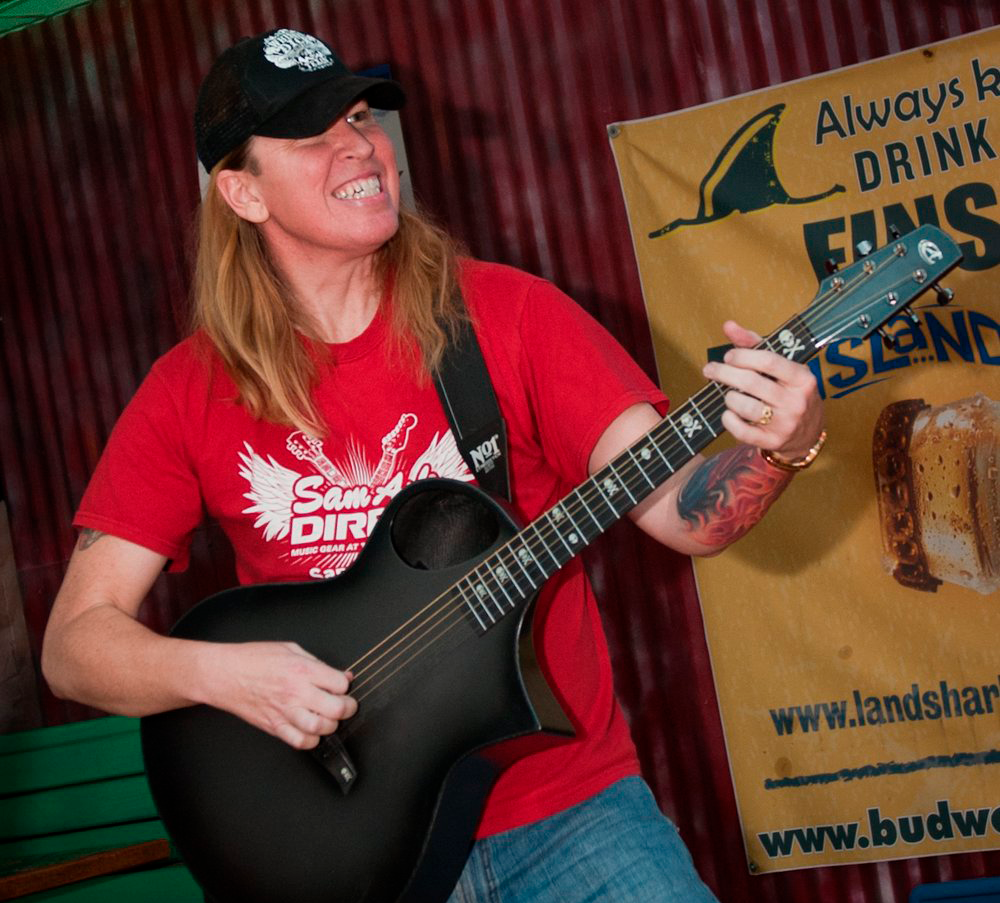 Hi everyone! I'm Thomas Moody, also known as Guitarzan.