The open-back headphones are called "open-back" because their drivers aren't covered by a seal, letting air go through the ear cups to the speaker element. Thanks to such a unique design, they give out a more open sound, so you feel like you are listening to music via speakers rather than via headphones. The best open-back headphones must be able to produce an immersive, natural sound with a wide soundstage.

Additionally, their increased dynamic range is very useful when recording instruments or mixing music. That is why they are frequently used in studios.
As usual, the drivers of such headphones are covered by protective grills that often look like a mesh, so they can be seen through the outer part of each open-back headphone. Due to such construction, the sound waves spread in different directions. This makes the sound fuller and more realistic. In addition, thanks to such design, the air freely flows through the ear pad to the speaker which means that the pressure can't build up and affect the sound. As a result, the music sounds cleaner and less muffled. Plus, open-back headphones provide better dynamics than closed-back ones.
Audiophiles especially value models with open back because they ensure pure, authentic, and detailed audio reproduction. They also will be suitable for those who like listening to music with an abundance of high and medium frequencies (like classical music or orchestral performances, for example). In addition, if you usually wear headphones for long hours, the open-back ones will be a great option for you because they are less fatiguing.
Thus, if you feel like buying the best open-back headphones, keep on reading our article and find the most suitable model in accordance with your needs and budget. In addition, our buyer's guide is here to help you find out some more information about this type of headphones.
Open Back Headphones Reviews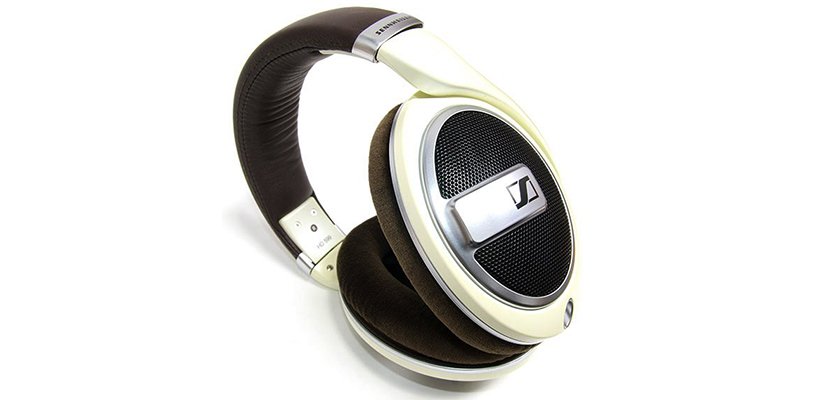 These headphones feature an Ergonomic Acoustic Refinement design which ensures an accurate and clear sound reproduction. Thus, the sound appears to be natural and well-balanced providing great performance for most music genres.
The drivers are covered by a black-colored mesh. The rest of the headphones' enclosure has an ivory color scheme except for the headband which has the same brown color as the ear pads. The headphones' enclosure is mostly made of plastic, so it isn't scratch-resistant. The headband, however, is covered with high-quality leather. The headband also has small metallic detail with the Sennheiser logo. The replaceable ear pads are soft and feel nice on the skin as they have velour finish. The overall weight of these headphones measures 0.55 lbs, so they won't feel heavy on your head.
However, while the HD 599 is a good choice for casual use, they aren't stable enough for sports and will slip off your ears while you are running or doing some exercises.
In terms of inner components, the HD 599 uses aluminum voice coils that ensure higher efficiency and great dynamics.
These Sennheiser open-back headphones come with two detachable cables: 118-inch cable with 6.3mm plug and 42.2-inch cable with 3.5mm plug.
Pros
The headphones provide a detailed treble and accurate timbre.
There is zero distortion even at the highest volume level.
The bass is well-audible without being obtrusive.
Cons
The detachable cables don't lock into the ear cup firmly enough, so they may disconnect if they get hooked on something.
The mid frequencies performance is a bit messy.
Video Sennheiser HD 599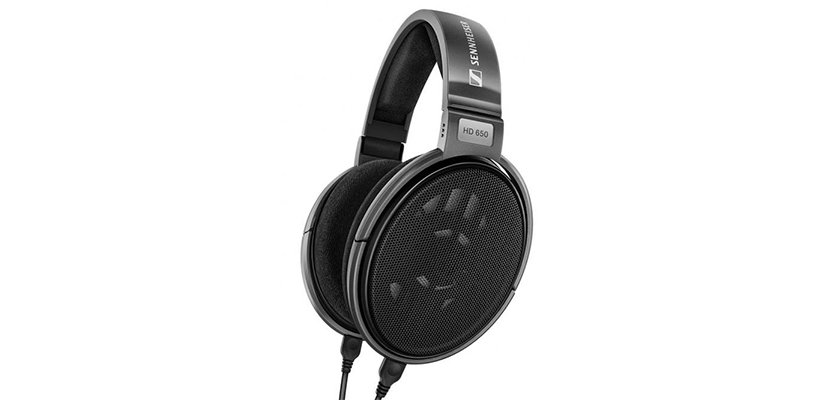 The HD 650 are high-end headphones that were designed with an intention to satisfy the most demanding audiophiles. They use an optimized magnet system that ensures minimal distortion of sound and lightweight aluminum voice coils to provide an extremely quick transient response.
The HD 650 sound can be characterized as very precise, transparent, and natural. The bass reproduction isn't superior but still much better in comparison with many other open-back models. They seem to sound great with all genres of music, but, to my mind, they are among the best open headphones for professional musicians rather than for average consumers.
Besides, the sound of these headphones is optimized to HI-FI recordings, so they can be connected to SACD, DVD-A, or CD player. However, they are rather power-hungry, so they won't provide enough volume when being connected to portable devices, such as an MP3 player or smartphone.
The headphones feature black and silver color design. The drivers are protected by metal mesh. The headband is soft and thickly padded. As for ear pads, they are wrapped in a nice, soft, velvety material. The foam inside of them isn't plush but firm and springy ensuring a stable fit. They weigh only 0.57 lbs and feel light on your head.
The headphones have a 3.5mm jack plug and come with a 118-inch cable and a 6.3mm adapter. The cable is detachable. It's made of highly conductive OFC copper that provides increased sound sensitivity.
Pros
There are no harsh high frequencies or boosted lows, so the sound is well-balanced and even.
Special acoustic silk helps ensure accurate damping and eliminates total harmonic distortion to 0.05%.
The middle range tones are warm and smooth.
Cons
There is some sound coloration in the treble.
The male vocal doesn't seem to sound as good as female.
The low-end notes are poorly hearable on low volume levels.
Video Sennheiser HD 650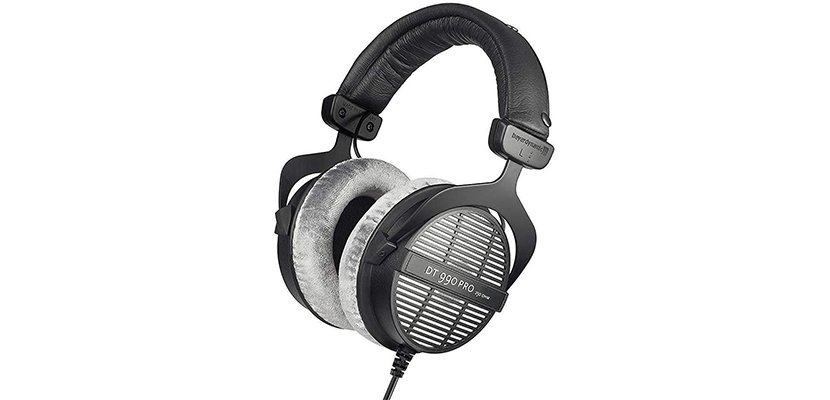 Thanks to their transparent, spacious sound with mild bass, the DT 990 PRO can be considered as one of the best open-back headphones for mixing, studio applications, and editing. Their exceptional tonal depth also ensures that you will feel even the smallest changes in the acoustic source positioning. These headphones also provide a three-dimensional sound and wide stereo image that make them suitable for many other applications as well, such as gaming or watching movies, for example.
When it comes to assembly quality, the DT 990 PRO aren't impressive as they almost entirely made of plastic. These headphones are available in two color designs: all-black and black and gray. The velour ear pads are replaceable. The memory foam inside of them feels soft. The headband features solid spring steel design that ensures a secure fit. However, its pleather wrapping doesn't seem to be durable. They don't feel heavy on your head as they weigh only 0.55 lbs.
It should be noted that these headphones have an impedance of 250 Ohms which means that you may want to use an amp that will drive them a bit.
This model is shipped with a single-sided coiled 118-inch cable that doesn't get tangled. They have a 3.5mm jack plug. The 6.3mm adapter is included in the kit.
Pros
The headphones are fairly flexible as they can be flexed in different angles so you can safely transport them in your bag, for example.
They are very detailed in mids and highs.
This model adds some sizzle and pop to old recordings which makes it a great choice for a turntable, for example.
Cons
The cable is non-removable.
Depending on the song, the treble may get a bit harsh.
Video Beyerdynamic 459038 DT 990 PRO
Philips SHP9500 – best budget open back headphone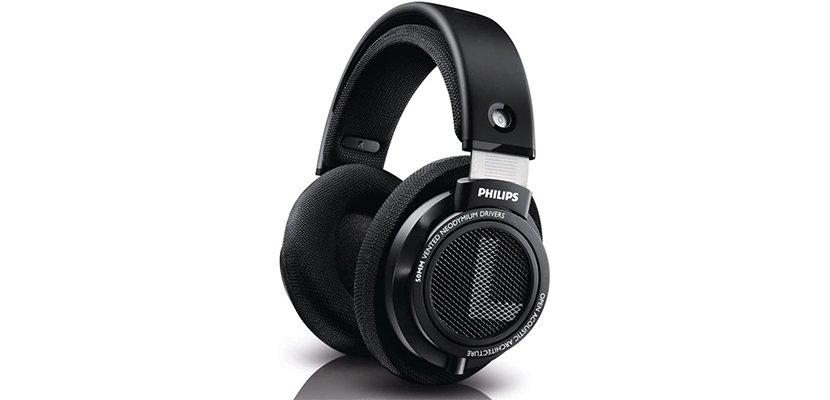 This Philips SHP9500 review is going to break the myth that high-quality open-back headphones are always an expensive purchase. Thanks to large 50mm neodymium drivers, this model is able to offer you a full spectrum of sound, a well-balanced, crisp bass, transparent mid-range, and pure high frequencies. In addition, these drivers are angled, so they perfectly align with your ears providing an accurate sound that is sent directly into your ears. Thus, as you can see, the Philips SHP9500 deserve to be on the list among the best budget open-back headphones.
In terms of external look, these headphones have a matte black finish. The drivers are hidden under the black metal mesh. There are large white L and R letters that indicate which headphone is right and which one is left. The steel headband has a soft double layered cushion. The ear pads are made of breathable material so your ears won't get sweaty.
The headphones feature a gold-plated 3.5mm connector. The 6.3mm adapter for higher grade audio equipment is included as well. However, the length of the provided removable cable is only 59 inches, so it won't give you a lot of freedom of movement. With 0.66 lbs of weight, they also somewhat heavy.
Pros
The 32-Ohm impedance allows the SHP9500 to work without a headphone amplifier.
The headband size is easily adjustable for optimal fit.
The headphones don't have too much clamping force which makes them suitable for people with large ears and for those who wear glasses.
Cons
The ear pads aren't removable, so you can't replace them when they wear out.
The headband and ear cups are made of cheap plastic so the headphones can break down after a couple of accidental drops.
Video Philips SHP9500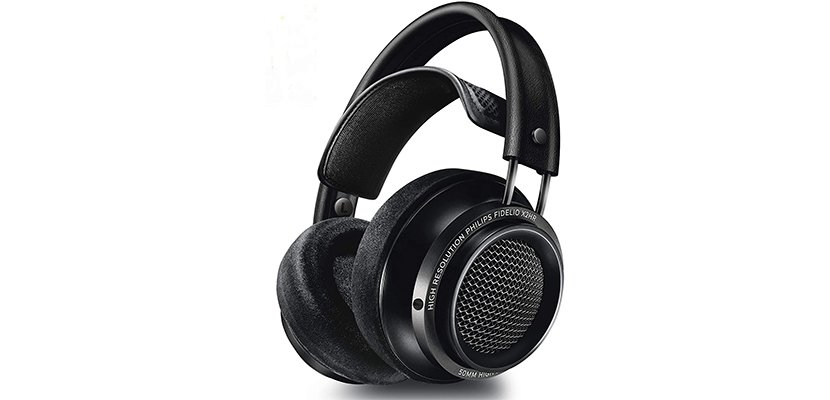 The Fidelio X2HR are among the best open-back headphones for high-resolution audio reproduction as they are Hi-Res audio certified. This means that this model is compatible with the Hi-Res Audio standards defined by the Japan Audio Society. Besides, they can offer you extended response frequencies, as well as clear and detailed sound.
The X2HR headphones feature an all-black design. The replaceable ear pads are finished with breathable velour of optimized density and feature a top-quality memory foam cushions that feel like pillows on your head. They don't put any excessive pressure on your head, but the headphones weigh almost one pound so they may not be suitable for long wear. The headband is wrapped in premium-quality genuine calf leather.
Inside, there are 50mm neodymium drivers with Layered Motion Control diaphragm. These drivers work perfectly in providing a detailed and natural sound and crisp, pronounced bass. The diaphragm is made of a multi-layered polymer and is covered by a damping gel. This results in a smoother frequency response and enhanced sound transparency. The drivers are covered by a lightweight airy 3D mesh which effectively dissipates the heat.
The speaker plates are tilted to 15° which contributes to a more direct and precise sound reproduction. The detachable oxygen-free cable has 118 inches and has a 3.5mm connector. The 6.3mm adapter can be found in the box as well.
Pros
The headphones kit includes a cable-management clip.
The self-adjustable hammock ensures a perfect fit.
The double-layered ear shells reduce resonance and vibrations.
Cons
The treble response is somewhat uneven.
The mid frequencies are slightly recessed.
Video Philips Fidelio X2HR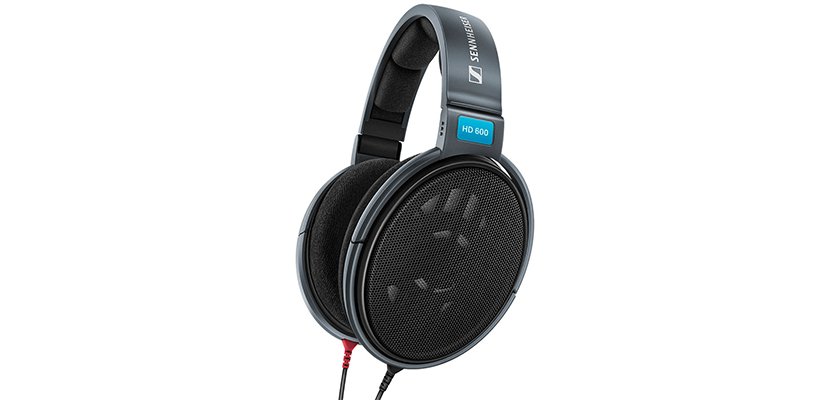 The HD 600 are the audiophile-quality headphones that are designed for professional musicians, HI-FI stereo systems, or for casual use. They are optimized to eliminate the distortion level in order to be able to provide a more natural sound, so they will also work great for mixing. This model is made in such a way to be suitable for all types of audio, so no one is going to feel restricted when using them.
The lightweight aluminum voice coils provide a great transient response. To ensure better sound sensitivity, the headphones are equipped with optimized neodymium ferrous magnets. The diaphragm has an advanced design thanks to which the sound appears to be free from acoustical disturbances and standing waves.
Thanks to the mesh that is made of high-quality metal, this model can be considered as one of the best open-air headphones in terms of sound accuracy and transparency. The ear pads have a soft velour finish. Weighing only 0.57 lbs, these headphones are lightweight.
The HD 600 have black and gray color pattern. Their housing is made of thick plastic of a decent quality.
The Kevlar reinforced copper cable is detachable, oxygen-free, and has a very low handling noise. The cable has a 3.5mm connector, but a 6.3mm adapter is provided as well.
Pros
The ear pads have an oval shape which, in comparison with round shape, is suitable for more types of ears.
The ear pads inner foam is very plush, having 2.5mm of thickness.
The headphones keep a very balanced tone regardless of the type of audio content.
Cons
The cable is too thin and fragile which means that it can quickly become defective.
These headphones' clarity brings out even the smallest flaws in audio, so they may not be suitable for some old recordings.
Video Sennheiser HD 600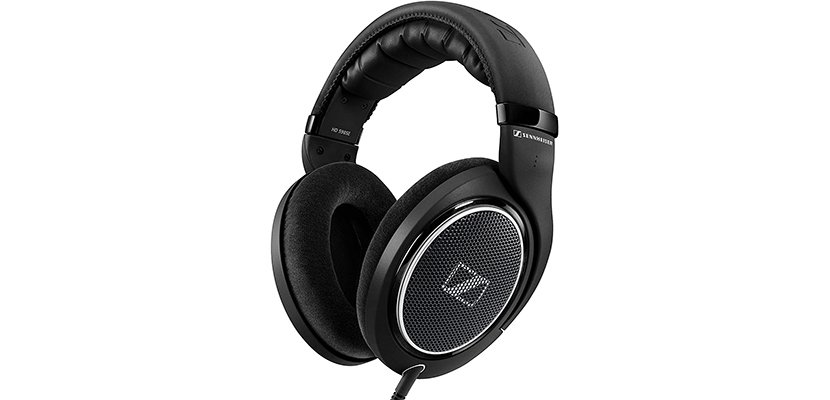 The Sennheiser HD 598 are high-end, audiophile-grade open headphones that provide an accurate sound reproduction and a wide soundstage. They feature a Sennheiser's innovative Ergonomic Acoustic Refinement technology that uses special acoustic baffles that guide the sound directly to the listener's ears. The same technology is used in some of Sennheiser's flagship models (the HD 800, for example).
The headphones are equipped with powerful neodymium magnets, lightweight aluminum voice coils, and DuoFol drivers, covered by metal mesh.
In terms of external look, these headphones have a leatherette headband which is thickly padded with plush material while the ear pads are velour-covered. They firmly grip on your head without clamping. Their enclosure is mostly made of light plastic, so they weigh 0.59 lbs.
For increased convenience, the manufacturer managed to supply the headphones with two cables of different lengths: 118-inch and 47-inch cables. It has a 6.3mm jack plug, but a standard 3.5mm adapter plug comes with the headphones.
Pros
The cable attachment connection is very firm thanks to the twist-to-lock mechanism, so you can easily change cables without fear of it falling out accidentally.
The treble and the bass sound are very balanced.
These headphones allow you to clearly hear the vocals, each individual instrument, and its depth.
Cons
They don't provide enough punch in the low end.
The sound is lacking at the upper-frequency range.
Video Sennheiser HD 598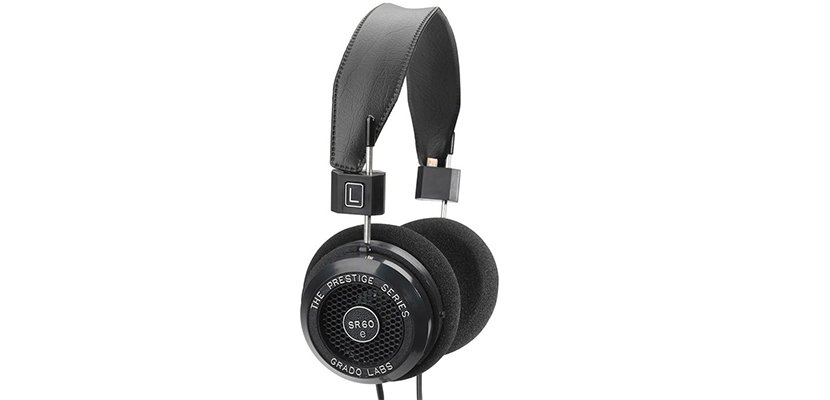 The Grado SR60e deserve to be on the list among the best cheap open-back headphones that are able to provide you with the fuller, realistic sound of decent quality. They give you the opportunity to hear the notes that you probably couldn't catch with your old headphones.
Thanks to innovative drivers' design, the headphones work perfectly in damping resonant distortion and sound vibrations. Thanks to that, the sound is clean in both upper and lower frequencies.
The SR60e feature an all-black plastic housing. They are equipped with thin headband, finished with fake leather, that seems to be very fragile. The foam ear pads have just right level of softness. However, note that they are small and have a round shape which means that they aren't suitable for people with large ears.
The Grado SR60e use a 3.5mm mini plug with a 6.3mm adapter. The cable length is 84 inches.
Pros
They are among the lightest open-back headphones you can find on the market as they weigh only 0.48 lbs.
The headphones can be folded, so they won't take excessive space in your bag.
The bass sounds especially great when you listen to electronic and pop music.
Cons
The sound is very leaky. This means that if a car passes near you, you will hear it louder than the music in these headphones.
The sound gets a little bit harsh at high volume levels.
Video Grado SR60e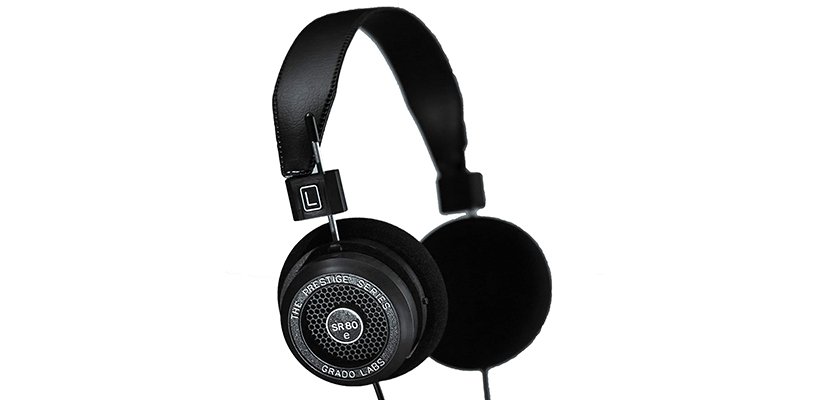 Despite the fact that the SR80e are small-sized headphones, they are still among the top open-back headphones when it comes to wide soundstage, sound with plenty of details, and great clarity. They are also able to provide good bass resonance.
In terms of inner components, the headphones are equipped with a vented diaphragm, non-resonant air chamber, and copper voice coil.
The ear pads are quite small but have large, plush cushions. They are covered with soft material that won't make your ears sweat. The ear cups are made of plastic while the drivers are protected by metal grills. There is a round-shaped metal attachment with a model name in the grills' center which gives these headphones some old-fashioned look. This model weighs only 0.51 lbs so it's among the lightweight ones.
They have a 3.5mm jack plug and ship with a 6.3mm adapter so you can connect them to your home stereo system. This model uses a 4 conductor connecting cable that contributes to the even clean sound.
Pros
The bass, provided by the headphones, is clean and punchy.
They offer a well-separated sound which means that you will clearly hear each instrument.
The headphones ensure a well-defined treble.
Cons
Their large plug isn't compatible with many smartphone cases.
The upper mids don't sound smoothly.
Video Grado SR80e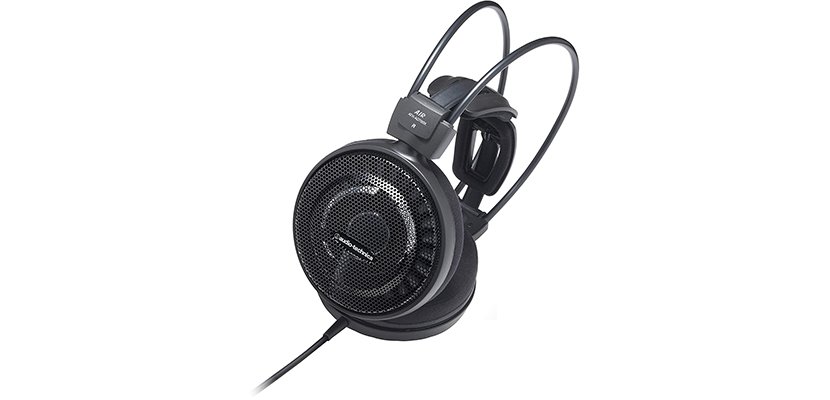 These Audio Technica open-back headphones have large round-shaped ear cups with 53mm drivers that give out clear treble and midrange. They have a sturdy aluminum honeycomb casing with great acoustic properties.
The raised-fabric ear pads are flexible and easily take the shape of your ears and are well-padded with soft cushions. They are also finished with durable material that doesn't seem to wear out fast.
In this Audio-Technica ATH-AD700X review, I can say that this model provides superior comfort as it doesn't put any sense of pressure on your ears so you can safely wear them for long hours. For even better comfort, they also have a self-adjusting 3D wing support.
Pros
The bobbin-wound CCAW voice coils provide better power handling.
The cord has an elastic TPE sheath that prevents tangles.
The headband design has many joints and moving parts, ensuring a perfect fit.
Cons
These headphones are much heavier than most of their competitors, weighing even more than one pound (1.25 lbs).
There is some hearable sound distortion at high volume levels.
Video Audio-Technica ATH-AD700X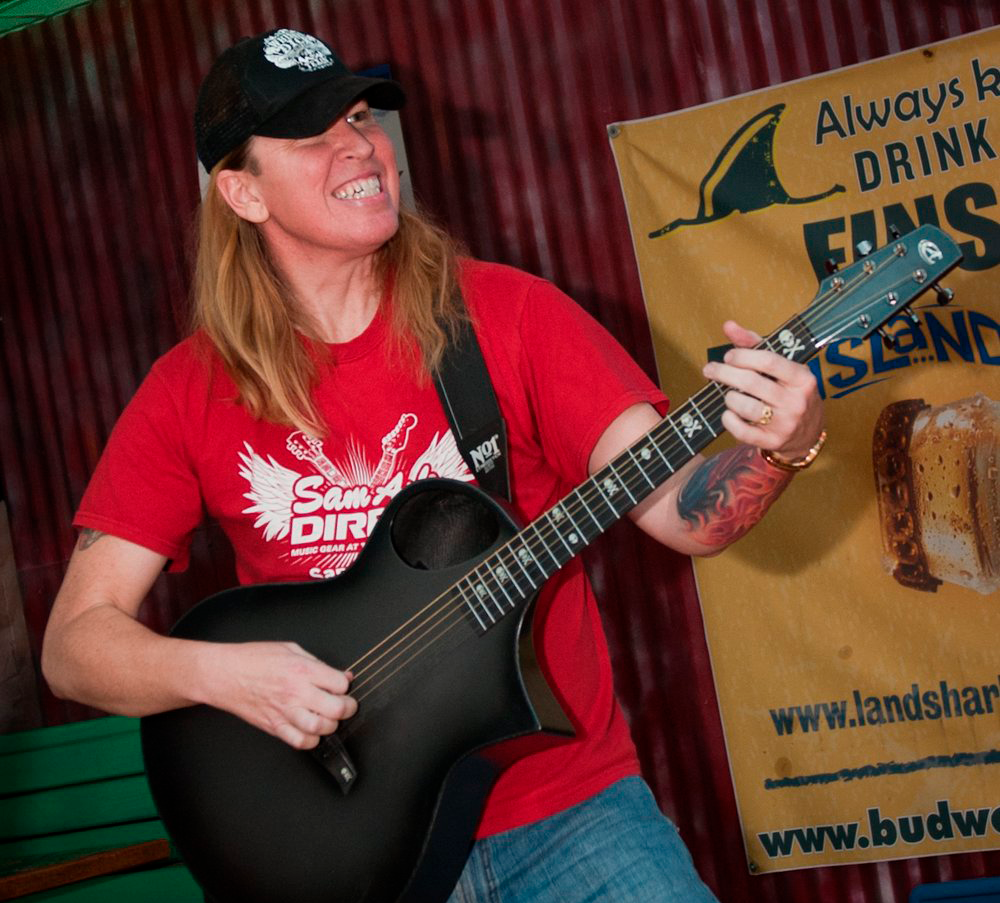 Hi everyone! I'm Thomas Moody, also known as Guitarzan.