Every audiophile knows that a right turntable and a pair of high-quality speakers is just the beginning of perfect home record player setup creation. At some point, you will have to upgrade your unit with new cartridge, needle, pickup head, etc. The best turntable mat is also one of the most essential things that you need for your vinyl player. Without a mat, the surface on which the record is located reacts very weakly to the amount of drag on the record. You can buy it whether to improve your listening experience or to replace the one that came along with your turntable when you bought it.

Not every turntable requires a mat, but if yours does you know how important this detail is. It not only protects your player and records from damaging but performs a lot more different functions. Especially if you are an experienced vinyl user and frequently invest in the purchase of some advanced accessories to update the overall setup.
You have probably noticed the great variety of turntable mats on the market. Until you try to choose it by yourself, you won't know how hard this job is: Do you need a mat or a slipmat? It's better to buy a classic rubber mat or to try something new? There are a lot of questions that may confuse even an experienced audiophile. It's necessary to consider a lot of factors when choosing a mat: cost, durability, sound enhancement, size, weight, thickness, etc.
The turntable mat reviews are aimed to help you with the right choice. We have condensed the main things that you need to know for making your purchase decision. So be sure to read our top picks and buyers guide to supply yourself with all the necessary information on the topic!
Turntable Mats Reviews


This mat from Hudson Hi-Fi is made from a silicone rubber. Due to this, it doesn't have static and doesn't attract dust to the unit. Additionally, it improves the sound quality of a record player and reduces the impact of vibrations. As a result, it all leads to improved sound reproduction.
Its protection qualities also ensure record safety: this mat is very soft and sleek which eliminates the possibility of any mechanical damages of the playing record.
This mat has a very affordable price. It also can be the best turntable mat in terms of versatility: it can be used for all standard turntables with 12 in platter size. Even despite the fact that this mat may seem too thick and heavy, it still fits for most turntables.
Pros
This model will be good for noisy record players, as it reduces the mechanical noise.
Protects the record from the slip.
It has label recess, so the record stays flat on the mat.
Cons
The rubber can flake over time.
It starts smelling like a tire in the sun when the turntable heats up during operation.


This record mat from Jake's Turntable Mats is of high-end quality and made from the deer hide. Such material obviously makes this mat an expensive option — the deerskin is twice as pricey as other leather. Nevertheless, this very kind of leather has a lot of pleasant qualities: it's flexible, soft, and has less static in comparison with other leather mats. It has a standard 12-inch size, and it also can be custom-made accurately to the platter size.
The mat has the ability to soften the sound, improving its quality, and also can enhance the bass tones. There are also no crack and pop sounds at all when you use this mat. It doesn't attract dust to the unit and has a great level of record's protection as the deerskin is very soft.
Pros
It's a double-sided mat — it can be used from both leather grain and suede sides.
This mat is durable due to the fact that it's made from the animal skin.
It cleans up very easily.
Cons
This turntable mat may be too thin for some models.


This acrylic mat goes in a quite unusual design: a transparent disc of a clear green color lying on your turntable will definitely become one of the most noticeable things in the room. It goes with a protective removable film.
This is a very dense turntable platter mat that has a consistent speed, does a good job in reducing vibrations, and provides less splashy sound. It also dampens all background noises and mechanical sounds and provides tight bass. The mat has low static, which means that it doesn't attract dust.
This mat is 3 mm thick. Such thickness is considered to be a good option for most record players. The 5mm record label recess ensures your LPs to stay flat on the mat. It's also a durable product and is suitable for multiple uses.
Pros
Suitable for standard 12-inch turntable platters.
The mat is lightweight and moves freely on the platter.
It can be additionally used to set arm bias (anti-skate force).
Cons
It is a bit pricey even in comparison with other acrylic mats on the market.


This mat is made from composite cork granule with a rubber mix. Such material makes it more durable than a plain cork mat. This one can be a good option for replacing a felt mat. It isn't costly and definitely surpasses felt mats in many qualities.
The present mat is soft enough to ensure the safety of vinyl records. It also doesn't attract dust and doesn't cause problems with cleaning: you can easily brush off the dust particles. This mat improves grip on the records and drives through the needle. As a result, you will get a cleaner background, sharper image, better dynamic range, and tight bass. Plus, it avoids static load.
Despite the fact that it's slightly smaller than a standard LP (11.375 in), the mat is still universal for all the turntables.
Pros
The record label recess makes records stay flat on the mat.
This mat damps resonances from metal turntable platters.
It reduces mechanical noise.
Cons
The CoRkErY may leave tiny bits of cork on the records.


This product from Martelli Enterprises comes in a set with 3 items: turntable base, the cutting mat, and table-top ironing pad. It also has 30-piece ball bearings (it's made from stainless steel) that ensure a smooth turn. It's a self-healing mat which can be cleaned with water. The present mat offers great universality: it was originally made for quilters, which means you can use it for another purpose. For example, you can use it for scrapbooking or crafting.
It's made in such way so you could choose from turntable pads of different colors and patterns.
Pros
You can use the entire mat as a cutting surface.
Easy to create and cut shapes.
Cons
It is one of the most pricey options.
The mat isn't suitable for standard 12-inch platters.


This record player mat is made of a durable black silicone rubber and is universal for all standard turntables. This solid rubber not only ensures reduced record slippage due to additional grip, but it is also not fragile at all so there is no need to be careful with it handling.
It ensures reliable protection of the turntable and records from scratches. The mat helps your record player reproduce music as it meant to be: due to decent dampening qualities, the mat isolates the unit from unwanted vibrations resulting in deep and full sound reproduction. It also provides clean sound, reducing unwanted sounds that sometimes accompany the sound when you use a felt mat, for instance.
The recessed center makes a record lay flat on the surface despite label thickness. It allows maintaining the recording integrity during playback.
Pros
This mat is so thin (2 mm only) that you can even use it on top of a stock mat to provide twice the dampening.
It provides tightens sound, especially bass.
Cons
It isn't compatible with Electrohome record players.


This mat from Fluance is made of a rubber with silicone components and goes in classic black color. The manufacturer recommends pairing this mat with Fluance RT80/81, but, in fact, it's compatible with all standard 12-inch turntable platters. This mat can be a great replacement for your felt mat for an affordable price. It's made in such a manner to provide protection from unwanted micro-vibrations, resulting to clean and full sound picture.
Pros
It has a scratch-free surface.
The mat comes in a cardboard sleeve which protects it from bending.
Cons
The mat doesn't have noticeable protection from dust accumulation.
Buyers Guide
What is a Turntable Mat and Why You May Need It?
A turntable mat is a removable cover for the platter on which you put the record. In other words, it's an important cover between the records and the vinyl player. The mat is required for those turntables which platter is made of metal or MDF and features a lot of important functions.
Due to its soft structure, the mat prevents mechanical damages on the platter. In addition, it protects the record from slipping of the platter thanks to a high coefficient of friction. Plus, the mat prevents the unit from static electricity which can accumulate on the surface of the platter leading to rapid dust pollution, as well as to characteristic crackles during reproduction.
The turntable mat also damps high-frequency vibrations (it includes bearing noise, motor noise, and cartridge feedback) and resonances directed to the platter and further to the pickup, disrupting its normal operation. This is connected with the vibrating stylus which causes resonances that will come back into the stylus if it's not controlled. If so, this will blur the signal and will overlap the other parts to such an extent that they simply won't be heard. A good mat can go a long way in resolving these issues.
The mat also has a high influence on sound quality. In general, the proper mat ensures smooth and even sound. It makes bass performance cleaner, improves the record's timing, and increases clarity in the midband.
Turntable Mats and Turntable Slipmats: How do They Differ?
A turntable mat can be easily confused with a slipmat, especially if you are a newbie. However, they have some significant differences that should be taken into account before you decide what exactly you need.
Slipmat
A slipmat is a round-shaped pad, often made from felt, necessary for DJs who use a vinyl player. It's worth saying that the slipmats do almost the same job as a turntable mat does, but they aren't perfect for a home record system. As they are primarily designed for DJing, they consider the possibility that a record can be scratched.
The best turntable slipmats create the desired degree of slip during manual rotation of the plate. Considering this fact, the slipmats prevent excessive displacement which can negatively affect the quality of work. A unique sound comes out when a DJ moves the vinyl record back and forth, but such manipulations are obviously harmful to a vinyl setup and a record itself. However, thanks to a slipmat, the vinyl doesn't wear out, and there is no damage to it from the DJ's actions.
So it turns out that it's simply impossible to work on a vinyl player without a vinyl slipmat if you are a DJ, but it's not what an average turntable owner needs at home.
Turntable mat
The best turntable mats do a great job in improving the sound reproduction of the turntable and protecting it from mechanical damages, slipping, static electricity, etc. It is worth to be noted that it's more suitable for home turntables than a slipmat as you don't have to overpay for some properties that are needed only for DJing.
According to which type of mat you will prefer, you can significantly upgrade your listening experience.
Which Turntable Mat Material is Better for You?
Mats for vinyl players are made of various materials. Their characteristics and cost directly depend on which material they are made from. A mat can be made from felt, rubber, cork, leather, acrylic, and various other materials such as glass, for example. Each material has its own benefits and shortcomings, but which one should you choose? It actually depends on your needs and budget.
Felt
It's the most popular material for stock mats. When you buy a turntable, it usually goes with a felt mat. Felt is also one of the cheapest mat materials. Most of the felt mats are soft and very thin with a thickness of only 2 mm. Despite the fact that a lot of turntable owners tend to replace a felt mat with a more advanced one. The felt mat gently treats the surface of records. Plus, they are quite universal and can be also used in DJing. However, they can attract dust and they are not easy to clean. Due to its softness, a felt matt isn't durable, it's very delicate and requires more careful handling than other types of mats.
Rubber
The rubber mats are also among the most popular ones. They isolate micro-vibrations, resulting in deep and full playback. Plus, they reliably keep the record in place due to its gripping properties, reduce dust, and are easy to clean. They also usually have a recessed center for the record to lay as flat as possible. The rubber is durable and flexible but heavier than other material and has a specific smell. It also can be attached to the LPs.
Cork
The cork is light, airy, and non-stick. The turntable mats from cork effectively damp the resonances, keep the dust away from the platter, prevent slippage, and absorb vibrations. The aerated holes in such mat allow the turntable to project sound louder. The cork is highly recommended for steel and lightweight platters. They don't cost very much, but they can be too thick for some players and may create static electricity.
Leather
The leather mats are the most often made of soft suede leather with thickness of 2-3 mm. Most of them have an elastic texture. It also has less static than other mats. The leather mats have all the necessary properties to improve the sound quality: they effectively damp the resonances and are usually bought by bass lovers, as they also can boost the overall beat. However, as all the natural materials, leather mats are obviously among the most costly.
Acrylic
The acrylic is a material that is very similar to the record itself. Thanks to this, such mat decreases vibrations. It also ensures more clear playback allowing the needle to be in better contact with the record. Plus, it makes the bass tighter and sharper. However, it's expensive and doesn't fit for some turntables.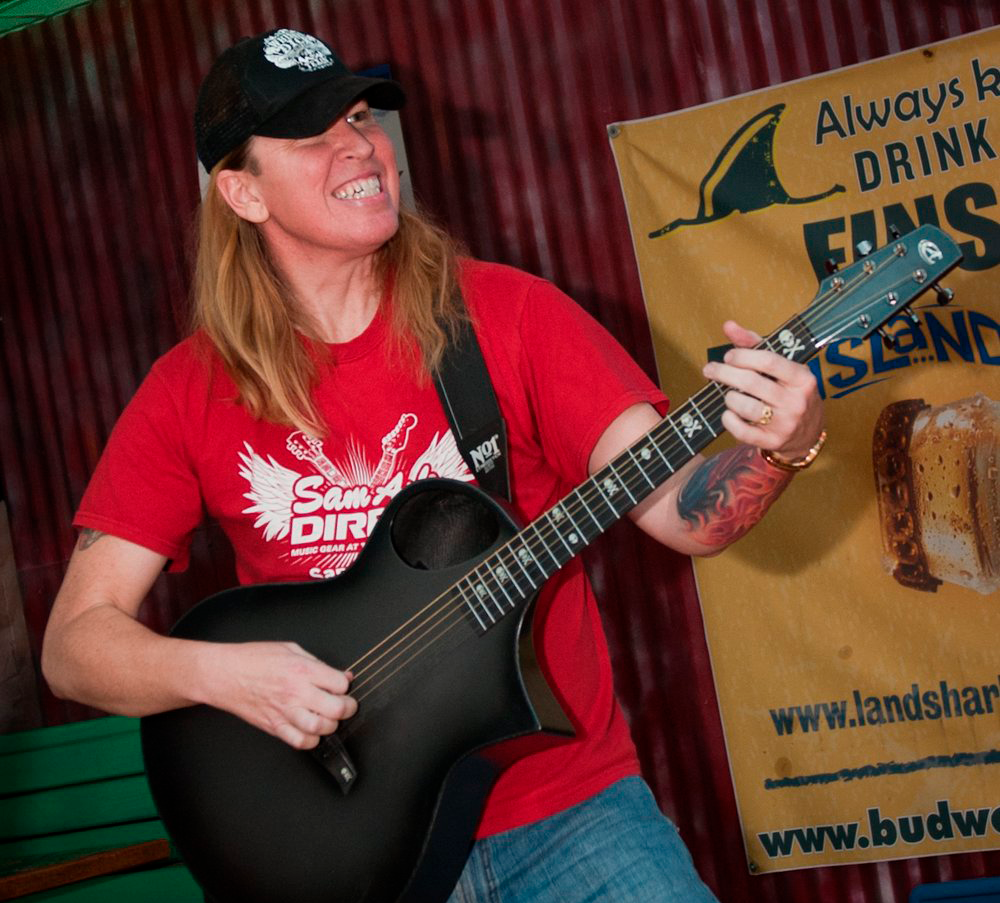 Hi everyone! I'm Thomas Moody, also known as Guitarzan.