A digital piano is an electronic musical instrument, used as an alternative to acoustic pianos. It also can combine the capabilities of a synthesizer and a MIDI controller, being able to combine literally a whole orchestra in a single instrument. Cheap models are not usually durable, expensive ones may be full of features that you will never use, but the best digital piano under 1000 dollars offers a great balance between quality, functionality, and price.

However, what features you can expect for this price? Actually, quite a lot: dozens of various sound effects, different modes, Bluetooth/Wi-Fi support, etc. Thus, the best digital piano under $1000 can provide enough features to be a great investment for both beginners and more experienced pianists.
The sound quality that you can get buying a digital piano from this price range depends on the quality of built-in speakers and samples. The speakers may vary greatly in terms of power (from 6W to 11W), size, and quality. However, thanks to the wide connectivity options that some pianos under $1000 dollars can offer, you can connect the instrument to more high-quality speakers or headphones to get a better sound.
So, if you are after a high-quality, cost-effective digital piano, the best digital piano under 1000 dollars is the most appropriate option as it offers a great balance between low-end and premium models. However, finding the right model can be somewhat difficult. In this connection, our guide with the top 7 models is here to assist you.
Digital Piano Under $1000 Reviews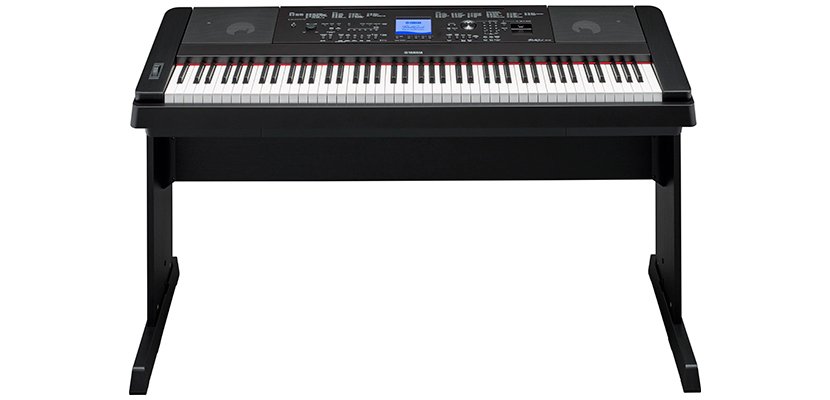 The DGX660B is available in two classic colors: black and white. It's equipped with weighted action keys that feel heavier to press which makes them more similar to classic piano keys. It also goes with a Smart Chord feature that creates different chords: from simple pop to complex jazz.
For singers, there is an input for a mic. By the way, you can also download the pre-recorded karaoke songs from Yamaha MusicSoft (online music store) directly to the piano. On the display, located in the center of the piano, the words of the song will be displayed. This model also goes with 3 vocal presets. In addition, you can also make your own microphone settings, using the provided reverb and chorus effects, and save them. Yamaha offers to buy the DGX660B along with the mic or the piano alone if you want to use your own mic. As you can see, the present model is one of the best digital pianos under 1000 dollars for singers.
The USB Audio Recorder allows recording your performance directly on your PC, smartphone, or another USB device.
The rear panel of the piano also has such connectors as sustain and pedal unit jacks, headphones jack, and AUX input.
This piano is equipped with 88 keys, so it's not the most portable model as it weighs 46 pounds and has 21 x 14 x 59 inches in size. It has a clear LCD display that shows scores, notations, etc. The display is surrounded by dozens of control knobs and buttons that make the DGX660B a truly versatile model. There is also a pair of built-in 6W speakers, located on the left and right sides of the face panel.
Pros
The DGX660B enables you to wirelessly stream audio via Wi-Fi from the iOS device.
The Piano Room feature allows choosing between different acoustic settings and sounds of different pianos.
Thanks to the Pure CF sound engine with top-quality sampling technology, the DGX660B provides an authentic sound of concert grand pianos. The piano even has a mode that simulates the sounding of the legendary Yamaha CFIIIS.
Cons
The DGX660B isn't compatible with Android devices.
The jack for headphones is located on the back of the piano which is not convenient.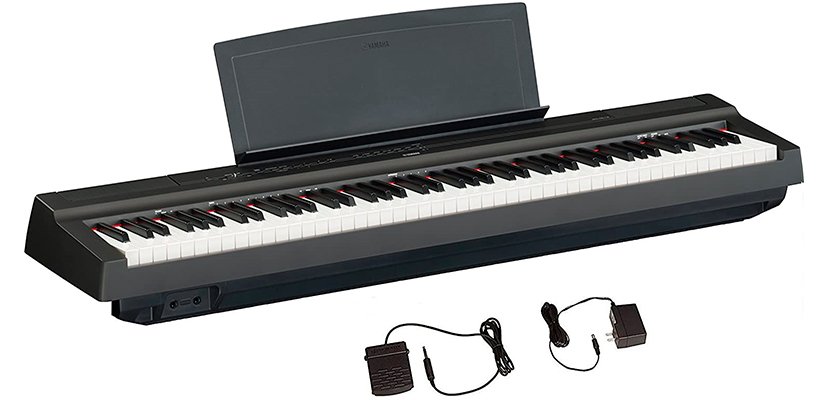 The Yamaha P125B is a piano with fully weighted keys. They look just like the acoustic piano keys and feel the same way when you press them, a piano beginner won't even notice the difference.
The Split mode makes this model potentially the best digital keyboard under $1000 for students and piano teachers. It will break a keyboard into two identical parts which is perfect for learning purposes.
The piano is offered in white and black colors. Its design is really minimalistic and user-friendly, but the P125B is still loaded with features. All the controls are neatly located in one row above the keyboard. They include metronome and rhythm buttons, voice buttons, record, play/stop buttons, and others.
The sound from built-in speakers comes from the bottom of the instrument which means that the piano must be placed on a special piano stand in order to get normal sound. However, if you are not planning to buy one and want to place the piano on the table or desk, there is a special Table EQ function for this.
On the back of the device, there is a USB to host terminal to connect your smart devices to the piano, sustain and pedal unit jacks, and AUX out R, L/L+R jacks to connect the P125 to external audio equipment. The DC input and headphones jack are located on the front panel.
Despite having 88 keys, the piano isn't bulky, having 52.19 x 11.63 x 6.56 inches in size.
Pros
The piano's keys meet the Graded Hammer Standard which means that they provide a natural piano touch response.
The 2-way speaker system gives out reach and volumetric stereo sound.
You can control the piano's settings via your smartphone or tablet with the help of the free Yamaha Smart Pianist app.
Cons
The piano goes with a poor-quality sustain pedal made of cheap plastic.
The P125B can't work with Android devices.
Some samples are so short that you can easily hear their repeats after 1-2 seconds.
The FP-30 from Roland is an 88-note keyboard that feels very pleasant to press. The instrument is available in white/black colors and goes with a stand. It also can be the best 88-key keyboard under 1000 dollars for those who need minimal control options: its control panel includes only 13 buttons which is much less than other digital pianos have.
A couple of built-in 11W stereo speakers, along with a powerful amplifier, deliver an impressively rich sound that you don't expect from piano from this price range.
The Roland FP-30 can be wirelessly connected to your phone via Bluetooth. There are also 2 USB ports (computer and memory) and 2 inputs for pedals on the back of the unit. The headphones jack can be found on the front panel.
The piano offers a wide array of non-piano sounds: organ, drums, and much more. The Twin mode allows two people to play the piano together in the same octave ranges.
Despite being a full-sized digital piano, the FP-30 is compact and slim, measuring 51.2 x 11.9 x 5.9 inches and weighing 31.1 pounds which is great for constant transportations.
For beginners, Roland offers 3 months of Skoove online piano lessons that you will get for free when buying the piano. The Roland official website also contains numerous songs and courses that you can get access to just by registering your Roland FP-30 on the website.
Pros
The control buttons are illuminated by LED lights and are easily seen in the dark and poorly-lit conditions.
Roland's sound engine creates a truly responsive and rich tone.
The keys have very quiet action, so you can put the headphones on and play without disturbing the others.
Cons
The piano only records in WAV and SMF formats and can't record in MP3 format via USB.
The piano has curved back which is not convenient for placing it against the wall.
Video Roland FP-30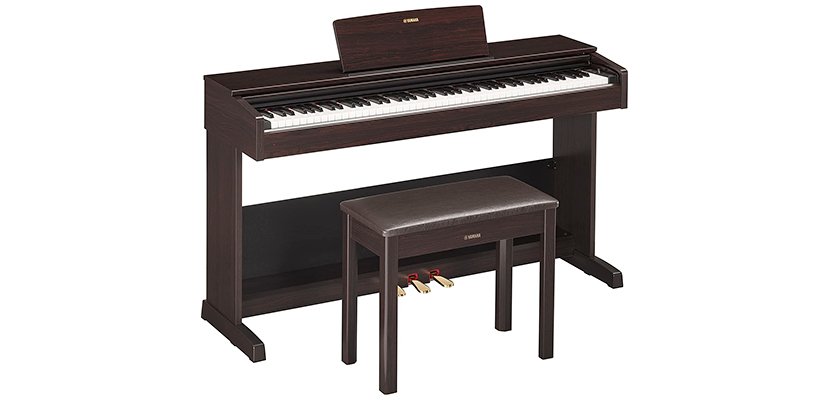 The Yamaha YDP103 is one of the best digital pianos under $1000 for those who require a digital piano that is very similar to the acoustic one in terms of working principle as it goes with 3 pedals (soft, sostenuto, and sustaining), used in standard acoustic pianos.
This 88-key piano measures 53.44 x 32.06 x 16.63 inches and goes with a stand that makes it look like a traditional piano. The piano is available in 3 traditional colors: black, black walnut, and dark rosewood.
The YDP103 has minimal controls, harmoniously located on either side of the keyboard. On the right, you will find a power button and master volume control knob. There is only one button on the left that is designed to activate the Grand Piano function. The rest of the piano control can be performed via optional controller apps (Smart Pianist, Digital Piano Controller).
This model includes a Dual mode that allows combining two voices together (piano and drums, for example).
Pros
The special coating on the keys absorbs moisture and prevents slipping even during very long use.
The Virtual Resonance Modeling feature emulates the natural feeling of an acoustic piano by recreating its soundboard.
The piano has two headphones jacks.
Cons
There are only a few built-in tones.
The piano weighs 116 pounds which means that it isn't portable and must be installed in one place as it's very difficult to move.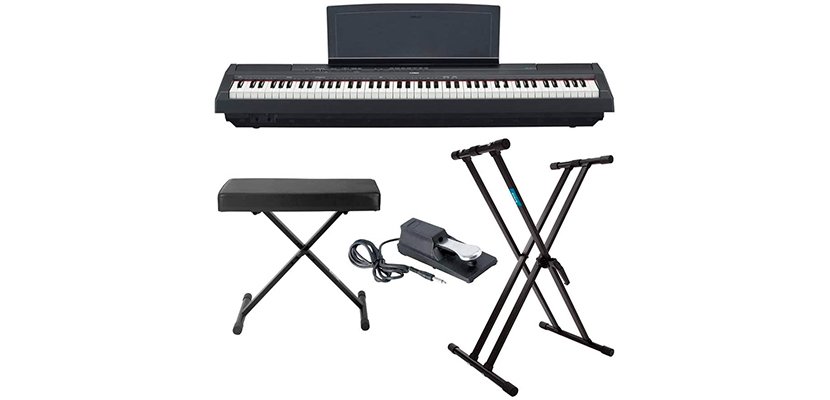 The Yamaha P125 may be the best electric piano under 1000 dollars for those who don't feel like buying all the piano accessories separately: with 3 items (bench, adjustable stand, and sustain pedal), it appears to be a very beneficial option.
The present 88-keys piano is full of features, designed to provide a unique and natural feel of a traditional piano. It also contains various bass and drum tracks, rhythm patterns, and other effects for your creativity.
The P125 offers dual and split keyboard features, as well as flexible connectivity options: USB to host, AUX out, and headphones jack. It measures 52.2 x 11.6 x 6.6 inches in size.
The piano features numerous onboard controls, but its settings can also be fully controlled via the Smart Pianist app.
Pros
The piano has 192 polyphonies to choose from.
The piano's sound engine simulates the sound of the Yamaha CFIIIS concert grand piano.
The built-in speakers provide an unexpectedly natural sound.
Cons
When playing softly, the keys sometimes don't respond.
The provided stand seems very fragile. So you may want to buy another one in order to prevent the piano from falling.
Video Yamaha P125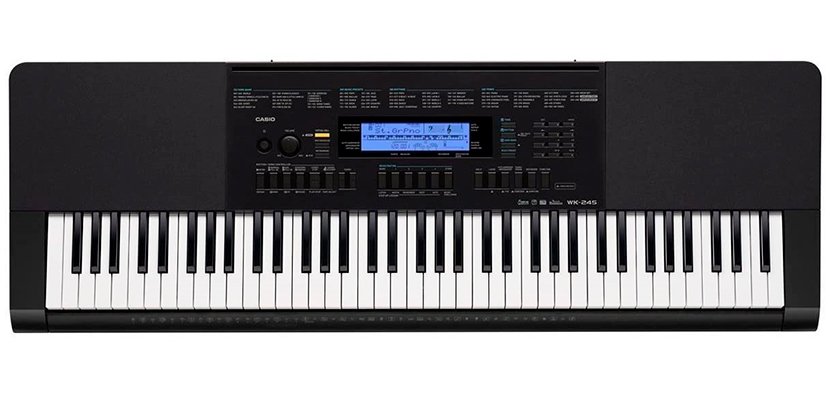 The Casio WK-245 PPK may be considered as the best electric piano under $1000 for those who require wide functionality but a reduced number of keys as it features 76 keys instead of 88. Its dimensions are 54 x 12 x 20 inches, goes with closed-cup headphones, adjustable X-style stand, and power supply.
The included headphones are of high quality as they are designed for those situations when you need the most accurate tuning or editing. They have large 40mm drivers, 20Hz to 20kHz frequency response, and 32-Ohm impedance level.
In the center of the piano's face panel, you will see an extensive control panel with a large LCD display. It even includes a step-up lesson system. In terms of connectivity, it offers AUX input and USB port.
Pros
The piano has an impressive library with 600 tones, 152 songs, and 180 rhythms.
The onboard recorder allows recording up to 5 songs and 6 tracks.
The provided digital effects include a Virtual Hall Simulation reverb.
Cons
It isn't the greatest model for live performances as it takes a lot of time to switch between voices.
Sometimes the black keys refuse to work until you reset the piano.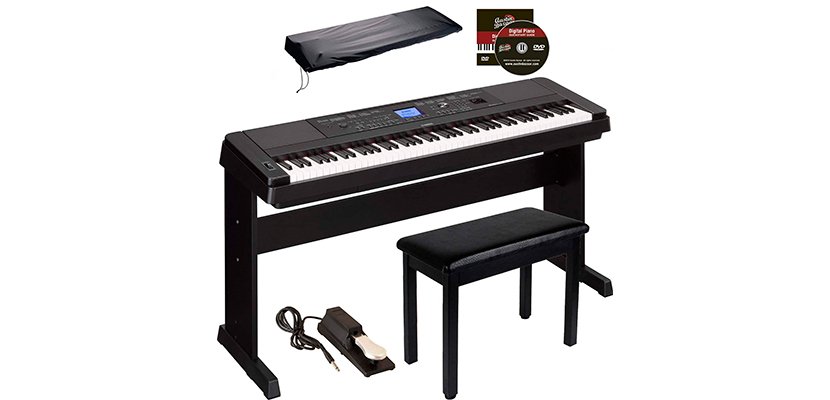 This model from Yamaha is one of the best digital pianos under 1000 dollars for beginners as it not only provides two months of free instructor-led online lessons but also goes with an instructional DVD for independent lessons. Besides, the kit also includes a stand, LP-1 pedal, bench, dust cover, music rest, and even polishing cloth which are the main accessories you may need.
The piano has 88 weighted action keys and a powerful CF sound engine that work together to provide a real piano feel. There is also a split mode that can serve whether for learning purposes for combining two voices together.
You can work with the piano along with different music-making programs or connect it to some smart devices thanks to USB to host terminal.
The piano has 55 inches in width, 5-3/4 inches in height, and 17-1/2 inches in depth.
Pros
The improved sound system ensures great stereo piano sound in upward/downward directions.
The Table EQ function provides an optimal sounding when you place the piano on a flat surface.
You can regulate keys' touch sensitivity from hard to soft.
Cons
If you want to connect an iPad to the piano, you will need a special USB cable.
The quality of the recording is questionable: some buzzing sound can be noticed during playback.
Video Yamaha DGX-660
Buyer's Guide
Features You Need to Consider Buying a Digital Piano Under $1000
Number of keys
If you need a digital piano that will take you closer to the acoustic piano, opt for a model with 88 or 76 keys. Such models are more difficult to play though.
Action
The digital pianos with weighted keys are similar to the acoustic piano keys. There are also the semi-weighted keys and keys with spring-loaded action that are cheaper.
Connectivity
If you want to be able to connect your digital piano to smart devices, you need to consider buying a model with a USB or MIDI connectivity. You also should be able to use your piano along with the numerous software, teaching programs and apps, and even control your piano's settings via phone. Some models also provide wireless connection via Wi-Fi or Bluetooth.
Pedals
Some go with pedals that allow adding such effects as chorus or sustain to your sounding. The others are just equipped with special inputs that allow connecting the pedals.
Split mode
If you are a student or a teacher, you need a digital piano with split mode. It splits the keyboard into two identical parts.
Extra features
Different digital pianos may include different accessories like, for example, mic, headphones, stand, etc. They also may go with teaching software and offer free online teaching courses guided by experienced teachers.
How do Digital Pianos Work?
The main problem you face when buying a digital piano is that it doesn't feel and sound like an acoustic one. This is because they have different constructions.
The acoustic pianos produce sound with the help of strings and hammers. When you press the key, the string starts to vibrate because it was stricken by the hammer, creating the sound.
The digital pianos aren't equipped with the strings. They only may have hammers that add some weight to the keys to simulate the mechanical movements of the acoustic piano keys. However, even the best digital piano under $1000 won't give you a traditional piano sound. Although something similar to it can be reached with the help of samples.
Samples
A sample is a small audio recording. Normally, the sounds of acoustic and electric musical instruments act as samples. However, it also can be literally any sound, like, for example, the sound of the wind, ocean waves, etc.
As usual, the samples are recorded at different velocity levels in order to respond to the way you press the keys more naturally.
The pre-recorded samples are stored in the digital piano's memory. As for expensive models, each key has several samples, recorded with a sharper and smoother keystroke of an acoustic instrument.
Each key of a digital piano has one or more sensors (optical, as usual) that fix the dynamics and speed with which you press the key. A special microprocessor then changes the sound of a sample in accordance with how you press it (makes the sound of a sample louder or quieter). After that, the sound is reproduced via the built-in speakers, through headphones or an external speaker system. If the key is pressed for a long time, the second half of the sample will be played again and again with a gradual decrease in volume.
Many modern models can also have the sound of resonance between the strings of pressed keys, as well as the sounds of movements of the acoustic piano's mechanical parts (hammers, pedals) for a more convincing imitation of an acoustic instrument. Some models also have digital filters that can be applied to the sample in order to obtain certain sound effects (echo, reverb, etc.) and change the volume of individual frequency bands (equalizer).
Samples usually have very high quality, as they are recorded in professional recording studios using high-class microphones and grand acoustic pianos.
However, despite this, not all the digital pianos sound the same. Why? Well, different manufacturers use different methods and means to record samples. Their quality depends on the recording equipment, acoustic piano used for recording and its placement, acoustic environment, post-processing of the sample (string/damper/cabinet resonance, reverberation, etc.), length of the sample, etc.
Additionally, the quality of a sample also depends on the digital piano's memory capacity. Expensive models have more memory which means that they can accommodate longer samples of higher quality. In cheaper models, the manufacturer has to cut off the size of samples as they just don't have enough memory. They can do it by recording every second or every third note instead of recording each individual key. This way, the low-end digital pianos have a playback duration of only 3-5 seconds, and then they just play the same part again and again. Such pianos also have only one or two velocity layers for each note being unable to reproduce a wide dynamic range. They just change the volume level of the same sample instead of using several velocities.
However, if you are a novice pianist, your ears will hardly notice any differences. The significant difference will only be noticed by experienced musicians with trained hearing.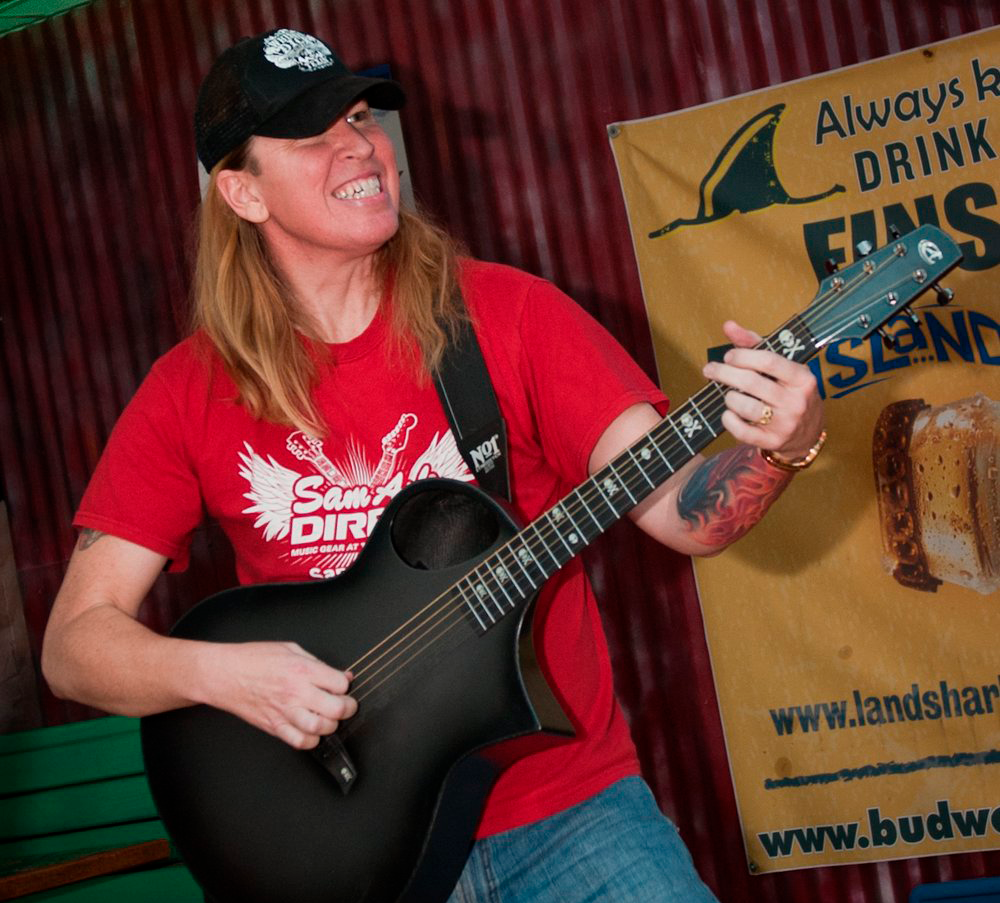 Hi everyone! I'm Thomas Moody, also known as Guitarzan.