A condenser mic is a mic which operation is based on the usage of the electric capacitors. In other words, it works by converting sound waves into electrical impulses with the help of capacitors. The best condenser mic has a very uniform frequency response and provides a high-quality sound, that can be used in live performances, in the recording studios, on radio, television, etc.

The condenser microphones are more durable than ribbon mics and usually have a more precise tone than the dynamic mics. They are remarkable for being able to record volumetric, clean, and very detailed sound. Plus, the condenser microphones are usually more sensitive because they can convert the entire sound spectrum perceived by the human ear into an electrical signal. This way, if you need a clear and detailed sound that will reveal all the nuances of a song then a condenser microphone is your way to go.
To date, recording technology has become more budget-friendly and more advanced. So now you can easily buy it even for home use without breaking the bank. However, even the most advanced models can't be ideal for everyone. So, the issue is choosing the best condenser mic for you.
With the great variety of options, presented on today's market, it can be hard to find the condenser mic that will be perfectly suitable for your voice or your instrument. That is why we offer you reading our article. Get acquainted with our top picks, find out about their pros and cons and about the features they possess to pick out the most suitable model in accordance with your needs. Additionally, our buyer's guide is here to help you in forming your buying decision.
Condenser Mic Reviews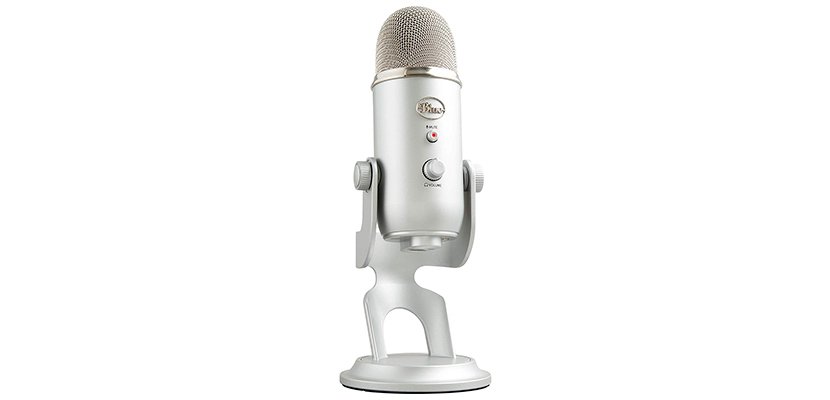 The Blue Yeti is a professional microphone, designed to work with both PC and Mac. It comes in 15 different colors (red, silver, platinum, etc.) and its design provides some retro vibe. This mic has a mute button, and volume and gain control knobs.
The mic rises 8.31 inches high and has 4.29 inches in diameter, so it's quite compact. It also weighs 1.39 pounds.
The microphone contains three condenser capsules for clear, powerful, broadcast-quality audio. This ensures not only a high quality of digitized sound (16-bit/48kHz) but also gives the opportunity to change the pickup patterns. You can easily switch from cardioid (for podcasting, game streaming, Skype calls, vocals and instruments) or bidirectional (for two-person podcasts) to omnidirectional (for conference calls), or activate a stereo mode (for music recording or 3-person podcasts) if necessary.
The switching between patterns carries out with the help of an individual control knob, located on the rear side of the mic. This allows recording in ways that would normally require several mics. That is why this model can potentially be the best condenser mic for vocals for someone. With 100 dB of signal-to-noise ratio, it's also a great unit for voiceovers, interviews, field recordings, conference calls, etc.
There are a zero-latency headphone output and a USB port, located on the mic's bottom part. Thanks to the no-latency monitoring, you can easily monitor your voice in real time, mixing it with the sound from your computer.
The Blue Yeti doesn't require batteries to work. It only needs a bus voltage, which is always present on your USB port.
Pros
The mic goes with an adjustable desktop stand for perfect microphone positioning.
The Blue Yeti features a plug'n'play technology — just connect it to your PC or Mac via included USB cable and you are ready to go without any special software or drivers.
The microphone comes with an integrated headphone amplifier.
Cons
You can't use this mic with an analog audio mixer.
There is no multi-head setup possibility.
Video Blue Yeti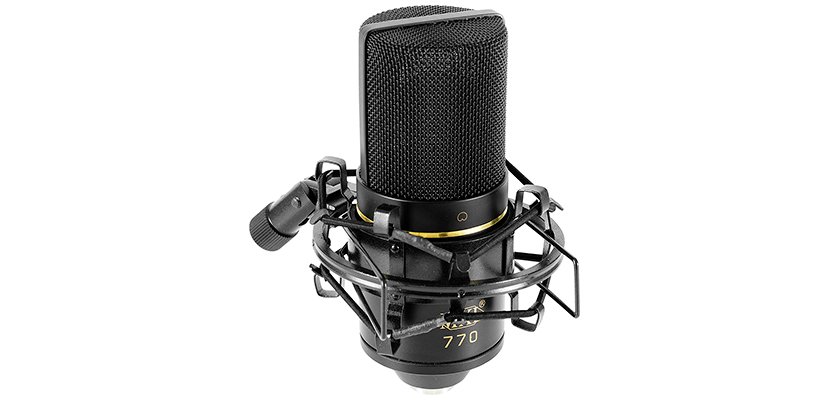 The MXL 770 goes in a black metal finish with a black grill and has a small 6-micron gold-sputtered diaphragm. Thanks to its balanced and clear sound, this model is quite universal being suitable for vocals, pianos, string and percussion instruments.
At the rear part of the mic, you will find two switches: the low-frequency roll-off and the 10 dB pad to reduce the unwanted rumble.
The mic's low frequencies give the kind of sound that metal vocalists are looking for. However, if you don't like it, you can easily remove it with the help of EQ and leave a bright high end which is more suitable for pop and acoustic music.
Since this microphone goes with a cardioid polar pattern, it works well for both single and multiple voice recordings. There is also an impressive frequency response range of 30Hz to 20kHz, with a maximum SPL of 137 dB. The microphone goes with a standard XLR connection and requires 48V phantom power to operate.
Despite the fact that this is a cheap condenser microphone, the manufacturer managed to include in its kit some useful bonuses. To be precise, the mic comes with the shockmount for reducing mechanical vibrations and a high-quality case with soft foam padding inside designed to protect the microphone during transportations. The mic weighs only 1 pound and has 2.32 x 6.22 inches of size dimensions.
Pros
The mic has a solid bass performance.
The mic's -10 dB cut works great for recording loud audio.
The 770 uses a high-quality FET preamp with balanced output.
Cons
The mic tends to capture the background noises.
The mic's grill causes some humming sounds.
Video MXL Mics 770
The AT2020 is a medium-diaphragm condenser mic with a cardioid polar pattern which has a USB output for digital recording (compatible with Windows 7, Vista, XP, 2000, and Mac OS X). The mic goes in the thick and strong cast metal case with the rigid mesh which protects the capsule. It's supplied with a high-quality A/D converter with 16 bit, 44.1/48 kHz sampling rate, offering CD-quality audio as the audio signal is converted to digital. The internal headphone amplifier delivers better clarity and musical detail as well as more volume.
Thanks to the extended frequency response, this model can potentially work as the best condenser microphone in terms of versatility: it works great for podcasting, home studio recording, field recording, and voiceovering. It's also capable of recording the booming guitar signals at high volume levels but still captures the transient details of vocal close to the mic.
The mic has a headphone jack with volume control which allows monitoring the microphone's signal with no delay. There is also a mix control to blend the microphone's signal and the pre-recorded audio. Both controls are fitted around the middle of the microphone in the form of thumb wheels. The LED blue light inside the mic turns on to let you know that it's getting power via USB.
The AT2020 comes with a large set of accessories: a pivoting stand mount, a threaded adapter, a soft protective pouch, a tripod desk stand, and a USB cable.
The microphone is 6.38 inches long and has a body diameter of 2.05 inches, the mic isn't bulky at all and weighs less than a pound (2.1 ounces).
Pros
The mic brings in pleasant room sound at distance.
The mic can handle high vocals without distortion.
This mic is good at picking up quiet sounds.
Cons
The mic picks up keyboard clicks.
The AT2020 has slightly insubstantial low end.
Video Audio-Technica AT2020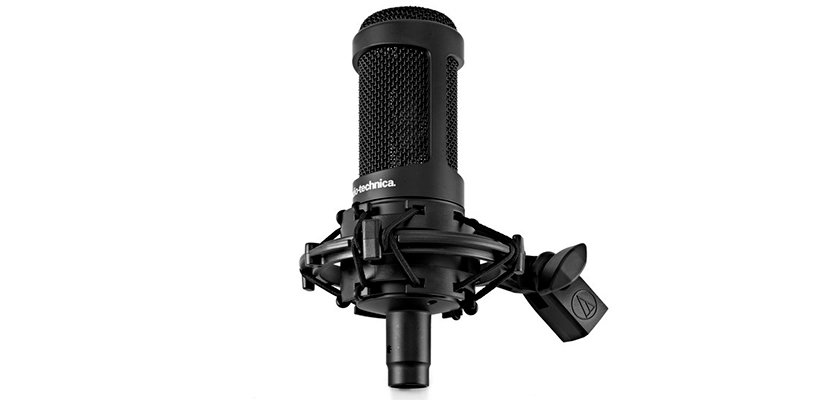 The AT2035 is a studio condenser microphone, suitable for both home and professional studio applications and live performance. It comes in a completely black finish and has a sturdy metal chassis. The mic comes supplied with a switchable 80Hz high-pass filter and -10 dB pad to handle high sound pressure levels with ease. The AT2035 has a standard XLR connection.
The microphone goes with the cardioid polar pattern which reduces pickup of sounds from the sides and rear and also improves the isolation of the desired sound source. Thanks to the large diaphragm, the mic ensures smooth, natural and low noise sound. The mic features high SPL handling (148 dB) and a wide dynamic range (136 dB). Because of the high SPL rating, the AT2035 can be used with brass instruments and electric guitars. The microphone also features a 0.8-inch capsule which contributes to the detailed sound representation.
This mic helps get a vocal reproduction with warmth and clarity and provides a pleasant mid-range. Instrument recording with this mic is also much easier thanks to the attenuation feature. Generally, the AT2035 allows getting clear recordings with quite natural audio quality.
The AT2035 mic comes with the custom shock mount. A protective pouch is included in the kit as well.
The mic is 6.69 inches long and has a body diameter of 2.05 inches. It's also quite light, weighing 14.2 ounces.
Pros
The mic can be used with phantom power from 11 to 52V.
The AT2035 isn't sensitive to the ambient sounds.
The bass tone remains consistent throughout the frequency range.
Cons
The AT2035 accentuates the bass too much when records a bassy voice.
The shock mount is made of plastic and feels quite flimsy.
The mic's high-end may be too sensitive for someone.
Video Audio-Technica AT2035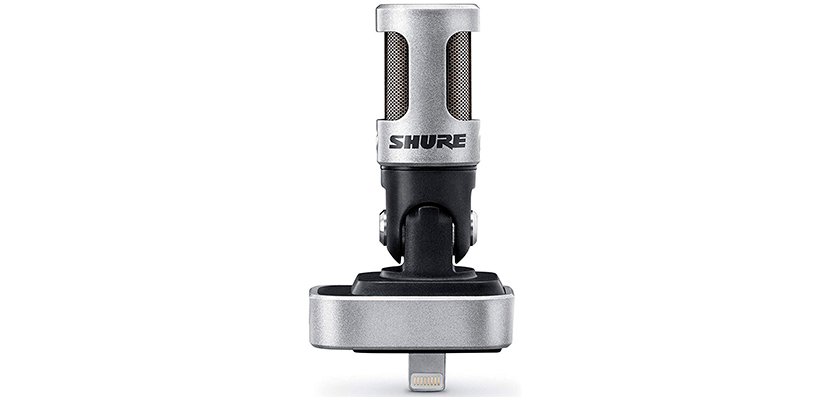 This Shure condenser mic is a pocket-friendly model (1.4 x 2.6 inches) and weighs only 1.4 ounces, but still decently powerful and multifunctional. It comes with five DSP preset modes (Speech, Singing, Flat, Acoustic Instrument, Loud) and the ability to record as a stereo or as a cardioid mono mic. It provides up to 24-bit\48 kHz audio quality which is even better than some large USB microphones are able to provide.
The MV88 is connected and powered via a lightning connector and doesn't require any cables or batteries. Internally, the mic contains two capsules in a mid-side configuration. One capsule is of a cardioid type and points directly at the sound source, and the other is a bi-directional condenser capsule aimed toward the sides.
This microphone is designed to work with those iOS devices that are equipped with a lightning connection (iPod, iPhone, iPad). Plus, you can choose from two free apps (MOTIV Audio and MOTIV Video) which allow controlling EQ, compression, polar pattern, and stereo width. These apps also let you share your files via email or text messages in seconds, and allow for real-time adjustments.
This mic from Shure stands out for great flexibility: you can tilt, flip and rotate the microphone up to 90°. This allows getting stereo clarity regardless of your sound source.
The MV88 will let you record videos with clear sound and is suitable for vloggers, journalists, filmmakers, music makers, and field recordists.
Pros
The mic comes with a windscreen, small zip-up case, and short 3.5mm cable for disabling the inline mic on the headphones.
The MV88 goes in an all-metal construction designed to withstand rough recording conditions.
The mic allows saving files in various compressed formats: ALAC, AAC, 96, 128, 256.
Cons
You have to remove your phone/tablet case in order to connect the mic.
The monitoring latency is quite noticeable.
Video Shure MV88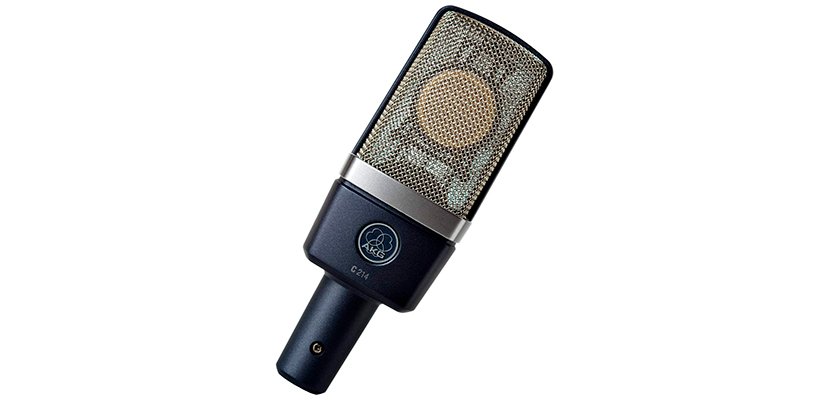 The AKG condenser mic is a solid and complex professional device which is mainly designed to be used in a recording studio. It goes in the metal die-cast body with shock- and scratch-resistant finish. The mic has a rugged transparent double-mesh grill and a 1-inch diaphragm with edge-terminated back-plate technology.
The mic is equipped with a gold-plated XLR output which is also aimed to limit any signal losses. The switchable 160 Hz/6 dB octave low cut filter reduces rumble and wind noise. There is also a switchable 20 dB attenuator and a bass-cut filter which also works as a reduction of the proximity effect.
The C214 offers a truly decent 143 dB dynamic range for recordings of high-output sources of up to 156 dB SPL. This comes in handy when you need to record the acoustic instrument or drums as naturally as possible. It has a frequency response range of 20Hz to 20kHz and uses a fixed cardioid pattern.
This mic requires 48V phantom power to work. It has dimensions of 6.3 x 2.2 inches. Considering the fact that the mic focuses on professional recording, it's normal that it has quite considerable weight (3.22 pounds). The microphone ships with a universal shockmount, foam windscreen, and a rigid metal carrying case.
Pros
The mic is versatile enough to handle a wide variety of musical styles.
The mic's flat design makes it easy to capture sources up close.
The C214 has a very high level of details in recordings which is great for capturing quiet sounds.
Cons
The mic is slightly boosted in high end which makes it harsh on some voices.
The C214 is quite sensitive and can pick up some background noises.
The mic may seem too bright for some.
Video AKG Pro Audio C214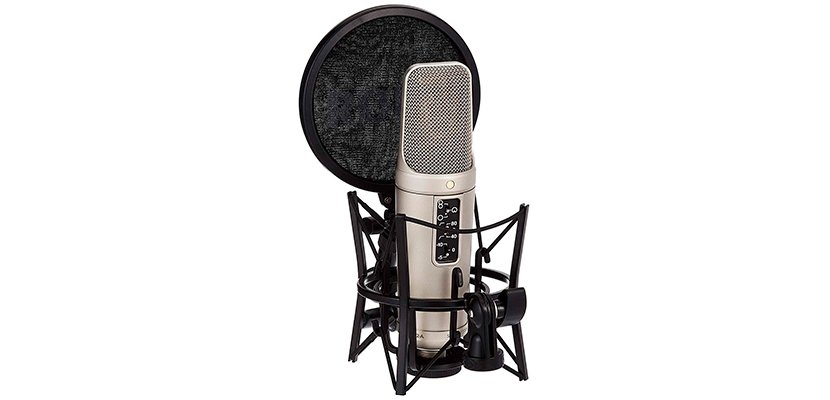 The Rode NT2A is a professional condenser microphone which goes with a large 1-inch HF1 dual-diaphragm capsule. It has a metal body and is finished in a light grey color, featuring a standard chassis with a small grille and a side-address layout.
It's a multi-pattern model which features the three-position pick-up patterns (Omni, Cardioid, and Figure 8), pad (0dB, -5dB or -10dB) and high-pass filter (Flat, 40Hz or 80Hz) switches. All the switches are comfortably placed on the front side of the mic's body. Along with a mic itself, you will also get a shock mount, a mic cable, a soft pouch, and a pop filter.
This mic is among the quietest ones, its equivalent input noise is just 7 dB. It also works at an 87 dB signal-to-noise ratio. The NT2A features a 147 dB of maximum SPL without the pads switched in, and up to 157 dB with the 10dB pad in. The 140 dB dynamic range is also quite impressive. Thanks to that, you can use the NT2A for both vocal and instrument recording, and even for voiceovers.
The mic is 8.2 inches high and has 2.2 inches in diameter and weighs almost 2 pounds. In terms of connection, it's a standard XLR microphone. It requires 24V or 48V phantom power to operate.
Pros
It has an ultra-low noise performance.
The mic is suitable for a wide range of vocals, especially when it comes to female voices.
This model is among the most sensitive ones, yielding -36 dB.
Cons
The NT2A is humidity-sensitive: you may hear some noise from the mic when using it in a heated room.
The mic needs to be set up in a very quiet place because it's sensitive to the background noises.
Video Rode NT2A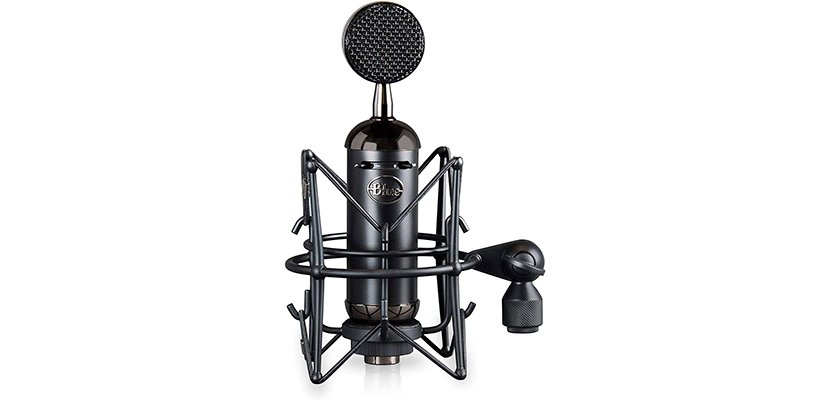 The Blue Spark Blackout comes in a lollipop shape and has a neat, almost matte black body and a glossy metal finish on the neck. Its all-metal design makes the mic durable and long-lasting. It has a cardioid-only polar pattern which greatly reduces pickup of background noise. This model can be called both XLR and USB condenser mic since its XLR connection integrates with USB audio interfaces and mixers. Its custom, large-diaphragm capsule contributes to the detailed and focused sound. There are two switches on the mic's body: the 100Hz low-cut filter which increases clarity and reduces rumble, and -20dB pad which limits the distortion.
This model is mainly designed for podcasts and streaming, giving out a truly broadcast studio voice. Considering this, the manufacturer managed to make this model quite light (11.8 ounces) and compact (8.7 x 1.7 inches) so it didn't take an excessive place on your desk.
With a standard frequency response range of 20Hz to 20kHz and max SPL of 136 dB, the Spark does a great job in recording your voice, keeping the sound quality as pristine as possible.
The Blue Spark requires +48V DC phantom power. It comes with a wooden storage box and a custom shock mount.
Pros
The mic offers a crispy and bright sound.
Thanks to the 34.9 mV/Pa of sensitivity, the mic works great for vocals.
The class-A JFET electronics ensure clear and rich audio.
Cons
Considering the lack of features and low max SPL, the Blue Spark isn't suitable for recording instruments.
There is no XLR cable in the kit so you have to buy it separately.
Video Blue Spark Blackout SL XLR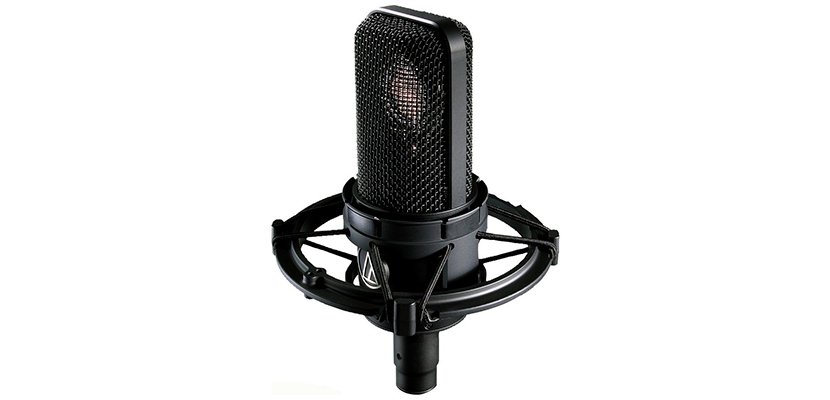 The AT4040 mic goes with a 0.8-inch diaphragm which ensures smooth and natural sound. It has an externally-polarized (DC bias) condenser design with a cardioid polar pattern. The transformerless circuit contributes to clean low-frequencies.
The microphone's body is equipped with two switches: 10 dB pad and 80Hz high-pass filter switch that allows choosing between flat response or low-frequency roll-off. It also reduces the pickup of low-frequency environmental noises and mechanical vibrations.
Thanks to the nickel-plated brass used in the mic's construction, the AT4040 received better stability and sensitivity.
The AT4040 has a wide dynamic range (133 dB) and high SPL capability (145 dB, 155 dB with 10 dB pad) which contribute to great versatility. This way, the mic works for professional recordings, broadcasts, and sound reinforcement as live performances.
The microphone requires 48V phantom power for operation and has a 3-pin XLRM-type connector. It ships along with a dust cover, a protective carrying case, and a custom shock mount. Note that this mic is very light (12.7 ounces) so you can easily mount it on the stand. The mic is 6.69 inches long and has 2.10 inches in diameter.
Pros
This mic is capable of holding a great amount of sound pressure.
The mic works great for most pop/rap music since it delivers great vocal clarity.
The AT4040 has very smooth sounding frequency response, especially in the lower frequencies.
Cons
The sound may get distorted when the levels are tweaked too hard.
The AT4040 may sound a bit harsh if you are using a preamp of average quality for recording.
Video Audio-Technica AT4040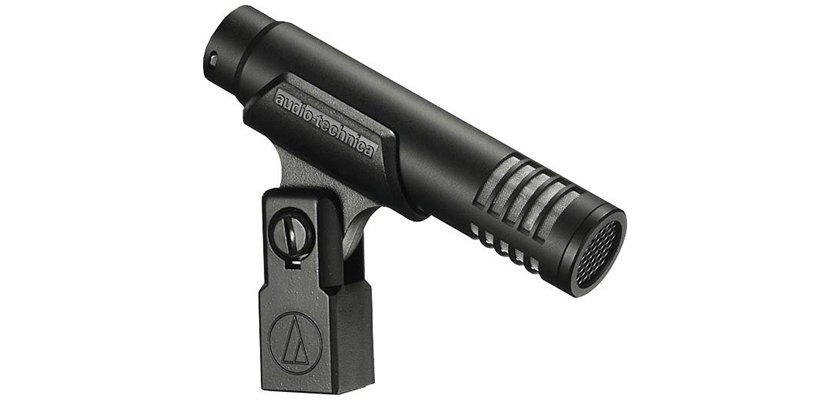 The Audio-Technica PRO 37 is a small-diaphragm mic which comes in a sturdy all-black metal body which is capable of withstanding some beatings and is rugged enough for outdoor use. It goes in a very compact (3.9 x 0.83 inches) low-profile design which is convenient for optimal microphone placement (with 1.7 ounces of weight, this mic is also light so you can easily work with any mic stand angles). Its cardioid polar pattern eliminates pickup of sounds from the sides and rear, contributing to improved isolation of the desired sound source.
With a wide frequency response (30Hz to 15kHz) and dynamic range (112 dB), this mic is suitable for a large variety of applications. It works for studio recording, live sound reinforcement, acoustic instruments, overheads, piano, and group vocals. Thanks to that, it can potentially be the best condenser microphone for those who need a multipurpose model.
The mic has a corrosion-resistant gold-plated XLRM-type connector, so 48V phantom power is necessary to power it. The manufacturer provides the PRO 37 kit with a mic stand clamp, a thread adapter, a windscreen, and a storage pouch.
Pros
The mic's low-profile design is very convenient for recording instruments.
The model has a high instrument-friendly SPL capacity no more than 141 dB.
The mic is remarkable for enhanced pickup of short, loud sounds.
Cons
The mic picks a lot of bass frequencies which is not suitable for everyone.
You will have to put some effort into this mic's placement to make sure that you are picking up an even spectrum.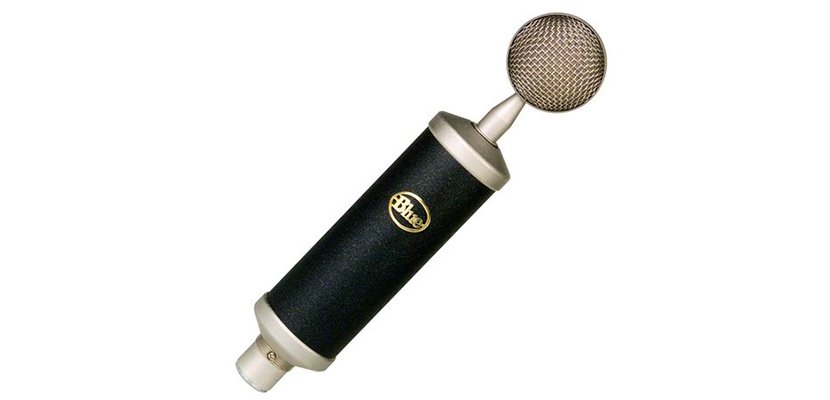 The Baby Bottle is a large-diaphragm condenser microphone with a cardioid pattern. Its hand-tuned, gold-sputtered, brass back-plated diaphragm couples with the class-A discrete circuit to achieve the detailed and clear sound. Thanks to that, this mic is versatile for recording male and female vocals, drums, electric guitars, and even saxophones and horns. This model features a vintage-like lollipop spherical grille housing.
There are a 100Hz hi-pass filter and a -20dB pad switches on the mic's front side. It has a standard 20Hz to 20KHz frequency response, and a maximum SPL of 134 dB so it can handle a large amount of volume. The Baby Bottle has a smooth high-end and neutral low-end. Generally, its tonal characteristics are similar to vintage microphones.
The Blue Baby Bottle kit includes shockmount, pop filter, and a wooden storage case. The mic has 8.7 x 2 inches of size dimensions and weighs almost 1 pound. This microphone has a standard XLR connection and requires a 48V of phantom power to operate.
Pros
Because of its full midrange response, the Baby Bottle is great for distorted amp sound.
The mic features a transformerless output design that delivers accurate sound reproduction.
The mic has low self-noise of about 10 dB.
Cons
The included pop filter may not be enough for loud vocal use.
The mic is quite sensitive so must be positioned and angled carefully.
Video Blue Baby Bottle
Buyer's Guide
Which Type of Diaphragm is Best for Your Condenser Mic?
Sometimes, when choosing a condenser microphone for a specific application, you may face a problem: when is it preferable to use a microphone with a large diaphragm, and when with a small one? What are their advantages and disadvantages? A large diaphragm has 1 inch in diameter or more, and a small one has less than 1 inch. In fact, the type of diaphragm has a major impact on sound quality.
Noise
Since the condenser mics with large diaphragm provide a stronger signal that is higher than the noise level of the microphone's electronics, their signal-to-noise ratio is usually higher. Therefore, such microphones are a good choice for amplifying or recording quiet instruments as they don't add noise from the microphone's preamplifier or microphone's circuitry. A small diaphragm acts as a solid surface and the air molecules which hit it exchange a larger amount of their energy creating higher levels of sound pressure relative to diaphragm's area and sensitivity.
Sensitivity
The mic with a large diaphragm is more sensitive than the mic with a small one. Its normal sensitivity is about 22 mV/Pa while the normal sensitivity of a mic with a small diaphragm is about 10 mV/Pa. The large diaphragm is more sensitive because it changes its capacitance due to vibration, therefore gives a higher output signal.
SPL handling
The ability of a condenser mic to handle the sound pressure level depends on two factors:
The mic's capsule, where the stiffness of the diaphragm, along with the distance between the diaphragm and the back plate, limits the diaphragm's ability to move before the level of distortion is too high.
The power source for the mic's preamp limits the amount of signal that can be processed before clipping occurs. Therefore, a small and stiff diaphragm will be able to handle relatively higher SPL than a large-diaphragm microphone.
So, the condenser mics with a small diaphragm can work without clipping with higher pressure levels because their construction features imply a greater distance from the diaphragm to the back plate. This means a larger amplitude of movement.
Frequency
Both large and small diaphragms pick up low frequencies almost equally since the condenser mics sense well the smallest differences in the air pressure. The lower limit frequency of the mic's pressure sets by a small ventilation hole so the diaphragm couldn't move because of the changes in the atmospheric pressure. In accordance with the ventilation hole dimensions, it will act as an acoustic low-pass filter.
However, some microphones with large diaphragms tend to have a protective grill around the diaphragm. The grill causes internal reflections and filtering which can lead to a roughening of the frequency response.
The upper limit frequency sets by several factors:
A large diaphragm is prone to collapse and will not act as a true piston again.
The diaphragm's weight will reduce its displacement for high frequencies.
The diffraction at the edges of the microphone's capsule limits the mic's ability to process the very high frequencies
This way, a mic with a large diaphragm has a more limited frequency range than the one with a smaller diaphragm.
Dynamic range
A microphone with a small diaphragm typically has a higher dynamic range than the mic with the large one. To understand why you have to know how the dynamic range can be calculated. The most reasonable way to do it is to establish the distinction between the noise level and the sound pressure level. This way, the mic's noise level increases if the diaphragm is small, but the sound pressure level rises even more in comparison with the large diaphragms.
Therefore, the mics with a small diaphragm tend to have a better dynamic range (or equal). The dynamic range is simply biased to cover different sound pressure levels.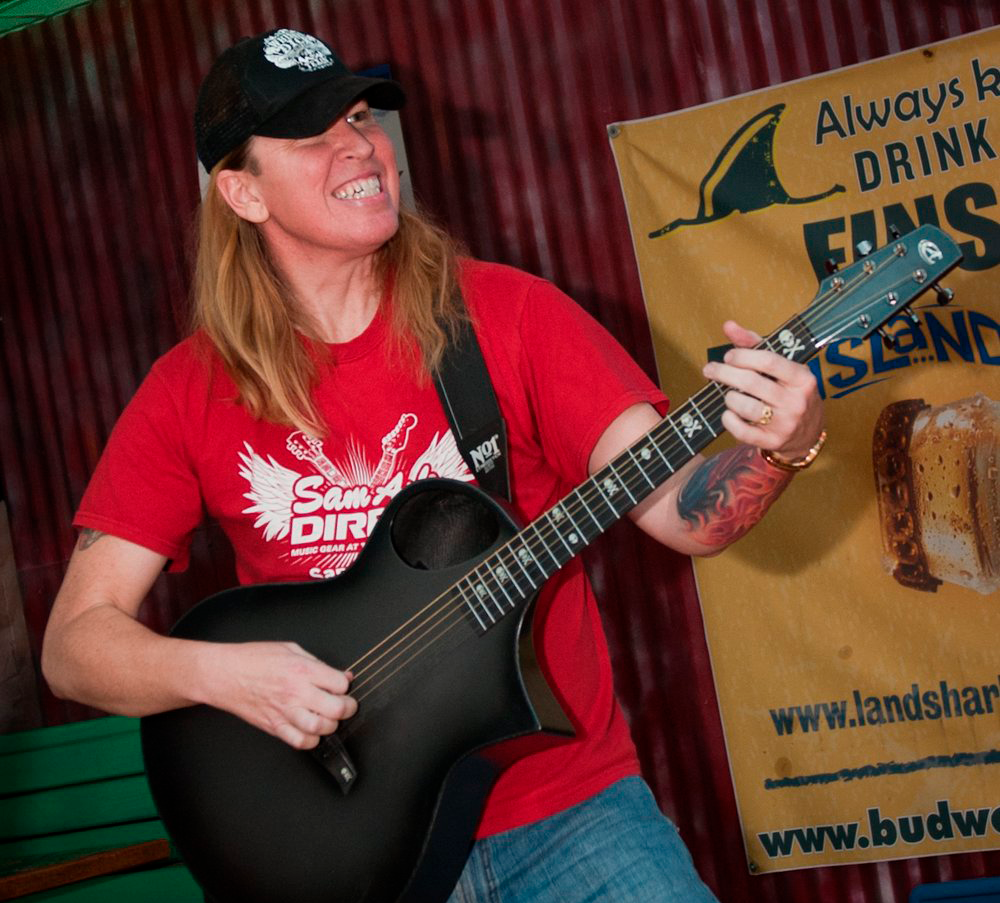 Hi everyone! I'm Thomas Moody, also known as Guitarzan.