The bookshelf speakers are among the most universal ones as they don't require much space so can be placed almost anywhere you want: on desktop, shelf, kitchen, etc. Since the audio market keeps on growing, now it is very easy to find the best bookshelf speakers under 500 dollars that are able to produce amazingly good sound out of a little bit lower-priced specs.

When it comes to audio equipment, it's fair to say that budget models have never been better than a high-end audio gear. However, the current technology allows getting quite a decent sound. Thus, it's possible to get a pair of speakers under $400 that will sound better than some other speakers costing $600, for example. Plus, a huge competition between dozens of brands forces many manufacturers to offer truly high-quality equipment at lower prices. This way, a popular opinion that you have to spend more money on speakers if you want to get high-quality and long-lasting ones is not actually true.
The bookshelf speakers under 500 dollars are able to offer great balance between sound quality and size. They vary greatly in terms of performance, appearance, dimensions, etc. Generally, buying a set of speakers that belongs to this range can offer you great compromise between quality and price.
It's obvious that a speaker-buying procedure requires some time and research, especially if you are on a tight budget. So, we have selected top bookshelf speakers under 500 dollars and highlighted their main features, pros and cons so you could narrow down your choices. If you want to know what exactly you can get from speakers of this category, jump to our buyer's guide.
Bookshelf Speakers Under $500 Reviews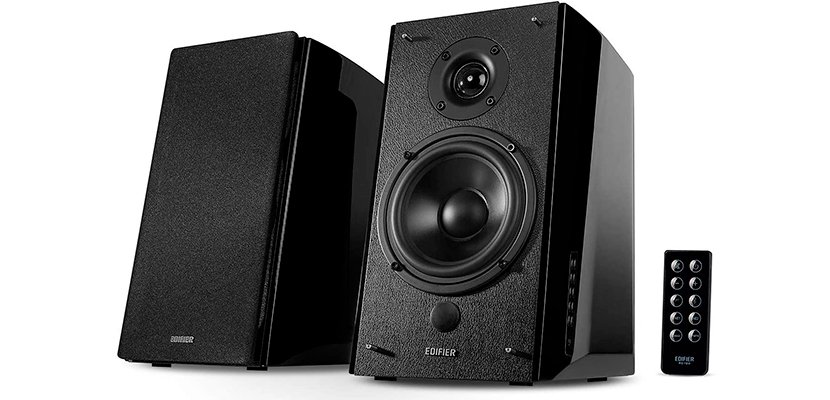 These powered speakers by Edifier are designed for PCs, gaming consoles, and mini home theaters. They go in an MDF enclosure which minimizes acoustic resonance and have a high-gloss piano finish. It's possible to get them in one of two colors: black and wood. Each speaker measures 6.8 x 11.3 x 9.9 inches and weighs 21.4 pounds.
Thanks to the 25mm silk dome "Eagle Eye" tweeters, the R2000DB units provide a truly detailed soundstage. The speakers have built-in DSP and DRC to minimize distortion, providing clean sound. The class-D amplifiers provide 60W output power for each speaker. They also have 6 ohms of impedance and 85 dB of sensitivity.
On the rear side of the right speaker, you can find an optical input to connect the speakers to TV, DVD or Blu-ray player, receiver, HTPC, PC or gaming console. There are also two AUX inputs to connect any device with 3.5mm output or dual RCA output. In the package, you will find all the necessary cables: 5-pin XLR speaker cable, RCA-to-RCA male white-red cable, RCA-to-AUX cable, and an optical cable. The three knobs to adjust bass, treble, and volume are also located on the rear panel of the right speaker.
The R2000DB is one of the best bookshelf speakers under 500 dollars for iOS, Android, MacOS, and Windows devices in terms of connectivity as it features Bluetooth compatibility, so you can wirelessly pair it with a smartphone, tablet, or laptop. Plus, it allows connecting more than one device at the same time.
The speakers go along with a small 10-button remote control to switch input sources, control volume, choose DSP modes, etc.
Pros
Despite their size, the speakers can be loud enough to be even painful if turned up too high so they will provide enough volume for almost anyone.
The front grill is very easy to install and remove.
Bluetooth is stable with no interruptions.
Cons
Highs and lows don't sound balanced.
Since this is a 2.0 speaker system, you won't get an extra bass.
Video Edifier R2000DB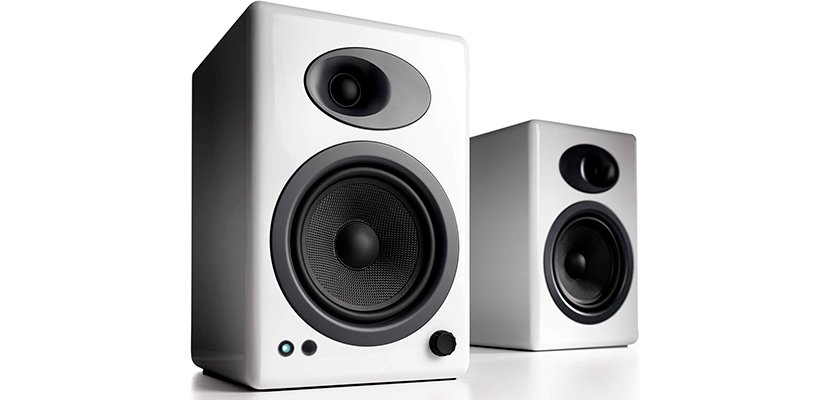 The Audioengine A5 Plus is a pair of powered speakers that are made of high-quality components featuring custom aramid 5-inch fiber woofers and 0.75-inch silk tweeters. Each speaker is wrapped in a precision-tuned and hand-crafted cabinet. The speakers are available in three colors: bamboo, black, and white.
The left speaker has a power indicator and volume control knob. On its rear panel, you will find a power switch, voltage select, as well as stereo mini-jack input, stereo RCA inputs and outputs. This way, the Audioengine A5 Plus can possibly be the best bookshelf speakers under 500 dollars for music in terms of versatility as they can play music from turntables, all music players, phones, PCs, laptops, notebooks, etc. They also work with TVs with an analog output. Plus, these speakers are supplied with built-in power amplifiers (dual-class AB monolithic). Thanks to them, the A5 Plus provides mighty bass and sound that is very close to originally-recorded music.
The speakers have 150W peak power in total (50W RMS/75W peak per channel), 10 ohms nominal impedance and 88 dB sensitivity level.
In the box, you will find 3.5mm mini-jack audio cable, 4-button aluminum remote control, microfiber speaker bags, and cable bags. The remote has a sleep mode button, mute button, and two buttons to control the volume level.
Each speaker size is 10.75 x 7 x 7.75 inches. However, they have different weight: the left speaker weighs 15.4 pounds and the right one weighs 9.6 pounds.
Pros
The speakers come with a 3-year transferable warranty.
There is a USB charging port on the left speaker so you can charge your player/phone while it's connected to the speakers.
The A5 Plus are universal for many kinds of audio content: they sound equally good with different kinds of music (from rap to classical) and movies.
Cons
There are no controls to switch source and adjust bass/treble neither on the speaker itself nor on the remote control.
Bass is weak at low volumes.
The speakers have a large footprint so they will take a lot of space on the desk/shelf.
Video Audioengine A5 Plus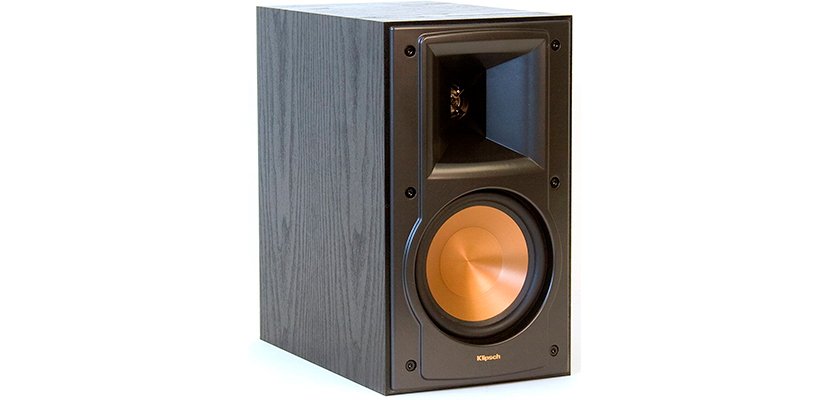 This model can work as the best bookshelf speakers under 500 dollars for medium-sized rooms thanks to the Klipsch proprietary Tractrix Horn technology. Thus, the RB-51 II units feature a high-efficient horn-loaded design which contributes to accurate and dynamic sound transmission. Plus, thanks to such a design, producing more output while using less energy. They also come with low-diffraction, magnetically-attached grill. However, as for me, the speakers sound much more open with grills off.
An enhanced 1-inch titanium tweeter with linear travel suspension (also used in the Klipsch's flagship Palladium Series) provides an open and more natural sound. The 5.25-inch high-output cerametallic (hybrid ceramic and metal composition) woofer cones feature treated aluminum which prevents distortion. The woofer does its job well, providing solid bass that dips down to 50Hz. The RB-51 crossover ensures that the midrange driver will give a full frequency response. This model also has a custom internal wiring.
The RB-51 II ones offer 300W peak power (75W RMS), 92 dB sensitivity, and 8 ohms compatible impedance.
The dimensions are 11.4 x 6.5 x 10.75 inches and 20.9 pounds (per pair). In terms of inputs, the speakers offer dual binding posts (bi-wire/bi-amp).
Pros
The speakers feature a keyhole bracket for easy wall mounting as well as dual threaded inserts for the stand.
The Tractrix Horn technology accurately directs the sound, which, in turn, creates a more lifelike soundstage.
They sound especially good with female vocals and classic music.
Cons
The sound gets worse when they are placed next to the wall.
It takes about an hour for the speakers to warm up.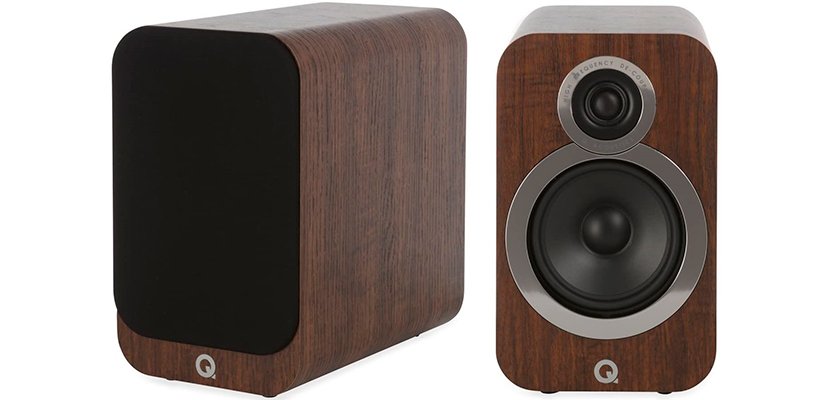 These monitor speakers go in a 2-way reflex enclosure with rounded edges and are available in four colors: English walnut, arctic white, carbon black, and graphite grey. Featuring a cabinet that is slightly taller and deeper (6.6 x 10.9 x 11.1 inches) than most conventional bookshelf speaker cabinets, these ones deliver wider sound, deeper bass, and increased internal volume which results in an extended low-frequency response. The enlarged front-to-back dimensions also reduce any cone-generated noises reflected from the back wall of the enclosure. However, despite the increased cabinet size, it's not difficult to locate them in tight places. Moreover, each speaker weighs 10.59 pounds.
The design allows them to be shelf- or stand-mounted. Plus, instead of conventional terminal panel cutouts, the 3020i is equipped with low-profile binding posts. The sockets are deep enough to accept 0.16-inch banana plugs so the speakers can be placed very close to a rear wall.
The 3020i are supplied with a 5-inch high-frequency driver with a large surround which creates wider sound dispersion. The 0.9-inch tweeter is decoupled from the baffles which allows it to isolate any vibrations from the woofer, reproducing audio content with less interference. The speakers have 6 ohms impedance, 88 dB sensitivity, and 50-125W power output.
In addition, the kit includes two speaker grilles, two foam bungs, and a pair of handling gloves.
Pros
The point-to-point bracing reduces sound distortion so the soundstage is accurate.
The coated paper cone ensures an optimum balance between stiffness and self-damping, minimizing unwanted resonances.
The speakers have a great ability to reproduce dense orchestral textures thanks to the deeper-than-average cabinet.
Cons
The speakers are not good when it comes to bass-heavy genres.
Quite an average volume level, so they are not very loud.
Video Q Acoustics 3020i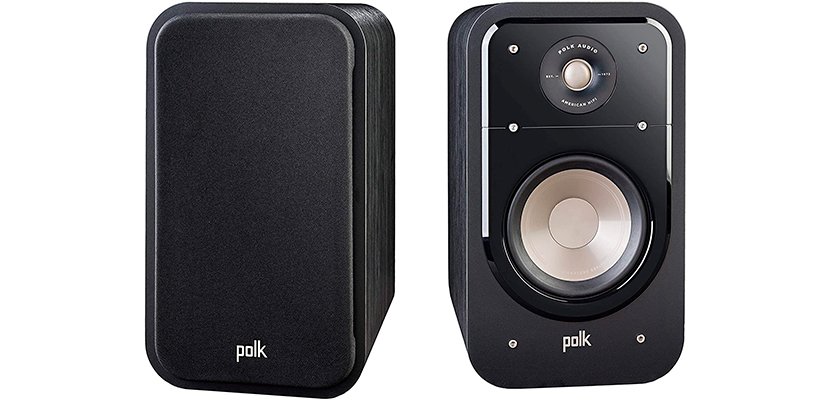 The Polk Audio S20 are full-range passive bookshelf speakers that are mainly aimed to deliver a surround sound. This way, providing true Hi-Res sound with clear vocals and deep bass, the S20 can be the best bookshelf speakers under 500 dollars for home theater, delivering an impressive cinematic experience.
The cabinet has rounded edges and black vinyl finish. They also feature a turbulence-smoothing diffuser that transfers the airflow from the speaker to the listening area, minimizing the distortion. The Polk's patented Power Port technology ensures deeper bass response than traditional back-ported models. These speakers are also universal in terms of setup combinations as they can be used as left-right rear or surround ones.
The S20 support 40kHz being able to play high-resolution audio files.
These speakers go equipped with mica-reinforced polypropylene cones with butyl rubber surrounds, and 1-inch Terylene tweeter, and high-temperature Conex fiber spiders for better linearity, lower distortion, and increased durability. They provide 20-125W per channel, have 88 dB sensitivity, and standard 8 ohms impedance.
The Polk Audio speakers feature gold-plated 5-way binding posts. Each speaker has 13.8 x 8.5 x 14.8 in size so they are quite bulky, as well as quite heavy since each speaker weighs 17 pounds. The package includes a pair of detachable anti-diffraction magnetic grills.
Pros
These speakers are compatible with Dolby and DTS surround sound technologies.
Crisp sounds, especially in the mid range.
Thanks to the large size and considerable weight of these speakers, you will feel no vibrations.
Cons
The speakers don't sound good when placed close to the floor.
High frequencies could be a bit more pronounced.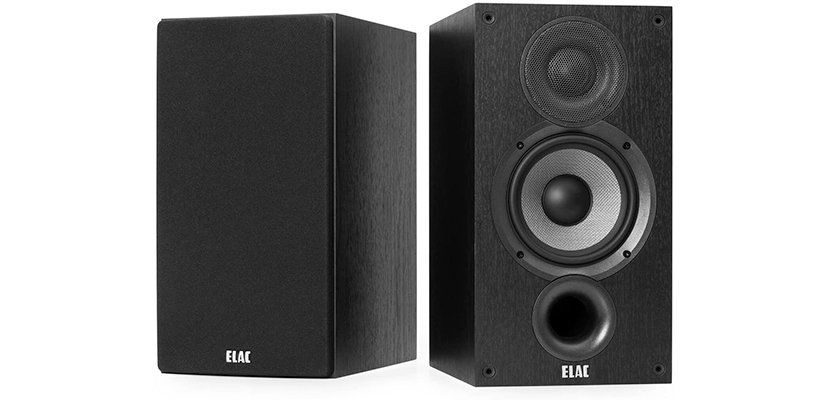 The ELAC speakers go in an internally braced cabinet which is made of solid MDF. They are available only in black ash vinyl color, which is, however, one of the most universal ones so will probably match with the rest of your equipment.
The speakers have a dual-flared front-mounted port which means that the placement against the wall. One the rear side of the speaker, you will find gold-plated 5-way binding posts.
The Debut 2.0 B5.2 ones have a 1-inch silk-dome tweeter with wide-dispersion waveguide which improves directional control and eliminates the diffraction modes which is common to traditional box enclosures. The fat rolled tweeter surround contributes to smoother low-frequency extension which is useful for lower crossover points. The tweeter is also covered by the grill.
The 5.25-inch woven woofer with aramid-fiber has pretty stiff surround. The revised shape of the aramid cone allows for improved damping which is better than the one in polypropylene or paper cones. The woofer's dust cap is flexible and thin and helps the woofer properly disperse higher frequency sound.
In terms of technical specs, the manufacturer managed to optimize the speakers to minimize the power requirement from the receiver. This way, they have 6 ohms impedance, 86 dB sensitivity, and 120W power.
Each speaker measures 7.09 x 13.43 x 9.21 inches and weighs 13 pounds.
Pros
The speakers give out detailed and organized sound.
They use a multi-element crossover.
The high frequencies are clear without being too bright.
Cons
The midrange can be shouty.
Bi-amping and Bi-wiring are not possible.
Video ELAC Debut 2.0 B5.2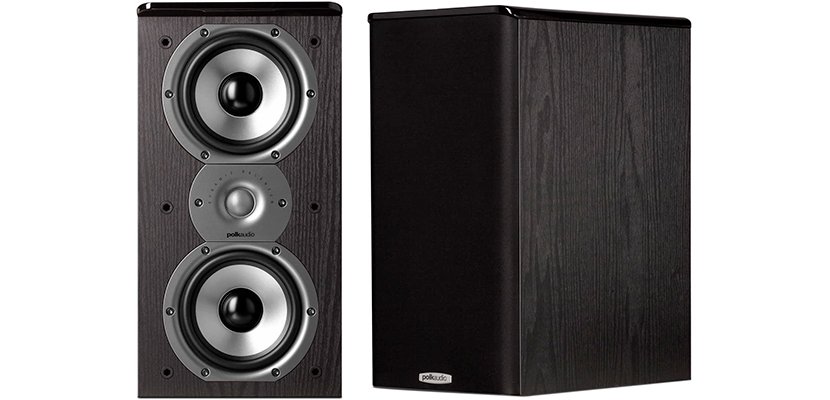 These passive speakers from Polk Audio are designed for small and mid-sized rooms. They feature a modern design with wood grain finish and piano black top plate. The enclosure is made of extensively braced, solid MDF which damps vibrations.
These TSi200 feature two woofers, which make them one of the best bookshelf speakers under $500 in terms of bass reproduction. Thanks to the 5.25-inch bi-laminate organic fiber cone woofers, the speakers are great for both music and home theater. Plus, two woofers make quite an unusual look.
The speakers are equipped with 1-inch silk/polymer composite Dynamic Balance dome tweeter thanks to which they are capable of producing clear highs. However, the highs may seem too sharp due to the narrow dispersion of the tweeter.
In terms of technical specs, the speakers feature standard 8 ohms impedance, 150W of peak power, and 89 dB sensitivity.
These speakers employ one rear-firing port and don't offer an onboard mounting capability so they can be placed on a shelf or stand. They offer a single set of gold-plated 5-way binding posts.
Because of the second woofer, these speakers are quite big and heavy: each unit is 11.8 x 8 x 15.4 inches and weighs 17 pounds.
In the package, you will also find a detachable cloth grill and eight self-adhesive rubber feet.
Pros
The manufacturer provides a 5-year warranty.
The 3/4 -inch baffles in the speaker's enclosure eliminate internal resonances.
The premium-quality mylar bypass capacitors extend response in the higher, more detail-oriented frequencies.
Cons
The provided cloth grill is of cheap quality.
The speakers sound a bit muddy.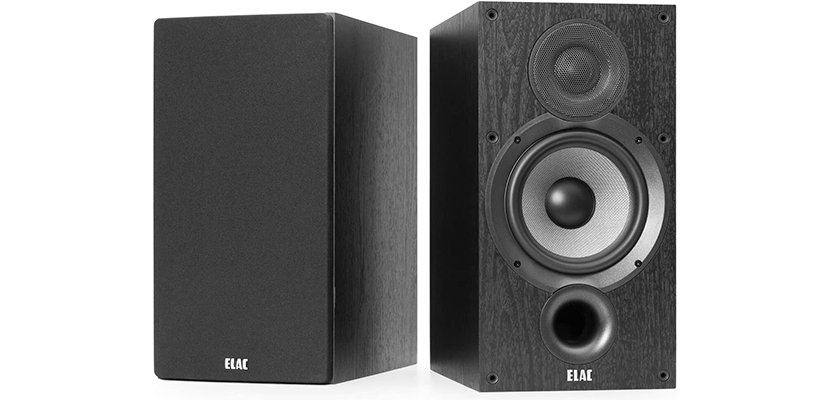 The ELAC Debut 2.0 B6.2 speakers have black ash vinyl finish and have the cabinet made of with solid MDF cabinet which reduces unwanted resonance and distortion. The inner bracket works perfectly, reducing cabinet vibration and minimizing the impact on overall sound quality. The speakers employ 5-way metal binding posts.
The units are equipped with a 1-inch soft-dome tweeter with wide-dispersion waveguide and wide-roll surround which extends the frequency response. The tweeter is protected by a shapely grill.
The woven aramid-fiber 6.5-inch woofer with tight weave pattern provides a smooth high-frequency response and delivers clean tight bass. The convex dust cap allows for better integration with the tweeter and makes the speakers more responsive.
Featuring a front-firing port that reduces problems that interfere with placing the speakers close to the wall, the ELAC Debut 2.0 B6.2 units are on the list of the best bookshelf speakers under $500 in terms of placement versatility.
The speakers offer 87 dB sensitivity, 6 ohms impedance, and 120W max power input.
One speaker weighs 14.3 pounds and is 7.69 x 14.76 x 10.55 inches. The bigger-than-average cabinet gives extra weight to bass response.
In the box, you will find a pair of speaker grills.
Pros
With a really wide 44 Hz – 35,000 Hz frequency response, these speakers can achieve a very detailed sound.
The sound remains clear across a wide range of frequencies.
A truly deep bass that is normally expected from larger speakers.
Cons
These speakers sound a little bright reproducing some recordings.
They lack depth at lower volume levels.
Video ELAC Debut 2.0 B6.2<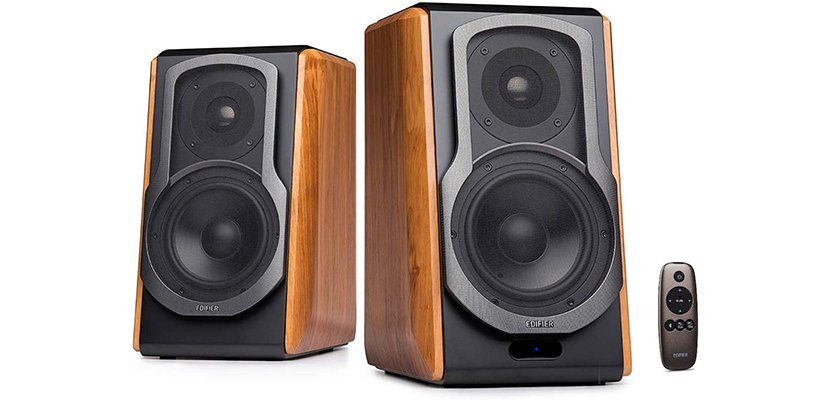 The Edifier active speakers provide some retro vibe: their side panels are finished with medium-toned wooden veneer while the top panel is black. The drivers are hidden under removable transparent grills.
Note that these speakers are big (8 x 13.5 x 10.5 inches) and heavy (18 pounds) so they are definitely not suitable for frequent transportations and will hardly fit in the bookshelf.
The speakers use titanium dome tweeter which creates a smoother response rate and has minimal distortion despite increasing volume level. The 5.5-inch woofer gives out the deep bass sound. The Digital Sound Processing technology delivers 120W RMS sound quality. The speakers also offer 6 ohms impedance and 85 dB sensitivity.
The right speaker features RCA, AUX, optical, and coaxial inputs to be connected to multiple sources at the same time. This also makes the S1000DB one of the top bookshelf speakers under 500 dollars for gaming setups and PCs.
On the back panel of both speakers, you will find volume, bass, and treble control knobs, as well as master volume dial to choose inputs and disconnect active Bluetooth device.
In terms of wireless connectivity, the S1000DB feature Bluetooth 4.0 aptX which allows streaming a high-quality sound with minimal loss. The aptX codec enhances quality, making the speakers versatile ones.
This set of speakers goes along with a small remote control which you can use to switch input sources and control volume level. In the package, you will also find dual RCA audio cable, 2RCA audio cable, speaker connecting cable, and fiber optic input cable.
Pros
The LED light on the front panel of the right speaker displays various colors to inform what it's connected to (blue light means Bluetooth, for example).
The speaker's angled front reduces sound resonance and makes them stand out among the standard boxy ones.
The provided cables are thick and reliable.
Cons
Heavy vocal tracks aren't played distinctively.
The highs and lows can overpower the mids.
Video Edifier S1000DB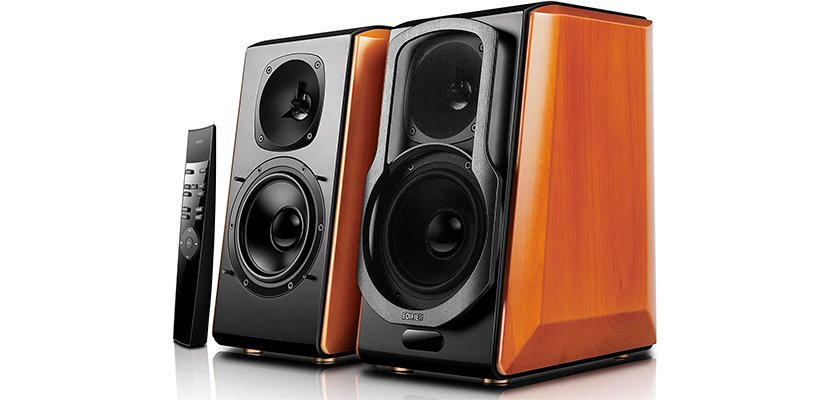 The Edifier S2000pro belong to the speakers of powered type with vented rear bass ports. They have black top panels, thick wood veneer side panels, and removable, metallic grills. These speakers stay on gold-colored pads that reduce vibrations. Each unit measures 8 x 13.5 x 10.5 inches and weighs 20 pounds.
Flat-diaphragm tweeters provide fast response rate and 5.5-inch aluminum woofers that deliver clear sound. Plus, there is also a DSP digital electronic crossover.
There are four EQ settings to choose from: Vocal, Monitor (for cleaner sound), Classic (for classic HI-FI sound), and Dynamic (for more punchy sound).
The rear side of the right speakers contains a volume, bass, treble controls, and input control as well as AUX, optical and coaxial input ports, and the XLR inputs for a mixer.
The speakers support Bluetooth 4.0 with aptX decoder which allows streaming high-fidelity audio from mobile devices.
The S2000pro go with a remote control which allows controlling volume, change inputs, switch between EQ modes, etc. The speaker's box also includes four cables: 5-pin speaker connection cable, two RCA cables, and an optical cable.
Pros
These speakers are suitable for both home and studio use.
The display screen on the right speaker indicates which mode is on.
Digital-to-analog conversion and analog-to-digital conversion.
Cons
The included remote control is unresponsive if it is not placed directly to the speakers.
The midrange is slightly thin.
Video Edifier S2000pro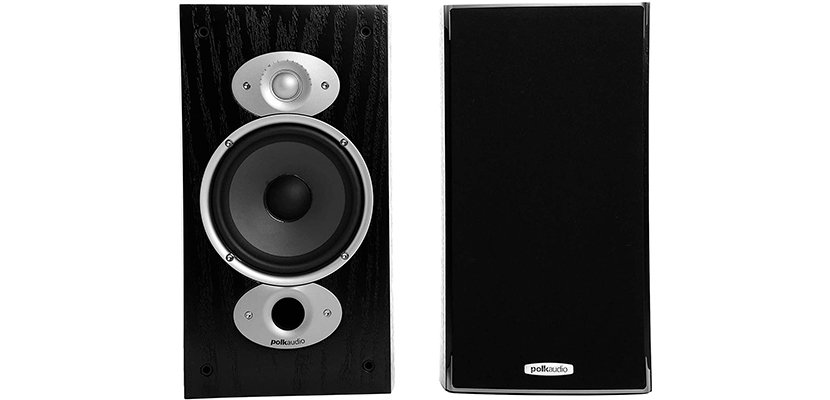 These passive speakers feature an all-MDF construction, black enclosure, and go with removable anti-diffraction grills. The curved design of the cabinet makes these speakers resonance-free. Each speaker measures 14.4 x 14.8 x 8 inches, so they will take up quite a bit of space. One speaker weighs 16 pounds.
The speakers feature 6.5-inch dynamic balance mineral/polymer composite cone woofers with a rubber surround that deliver a lifelike detail. The 1-inch silk/polymer composite dome tweeters feature a cooling system with the neodymium magnet, having a heat sink on the back. There are also dual gold-plated, professional-style 5-way binding posts.
The usage of two ports (one on the front panel and another on the rear) adds clarity to all the ranges.
The Polk Audio RTI A3 units have 150W (75W RMS) power rating, standard 8 ohms impedance, and 89 dB sensitivity.
Pros
Thanks to PowerPort technology, the speakers provide an impressive low end performance.
They can work with almost any AV receiver.
The Klippel motor optimization ensures uniform performance at both low and high volumes.
Cons
The speakers quickly get hot during work.
The lower mids could be clearer.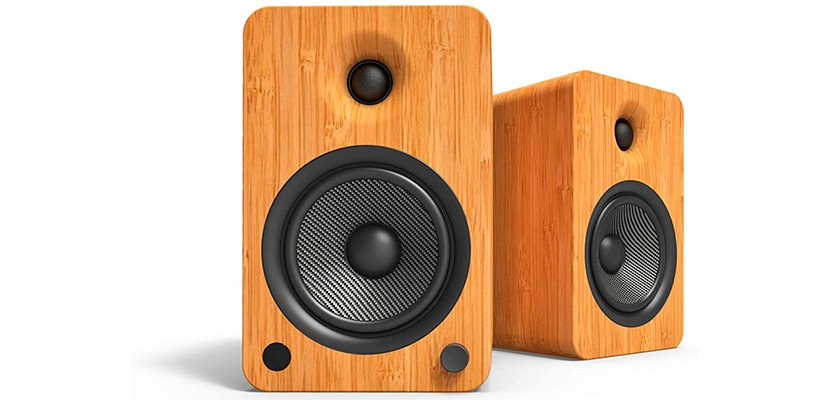 These powered speakers with rounded edges offer a wide choice of colors: bamboo, gloss black/red/white, matte black/grey/white, and walnut. The cabinets are made of handcrafted MDF. On the front panel, you will find a LED indicator that shows power status and playback mode. There is also a volume knob that functions as an input select knob as well. The size of each speaker is 6.9 x 10.7 x 8.1 inches and weighing 11.4 lbs.
The speakers have 1-inch silk dome tweeters and 5.25-inch Kevlar woofers that deliver crisp highs and balanced mid-range. The built-in Class-D amplifier delivers 200W peak power.
The YU6 units use built-in Bluetooth with Qualcomm aptX technology and are equipped with RCA and AUX inputs, optical and subwoofer outputs, USB port.
The speakers go with a remote control which allows controlling volume, inputs, tone and balance, playback, etc. The package also includes eight self-adhesive rubber feet, speaker wire, and AUX cable.
Pros
Being vinyl-ready, they are equipped with an integrated phono preamp.
Automatic standby and power-up modes./li>
The sound is balanced and free of peaks.
Cons
The USB port is not PC-friendly.
The bass extension is quite average.
Video Kanto YU6
Buyer's Guide
What Quality Can I Get From Bookshelf Speakers Under $500?
Bookshelf speakers under $500 belong to a quite competitive segment. Many manufacturers tend to imply some of the high-end technologies from their flagship series into more low-cost models with an intention to attract more buyers. This way, the best bookshelf speakers for under 500 dollars can be extremely close to some very pricey models.
Technologies make the manufacturing of the speaker's cabinet much easier. This way, even the budget speaker's enclosure is frequently made of solid MDF or thick plastic being both cheap and durable.
In some cases, the bookshelf speakers under $500 can even please the needs of audiophiles as some of such speakers can have some exclusive and even exotic features. Plus, almost all of them have decent crossovers. Note that the wattage is essential for any bookshelf speakers so make sure to connect them to an amplifier that provides wattage in a decent range.
Going for more costly speakers, you may get better quality of work with no issues and a more powerful sound. However, usually, the high-cost models are designed for big rooms.
Audio Performance
The frequency of the speakers determines the range that can be reproduced. Our ears perceive 20 – 20,000 frequencies (Hz).
The impedance constantly fluctuates while the music is playing. Low-impedance speakers don't interact with receivers and amplifiers in a proper way if they don't bring a big amount of current.
The sensitivity level (measured in decibels) shows how the speaker converts the amp's power into acoustic energy. This way, the loudness of the speakers depends on how big the sensitivity rating is. However, the sensitivity rating can create some differences. For instance, a speaker with a 3 dB sensitivity rating will require half more power to provide the same amount of sound. The speakers with minimal sensitivity won't fill even a small room with sound while the speakers with high sensitivity level provide enough volume for the identical power which is perfect for large-sized spaces.
Power & Impedance
Power and impedance are the most important and the most common values you should look for when choosing any type of speaker. The power measures in watts, while the impedance measures in ohms.
If the speakers have a power rating that is less than 150W, you have to connect them to the amp within the range. If you connect them to the amp that provides more watts, it doesn't always mean that it will blow your speakers. However, if you are used to playing music very loud, you can start having a problem with drivers. Although the speakers that provide less than 50W of power may be too quiet.
The impedance is responsible for how much current the speaker needs. The lower the impedance the more current will be flowing through. The amp has to deliver the current to a speaker rated at a specific impedance.
Most speakers are rated with 8 ohms impedance so you probably won't have to worry about it. However, if you are going for speakers with 4 ohms impedance, ensure that your amp/receiver will be able to handle it.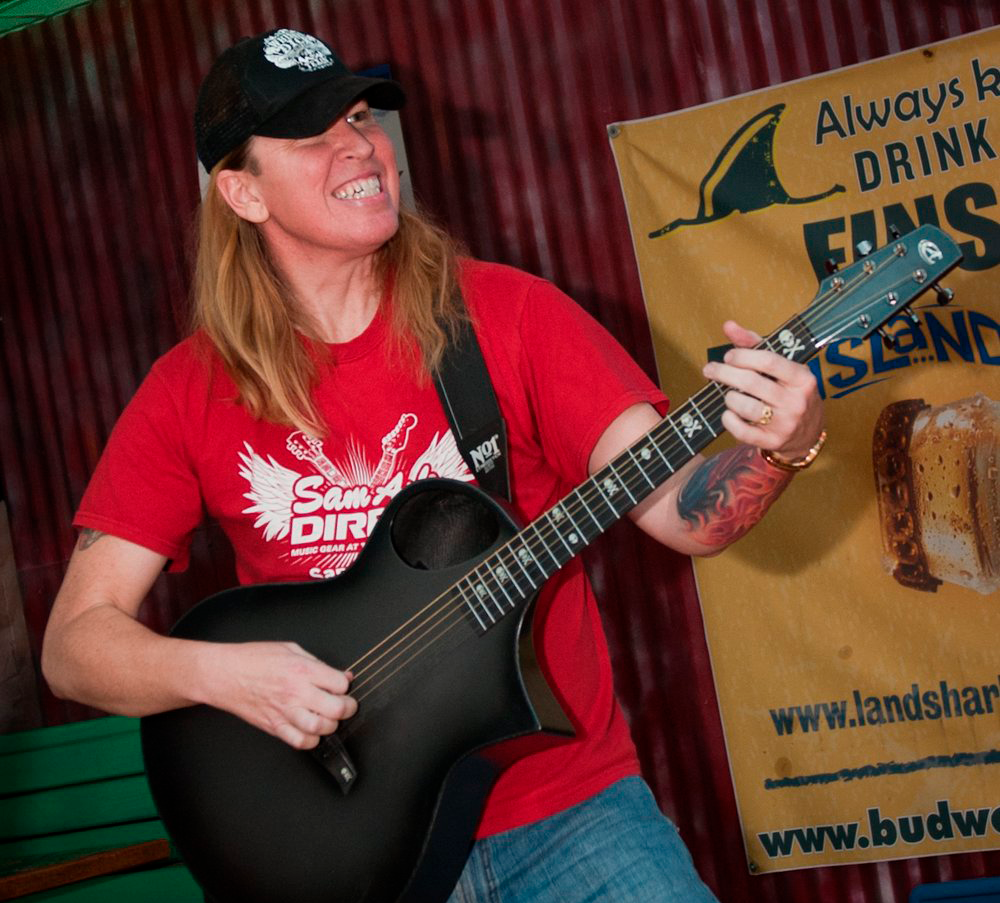 Hi everyone! I'm Thomas Moody, also known as Guitarzan.