Opting for the best sound card can be associated with so many hesitations, especially in cases when you are not sure what aspects to consider when buying these hi-end devices. I should say that neglecting the importance of sound cards is a silly strategy that can lead you to nowhere leaving you with poor sound performance and lots of annoying sounds. This is why I prepared this informative article that is based on eight reviews describing the most attractive options for various categories of customers.

After reading this piece of information, you will be able to make wise buying decisions on your own and choose the sound card that will bring you so much pleasure and happy moments. Furthermore, this article will also inform you about the main benefits of these wonderful sound devices, as well as show you the difference between external and internal sound cards. Overall, read this guide carefully and learn how to choose the best sound cards!
Sound Card Reviews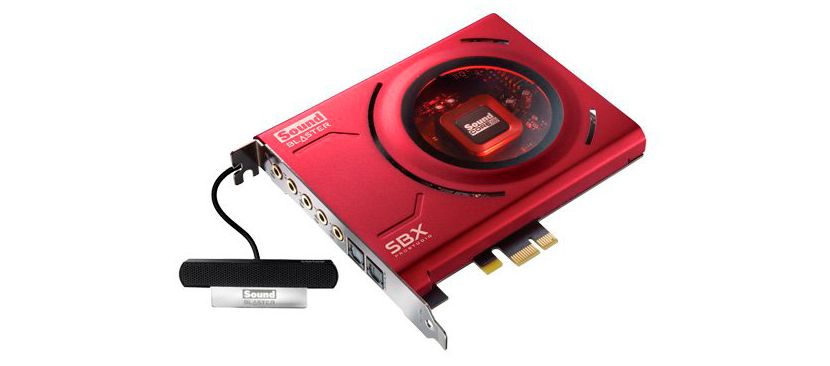 After trying this model on my PC, I can confirm that this item is fairly called the best gaming sound card in this price range. This product is a good addition to PC gaming needs as it provides an all-round and clear sound that creates the feeling of deep immersion in the virtual reality. The Creative Sound Blaster has several gold plated connection points: 3.5mm headphone jack, 3.5mm microphone jack, 3.5mm 5.1 channel connections, and TOSLINK digital audio input and outputs.
I would like to mention at once that you can buy either the model coming with an audio control module or with beamforming microphone depending on your needs and preferences. I think it is always necessary to point out that this sound card is compatible with PCs ran on Windows 7, 8, 10. Another great feature of this item is its sound core3D audio processor that serves for accelerating advanced audio as well as voice technologies. This is why 3D surround effects can be easily heard on your headsets and speakers too. Additionally, the Creative Sound Blaster Z PCIe delivers 116dB SNR and has audiophile-grade capacitors as well as gold-plated I/O connectivity to provide crystal clear sound. Stereo Direct regime is also very helpful when you need to listen to pure music.
When buying this model, you also get a quick start leaflet and a CD with a whole package of drivers, user's guide, and Creative Software Suite. Overall, I would highly recommend this model to gamers, as it claims to be the best PC sound card under $100.
Pros
The model features the SBX Pro Studio suite to deliver a 360-degree true-to-life sound stage.
It also features the CrystalVoice suite for removing ambient noises and helping you control your voice better.
The card is easy-to-install.
Cons
It has a bright red LED that cannot be switched off.
The sound cracks and pops from time to time, I had to reinstall the card.
Video Sound Blaster Z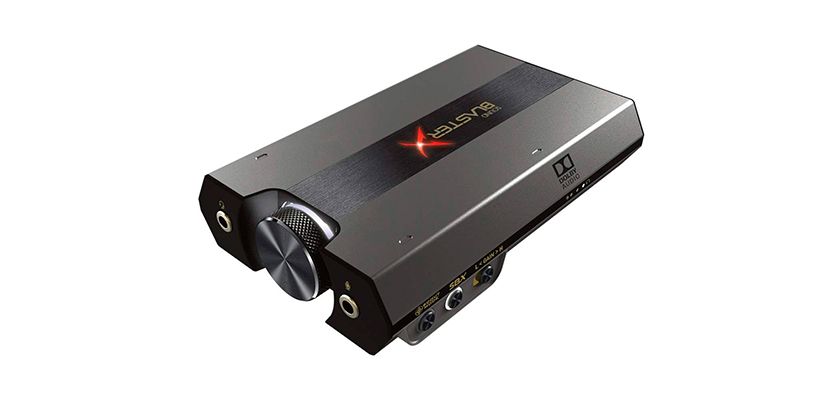 In my opinion, this model has gone so much ahead of its predecessor Creative Sound BlasterX G5 in a wide range of technical aspects. I find it quite unusual that this USB card is compatible with PS4, Nintendo Switch, Xbox One, and any kind of PC, but I definitely like this fact. I truly believe that this item is a pure masterpiece for gamers, as it boasts Dolby Digital decoding and virtual 7.1 surround sound that are both so appreciated in the gaming community. You will be also glad to find out that this sound card has a game-voice volume balancing to let you clearly communicate with your teammates. Moreover, the availability of the Scout Mode technology can also give you a considerable advantage in most games as it enhances significant in-game audio cues (e.g. weapon switching or footsteps) to help you better understand the location of your opponents and always be one step ahead of them. At the same time, I think that the biggest upside of this model is associated with the company's custom-designed Xamp discrete headphone amplifier that boosts both audio channels in an individual way. Although this sound card is pretty expensive, I think it is worth buying, especially if you are a dedicated gamer.
Pros
The model boasts a 32-bit oversampled multi-bit modulator that ensures high-fidelity and very detailed sound.
It offers various sound setting modes (for Music, Gaming, Movies, and sound-sensitive games).
The product also provides very realistic Voice Morphing options.
Cons
The sound amplification can be too loud, especially for headphones.
The item gets very hot after several hours of usage.
Video Sound BlasterX G6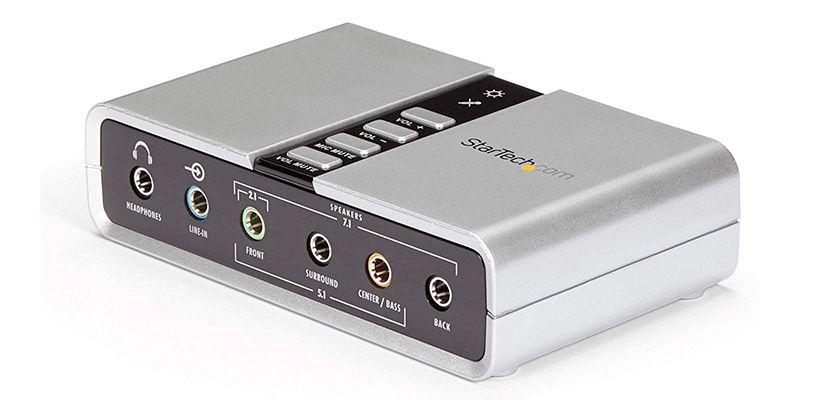 I should say that this very model performed really great during tests. This 7.1 sound card works quite well with both laptops and stationary PCs as it can give them a top-notch home theater-ready sound system via conventional 2.0 USB port. Due to its very cheap price, the StarTech 7.1 can become an affordable upgrade to your computer. This external sound card also provides easy-to-use volume control as well as two external microphone inputs for improved performance and connectivity through multi-input capability. You can be very surprised by this fact but this model can even work well with Windows XP and Vista. It should be also stated that this model provides support for 44.1 kHz and 48kHz sampling rates for analog playback and recording for S/PDIF. Moreover, you also get a 2-year warranty coverage when buying this item, so I think this model is going to be very durable and reliable. While this model serves pretty good for music and home theater purposes, it is far from being top-rated in the gaming world. Overall, its low price, durability, and easy setup are the three main reasons for opting for this sound card over thousands of other models.
Pros
Due to this sound card, you can use iPhone earbuds with the built-in microphone on your PC via USB.
It doesn't require any additional installation. Just plug it and use.
This sound card's cabinet is made of sturdy materials.
Cons
The S/PDIF optical pass-through port does not support 5.1 or 7.1 surround sound as it supports two-channel audio-only.
Windows 10 drivers should be downloaded manually from the official website.
Video StarTech.com 7.1

Despite its very high price, the ASUS Xonar Essence STX II can be still recommended to a wide audience of customers who are searching for a sound card that can give a whole package of bonuses. First of all, I would like to inform you that this item boasts industry-leading 124dB signal-to-noise ratio audio quality that puts it ahead of so many models under different brand names. Secondly, this sound card boasts ultra-low jitter having a premium TCXO clock source. The availability of a high-precision clock must be very delightful to audiophiles. Thirdly, this model also offers ultra-fidelity 7.1-channel output through its exclusive daughterboard. Moreover, this state-of-the-art sound card is friendly to a wide range of Dolby Home Theater technologies that are called to deliver exceptional entertainment when just watching your PC or laptop. To name a few, these are Dolby® Digital Live (that serves for reproducing 5.1-channel surround sound), Dolby® Virtual Speaker (the one that reshapes two-channel and 5.1-channel stereo sound into 360-degree virtual sound), Dolby® Pro Logic II (to transform high-quality sound into true-to-life 5.1-channel surround), and Dolby® Headphone (that can deliver 7.1-channel surround sound into your headphones). To summarize the information about this Asus sound card, this one is a perfect model for all purposes, from gaming and music to watching movies and speaking to teammates.
Pros
The item comes with a swap kit with three extra op-amps and a clamp tool.
It has three swappable op-amp sockets for experimenting with different tonal combinations and timbres.
This sound card offers a top-class headphone amplifier that delivers up to 600-ohm-headphone impedance.
Cons
The item does not work with old operating systems.
The model uses the processor AV100 that is a bit outdated for such an expensive model.
Video ASUS Xonar Essence STX II 7.1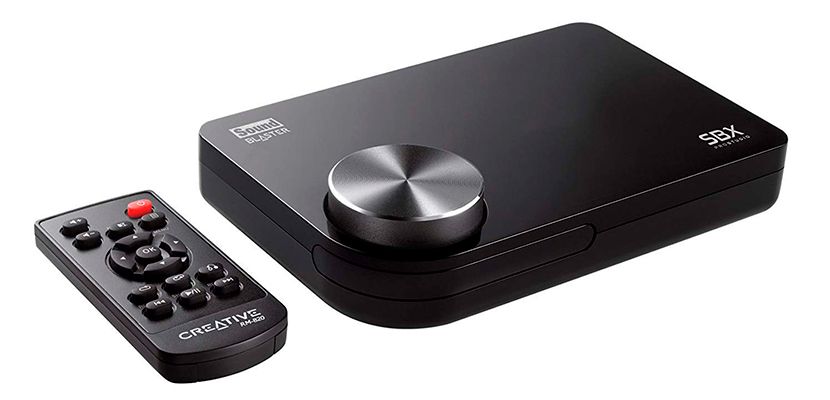 This USB sound card is an excellent choice for all audiophiles who strive to upgrade their PC or laptop sound. The Sound Blaster design is based on SBX Pro Studio technology that allows for excellent sound performance. The sound card is designed to bring 5.1 surround sound to your stereo system. The Sound Blaster X-Fi sound card for laptop is easy to install. The sound card does not need an adapter and is connected via USB. You can connect it to the decoder or home theatre. The Blaster X-Fi is controlled with the convenient knob that lets you adjust the volume level or mute the sound. There are a few jacks to hook up headphones or a microphone if needed. Keep in mind that the sound card is compatible with Windows Vista and above and requires installing Sound Blaster drivers if you want surround sound. The Creative Sound Blaster X-Fi perfectly works for any type of sound production. Whether you are into movies, games, or music, this sound card will help you get professional sounding and enjoy an amazing listening experience.
Pros
The remote control allows for the full adjustment of the sound (it can skip tracks too).
The microphone is as loud as the music you play.
Cons
There is only one 3.5mm jack.
The sound loses volume when you play console games.
Video Sound Blaster X-Fi Surround 5.1 Pro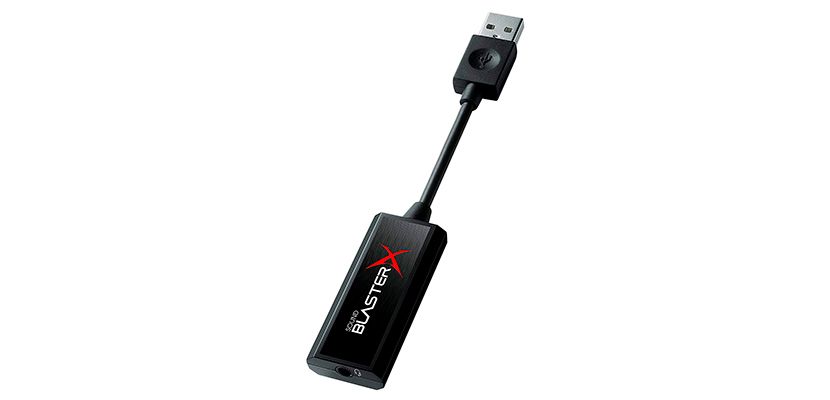 If you dream of crystal clear sound that delivers immersive and true-to-life experiences, you should think about the Creative Sound BlasterX G1. This 7.1 sound card promises impeccable and realistic audio with excellent customization options. The BlasterX G1 design features a powerful BlasterX Acoustic Engine that provides optimal sound performance and lets you hear high-resolution and well-defined audio. The engine uses smart algorithms that enable you to get full control over your listening environment. The installation is pretty simple: plug in and play whatever you like. The sound card is also versatile in terms of application as it is compatible with PC, Mac, and PlayStation 4. If you are an active gamer, the BlasterX G1 is good at boosting gaming effects. Coupled with first-class headphones, this card will improve your gaming experience considerably by adding immersive effects to your gameplay. The X-Plus mode allows the user to tune the sound parameters and achieve an ideal listening position. In particular, the listener can emphasize the things that you like in sound while dampening those that prevent you from enjoying your gameplay or hearing actors' lines in your movie. The adjustment does not interfere with software installation so you can set up a new configuration each time you turn on your PC or PlayStation.
Pros
The price is the cheapest and most budget-friendly on the list.
There is a gameplay Scout Mode that allows for a clearer perception of clues in a game.
The Sound BlasterX a four-in-one connectivity input that is suited for both a microphone and earphones.
Cons
Scout Mode is available for Windows only.
The braided cable is too short.
Video Sound BlasterX G1 7.1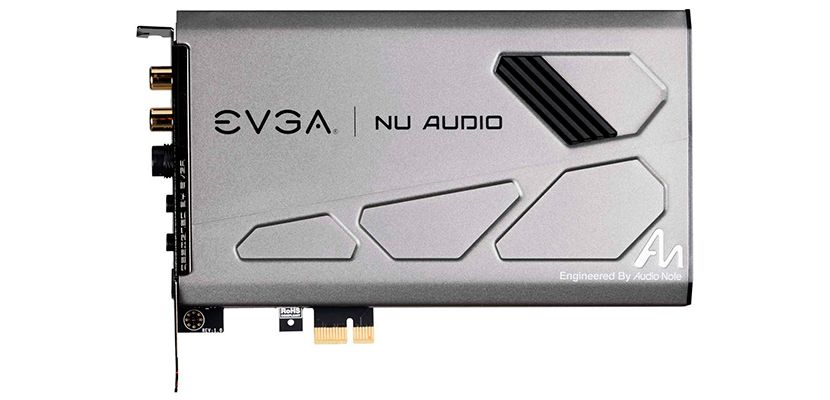 This PCIe sound card is a smart choice for all buyers that look for top-notch sound cards with flawless performance and audio options. The EVGA Nu 712-P1 design is aimed at providing smart sound with high positioning. The sound card has a powerful engine at its core that produces 3D audio. The advantage of this model is that you can control ambient noise levels suppressing them when you are involved in gameplay and need to focus on in-game stuff more. The EVGA card has a set of jacks to hook up headphones and a microphone. Besides, there is a protective copper shielding and a passive heat sink that keeps the sound card in normal condition and saves from overheating during operation. What you may also appreciate about this product is NU Audio software that lets you tune the audio settings until you find ideal sounding. For example, you can create your own sound profile with unique customized settings that will be applicable to your sound. I would recommend buying the EVGA Nu 712-P1 for all users that value the quality above the price and search for the best sound card for music on the market. In spite of being a bit pricey, this sound card will definitely live up to your expectations and upgrade your sound system to 3D perfection.
Pros
It provides so much power without the need to use an amplifier.
The sound quality is absolutely fabulous irrespective of the style of music and type of sound.
The card is most fit for gaming improvements.
Cons
The EVGA card requires its own power connection.
The TOSlink port looks fragile as it uses an unreliable pressed-in door and socket mechanism.
Video EVGA Nu Audio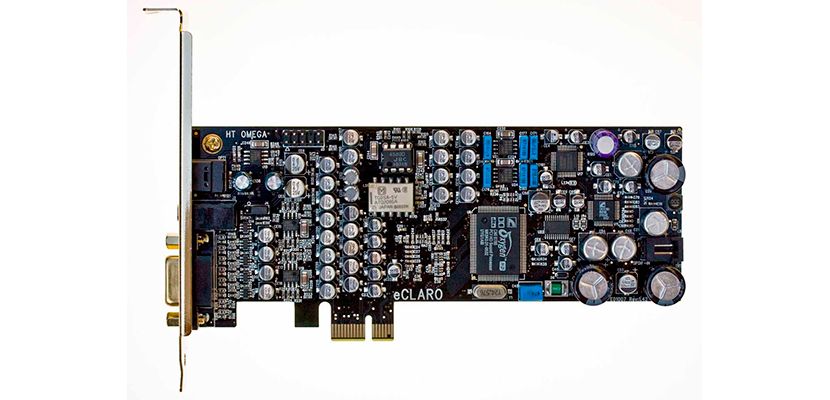 If you are willing to benefit from a 7.1 speaker system, the HT OMEGA will be of much use in that case. The eCLARO is powered with CMI8788/PCI Oxygen HD Audio Processor that delivers an amazingly deep sound that let you enjoy both music and movies. The eCLARO supports the latest sound systems, including Dolby Pro Logic IIx, DTS NEO:PC, etc. It also has both digital and analog outputs and makes it convenient for every user to use this sound card with their devices. Another considerable advantage of this model is that you can adjust the bass response using extended bass management options that available in the eCLARO 7.1. The installation is smooth and simple. It takes about 5 minutes to install drivers that can be downloaded on the website. The sound card allows connecting headphones or a microphone if necessary. Moreover, you can automatically mute the analog inputs once you hook up the headphones to the Front Panel Audio. The Front Panel Audio is equipped a with high fidelity driver that makes the sound true-to-life and immersive when you use the headphones.
Pros
The sound quality is really beautiful and free from background noise.
Drivers are stable work without hiss or pops.
Speakers don't produce noise while being silent.
Cons
The product is the most expensive on the list.
This card requires constant switching between music, gaming, and movie settings.
Video HT OMEGA eCLARO
Buyer's Guide
Sound cards benefits
There are several significant benefits that the best sound cards usually provide to their owners. Here are some of them:
First of all, they provide the immersive sound as they enhance the output from your device to deliver top-quality audio transmission. This works equally good for the gaming experience, watching movies, or listening to all-embracing music.
Secondly, sound cards ensure contained workload, as a separate card allows to keep away some strain from the CPU while maximizing the overall performance of your laptop or PC, which is especially vital for gamers.
Thirdly, all good sound cards provide separate I/O ports for all your devices and their cables. Consequently, it gives you an opportunity to add more peripherals and boost your audio system further.
Moreover, they also serve as a basis for the enhanced audio chain, as their setup usually runs easily. In fact, a sound card serves as a perfect enhancement for the speaker setup too.
Most of them are quite affordable, which means that you can significantly improve your sound system avoiding large expenses for your budget.
Internal or external sound card
When speaking about the differences between external and internal sound cards, it is necessary to point out three main aspects that make them dissimilar in their performance. Here are these three differences:
Noise floor. External sound cards in most cases tend to have a lower noise floor against their internal counterparts. This can be explained by the fact that any electrical devices have to deal with interference. Depending on the way you are going to use your device, you may either hear different hissing or crackling sounds due to impedance or have no problems with impedance at all. Casual users can just make the sound higher to avoid these noises. However, professional musicians should better opt for external sound cards to enjoy crystal clear sound.
Connectivity. Moreover, external devices offer more connectivity options than compared to internal sound cards. Internal devices do not provide a vast space for connecting multiple devices as they are usually located on the back of your PC. External cards, in their turn, can be easily placed on your computer table, so plugging in a wide range of devices and cables is not a big problem for users.
Latency. If you use an external sound card, you will definitely notice the issues of latency in any form. Even the best sound card with external connection will have some latency. This negative phenomenon derives from the fact that external devices cannot be considered a part of your PC, so they will always be followed with some sort of latency. Being a part of your PC or laptop, most internal sound cards are known for having no latency as they work in unison with other components. If you want to reduce latency to the minimum level while using an external sound card, you should better give your preference to USB devices and connect them via USB 2.0 or USB 3.0 port.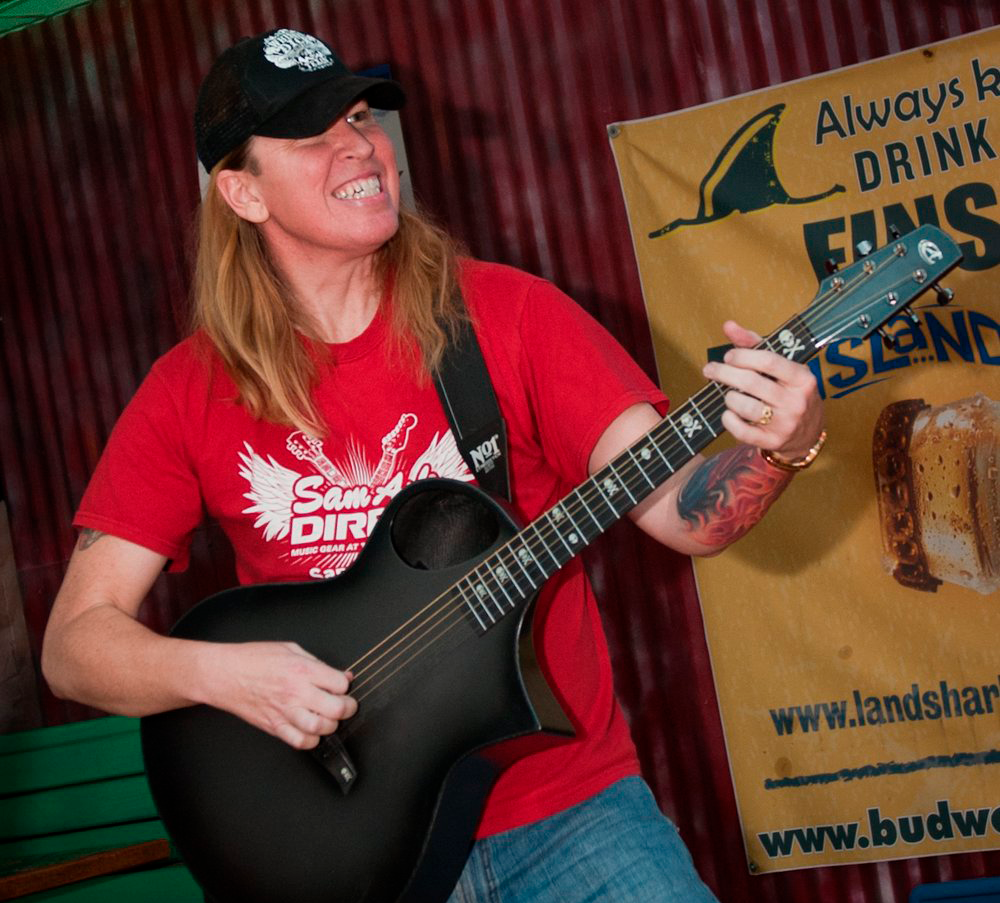 Hi everyone! I'm Thomas Moody, also known as Guitarzan.