If you are a beginner musician searching for a new clarinet, there are lots of things to consider. To make the right choice, you should dig through dozen reviews to realize which model can be your best student clarinet. I am going to simplify your problem by offering you seven most advantageous clarinets reviews that represent different brands and boast unique benefits.

Before selecting the best student clarinet, you should define your expectations and priorities. Some models below are far too expensive but offer high-class performance, while others are less pricey but deliver an average solid sound that is enough for students learning how to play clarinet.
Whether you are a student or professional musician, on a small or big budget, this list has something to offer.
Let's get down to business!
Student Clarinet Reviews


This beginner clarinet is a good option for students starting to master the art of music. The body is made of ebonite and features 17 nickel-plated keys that provide solid and loud sound. You will be able to produce a wide range of tones and perform different kinds of music.
The unit is easy to use and comes with a firm black carrying case that allows for simple transportation. Other accessories involve essential items that you are going to need to feel at ease while playing. These are a set of professional Rico reeds, ligature, cap, and mouthpiece. In addition, you will find some cork grease to take care of the musical instrument and a neck strap to make you feel comfortable with this clarinet.
The Jean Paul USA CL-300 is manufactured in three sizes so that you could select the most convenient one. I'd recommend choosing this model for buyers who plan to use the clarinet for their own enjoyment and not for professional use.
Pros
The clarinet is sold at a low price.
It comes with two barrels to choose from.
Cons
The product is mostly made of plastic, except for the finish part.


If you are a student who longs for owning Yamaha musical instruments, this clarinet is based on a real Yamaha model and designed for players studying at colleges.
The Yamaha clarinet has a smart design that provides the owner with the utmost comfort during playing. The body is made of matte solid ABS resin body that imitates wood. It also boasts silver keys and a 65mm barrel that contributes to the purer sound. The instrument produces a clear and rich sound that is akin to that delivered by traditional wooden clarinets. The Yamaha YCL-255 has a thumb-rest that can be adjusted to fit various hand sizes. This lets the owner develop the right playing technique, while a strap ring allows reaching maximum comfort.
The major advantage of this model is a number of durable pads that make the clarinet resistant to changes in temperatures. The unit comes with a hard case that helps the owner easily carry the clarinet if necessary.
The Yamaha YCL-255 is a perfect choice for buyers who are looking for affordable clarinet replicas of professional models.
Pros
The clarinet is lightweight.
The response is equally good in both low and high tones.
Cons
The price is extremely high.


If you are in search for low-cost options, this clarinet from Hisonic Signature Series offers all the basic advantages that you need to succeed in music.
The Bb clarinet has an ebonite body with nickel-plated keys. It produces warm and loud sound and is perfectly suited to individuals involved with playing in an orchestra, jazz, or marching bands. The instrument features high-quality Prestini pads that make it less sensitive to temperature and so enhance the quality of performance.
This model is definitely one of the most advantageous clarinets you can find on the market. If you are a student searching for a budget-friendly and decent clarinet, the Hisonic Signature Series 2610 is worth giving it a shot. The buyer will also receive cork grease and clarinet swab that are needed to maintain the clarinet in good condition.
The product comes with a protective case that you are going to need to carry the clarinet with you. A mouthpiece and a reed protector are two spare parts that are included in the set in case you accidentally damage your clarinet.
Pros
The clarinet is manufactured in the USA.
The price is relatively attractive for buyers on a limited budget.
Cons
The tone holes are far too large.


Jupiter offers a rich variety of options among which you can select your best beginner clarinet. In particular, the Jupiter JCL-700N is a brilliant choice for those who seek superiority and impeccable design.
The clarinet is made of durable ABS resin that contributes to better resistance to damage and so prolongs the JCL-700N's lifespan. The body has nickel-plated silver keys and a unique riser specially designed for this model. The thumb-rest and the neck strap are both adjustable to the owner's hand size. All these characteristics make the clarinet easy to use and more attractive to buyers who expect to feel maximum comfort while playing. The quality of the tone is smooth and pleasant to the ears.
Other positive points are resistance to humidity and changes in temperatures. You will be able to easily play the Jupiter JCL-700N outdoors without fear of spoiling the instrument by the end of the performance.
My advice is to go for this clarinet if you are not a professional player but still strive to find a high-quality clarinet that provides decent performance and promises a long operating life.
Pros
The unit comes with a case.
Cons
The price is way too high for students.


This Mendini clarinet is another worthy model for student musicians. It has a vivid look and good design that allow for good performance.
The body is made of solid ABS resin that ensures the clarinet's durability and has inline trill nickel-plated inline trill keys and adjustable thumb rest.
The Mendini ABS B Flat Clarinet is probably the most convenient in use out of all the clarinet options on this list. You can disassemble the instrument for easier transportation in a lightweight hard case that is included in the set. The product comes in 8 different vivid colors, including the natural one. The buyer also receives a number of essential accessories that include a mouthpiece with ligature and cap, cork grease, and a set of 2.5-inch reeds.
What makes this product stand out is its manual that is both a user's guide and reference manual. Here, you can find detailed instructions on how to play this musical instrument as well as the fundamentals of reading music followed by illustrations for better understanding.
Since the Mendini clarinet belongs to cheap clarinets, you won't find it a burden to your budget. Base on that, anyone looking for a high-end and low-priced student clarinet can go for this product for sure.
Pros
The price is the lowest on the list.
Cons
The reeds in the kit are of poor quality.


This Selmer clarinet is a one-of-a-kind thing that produces impeccable resonant tone quality. The Bb clarinet has an advanced design that results in the owner's improved performance.
The body is made of premium Grenadilla wood and has silver-plated keys, undercut tone holes, and adjustable thumb rest. The instrument is remarkable for conical tapers and cylindrical sections that both contribute to enhanced sound quality. Double skin pads protect the clarinet from exposure to temperature and enhance its resistance. Though the CL211 is marked as a clarinet for beginners, its properties are strong enough for professional use. The clarinet is simple to play and easy on the fingers.
The Selmer CL211 comes with cork grease, a mouthpiece with cap, and ligature.
My point is that this clarinet has great potential, and you should buy it if you value the quality of your instrument and are ready to give quite a sum for the sake of brilliant playing.
Pros
All the accessories are high-quality.
The clarinet uses the Boehm (French) key system.
Cons
The price is extremely high. Few students can afford it.

Yamaha is one of the most recognized and good clarinet brands. This YCL-650 model is another proof. It is suited to both beginners and professional players performing on stage.
The body is made of high-quality Granadilla wood that ensures enhanced durability. The YCL-650 has a natural and stylish look. It has silver keys and a cylindrical bore that makes the owner feel comfortable while playing. You will hear a pleasant and resonant tone that sounds equally impressive both indoors and outdoors. The response has a precise intonation which is consistent with other instruments.
The Yamaha YCL-650 essential accessories include a mouthpiece and a hard case designed to carry the clarinet during transportation.
This clarinet is not much different from professional Yamaha models. It is a good combination of simple design and beautiful look that ensure perfect performance. Based on that, the YCL-650 could become the best clarinet for beginners.
I recommend this clarinet mainly to experienced clarinets who know the art of playing very well and most likely will use it in their performances. Since the price point is way above average, you should think properly before making an order.
Pros
The clarinet is easy to play.
Cons
The price is terribly elevated (the highest on the list).
Buyer's Guide
How to Play the Clarinet Successfully?
Some clarinets are followed by a user's manual, while others come alone. If you are a complete newbie, here is a short guide into clarinet playing.
Take the clarinet with both hands, the left hand being closer to the top covering the holes on the upper joint. Keep in mind that your fingers should firmly press over the holes but still ready to move freely from note to note. Use your first three fingers to cover the front three holes, while the pad of your thumb covers the back hole.
Position your right hand over the lower joint. Your right fingers are expected to deal with the holes. Your right thumb should be placed underneath the silver hook in order to make it easier for you to hold the clarinet. Similar to the positioning of your left fingers, the pads of your first three fingers on the right hand should cover the holes. The only difference is that your pinkie finger must be involved with pressing the other keys below the holes.
You should also make sure that you are holding the clarinet correctly with its inner part towards your body and almost perpendicular to the floor. It is important to keep the arms at a little less than 90 degrees to keep it in your hands firmly.
After you have learned how to hold the clarinet correctly, it is high time to develop a correct clarinet posture. You need to be focused on keeping your back straight. This is necessary to let your lungs work well by creating an adequate airflow throughout your respiratory system. However, there is nothing bad about keeping your chin tilted up a bit in order to see what is going around.
You should also keep your legs shoulder-width apart and avoid crossing your legs or feet. Twisting your hips can affect your breathing and result in dissonant sounds. By the way, developing your breathing is another excellent way to boost your clarinet skills. The main rule is to breathe as deeply as you can to get a good tone on a clarinet. If you prefer mouth breathing over nose breathing, you should try to take discreet breaths. Make sure that your shoulders are kept while you are playing the clarinet.
It can be also great to take some breathing exercises to secure considerable progress in clarinet. Even the simplest exercises can help you improve your level of play and make your clarinet performances sound more pleasant.
Obviously, practicing clarinet on a regular basis is the best way to become an advanced clarinet player. The more you play, the greater your clarinet skills you develop. Ideally, you should be playing the clarinet for at least 30 minutes every day to achieve great results. Playing the clarinet once a week will keep you far from being among confident clarinet players. Overall, everything depends on your motivation and dedication.
What are the Best Clarinet Brands?
If you trust brands only and believe high-quality products are always backed by a spotless reputation, here are a number of globally recognized brands that are seen as the most powerful and successful in manufacturing high-class clarinets.
Yamaha
It is the undisputed leader in the field of music instrument manufacturing. They normally elaborate on their student clarinet design based on actual professional models. Although the price point usually exceeds the average point, you will never regret paying money for their musical instrument. All Yamaha's clarinets are famous for extreme durability and more resonant sound.
Buffet
This manufacturer is well known for marketing professional high-class clarinets at high prices. Their production lines are not very diversified, but their quality is always delightful. If you are an advanced player, a Buffet clarinet will perfectly live up to your expectations!
Vento
Vento is less popular than the previous two, but it still provides good clarinets for both beginners and mature musicians. Though you can find Vento's product only in some specific places, their prices are more budget-friendly and affordable even to students.
Mendini
This company is largely focused on delivering low-cost and workable options that meet an average student's expectations. The sound is unlikely to be superior to Yamaha's or Buffet's one, but it is good enough to practice your skills and attend music classes.
Nuvo
This manufacturing company is the least famous because it targets only children aged 4 to 12 playing music. They offer small-sized clarinets that feature increased durability and damage resistance and come in a rich variety of colors to meet any child's liking.
What are Common Types of Clarinets?
A clarinet is an ideal musical instrument for playing classical music or jazz. It has greatly changed since its invention, but there are still many types of it though not all of them are in active use.
The most popular ones are Bb or Eb clarinets, but I'm going to explain all the basic groups.
A Clarinet
This type of clarinet is normally popular with professional and skillful players. It delivers a resonant and rich sound that is necessary for those musicians involved with playing in orchestras or chamber music. Normally, A clarinet is used alongside Bb soprano clarinet that is widely used in music.
A clarinet is not easy to play and hence never recommended for individuals who only start to learn how to play music.
Bb Clarinet
Bb clarinet is simple and easy to play type. This is why beginner students use Bb clarinets when developing their skills. It has a soprano tone that is associated with classic music above all.
Bass Clarinet
Bass clarinet is the biggest and heaviest one of all types. It belongs to Bb group and has a lower tone than others.
Eb Clarinet
Unlike Bb clarinet, Eb clarinet is less actively used. It belongs to the soprano group and has the highest tone. It has a great value in orchestras and bands.
Finally, if you have a kid who dreams of playing the clarinet, there is a plastic replica of the real one. It provides the basic idea of how to play this musical instrument. Although the quality of sound may be not very authentic, your kid will have a chance to feel what it is to be a clarinet musician. Besides, you won't be worried about its damage in case your child accidentally breaks it because the plastic used for children's clarinets boasts increased durability and wear resistance.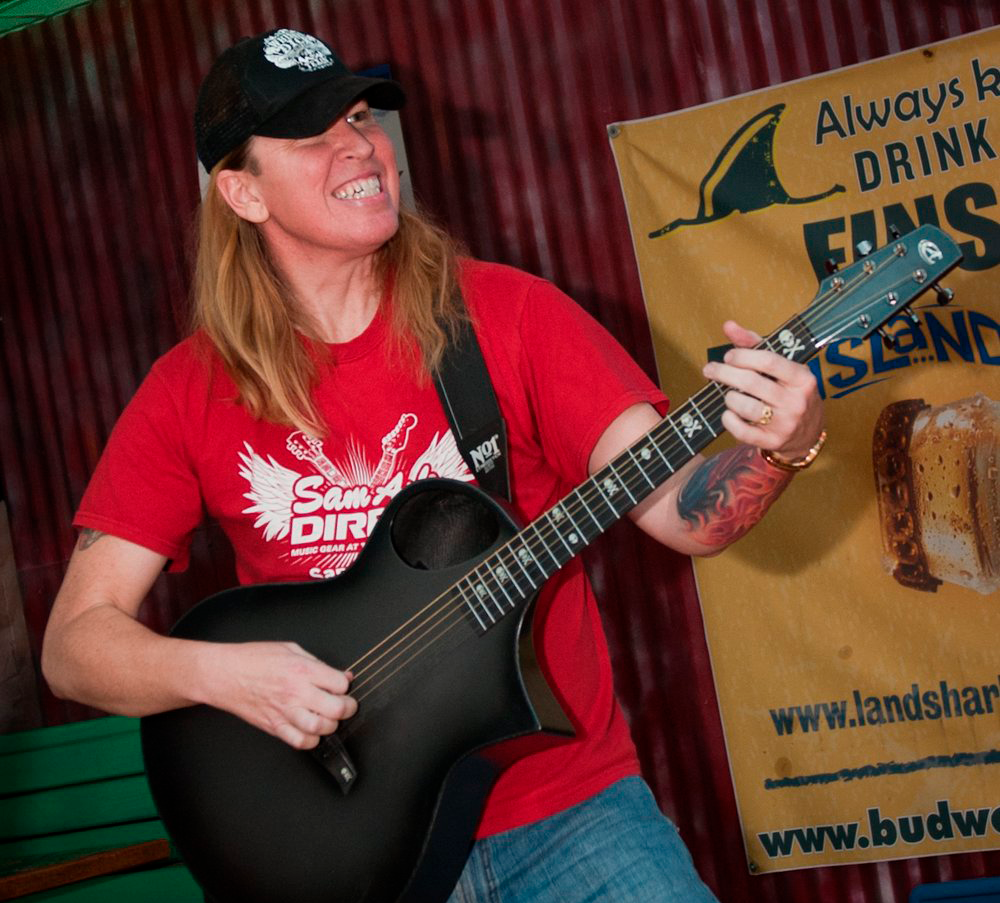 Hi everyone! I'm Thomas Moody, also known as Guitarzan.