An overdrive pedal is a device that alters the sound of amplified electric musical instruments, usually by increasing their gain. The best overdrive pedal is capable of adding distortion to the sound and warm, pleasant tones. That is why it's considered to be one of the first effect pedals for any pedalboard by most experienced guitarists.

The overdrive is a kind of distortion effect. More precisely, it's considered as a subtler form of the distortion effect. The overdrive pedals are most commonly used with the electric guitars but may also be used with other electric instruments such as bass guitar, electric piano, etc.
One of the greatest things about this pedal is that it's not complex. It frequently serves as the first stompbox that the beginners look for when they want to change their sound. Additionally, the overdrive is quite a versatile type of effect pedal. It's able to produce everything from sweet blues crunching to solo parties in heavier genres. That is why the veteran guitarists also recognize the value of having a good overdrive pedal in their signal chain.
The overdrive pedals were used by The Rolling Stones "(I Can't Get No) Satisfaction", Jimi Hendrix "Purple Haze", Black Sabbath "Into The Void", etc. Nowadays, it can be heard in the songs of Muse "Hysteria" and The Kills "Future Starts Slow".
If you're a new musician, deciding on the best overdrive pedal may be difficult. There are hundreds of models from dozens of manufacturers with different price ranges, and all of them have their pros and cons. As a result, if you're wondering which overdrive pedal is best for you, this article will provide you with all the information you need to make an well-considered decision.
Overdrive Pedal Reviews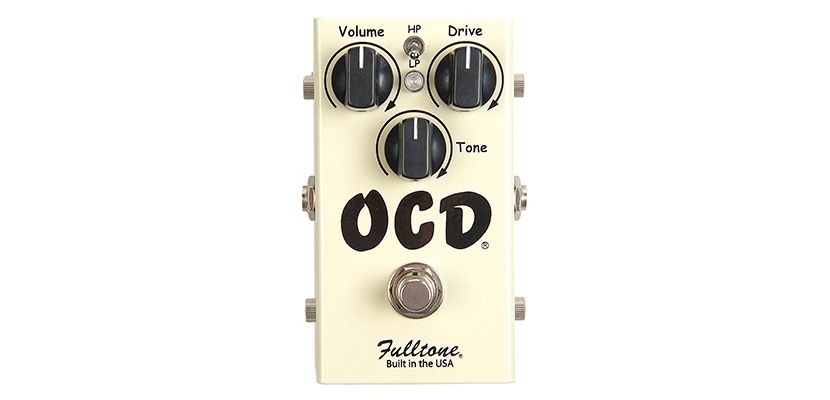 This guitar overdrive pedal from Fulltone can give you both soft blues tones and loud heavy metal tones thanks to two modes: Low Peak and High Peak. These modes give the possibility to reach both aggressive and warm tones. The Low Peak mode gives your sound a certain boost, providing a more aggressive overdrive. The usage of the High Peak mode gives more volume to the sound and increases the level of mid and high frequencies.
Because it has comparable sensitivity and responsiveness to the user's playing style, this pedal may provide the sound of a real tube amplifier. Plus, its sound remains consistent regardless of its location in the signal-chain thanks to the output buffer which is easy to adjust.
This OCD overdrive is a half-pound model with dimensions of 5.1 x 3.3 x 2.4 inches. It's supplied with three standard knobs (Volume, Drive, and Tone) that are very sensitive to touch. Additionally, it also has a switch for True Bypass and Enhanced Bypass.
Pros
The pedal provides the no-fuss operation.
Knobs with a lot of flexibility.
This pedal goes with some extra cables.
Cons
The battery replacement is not easy as you have to remove screws for this.
There is some excessive amount of low frequencies when you turn on the gain.
Video Fulltone OCD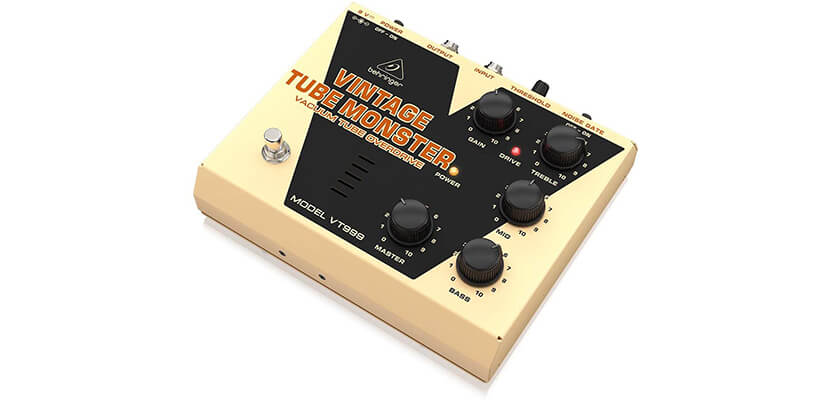 This tube overdrive pedal has a dense sound of a tube amplifier and allows getting a great variety of various effects — from warm overdrive to heavy distortion. Because it's primarily intended for live performances, this pedal doesn't pretend to be small with dimensions of 8.7 x 6.8 x 2.4 inches. With more than 3 pounds of weight, it's also quite heavy.
This Behringer VT999 is capable of giving out a warm sound thanks to the 12AX7B vacuum tube. Moreover, the pedal has a built-in noise suppressor that can control and adjust the suppression degree, providing complete silence during gaps between playing.
When the effect is on, the pedal's LED indicator becomes blue. The True Hardwire Bypass system ensures clean signal integration. Being supplied with the Threshold, Gain, Master, Treble, Mid, and Bass controls, the pedal allows shaping the sound in a desired manner. The 3-band EQ contributes to timbre transparency and makes the pedal compatible with almost any equipment and music genre. The pedal can be powered by a standard 9V battery.
Pros
The single tube does its job well in delivering a warm and full tone.
The housing of the pedal is made of solid steel and has a classic vintage look.
Cons
The pedal requires a pre-heat period before each use.
The volume dropped once without touching the knob.
Video Behringer Vintage Tube Monster VT999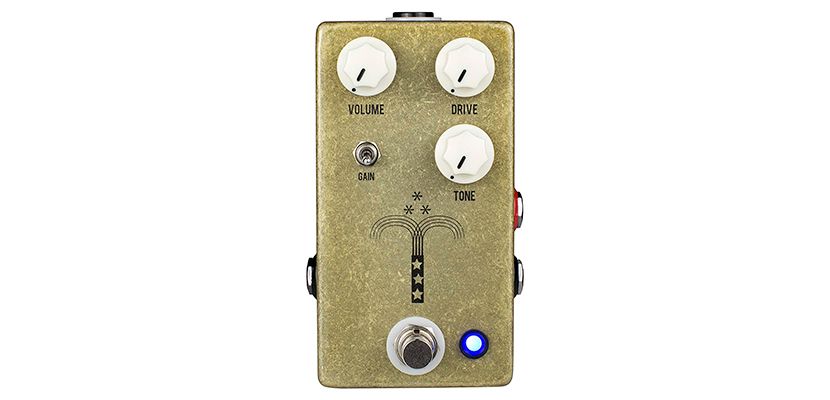 The JHS Morning Glory is designed to provide a transparent overdrive that doesn't have any excess mid frequencies. To make the sound realistic, the frequency response of this overdrive is as flat as feasible.
The pedal has standard Volume, Drive, and Tone knobs. Additionally, it's supplied with two-position Gain toggle-switch which allows playing both completely clean and rock 'n' roll tones. It also activates the Boost mode. In this mode, the pedal sounds more powerful, the signal has more low frequencies, and the level of overdrive is much higher.
Since this bass overdrive pedal may seem overly bright for some combinations, there is a Hi-Cut switch on its side panel which eliminates the excess high frequencies.
Despite being quite small (6 x 3 x 3 inches), except for standard input and output, the pedal has the Red Remote jack. It allows pairing the device with JHS Red Remote for switching between the higher gain mode and standard mode on the fly. Standard power sources having a 9V output voltage may be used to power it.
Pros
This pedal has true bypass.
LED changes from blue to red, indicating the boost circuit status.
Cons
It can't be powered via batteries.
The pedal can't produce huge volume.
Video JHS Morning Glory V4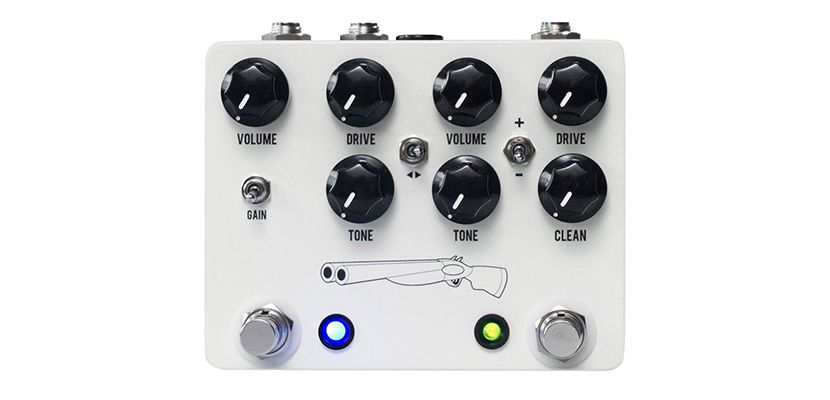 The JHS Double Barrel is a versatile dual overdrive pedal that provides overdrive at medium and light gain levels.
The right side of the pedal (the Moonshine V2) provides strong and saturated sounding. It has controls for Volume, Drive, Tone, and Clean Blend which allows mixing clean signal and overdrive signal. There's also a Proof toggle switch, which lets you choose between two overdrives: dynamic Open or rich and dense Saturated.
The left side of the pedal (Morning Glory) gives a transparent sound that can serve as a clean booster or an aggressive overdrive. It's supplied with Volume, Drive, Tone controls and Gain toggle with Red Remote capability. By plugging the JHS Red Remote pedal into the Remote Gain jack, you can drastically change the level of the overdrive on the left side. You will get 5 overdrive options to choose from.
Both sides of the pedal work nicely together, so you may use them both at the same time.
The pedal has 6.3mm mono in/out jacks. With 6 x 4 x 4 inches of size dimensions, the pedal is quite compact.
Pros
The order of the pedal in the signal chain is switchable.
The pedal is supplied with a true bypass.
Despite being a 2-in-1 pedal, it consumes less than 100mA.
Cons
Beware of the static that may appear when distortion or volume knobs are turned up.
The switch may jam from time to time.
Video JHS Double Barrel V4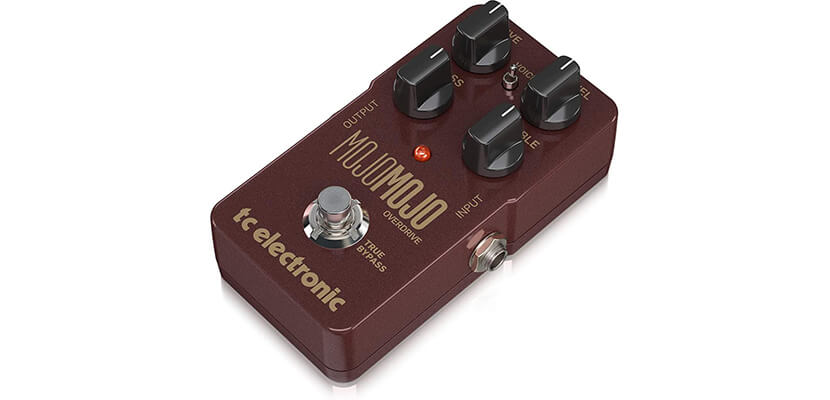 This TC Electronics pedal goes in a metal housing and sounds like an amplifier. Having an increased circuit board voltage, it gives more headroom and dynamics to provide more lively overdrive sound.
On the pedal, you will see Drive, Level, Bass, and Treble knobs to get full control over the overdrive. At low frequencies, the Drive control also acts as a boost. With these Bass and Treble controls, you can reach both thick tone and bell ringing at highs. Both controls are active which means that the 12 hours position is neutral, so you can add highs and lows and customize them in relation to the original signal.
Despite having four knobs and true bypass, the pedal is impressively compact: 5 x 3 x 4 inches. It can be powered by a 9V power supply or a battery.
Pros
The pedal provides easy access to the battery compartment.
You may select between a natural overdrive sound and a juicy tone with the Voice Select button.
This model has flexible input and output which accept both instruments and line level signals/FX Loop.
Cons
If the EQ is not set correctly, the pedal may sound slightly compressed.
This model is not designed to provide heavy saturation.
Video TC Electronic MojoMojo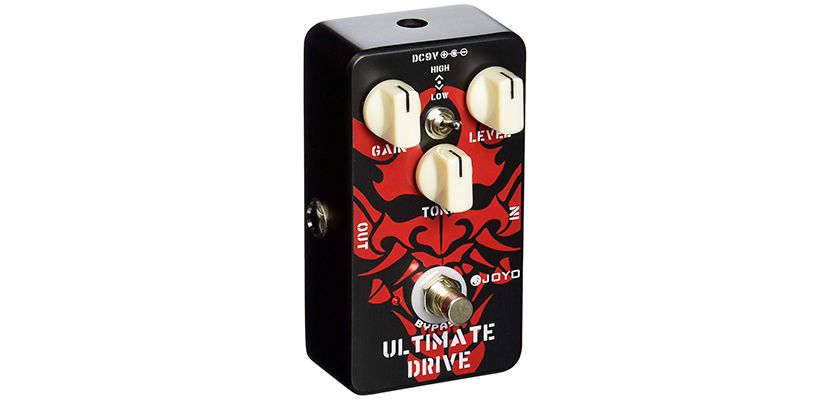 The Joyo ultimate drive is suitable for reproducing classic rock tones. It provides transparent overdrive and low gain which is suitable for light overdrive on a clean amplifier.
This model has three control knobs (Gain, Level, and Tone) and a High/Low tone switch which allows for flexibility. The true bypass switch is also available, letting your signal pass through a non-electronic bypass line when the effect is turned off. It also gives your amplifier direct, unaltered signal from your instrument.
The pedal features classic mini-size design (21 x 6 x 51 inches). It comes with a 9-volt battery, so it's ready to use straight away.
Pros
The whole pedal is made of a durable aluminum alloy.
It can recreate the tone of a tube amplifier at the high volume level.
The pedal has convenient LED on/off indicator light.
Cons
Occasionally, bypass does not allow the signal to flow.
Some sounds are a little bit unfocused.
Video Joyo JF-02 Ultimate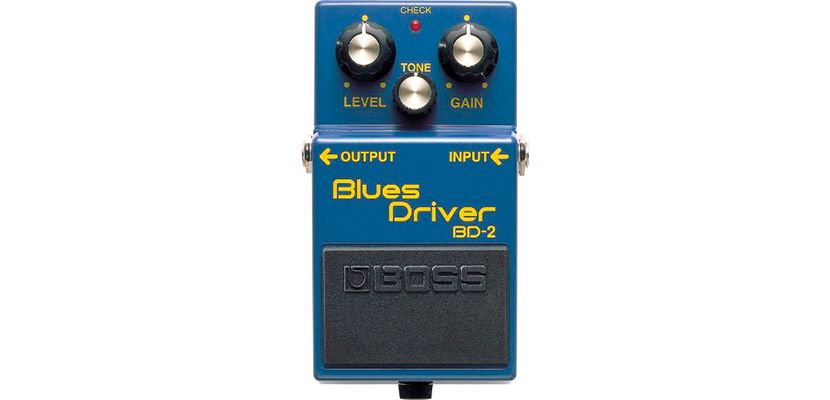 This Boss overdrive pedal provides this classic, creamy, and crunchy sound which is perfectly suitable for blues guitar. Warm overdrive and emotional distortion are achieved, evoking the sound of vintage tube amplifiers.
The pedal features Gain, Tone, and Level controls which provide a great variety of low to moderate distortion sounds. It has standard input and output jacks, as well as an input for the power supply. In addition, this Boss BD-2 can be powered via a separate 9V battery.
The pedal is made of high-quality materials and can withstand some harsh handling during live performances.
Pros
The Boss BD-2 blues driver responds to nuance and volume changes.
With 3.9 x 3.9 x 1.6 inches of size, this pedal is a space-saving one.
The pedal can deliver a good amount of grit when the Gain knob is turned up.
Cons
The BD-2's distortion may seem a little sharp for someone.
The Tone knob can give some nasally tone.
Video Boss BD-2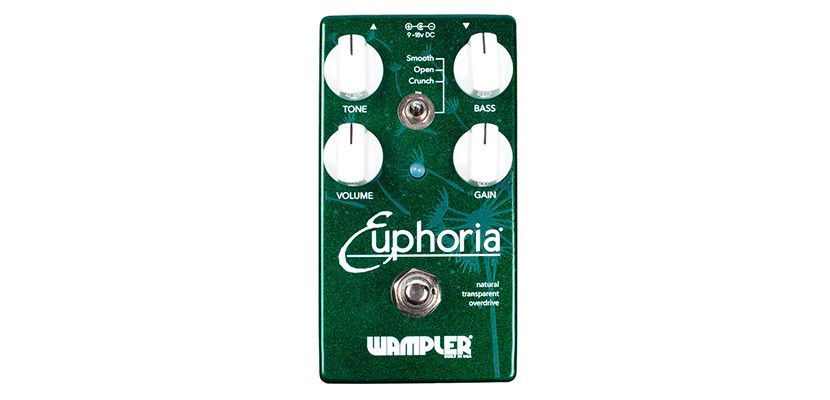 This transparent overdrive pedal from Wampler can go from extremely thick tones to warm and natural overdrive. Three gain stages offer three distinct styles of overdrive that will easily add some grit to your sound without changing the tonality.
The pedal's measurements are 7 x 4 x 7 inches.
In this Wampler Euphoria review, I can assert that this pedal is among the most versatile ones thanks to its four sound-shaping control knobs. The Tone knob has a large range of adjustments, from smooth high frequencies to clear, precise notes. The Bass knob, except for adjusting the low frequencies, also adds more gain to the sounding. The Volume adjusts the output level of the pedal and the Gain control adjusts the desired level of crunch.
Pros
The pedal has a completely true bypass with soft relay switching.
The pre-gain bass control gives more sustain to your tone.
Cons
The pedal seems to generate some hum occasionally.
It may sound muddy with some guitars.
Video Wampler Euphoria V2
Buyer's Guide
How to Choose the Overdrive Pedal?
The best overdrive pedals are intended to turn dry, clean tone into a warm, distorted timbre that is able to keep your listeners interested and excited. However, how do you get one?
You may want to hear the way your desired pedal sounds by watching videos, but that's not what will give you the most accurate information. The better way to feel safe about your choice is to be aware of the unit's specs, built quality, etc. As a result, reading an overdrive review devoted to the model you're interested in is a more trustworthy method to get yourself informed.
To make the right choice, you should make sure that the pedal will work with your amplifier. For this, you should consider how much distortion the pedal is capable of producing and what kind of distortion it provides. Some musicians search for some heavy distortion, the others consider the natural one as more pleasant. It's also important to know how transparent the overdrive is. The flexibility of the pedal is important as well. The more knobs and switches it has, the more flexible the pedal is.
What Kind of Music Do You Play?
We are all used to hear the growling, harsh distortion in such genres as heavy metal and hard rock. Players of such music genres normally use the overdrive pedal to boost their amplifiers, adding some extra layers of gain to the sound. However, there is also a pleasant and soft overdrive distortion used to add color and warmth to the tone.
Mostly, they can be used with quite a wide range of music genres. They are widely used by musicians who play blues, country, rock 'n roll, classic rock, etc. However, there are hundreds of different models and not all of them are equal. Some models are created specifically for rock, some are better for blues, the others work for metal. Although all of them are great helpers when it comes to singing and songwriting. Some musicians even tend to use several overdrive pedals on their pedalboards simultaneously to have different tones for different songs.
What's Your Role in the Band?
If you want to elevate your tone to the next level, you need understand how an overdrive pedal will function with your instrument before purchasing one. This way, as a rhythm guitarist, you will need a pedal that is good at its low and medium gain settings. In this case, you may use the volume knob on your rhythm guitar to make the sound dirtier or cleaner. This way, you will be able to reach tones in the range from the 50s blues to contemporary country and sound very balanced and organic.
If you are a lead guitarist, you may want to emphasize higher frequencies. So, you will need a specific model for a gain boost. Most likely you will need all the gain that the pedal is able to provide. You can also hit the front end of your amplifier harder and control the speaker's volume via your amplifier. This method was frequently used by Stevie Ray Vaughan, for example.
It also should be mentioned that some models of overdrive pedals have a specific frequency response. But you don't need such model just because you're a leading guitarist. After all, you may alter the frequency response the way you want on any pedal and even place an EQ after it if needed.
If you are a universal player, the overdrive pedal that features at least three control knobs is able to give you quite a wide choice for sound customization.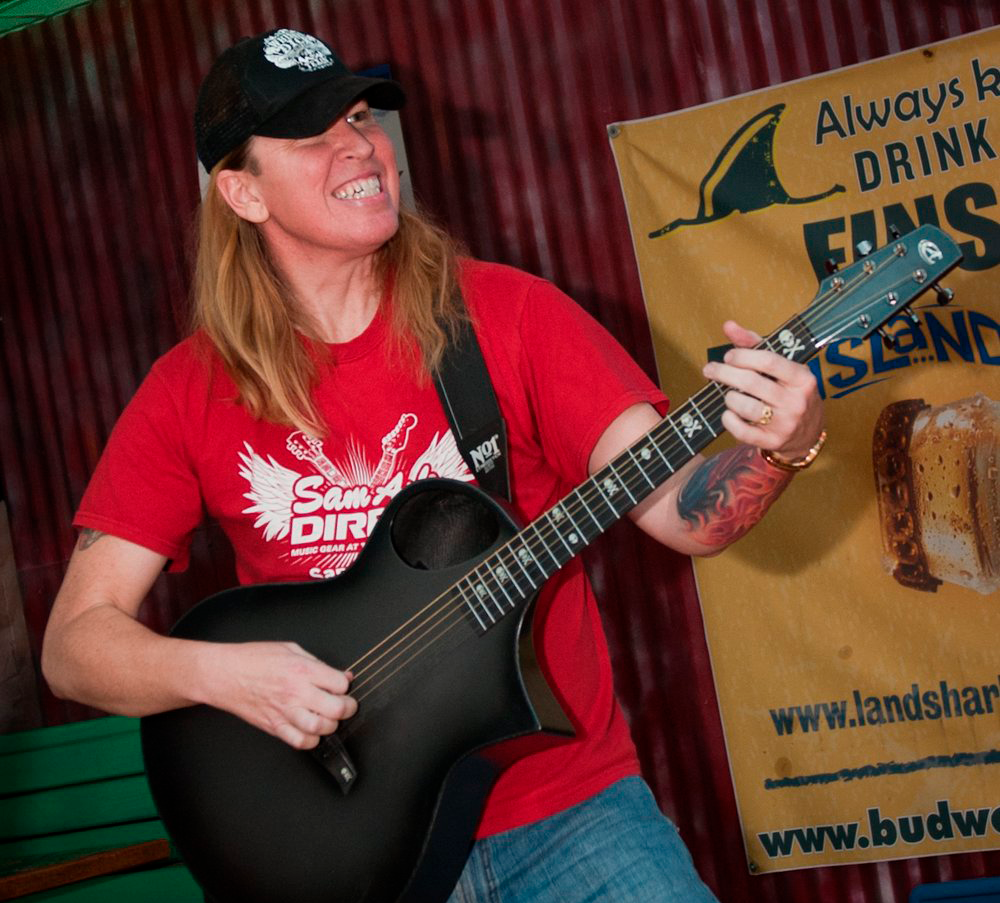 Hi everyone! I'm Thomas Moody, also known as Guitarzan.