The in-ear monitors (IEMs) are a kind of headphones that enter the ear canal to a certain depth and completely plug the ear, isolating from external noises and providing deeper bass reproduction. The best in-ear monitors are widely used by musicians, DJs, singers, television presenters, audio engineers, and audiophiles as they ensure outstanding sound quality and high level of comfort.

The IEMs are mainly designed for professionals (to be used on the show, in recording studios, etc.). For instance, they make singing much easier: thanks to the superior noise isolation provided by the IEMs, the vocalist hits the notes more often and the vocal cords strain less. This is especially important at gigs where the audience can be extremely noisy. Of course, the in-ear monitors may not be a great solution for musicians who are used to hear their amplifiers, but they are definitely suitable for those who need to hear their tracks more cleanly and accurately.
Despite the fact that the in-ear monitors are the most sought-after among people who work in the music industry, they also do well as the usual earbuds. Particularly if you want something that has better noise-isolating capabilities than regular headphones. They also stick into the ears much more firmly than the usual earphones so they can be a great solution for workouts.
Choosing the IEMs, you obviously want a high-quality product that offers a true frequency response and is comfortable for hours of wearing, especially if you are a professional musician. However, all the models come in different shapes and sizes, have different functionality, so it can be hard to find the product that perfectly coincides with your needs. Thus, our top picks and buyer's guide are aimed to help you with finding your best IEM.
In-Ear Monitor Reviews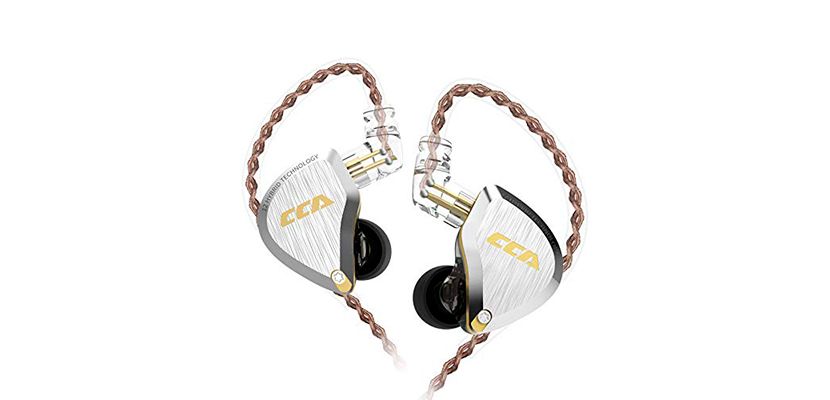 These wired in-ear monitor system from CCA has the 10mm rigid diaphragm which ensures more detailed low frequency reproduction. These in-ears go with 6 armature drivers per side (12 drivers in total) which provide a true stereo Hi-Fi sound. With an impressive 40000 Hz frequency response, this model ensures good sound quality, powerful, deep bass, and clear mid range. Generally, these in-ears are suitable for such music styles as country, jazz, ballad, orchestra, and RAP.
In terms of housing, the CCA C12 has an aluminum one, so this model is wear-resistant. The cavity is made of a skin-friendly resin. There is also a wide choice of color options — black, blue, gold, purple, and cyan. The cable features a slot-protection design which helps avoid breakage and ensures longer service life. This cable is made of an oxygen-free copper (which is also resistant to corrosion) for improved signal transmission. It's also elastic enough to withstand bending and pulling.
The headphones come with preinstalled medium tips. Besides, the kit includes 3 pairs of ear-tips of different sizes and user's manual. The earphones nozzle provides fairly deep insertion. Plus, these in-ear monitors are supplied with noise-canceling technology.
Pros
You can choose a model with or without a mic.
The manufacturers made emphasis on bass, so these headphones will be great for those who like booming and decent bass sounding.
Cons
The CCA C12 may seem a little bit heavy for those who move a lot.
The tips fall off the nozzles easily.
Video CCA-C12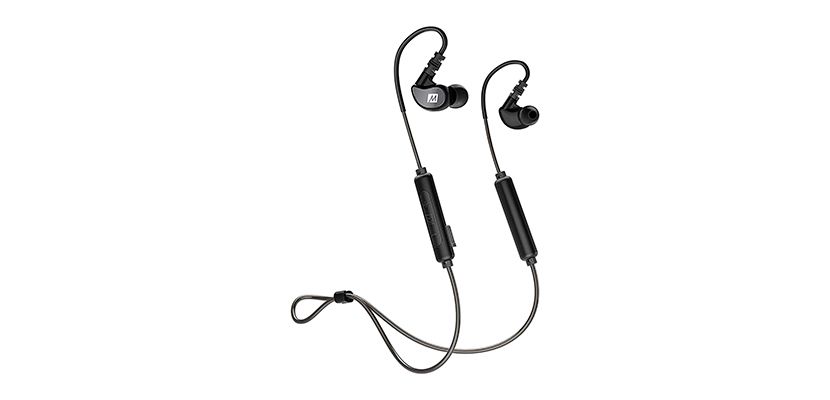 These wireless in-ear monitors from MEE audio are lightweight and smaller than the average in-ears so ensure freedom of movement. The over-the-ear fit with flex-wire is especially comfortable for workouts (the headphones will stay in your ears even while running) and for those who lead an active lifestyle. Plus, the IPX5 waterproof rating makes them resistant to sweat and rain. The ergonomic earpieces block the unnecessary outside noises and ensure comfortable wearing for long hours.
The 10mm drivers provide high-performance music reproduction, with enhanced bass and clarity. The dual built-in batteries provide up to 9 hours of continuous music playback. They support Bluetooth 5.0 technology that ensures a stable high-quality sound transmission without distortions.
These IEMs include a built-in microphone. There is a central button for power and pausing/playing music and 2 buttons on each side for volume and changing music tracks. 4 sets of ear-tips and charging cable are included in the kit. The in-ears themselves are available in 5 color options: black, white, black + grey, mint + white, and coral + white.
Pros
Provide minimal sound leakage.
Portable and can fit in your pocket.
These in-ears are comfortable enough for one-side sleeping.
Cons
The noise isolation is not so good in comparison with other models.
Video MEE audio M6B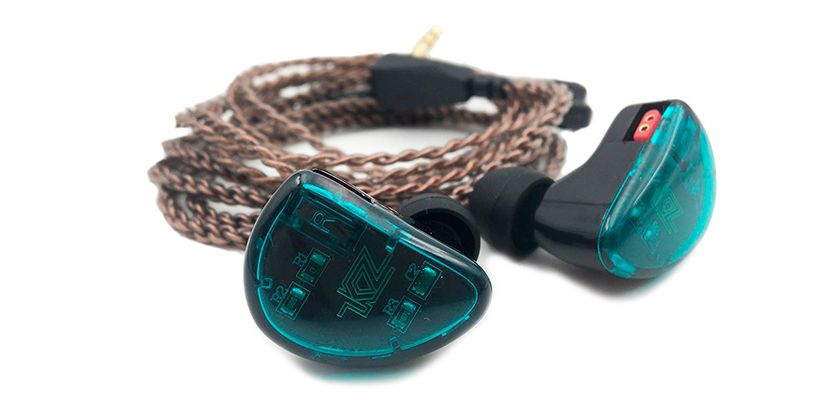 The KZ IEM earphones have 5 drivers per each headphone so you get high-quality audio playback. Plus, thanks to that, both mid-range and low frequencies are reproduced well enough, and the highs are not overly sharp. Thanks to the 3D printing technology, used in manufacturing, the sound it guided to 2 individual outputs.
The impressively pure pitch contributes to more convenient instrument tuning. It also makes it easier to distinguish male/female voices. The bass is quite consistent and doesn't feel flat, but if you are searching for the in-eras with an outstandingly powerful bass reproduction, this model is not the greatest solution.
The 0.75mm 2-pin braided cable is detachable, so you can easily replace it in the case of breakage. The AS10 is available in 2 color options (black and cyan) and you can choose a model with or without a microphone. There are 3 pairs of silicone ear-tips of different sizes, but if you want to seal off the sound more, it's better to get a pair of more flexible ear-tips.
In this KZ AS10 review, I can assert that these in-ears are good for any music styles since they provide clear sound with plenty of details.
Pros
The AS10 features the memorable ear hooks.
Cons
There is a slight hiss when power is supplied to the IEMs.
Video KZ AS10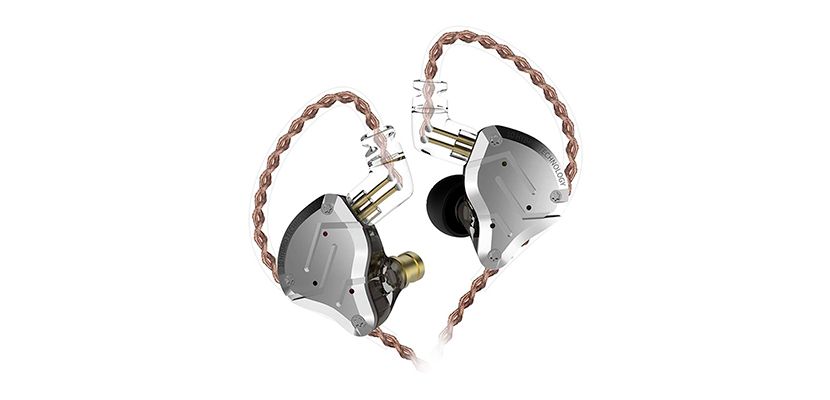 These IEM earbuds provide 5 drivers for each ear which include 4 balanced armature drivers and 1 double magnetic dynamic driver. With 7-40000 Hz of frequency response, you get a wider bass range and clearer music reproduction. The separate PCB frequency crossover board makes the sound smoother, showing the advantage of each driver. The soundstage is good, you can easily distinguish all the textures in vocals and instruments.
The 0.75mm cable with a protective 2-pin design minimizes the risk of breakage and prolongs the service life. It's also detachable so you can replace it if necessary. The standard 3.5mm jack is gold plated and ensures better sound quality and better signal transmission.
The KZ ZS10 is made of stainless steel and acrylic resin which provide more durability. You also get the choice among black, blue, and purple color options. You can choose from two models: with a mic or without. The one with mic features a remote with the all-in-one button. These in-ear monitors go with 3 sets of ear-tips.
The level of sound isolation is higher than average thanks to the quite large body of these headphones.
Pros
The low frequencies are tight and fast, but the mids are not hidden by the bass.
Cons
These in-ears do stick out a little.
Video KZ ZS10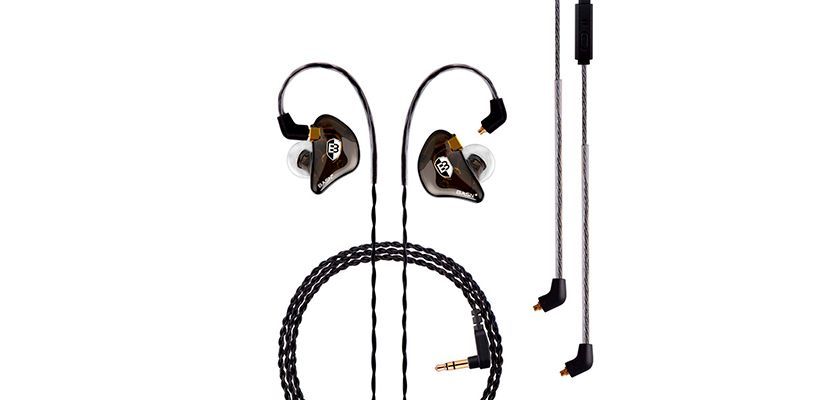 These professional in-ear monitors are mainly designed for pro-musicians. They are universal for most stage monitoring systems and can be used while performing on the stage or for mixing music in the studio.
Thanks to the balanced highs, middle, and bass, they work great as in-ear monitors for singers. The memory earhook can be custom to your ear shape to ensure a reliable fit which is very important when you have to move around the stage a lot. Besides, this earhook is durable enough to withstand thousands of bendings.
Soft silicone tips create a good seal and eliminate up to 20 dB of external noise. This way, this model can be great in-ear monitors for drummers.
The standard MMCX connector is detachable so it's easy to replace or upgrade the cable by changing cables for hands-free calls and wireless Bluetooth use. This model is also a good choice for daily use thanks to its balanced sound and comfortable fit. Besides, the stereo jack can be used with a smartphone, tablet, MP3 player, and PC.
The 20-20000 Hz frequency range along with the dual dynamic micro driver which features a PET and Copper diaphragm are able to give you clear high-definition sounding.
Pros
The jack has special cable sleeves which protect the cable from rough use.
Cons
Sometimes you can hear some fuzz and popping.
Video BASN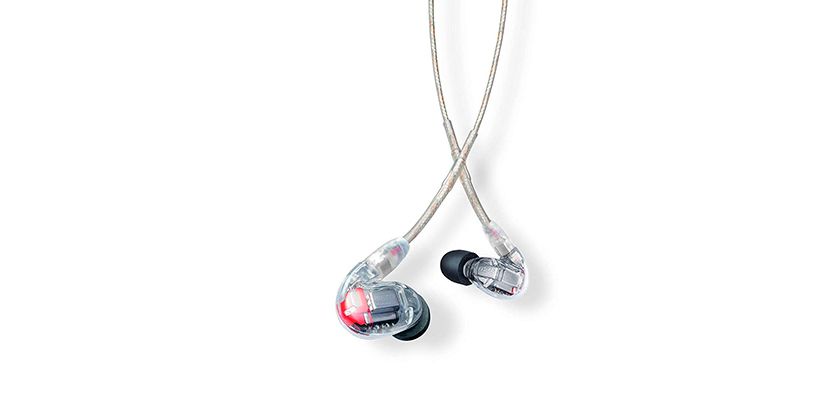 The present Shure in-ear monitors are supplied with 4 drivers to ensure improved sound clarity. The three-way system configuration provides a good balance between low, mid, and high frequencies. The special low-pass filter is designed to work as a subwoofer to provide deep low-end while the overall sound still remains clear and in details.
These Shure IEMs feature a removable metal nozzle and nozzle inserts which allow adjusting the frequency response (you can choose from balanced, warm, bright options, and so on).
Featuring the over-the-ear design, these in-ears ensure a comfortable and reliable fit. The included sleeves block up to 37 dB of external noise.
The advanced detachable cable system gives the opportunity to choose between 4 connectivity options: Bluetooth, Lightning, USB-C, and Universal 3.5mm cable. With Bluetooth connectivity, these in-ears are able to work up to 10 hours on one charge and have 30 feet wireless range. The Lightning, USB-C, and Universal 3.5mm cables feature a remote with mic and inline control.
Pros
The Shure SE846-CL works with any gadgets that support Bluetooth 5.0.
Cons
These in-ears have a quite fragile building so it's necessary to handle them carefully.
Video Shure SE846-CL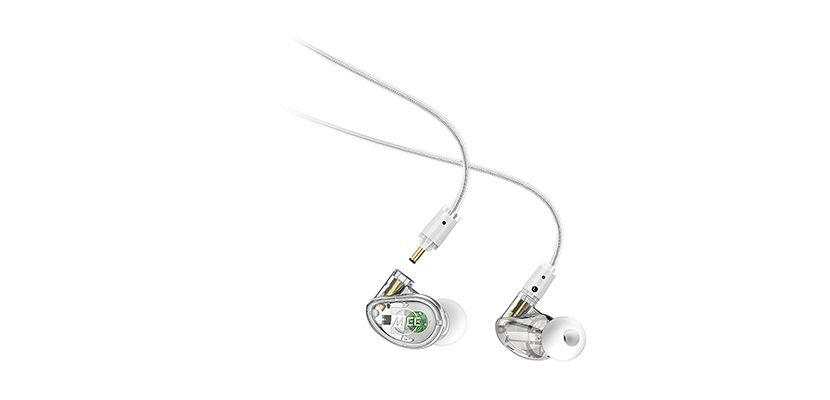 This model from MEE can be the best IEM for those who need the most customizable device: thanks to the fully modular design, you can change, upgrade, and replace all parts and accessories of these in-ears. The 3D-printed tips can be customized accurately to the size and shape of your ears (there are also 4 sets of silicone ear-tips). They go with an audio-only cable and a headset cable with inbuilt mic and remote.
This model features a triple-driver configuration and the 10mm moving coil which acts as a subwoofer, so the sound is accurate and powerful at the same time. There is also a special driver which focuses on midrange frequencies. Thus, these in-ear monitors are a great solution for stage (especially for guitarists and vocalists) and studio monitoring.
Pros
These monitors have sweat-resistant construction.
The kit includes memory foam tips.
Cons
The MX3 PRO may sometimes produce hiss sound for no reason.
Video MEE MX3 PRO
This model Sennheiser is great for musicians, sound engineers, and DJs thanks to the expanded sound spectrum. It features a detachable cable and a reinforced ear hook. The whole construction of these monitors is designed to withstand rigors use.
Each Sennheiser in-ear monitor is supplied with the 10mm broadband transducer, so you get warm overall sound with high-resolution. The IE 40 PRO uses a dynamic single-driver which means that the frequency range is not split up into sections, but the sound still remains clear enough at both highs and lows. Thanks to that, the in-ears are small and light. Plus, these in-ears don't have dissonance even at high volume levels thanks to the innovative diaphragm.
Pros
The earmold design ensures a good fit.
The kit includes a soft pouch, cleaning tool, foam and silicone tips.
Cons
These in-ears are very shrill so will not work well for playing wind instruments.
Video Sennheiser IE 40 PRO
Buyer's Guide
How to Choose In-Ear Monitors?
There are many things that you should take into account when looking for the best in-ear monitors. For instance, the number of drivers. It's common to think that more drivers are better as they provide a wider dynamic range, but, in fact, that's not what everyone needs to overpay for. Some of them may have from 8 to 12 drivers. This, of course, significantly extends the frequency brackets, but for a non-professional use, it can be useless. When choosing the IEMs, your budget and your needs are the main things that you should consider. Think about how loud the stage you are performing on will be so you could make sure that you will hear your voice or your instrument well enough.
If you have a limited budget, don't spend your money on the device with unusual design and features that have no practical value, like colorful backlight, for example. Concentrate on the device's specs.
You can get whether universal or custom-molded option. The last one is made specifically for your own ear canal so provide a better seal on your ears, superior noise-blocking properties, and feel more comfortable, but it is also more costly. If you are getting a universal fit, make sure that some extra tips of different sizes are included in the package.
If you want the in-ear monitors for sports, it's better to choose the model with a headband. It will eliminate the risk that the IEMs fall out of your ears. Such in-ears also should have at least an IPX5 waterproof rating so the sweat couldn't get to the dynamics and damage them.
Wired or Wireless
Many people think that all the IEMs are wireless because that what they used to see most often when the artist performs on the stage, but that's wrong. Like all the sound systems, they can be whether wireless or wired. Moreover, wireless models are not the most widely used ones. The musicians who don't move around a lot and don't actually need freedom of move usually prefer wired models. Some manufacturers even don't produce wireless transmitter/receiver units.
Which model will be more beneficial for you actually depends on your position in the band. For example, if you are a drummer or a keyboard player, the wireless in-ear monitors don't make a lot of sense for you due to your static position. The wired options provide a cleaner sound and you don't have to worry about audio dropout or interference. Plus, they cost much less than their wireless analogs.
Lead singers and guitarists, in fact, will have more advantages when using the IEMs without a wire since they allow total freedom of movement. They include a transmitter device in which you connect the output from the mixing console and a receiver unit that receives the signal from the transmitter and feeds it into your IEM headphones. However, note that the wireless options are more expensive and more complex. This way, we recommend not to go for a wire-free model when there are no particular reasons for it as you simply won't get too much benefit from this solution.
Audio Features
Noise reduction. Despite the size, the large in-ear monitor headphones, even if they are supplied with Active Noise Cancellation technology, not always ensure better noise isolation than the compact IEMs do. It measures in decibels which indicate how much environmental noise is blocked by the in-ears: the higher the number the more noise is being blocked.
Frequency response. This indicator shows what frequencies the IEMs are able to produce. The models that cover a bigger range are better since the frequency response is responsible for the sound quality. On the average, the good in-eras have approximately 25000 Hz frequency response which is enough to be able to transmit maximum sound details.
Impedance and sensitivity. The professional high-end in-ear monitors tend to have very high impedance values which means that they need a lot of power from the unit they are hooked up to give out similar volume levels. Sensitivity measures in decibels (the advanced models have a sensitivity of at least 100dB) and shows how much volume the IEMs dynamics will produce. It also affects the amount of power needed to produce a certain amount of volume.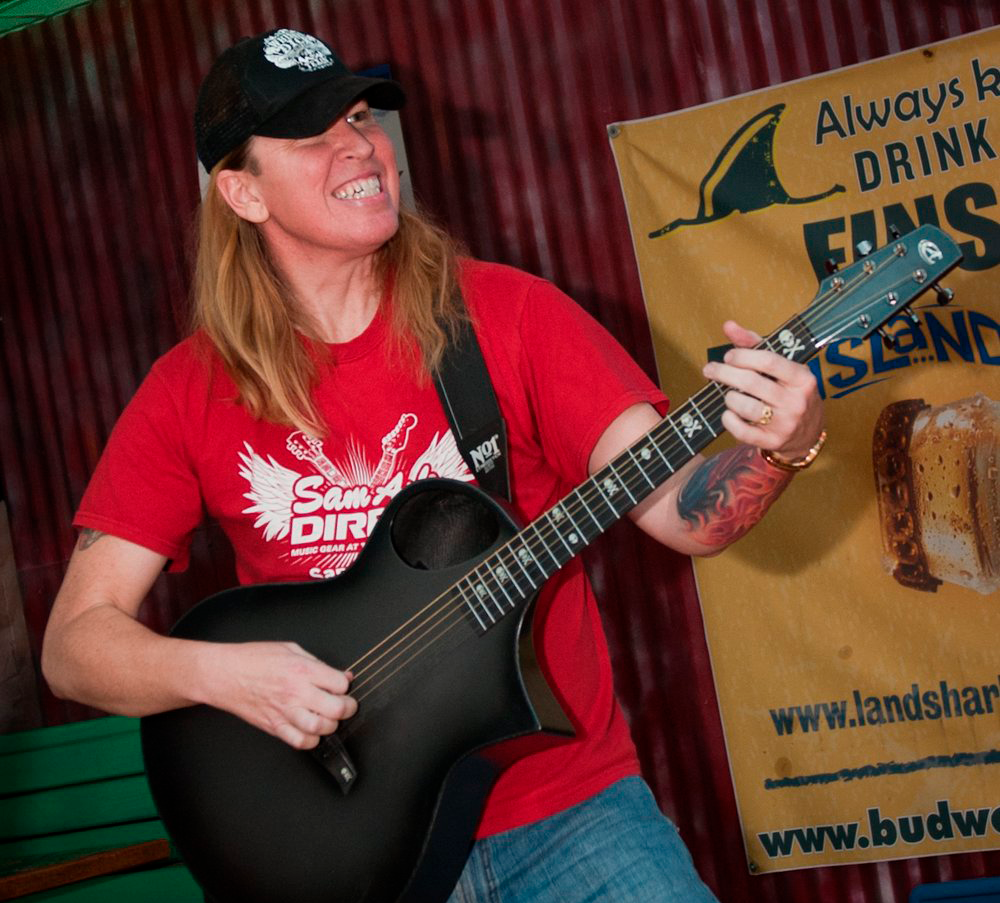 Hi everyone! I'm Thomas Moody, also known as Guitarzan.