When you have to travel by car a lot, there is nothing more meaningful for your in-car entertainment than the high-quality speakers. However, which ones you should opt for to be sure that they will find its place in your car and produce powerful sound? Now, we suggest you find the best 6×8 speakers that are designed specifically for cars and are able to ensure the sound quality of full-sized ones despite despite their small size.

6 by 8 inches is a standard size of speakers that can fit in most cars, requiring an adapter or spacers only in rare cases. Most often, such speakers are placed in car doors or dashboards. In fact, no matter how expensive your car is, there is no guarantee that the manufacturer devoted a lot of attention to car's sound system. Moreover, most manufacturers tend to use bargain, low-quality materials for manufacturing such in-car elements with an intention to make car price more bargain.
So, buying a pair/set of 6×8 speakers is a great way to start improving your whole car audio system. By the way, there a lot of options that offer not only the improved audio quality but also an unusual design, so you can also use them as an opportunity to refresh your car's interior.
Our 8 best 6×8 speakers are aimed to inspire you on making your car sound system better. Each of these models offers a significant upgrade of standard factory models. Keep on reading and check their audio and built quality, power handling, etc. If you are not an expert in car audio equipment, our buyer's guide is here to help make the selection process easier.
6×8 Speakers Reviews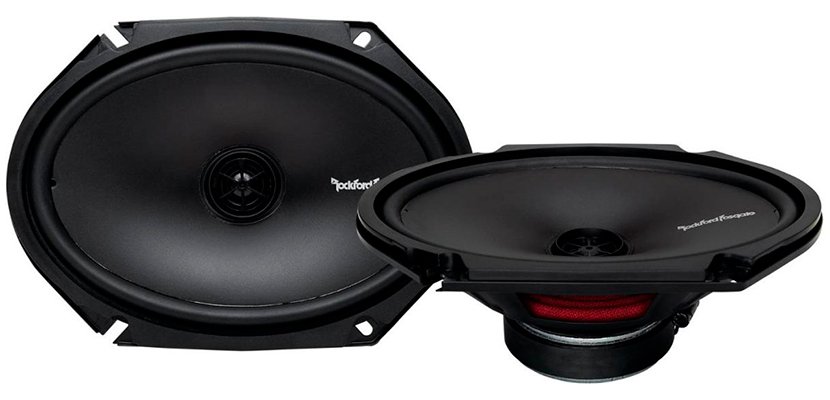 The Rockford Fosgate R168X2 speakers come as a pair of 2-way full-range coaxial ones with clean all-black design. They look minimalistic and don't stand out from your car's interior. The R168X2 provide 4-Ohm impedance and 110W (55W RMS) max power handling which meet the CEA-2031 industry standards. That is why we placed them among the top-rated 6×8 car speakers.
Each speaker is equipped with a half-inch silk dome flush mounted tweeter. It creates a refined and warm sound which is especially suitable for jazz songs. The integrated concealed high-pass crossover serves for tweeter's protection and optimizes speaker's frequency response from 51Hz to 20kHz. It's hidden inside the stamped steel basket which creates a cleaner look and contributes to easier installation. The cone is made of vacuum-formed polypropylene and prevents crossover from the need of extra wiring and ensures a mighty sound with quick transitions. Generally, all drivers are efficient and work great in providing genuine stereo audio.
These 6×8 door speakers feature a rubber surround. It helps the cone move linearly and also allows for better excursion.
They feature a lower-than-average sensitivity rating of 87dB and shallow mounting depth (2.54 inches). The kit includes all the necessary hardware for mounting so you won't have to buy anything separately. The speakers have spade terminals, so installation won't be an issue. However, they may require some tweaking to create clearance.
Pros
They are verified by Klippel certification program.
The R168X2 are marked as marine ones, so they are weather-resistant, and accidental ingress of water can't damage them; they also can be mounted on water transport.
The speakers produce an excellent sound even without an amplifier.
Cons
Some distortion and clipping are heard at particularly high volumes.
The bass is a little short for such genres as rock and hip-hop.
The sound at high volumes may seem too sharp.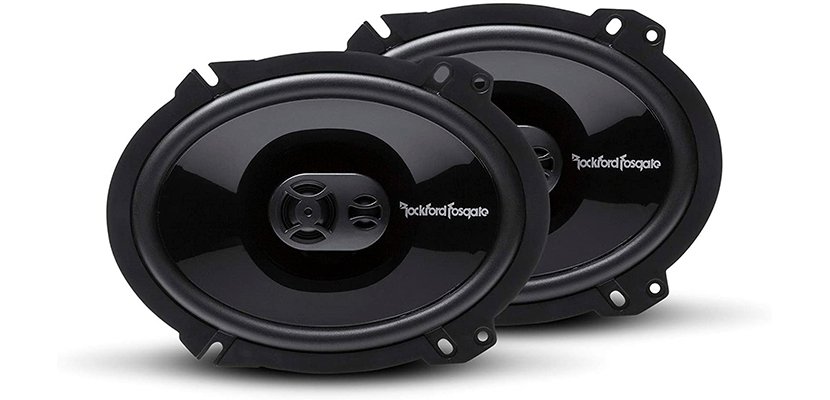 A pair of these coaxial 4-Ohm 3-way full-spectrum speakers can become a powerful replacement of your factory ones thanks to 130W (65W RMS) max power handling and 90dB sensitivity level. They have black-on-black design and look simple. The FlexFit basket frame that uses slots instead of holes allow you to slightly adjust the speakers for a better fit.
The speakers have 0.75-inch PEI dome tweeter which contributes to an accurate frequency reproduction. The integrated concealed crossover is located inside the basket which simplifies the installation process. The high-strength mineral-filled injection-molded polypropylene cone is sturdy and lightweight at the same time. The light weight eliminates cone flex for improved sound quality.
Thanks to butyl rubber surround, they are not prone to rotting and can withstand hours of high-volume jams. The P1683 speakers have wide (65Hz – 24kHz) frequency response which ensures decent quality regardless of the genre of music. In general, they are able to provide great full-range sound but definitely require an amplifier.
The Rockford Fosgate P1683 use the Vertical Attach Surround technology that increases the speaker's effective radiating cone area up to 25% by eliminating large flat surface area.
These 6 x 8 speakers from Rockford Fosgate feature a mounting depth of 2.32 inches. The kit includes everything you may need for easy and quick installation: mounting hardware and OEM adapter plate which has the "break-away" tabs that can be detached to fit all sizes.
Pros
There is no noise, distortion, or clipping even when you play music at high volume levels.
Plenty of volume which will probably be enough for majority of buyers.
Cons
The bass is not strong enough to handle the bass-heavy music.
Strong chemical-like odor out of the box.
Video Rockford Fosgate P1683
These 3-way full-range 6×8 car speakers of coaxial type are remarkable for having a unique design. They feature azure poly injection cone which looks very unusual and allows your music resonate with full power. Thanks to these azure cones, the overall look is very eye-catching.
Despite being one of the cheapest car speakers on the market, the PL683BL don't use low-quality materials. They ensure a warm sound and soft high frequencies, provided by 0.75-inch silk dome Piezo tweeter which also can resist overloads. Additionally, this tweeter is designed with small, lightweight, and highly-efficient 40-oz magnet motor structure thanks to which the speakers provide surprisingly big amount of power — 360W (180W RMS).
The one-inch ASV voice coil can withstand high temperatures, which increases their efficiency, and also makes them suitable for heavy-duty usage. This means that you can play your music for many hours in a row without any performance issues. This voice coil also ensures low-distortion sound and open soundstage.
The The PL683BL go in a non-fatiguing butyl rubber surround which keeps the speakers secure, extending their lifespan. It's also able to resist a little amount of moisture and has effective damping properties.
Each 6×8 speaker features standard 4-Ohm impedance and has an impressive 91dB sensitivity rating. The speakers also can offer a very wide frequency response: 70Hz to 20kHz. They are able to carry high, mid, and low end, providing true stereo sound.
The PL683BL package includes not just mounting hardware but also wires and protective grills. The speakers have 2.35-inch mounting depth.
Pros
The sound is clear even at the highest volume level.
The bass appears to be especially deep at low volumes.
The tweeter produces high frequencies with good sensitivity.
Cons
They aren't very loud, the max volume level will probably be an issue for many users.
Lows may be distorted when the volume is turned all the way up.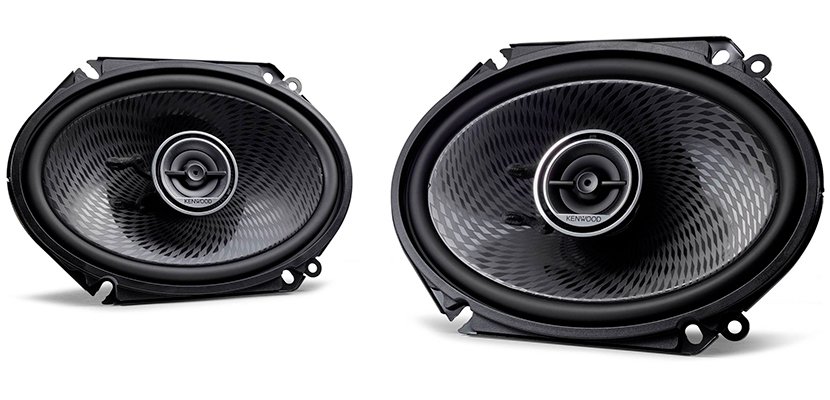 These 2-way coaxial full-range speakers from Kenwood have 360W (81W RMS) of peak power and feature durable rubber surround.
The woofer paper cone enhances the sound and reduces distortion. It's manufactured with the diamond array pattern technology which contributes to sound clearness and brings out plenty of detail. The woofer's damper shape with stress leveling points provides a smoother sound response.
The balanced dome tweeter creates strong frontward sound. It features a sound field enhancer design which works to create a wider sound field by developing the tweeter's shape.
These speakers also feature an acoustic sound harmonizer. It provides smooth, natural sound by controlling woofer's sound waves, so only certain frequencies can pass through the holes of tweeter's panel.
The yoke and plate are designed to work as a heat-releasing mechanism since they are painted in black. Thanks to that, the heat efficiently releases inside the magnetic circuit to keep the voice coil cool. This significantly contributes to an increased service term, so they are among the best 6×8 car speakers in terms of durability and can withstand some heavy usage.
They produce 4-Ohm impedance, 88dB sensitivity rating, and 58Hz – 24kHz frequency response.
The kit includes two 14.5 feet of wire, eight sheet metal screws, and 8-speed clips. The speakers have 2.35-inch mounting depth. The screw holes are adjustable which allows for almost universal fit.
Pros
Great clarity in the vocals.
They aren't afraid of dirt and dust, so you don't have to clean them regularly even if it's always dusty inside your car.
The high frequencies are very responsive and crisp.
Cons
They require a lot of tuning for balanced sound.
If you need solid bass performance, you will have to use the speakers along with an amplifier.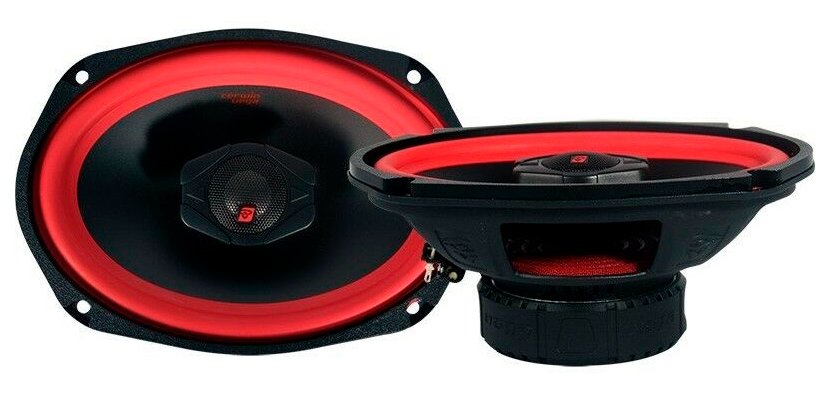 The Cerwin-Vega V468 come as a pair of 2-way coaxial speakers with max power handling of 400W (75W RMS), so they obviously ensure a lot of power. This way, they provide enough of volume to overcome road and motor noises, even when you drive on the highway or off-road with windows rolled down. These devices have pretty distinctive design thanks to vivid red-colored surround, which, however, may seem too bright for someone.
The design of the V468 6×8 speaker is optimized in such a way so it is able to provide a high-end sound quality. The 1-inch titanium dome tweeter is mounted into a mica fiber composite woofer. The tweeter helps the sound remain crisp and clear at high volume, without becoming shrill. The curvilinear cone ensures solid mid-bass performance. They have a robust, low-resonant deep-drawn composite basket, so they are built for longevity. The durable rubber surround also works well in providing their durability.
One of the most distinguishing qualities of these speakers is an impressive 94 dB sensitivity level which makes the Cerwin-Vega V468 much more sensitive than the majority of similar models. It allows running them on low wattage while still providing powerful sound. Thanks to that, this pair of speakers can be used with a wide array of stereo systems. Each one has standard 4-Ohm impedance and quite an average 55Hz – 20kHz frequency response.
The speakers have a mounting depth of 2.85 inches. The installation is a breeze thanks to built-in crossovers and less wiring. There are only three screws in the package: just screw them up and you are done.
Pros
The mica injected woofer cone blocks vibrations caused by your car while you are driving.
Low-frequency sound is sharp at high volumes.
The curvilinear-shaped cones provide an off-axis performance.
Cons
You will need to use these speakers with a subwoofer if you are into bass-heavy music, as they can't handle too much bass.
You should have an adapter to install them in square-shaped factory speaker holes.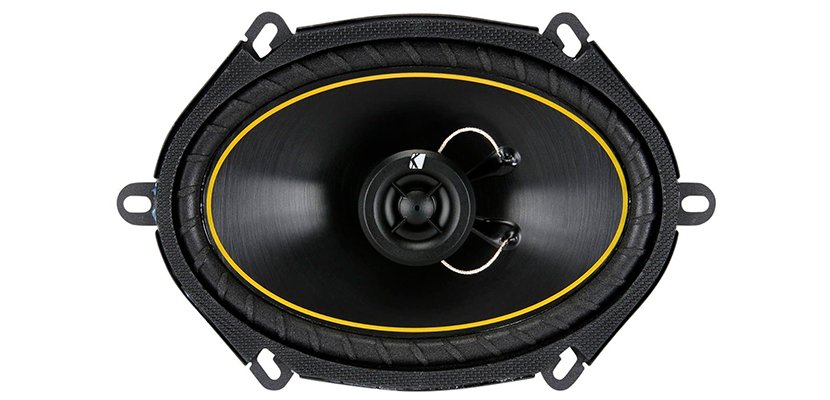 These 6×8 component speakers with 2-way configuration come in a set of two pairs. Each one has 140W of max power (70W RMS). Installing these four speakers in your car, you will get 560W of power in general. Their design is quite simple, but yellow ring around the cone gives some highlight to the appearance.
The speakers use heavy-duty motor structure for improved performance and ultra-clean bass. The 0.75-inch titanium balanced dome tweeter produces soft and warm high-frequency sound. It also makes realistic and detailed sound even at very intense frequencies. A sturdy polypropylene cone ensures that vibrations will not distress the sound while you are on the way. The heavy-duty voice coils are able to withstand high temperatures, so you can listen to your music during many hours. The speakers are equipped with UV-treated acoustic-foam surround which optimizes the sound and provides a more defined linear excursion.
Thanks to such components, the DS68 provide smooth and true stereo sound and bring better clearness than many of their coaxial analogs.
These Kicker 6×8 speakers produce 4-Ohm impedance and 40Hz – 21kHz frequency response. The 90dB sensitivity rating is above the average which means that they don't require an excessive power requirement.
The speakers come with all the necessary mounting hardware for quick replacement of your previous ones. However, note that the capacitor is wrapped with a thin wire, so be careful when installing. The speakers have top-mount depth of 2-5/16 inches and bottom-mount depth of 2-11/16 inches.
Pros
While most 6×8 car speakers have 1-year warranty, Kicker offers a 2-year warranty.
Quite loud but still sound without constant distortion.
The sound at high and mid frequencies appears to be especially great.
Cons
Music sometimes gets drowned by the bass which means that the sound isn't perfectly balanced.
The bass reproduction deteriorates when speakers are top-mounted.
The lows do sound a bit vacuous.
Video Kicker DS68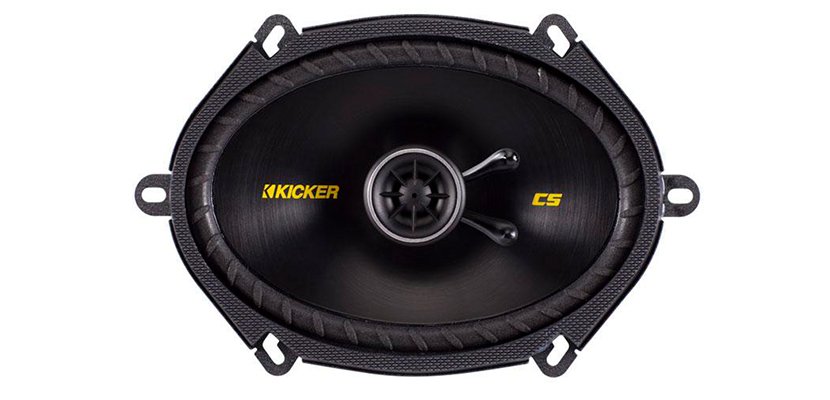 The Kicker 40CS684 are 2-way coaxial speakers that can be bought in a set of one or two pairs. However, they have 225W peak power (75W RMS).
The 40CS684 feature a polypropylene EVC tech woofer which helps with an accurate linear excursion. Thanks to a half-inch PEI balanced dome tweeter, vocals sound natural and with a plenty of detail. The surround is made of UV-treated polyester foam so the speakers will probably serve for long.
While a great number of car speakers struggle to provide a punchy bass, this set from Kicker ensures bass performance that is definitely decent thanks to large woofer magnet and heavy-duty motor. So, if you are searching for 6×8 speakers with good bass, these Kicker devices may be just what you need.
The speakers have 3.5-Ohm impedance, 90dB sensitivity level, and 45Hz – 20kHz frequency response. They sound very good when powered by a factory radio or car stereo, but if you want them to really rock, you will have to connect them to an external amp.
The speakers have 3/8-inch top and 2-3/16-inch bottom mount depth. The package includes Metra 72-5600 wiring harness adapter, 50 feet of high-quality wire, and 16 gauge.
Pros
The tweeter is zero-protrusion, so it will fit in any factory depth.
Resistant to heat and direct sunlight.
Thanks to PEI tweeter, the instrumental parts of the songs sound extremely clear.
Cons
There is some mid-frequency distortion at the highest volumes.
The speakers don't seem to sound balanced.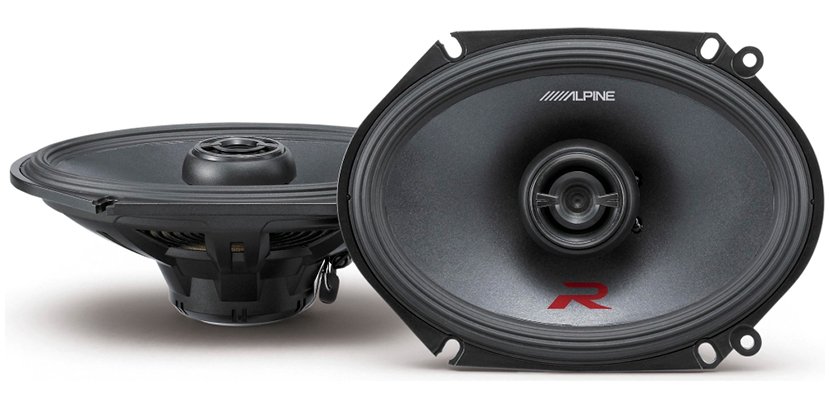 The Alpine SPR-68 come as a pair of coaxial speakers with 300W (100W RMS) of max power handling. They are black-colored and look very minimalistic.
They feature a 1-inch silk dome tweeter which ensures smooth highs and swivels to provide better control over the sound. Thanks to multi-layer hybrid fiber cone, the SPR-68 are among the best 6×8 speakers for bass since they ensure a truly strong bass response. The SPR-68 use neodymium magnets that are much smaller than traditional magnets but still powerful enough. The crossover is also 75% smaller than the average. The Alpine 6×8 speaker has large square-wire dual-layer voice coil and high-performance linear drive motor.
Thanks to high-amplitude multi-roll santoprene rubber surround, the speakers are well-built for long-lasting service. This surround also provides a consistent and extended cone movement.
The SPR-68 feature 4-Ohm impedance, wide 63Hz – 29kHz frequency response, and 89dB sensitivity level.
The speakers have mount depth of 2-9/16-inch. They fit for both 6×8 and 5×7 openings and can be used with an aftermarket, OEM, or amplified stereos.
Pros
The sound at high frequencies is impressively great.
The wave guide optimizes the acoustic impedance, providing an enhanced vocal clarity.
Thanks to copper cap, the tweeter enhances detail and output.
Cons
The tweeter doesn't seem to be firmly fixed and can crack off the speaker.
The low frequencies are not pronounced.
Buyer's Guide
The Reasons to Choose 6×8 Speakers
6×8 speakers are not just the most prevalent size of speakers for cars. They also can offer a number of great characteristics. For example, they are lightweight and usually come with almost everything to make the sound as great as possible. Most of them include woofers for low frequencies and decent bass reproduction, tweeters for high frequencies, as well as midrange drivers.
In terms of power handling, the 6×8 speakers may vary from 140W to 300W (and even more in some cases) which is enough for many. The frequency response usually varies from 40Hz to 20kHz and more.
What to Look for in 6×8 Speakers?
When you need speakers of a certain size, you may face some limitations. This way, when making your choice, look for a product that uses space more efficiently, being more responsive, and creating more accurate sound.
Bass response
Before choosing 6 x 8 speakers, you should decide on how much bass do you need, as it may be a problem in a limited space car. If you consider bass to be very important, it's better to look for some 2.1 setup for your car. It must contain special speaker dedicated for low frequencies.
Amplification requirements
Your setup largely depends on the speaker's amplification powers. You need to know the number of channels available, and on which power and impedance they work. There are also some amplifiers with universal channels that can give you more opportunities.
Component vs coaxial
Component and coaxial speakers have their advantages and disadvantages. Let's take a closer look at them so you could decide for yourself which ones are better.
Component speakers are a set of driver systems. They may come with separate woofer and tweeter. They require the installation of a separate crossover for correct direction of sound frequencies to drivers. Such speakers are able to ensure dynamic sound, but it's not so easy to install them as they must be installed separately.
Coaxial speakers have the drivers built into one unit. Accordingly, woofer and tweeter aren't separated and come as a part of one speaker, creating a 2-way driver system. They also frequently come as 3-way driver systems which have such three drivers as woofer, midrange driver, and tweeter. They have two substantial advantages: easy installation and full-range sound provided by one unit. However, they are not the greatest solution for dynamic sound.
Power and sensitivity
You should pay special attention to power and sensitivity ratings to avoid the risk of burning out your new speakers. This way, you should be aware of the max amount of power that a speaker you are going to obtain is able to handle it. In case you have to connect your new speakers to an external amplifier than ensure that they and the amp don't differ too much in terms of their output power (it's usually given as watts RMS). Additionally, if you connect them to an amp, it's necessary to select the speakers with low sensitivity rating (marked in dB). However, if you don't intend to connect them to an external amplifier, you shouldn't worry too much about the sensitivity rating.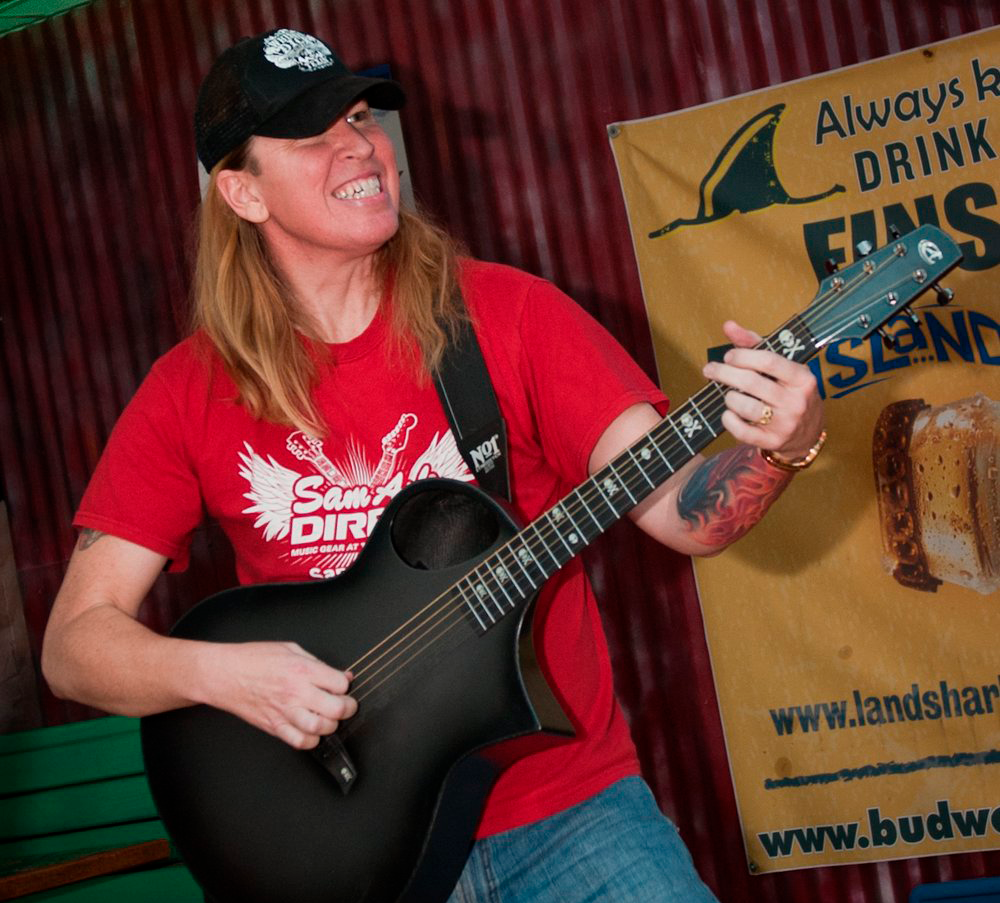 Hi everyone! I'm Thomas Moody, also known as Guitarzan.