No matter if you're an experienced DJ or just starting to delve into music mixing, the best Dj speakers are the must-have for your set. DJs need an adequate estimation of the mix created, and the auditory needs cool beats and good volume.

Still, the most expensive and powerful models with a superb sound mightn't fit the particular DJ's purposes. For example, if you're out for a gig several times, you'd be much better to carry along something lightweight (even with less power and slightly worse sound quality) and not bulky. The number of connections and their type matters as well.
When looking for the new set of speakers for DJ-ing, clarify the following issues:
Speakers or monitors. Speakers deliver music to the auditory. Monitors are designed for DJs to check the outcome of their mixes. They're used in DJ studios and also at big parties when the DJ needs his or her own speakers to check the sound.
Power and sensitivity. Though these are different parameters, together they work to enable clear distortion-free sound on high volume. However, when setting your mind on a highly powerful set, check if its connection and feeding requirements can be adhered to.
Compatibility. The high-quality speakers can be totally useless if they don't have relevant ports or impedance or power requirements to fit in with your deck / controller / amp. Check out all important parts like the cord type, jack, and length.
Set your priorities and build the DJ speaker system of your dream!
DJ Speakers Reviews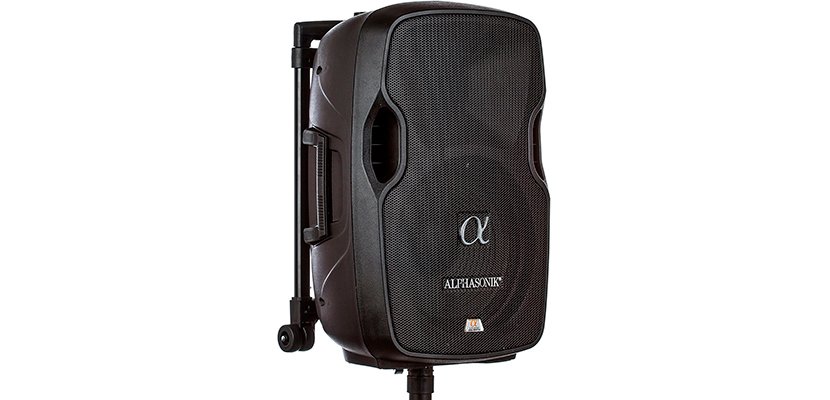 With this impressive set, you'll have the party rocking within minutes, as this is one of the most versatile and good-sounding Bluetooth DJ speakers. It supports reliable wireless protocols and brings a lot of freedom due to battery power and good portability. The only con of this device is its slightly enhanced bass and rounded high-end, which don't let it fit as the DJ monitor.
The specs for these speakers show sturdy middle-class quality. The frequency range starts from 40Hz and ensures confident and deep enough bass and dynamic beats, while it's a bit cut on the upper level, with 18 kHz set as a limit. The woofer has a dual air port helping enhance the bass and make it loud and clear. The mids have enough detail and feature a bit of warmth. Highs, though not too sharp on a peak, are solid and well-woven, with even response. In general, the sound has good balance and clarity as for more expensive models.
The high-capacity battery ensures consistent playback within 6-8 hours. The speaker is active and doesn't require an external amp while ensuring the impressive power output of 2000W. The developed circuit lets in no interference and lets the music be clear both on low and high volume, making this model a worthy competitor to the high-end DJ amplifier speakers.
The speaker supports various connectivity means including USB, SD-card, Bluetooth, AUX, XLR connections. Taking into account its versatility, this set is quite compact (13 x 13 x 22 in). While weighing 30 lbs, it has bottom wheels and handles for easy transportation, as well as the stand with regulated length.
Pros
EQ controls let tweak bass and treble for the particular mix or situation.
VCV tech hushes the volume, while the mic is in use.
Whole portable set with two mics and remote control.
Cons
Onboard playback controls can be used only for audio played from USB / SD sources.
A power switch is a bit flimsy.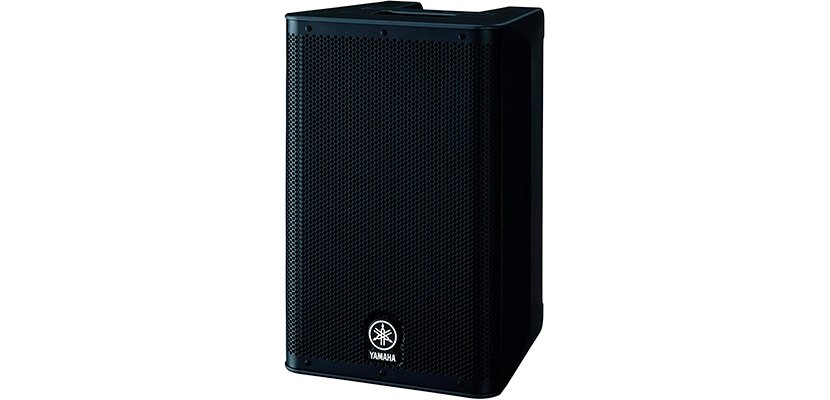 The speaker stands out as the super-clear and sensitive one among the listed powered DJ speakers. The speaker is designed to produce a lot of sound out of a small cabinet, providing the user with ample control over the audio. While featuring solid build with rugged grill and other elements, it's quite heavy for a single speaker (30 lbs and 14.2 x 14.2 x 23.5 inches).
The speaker consists of the 8-inch-wide woofer designed in the bass-reflex framework. It picks the frequencies from 57Hz and manages the bass efficiently. While providing a powerful output (1000W peak power), it doesn't make the bass overly boomy either muddy but keeps it clean. The premium sensitivity of 129 SPL lets crank up the volume as high as the location allows.
Tweeter has 1 inch in diameter and throat compression design. It picks the 20 kHz as upper highs and provides a true-to-source precisely drawn output. The upper mids and highs represent the even frequency response and create wide and palpable soundstage.
The Yamaha DXR8 offers equalization within the preset modes "Main" and "Monitor", with boosted highs and lows in the former and "dried up" lows and expanded highs in the latter. The speaker also implements circuit protection letting load it heavily for a long time, without shutout issues.
Connectivity panel provides all necessary ports required from the high-class active DJ speakers. It has six inputs, XLR / line and line connections, and analog RCA ones, and can be hooked up to various DJ gear including mics, controllers, other speakers, etc.
Pros
48-bit processing via DSP delivers high clarity of signal on all frequency levels.
Voltage can be switched between 100V and 240V.
Individual gain control for each type of inputs.
Cons
No direct inputs for connecting to a smartphone / PC / USB flash.
EQ control isn't diversified.
Video Yamaha DXR8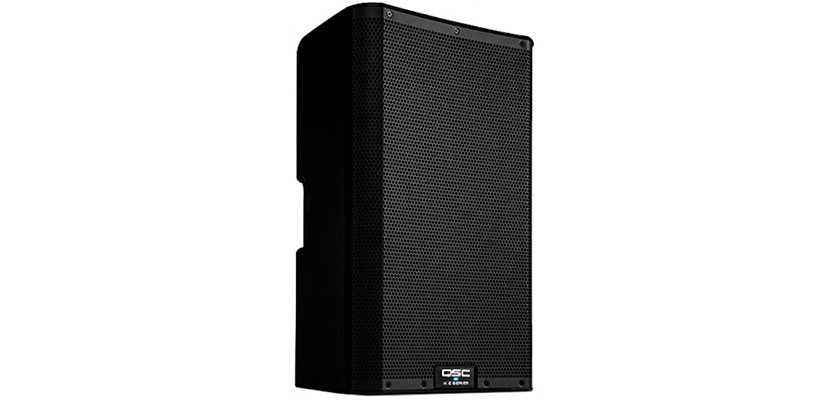 If you're in for the latest technologies and need a reliable high-powered set of speakers, the QSC K10.2 should be definitely present in your choice line-up. High-class amplification and versatile controls and connectivity, together with the rugged build make this set worthy entry to the "best DJ speakers" list. However, while featuring many preset modes for frequency mix, the speaker doesn't allow regulating treble and bass independently.
Small-to-middle size (23 x 16 x 17 inches) of this high-class acoustic gear might cause doubts as to the claimed power output of 2,000W. However, the speaker is equipped with the developed DSP control and security rig to maintain the power, which makes it quite heavy (39 lbs).
The two-way design features a 10-inch woofer and 1.4-inch tweeter that together produce very clear and rich audio at 129 dB. The tweeter is larger than in most competitor models made of titanium for efficient air expansion and interference-free transmission, and it manages the highs with full confidence at the limit of 20 kHz. Highs on this model are airy and color-free, with well-traced voices, instruments and seamless response throughout the range. The woofer is responsible for the big immersive bass with thumpy and exact beats starting at 50Hz frequency. The audio features high clarity and balance throughout the frequency range letting this model serve both as an auditory speaker and a DJ monitor speaker. Due to smart circuit construction and sturdy line outputs, it can also amplify musical instruments.
Pros
The built-in fan works on different speeds depending on the load, and it is unnoticeable at middle and high volume.
Angled construction enables various positions and sound wave directions.
Incorporated LCD display helps fast connecting and tuning.
Cons
No RCA inputs / outputs.
Small menu "enter / modify buttons", hard to discern.
Video QSC K10.2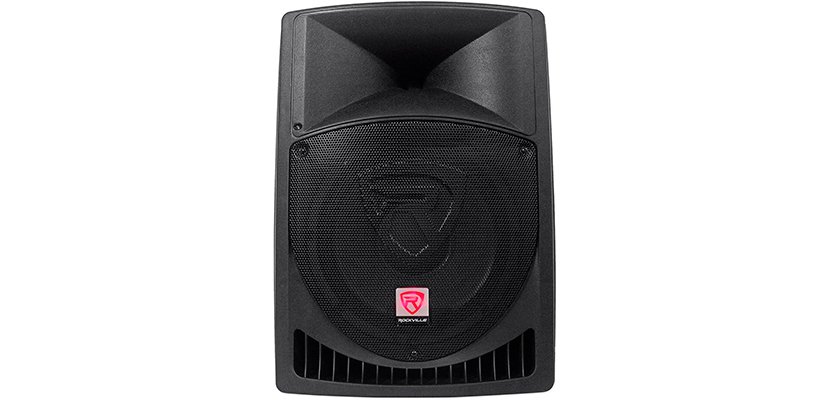 The pair of speakers for DJs will be certainly appreciated for their high-rate and smartly managed power, high-quality components, and comfort of connection (in comparison to other wired models). The power specs for these speakers show 800W at peak and 200W RMS per speaker, which, combined with the large woofer and tweeter and high-dispersion cones, delivers deep, detailed and loud sound.
The inside of these portable bluetooth DJ speakers is represented by the 12-inch woofer and 1.35-inch tweeter, with well-managed frequency distribution via the built-in DSP. The speakers play evenly on various frequencies within the stated 40 – 20,000 Hz, with slight recess felt at the transition from mids to highs. Still, the mids, in general, are dynamic and feature a lot of detail, while the bass has good volume and weight. It works well both for rhythmic beats and fluent mellow bass compositions. Upper mids and highs are clean, the voices are well outlined and transmitted with a lot of individual detail. Speakers create dense soundstage with good imaging and sound clean throughout the range. The 125 dB sensitivity lets them feature very little distortion at high volume, while the low-volume reproduction is highly precise.
Developed rigid cones and built-in 40-degree horn let these powerful DJ speakers disperse the sound efficiently. The speakers fill the middle-sized room immediately providing equally informative sound coverage for different zones.
Connection options are many including the RCA and XLR inputs, noise-protected XLR mic connection and XLR output for hooking up other speakers to the system. Dimensions of each speaker make 16.73 x 12.75 x 23.11 inches. The set includes two speakers with regulated stands, cords and carrying bag, and weighs 132 lbs in total.
Pros
Separate gain control for each connection port.
SMPS technology ensures the optimal amount of power and protects the system.
LED power meter lets additionally control the power load.
Cons
No external connection cables supplied.
The power cable is a bit slack.
Go big with these 44-inch tall (full dimensions are 17. 7 x 14. 7 x 44 inches, and total weight makes 120 lbs) speakers and don't look down at smaller models anymore. For moving along, the speakers are equipped with middle-sized plastic wheels and side handles. With 1000W peak, 500W RMS power, and multiple connectivity options they provide a pure enveloping sound.
Having large drivers and horns, these speakers can manage a big-scale gig on some 2,000+ sq ft without much effort. Their 15-inch woofers have typical for Rockville long-throw cone made of non-pressed paper. It ensures natural and clean sound, with all the vibe present in the audio source, but none of the reverb caused by the environment or speaker itself. Though these speakers are equipped with 1.75-inch tweeters that manage the highs efficiently delivering a balanced and rich tone, the main focus in this PA acoustics is on low-mids and bass. The latter has a lot of punch and high dynamics throughout the volume range (with peak sensitivity making 128 dB) staying clear and detailed. The beats fill the air immediately, and the midline is clean and has good weight.
The master speaker has sturdy XLR- and RCA ports, USB- and SD-card slots, an EQ panel and makes a versatile DJ mixer speaker. There are separate controls for mic level, bass and treble letting adjust its performance. The supplied mic is quite sturdy, with metal grille and supercardioid pattern letting use it at a comfortable distance. IR remote control lets manage the playback quickly without leaving your DJ deck.
Pros
The mic implements echo controls.
LED screen on the back shows Bluetooth connection status and MP3 playback.
The built-in fan cools the drivers ensuring high-power performance.
Cons
The second speaker is passive.
Stand fixation feels loose.
Video Rockville RPG225K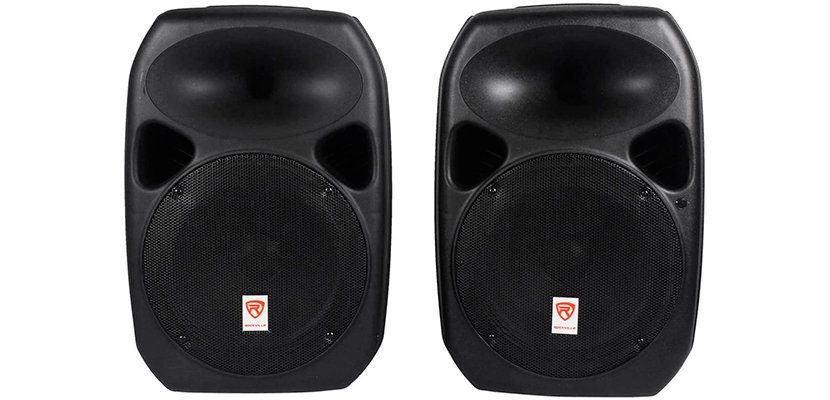 A set to start DJing or throwing a party right out of the box, the Rockville RPG122K is notable for diverse connectivity, sufficient control panel, and high sound quality. With 12-inch woofers and 0.9-inch tweeters, these speakers can deliver the sound efficiently even outdoors, and the middle-sized rooms get filled with audio immediately.
The 2-inch voice coil and high-quality woofer cone stand for the rich gurgling bass with precise and dynamic beats. Voices and instruments are pictured with detail, and the frequency response is even throughout the 60 – 20,000 Hz. The tweeter produces solid highs that sound transparent and spacious while staying precise. The SPL rate makes 116 dB, within which the audio stays concentrated and dense, without frequency fallouts and with good transition.
This DJ speaker set, just as the RPG225K model, consists of the master unit and a slave one, powered by a 2-channel amplifier. The master speaker features two sets of RCA connections and the XLR ones, the ¼-inch port for wiring the slave speaker. It can read the USB flash drive and SD card for music playback and can be paired to Bluetooth device as well. The rear panel screen helps monitor the wireless connection and also manages the MP3 playback. There are gain controls for input connections, and separate Bass and Treble knobs for adjusting the EQ settings. The setup supports two mics connection, with separate gain level dials for each.
The speakers are equipped with handles for comfortable carrying around. With cables, mic and stands, the set is ready to work right out of the box. The set's dimensions are 17 x 15.5 x 48 inches, while it weighs just a bit over 60 lbs.
Pros
Preset equalization effects for different music styles.
Bluetooth works through two speakers simultaneously.
LED indicator on the rear panel warns about reaching the power limit.
Cons
Bluetooth range is rather short (about 10ft for quality signal).
The mic feels flimsy, the wire basket dents easily.
Video Rockville RPG122K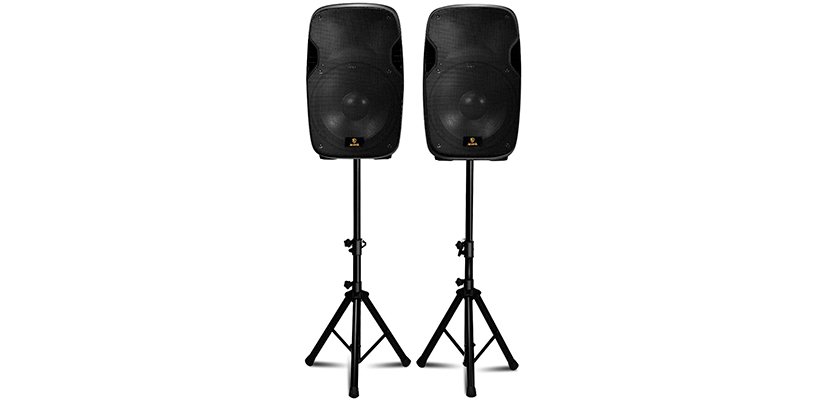 This set offers many professional features and is highly versatile for DJing purposes. It supports various plug-in and wireless connections, has good portability and implements largу, and powerful drivers in the compact case. These boxes could well be listed as the best powered speakers for DJ if only the power rate would be a bit higher than 250W RMS per speaker. Still, good sensitivity and enhanced dispersion let them cover mid and mid-to-large rooms efficiently, with good volume and high clarity of the sound.
The system comprises of the active and passive speaker which together create a very detailed soundstage with good depth and transparency of the sound. The imaging is exact, and the middle line stays distortion-free throughout the volume range. 94 dB sensitivity lets turn up the volume considerably, without risking to muddy the low-end or get shrieking highs.
Each speaker houses the 15-inch woofer and 1-inch tweeter. The highs are clear and have a nice mellow touch at the upper register, while the frequency limitation of 18 kHz does result sometimes in a slight roll-off at the peak high-end. The mids are solid and well-drawn, with the tiny details well-heard and preserving high dynamics in the complex compositions.
The lows reach 50Hz deep and provide enveloping and powerful output, with solid even response. With two regulated stands, speaker-to-speaker and power cable, wired mic and infrared remote control, these make good DJ bass speakers that can be used for multiple public address purposes.
Pros
Sensitive EQ knobs let control bass and treble proportion.
Universal power mode supported (by switching to 120V / 240V).
Compatible with multiple digital sources including smartphones, tablets, MP3 players, etc.
Cons
The rear LCD screen is very small and hard to read at distance.
The 16ft speaker-to-speaker cable might be insufficient for wide rooms.
This set of wireless DJ speakers contains two speakers with tripod stands and cables, a DJ mixer (eight channels supported), corded mic, and the box to store the cables in. And all that for the price of a single high-end speaker. It has good quality and will fit your DJ party, a live gig, or a middle-sized ceremony with ease.
Both speakers on the set are active, with two-way audio distribution and reproduction and quality stereo sound with the peak 600W output. The woofers have 10 inches in diameter and pick the bass at 48Hz. Combined with the 1-inch titanium tweeters, they provide a solid response up to the 18,000 Hz. The audio flows free and powerful, filling the air fully in the small rooms and delivering a good sound in large parties. Bass is ample and highly dynamic, with good clarity and sharp beats. It might get muddy on a high volume occasionally while the thorough equalizing lets minimize this effect. Mids are clear, with a slightly emphasized lower end. Treble is detailed and transparent while feeling a bit uneven at the upper end.
The speakers maintain the solid Bluetooth (version 3.0) signal, with a good range (up to 65 ft). The connection is immediate and works almost lagless. Apart from wireless tech, these cheap DJ speakers provide diverse connection ports including XLR ones, RCA, SD card playback and USB compatibility. With this set, you can play the audio from various sources having a clear true-to-source output.
Pros
Built-in EQ is sensitive and provides a balanced output.
2 mic connections, with Phantom power supply.
Lightweight (the set has 46 lbs in total) and small (speaker's height makes up to 12 inches).
Cons
No 1/4-inch female inputs for instruments (need an adaptor jack).
The mixer-to-speaker port is stiff and hard to attach.
Video Pyle PPHP210AMX
Buyer's Guide
Active vs Passive DJ Speakers
All speakers have weak output and require an amplifier to get them sound loud (or at least be heard). The difference between the active DJ speaker and the passive one is the place of amplifier location. In passive models, it's a separate box placed externally and hooked up to speakers. In active sets, the amplifier is included in the speaker box. Let's see what it brings in term of sound quality and convenience of operation:
Weight. The active sets are slightly heavier than passive ones, as the amplifier cannot be detached and carried separately. However, in modern middle-class models, its weight doesn't exceed 2 lbs which doesn't add much to the overall speaker weight.
Cords. While the passive setup features more cables and connections (amp-to-outlet, amp-to-speaker), the active one requires a separate power cord as well. There are battery-powered models, though. Still, their output is usually less efficient than direct power supply.
Power. Smaller amps enclosed in the active speakers are usually less powerful than sturdy external models.
Tweaking. A separate amp provides more control over the power supply, while the active speakers usually feature good crossovers and protection systems not letting them pop.
Passive Speaker
Passive speakers sets have more parts, require more cables, and more twiddling with controls to enable the desired output. However, considering the high efficiency of external amplifiers, they enable more detail and dynamics and less distortion in the final audio output. Besides, the external amp is also an additional protection shield from the voltage drops or increases that could happen in the network.
The simplified scheme of the passive DJ speaker setup consists of the following components:
Sound source. It can be a record player, a smartphone / PC / tablet, etc. Anything you use to play the music or effects from.
Preamp section. As it goes by the name, this part of the chain is hooked before the amplifier. It controls the volume and provides a selection of the sources (if multiple are used). In some sets, the DJ mixer can work as a preamp. In others, a separate preamp would be required.
Amplifier. This is a device receiving the line level signal and boosting it several times to provide power input to the speakers. It is not connected directly to the drivers but goes through the crossover circuit. The latter works as the power distributor splitting the signal and sending it to drivers. The crossover works even without the power supply; hence, the "passive" indication for these sets.
Active Speaker
Active DJ speaker has good portability and can be completely free from cables (in particular, Bluetooth-enabled models with high-capacity batteries). Still, the more complicated circuit and built-in power source require overload protection and more sophisticated crossover construction.
The active speaker setup includes the following gear:
Sound source and preamp. This part is identical to the passive setup. The difference might be in the wireless sending of the signal (and the resolution of the chosen channel).
Crossover. Speaker crossover is the first to encounter the preamp-generated signal. It works at 2V, which makes a line level. It analyzes the signal frequency and splits it into two or more (depending on the number of drivers used).
Amp section. Each driver in the active speaker has its own small amp. This results in high accuracy of the signal, while the power output might be less impressive than in passive models.
Benefits and Drawbacks
Talking about the DJ speaker power modification, there's no exact answer, which type is better. Both setups have their limitations and advantages; so, the choice will depend on DJ's personal liking and needs, as well as specific purposes the speakers are intended for. For example, even the cord haters wouldn't mind setting a good powerful system once and for long, if it's used for studio mixing and tracks elaboration. Meanwhile, the most ardent followers of the high power amplification wouldn't carry along a bulky and heavy amp to a small gig.
Let's sum up the benefits and drawbacks of each type separately.
Passive system benefits:
Enhanced control. With the external amp, you can regulate the power with high precision, adding or decreasing it exactly to your liking.
Upgrade factor. You can experiment with different amp models, changing the output of your speaker set.
Simple speaker circuit. The speaker scheme features minimal components and doesn't break easily.
Passive system drawbacks:
Bulky setup. The amp requires additional space.
Cords and tuning. Too many running cords can cause a mess on the stage / at DJ stand. Besides, the more connections the system has, the longer tuning it requires.
Active system benefits:
Less wiring. Though there's still a power cord, with most active DJ speakers for sale, you won't have to spend your time on cable purchase and connection.
Individual driver powering. Each driver receives its own power channel; thus, the interference is minimal, while the precision is high.
Compact form factor. The built-in amp doesn't require a separate case.
Active system drawbacks:
Outsourcing manufacturer. Usually, the included amps are made by different outside manufacturers and might fit more or less well the particular speaker circuit.
No upgrade perspective.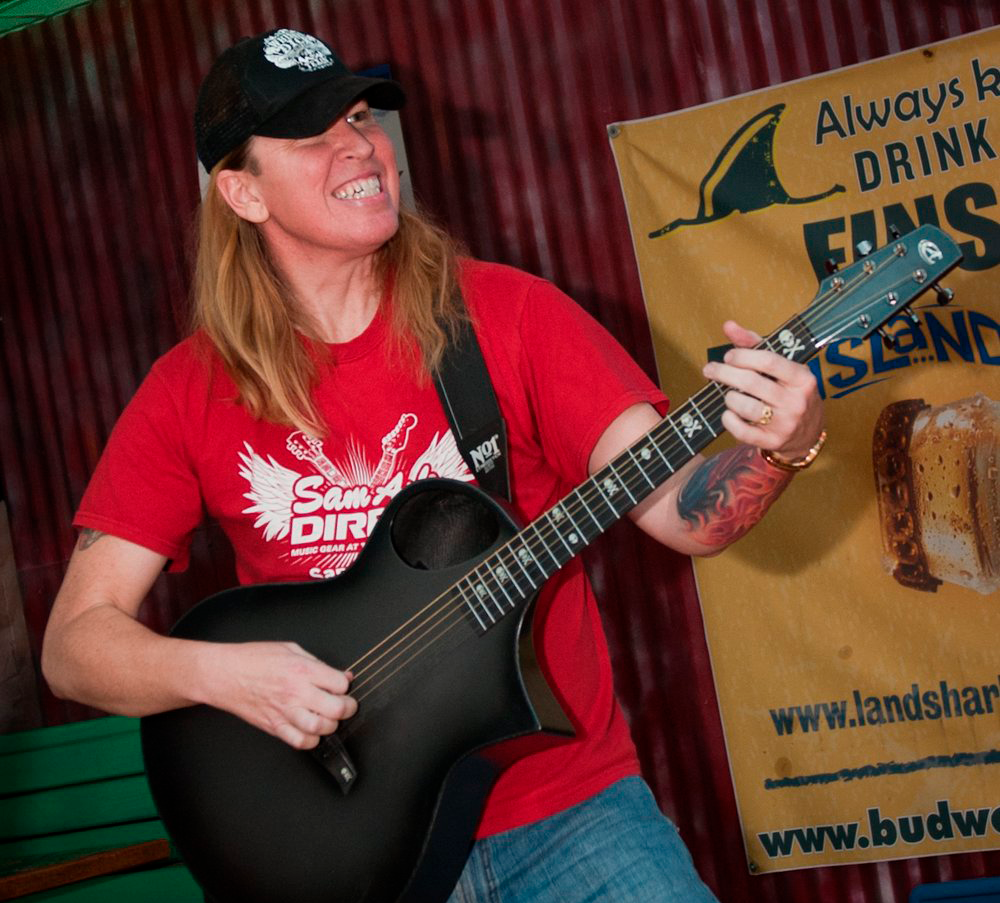 Hi everyone! I'm Thomas Moody, also known as Guitarzan.