With 90s culture being front and center, maybe this is the perfect time to talk about the best portable cd player. The devices can play audio CDs. Most players have a transport and a digital-to-analog converter. The transport holds and reads the compact disc (CD) while the digital-to-analog converter turns the digital data recorded on the disc into an analog audio signal.

You may have collected CDs and now you have an impressive collection but have nothing to listen to them on. Or maybe you want to listen to music without having the distractions of phone notifications, then this technology would be perfect for you. Getting the right device for you may be tricky, especially since they are kind of relics of decades past. But we are here to serve and in this portable CD players review, we give you the information to pick the right portable CD player to meet your needs.
Portable CD Player Reviews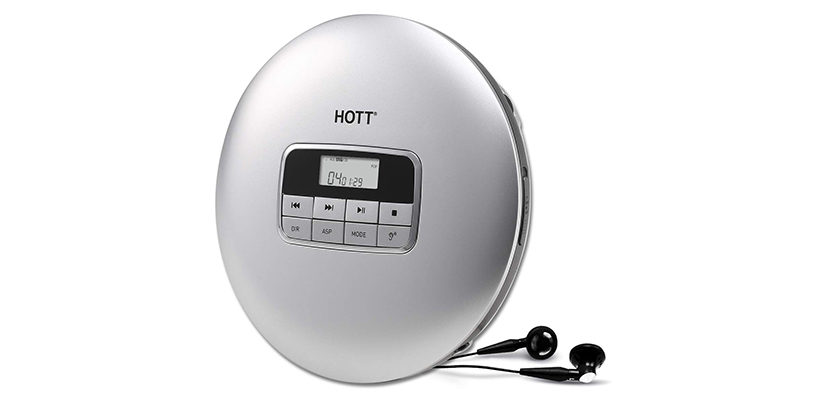 This is a portable CD player that easily fits in the palm of your hand. At only 9 oz, the device is lightweight and can easily be carried anywhere. The CD511 also has brilliant aesthetics with a smooth polished front and a luminous LED display that adds function to the good looks. The model is probably the best portable CD player if you're looking for an overall performer.
The HOTT CD511 supports various sound formats including CD-R, CD-RW, MP3 and more. It has several features like different play modes and sound effects. You can also hook it to external speakers or car speakers with just a simple 3.5mm audio jack. Moreover, the CD player has 45-second anti-skip protection, perfect for CDs and has an electric skip and anti-shock protection suitable for MP3 CDs. While the player isn't the most expensive, still it is not cheap if you have a limited budget.
Pros
Plays CD-Rs, CD-RWs, MP3s, and WMAs.
Multiple play modes and sound effects.
Good anti-skip protection.
Slick simple design.
Comes with a carrying case, power supply, earphones, and the connecting cables.
Cons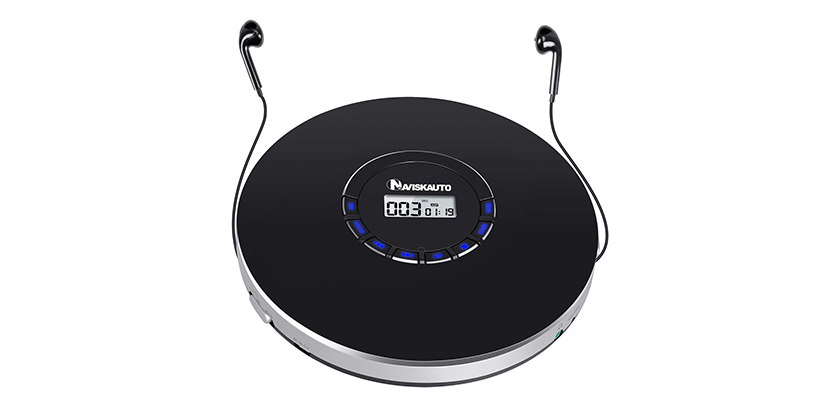 NAVISKAUTO is a respectable brand in the world of portable disc players. The model that we're discussing houses a 1400mAH lithium battery that means it can last up to 12 hours on a single charge. This makes it extremely convenient since the battery lasts so long and you can easily charge it with the USB cable included with the device. It has electronic skip protection of 100 seconds for CDs and 180 seconds for MP3 CDs. The device comes with a few handy accessories like a 4.9-foot aux cable and a charging cable.
Thanks to a brilliant LED display it allows you to track music information. There are some issues with this product, however. There is a significant drop in sound quality when you raise the player's volume to its maximum setting. The other issue is its price tag, unlike something like a Jensen portable CD player, the NAVISKAUTO is not cheap.
Pros
Supports multiple formats like MP3 and WMA.
Excellent anti-skip protection technology.
Long-lasting rechargeable battery.
Easy-to-use controls.
Handy LED display that is visible in the dark.
Cons
Not the cheapest device.
The sound gets distorted when the volume is at the max setting.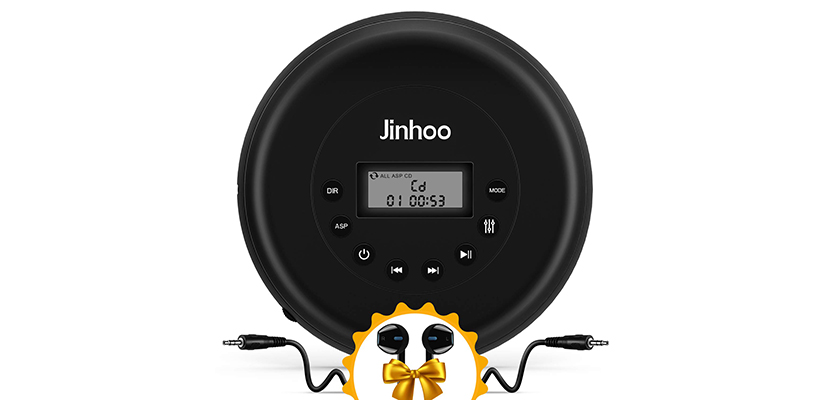 This model is a compact CD player with a rechargeable battery. That's not because of the actual battery life of the product but rather the cool functionality of the Jinhoo. The company specializes in home electronics with the latest technology at reasonable prices. This CD player has a simple design with simple buttons and an LCD display that will improve your listening experience.
There is a Last Memory function that lets you resume a CD from where you left off. Then there's the auto power-off feature that will end playback and turn off automatically in case you fall asleep while you are listening to your device. The Jinhoo is compatible with a plethora of CD formats such as CD-R, CD-RW, and MP3. Jinhoo decked this CD player with a 1100mAh battery that can work up to 10 hours on a single charge.
Pros
Useful playback functionality.
Supports multiple CD formats.
Rechargeable battery.
Excellent anti-skip protection technology.
Moderately priced.
Include earbuds, charging cable, and audio cable.
A good choice for listening to audiobooks and concerts.
Cons
Manual could be more detailed; also, it would be hard to understand for non-techie customers because it is full of terms.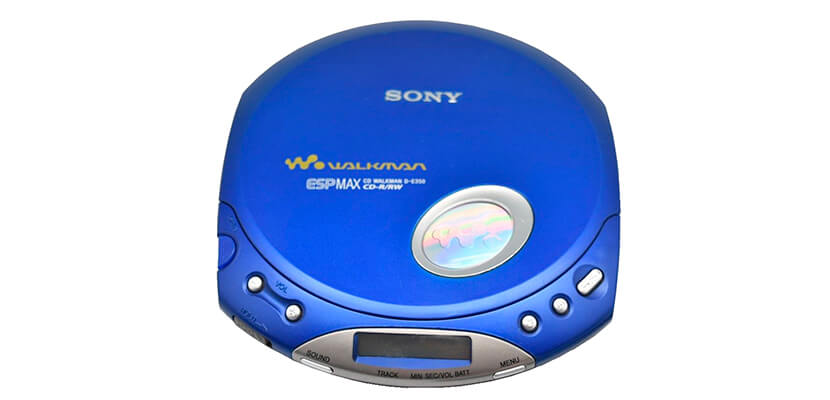 In the 80s and 90s, Sony was synonymous with portable music players with their Walkman range. The D-E350 is an attractive little device with a simple design and electric blue color. Once fitted with two AA batteries, the D-E320 can go on for a 32-hour continuous audio playback. Plus, you can still use an external power adapter for continuous listening. There is also a handy battery charge indicator to let you know the status of the batteries.
With Sony, you expect good sound quality and this gadget delivers. Sony's Mega Bass heightens the experience by giving the audio a deeper bass. This Walkman uses EXPAX technology to keep your music playing without interruptions. Unfortunately, sometimes, this Sony portable CD player skips, despite the anti-skip technology.
Pros
Power adaptor to extend playback time.
Beautiful blue color.
Good bass.
Affordable price.
Cons
The included headphones can be uncomfortable to lay on.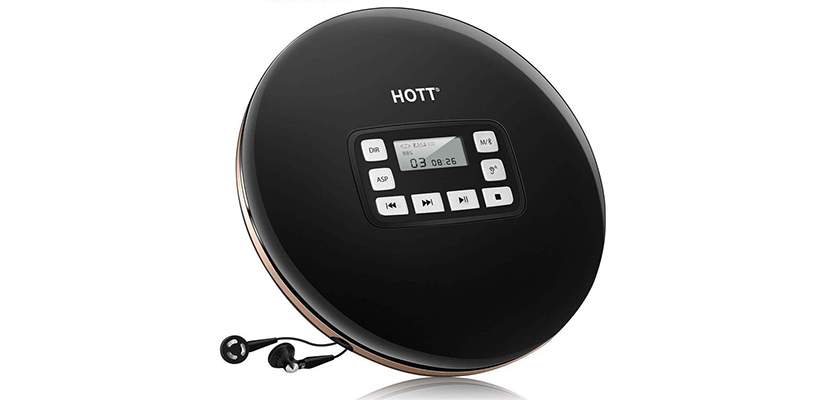 With at least 20 years of delivering reliable professional audio equipment, HOTT is proving why they have been in the industry for so long with this product. The Bluetooth device is something to pay attention to since it is affordable yet produces high-quality sound, it's stylish yet functional. The HOTT CD player supports multiple formats including MP3 and WMA. The portable player is equipped with anti-skip protection which also provides the unit with quick recovery from vertical or horizontal shock.
This CD player is very user-friendly. It is lightweight and feels good in the hand. It is an all-round great product with a lot of useful functionality that makes listening to music an absolute delight. The only real downside is that the device requires external batteries that are not included in the box. However, once you get batteries you can use the device as a portable car CD player.
Pros
Simple, easy-to-use design.
Supports multiple formats.
Quick recovery from horizontal and vertical shock.
Excellent anti-skip protection technology.
Affordable price.
Includes earbuds and audio cable.
It is a portable CD player for car with Bluetooth.
Cons
Doesn't have a rechargeable battery.
The AA batteries needed to operate are sold separately.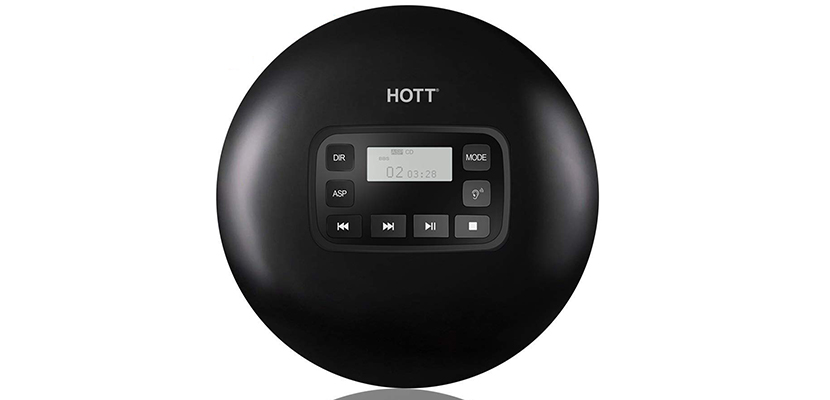 The CD611 is the desired combination of sound quality and design. This portable CD player for car with USB connection can play CDs, CD-Rs, and CD-RWs. You are also able to do WMA formatting and MP3 playback. However, it does not play DVDs. HOTT's device is powered by two AA batteries but you can also connect it to an electric socket with a power adaptor.
The front houses an LCD display with control buttons, including one that allows you to lock the controls and prevent accidental presses. The sound quality is excellent and with the five sound effects and four playback modes, you can alter your audio to meet your specific tastes. The portable player is not the cheapest on the market, but it is worth every penny. The only downside is that it doesn't have speakers, otherwise it would be the perfect portable device. But with the electronic skip and anti-shock protection, you wouldn't be too sad not having speakers.
Pros
Available in multiple colors.
It has various playback modes and sound effects.
Excellent anti-skip protection technology.
Can work on both AA batteries and a power adapter.
Cons
It is not a portable CD player with speakers.
Doesn't play DVD.

This is a cheap device with limited capabilities but what it can do, it does it well. The Insignia portable CD player is user-friendly and with a good number of features. It has excellent anti-skip protection that makes for pleasant listening.
The main pitfalls of the NS-P411 are that it doesn't have active memory, so it won't pick up where you left off. This makes it a bad choice if you want to listen to audiobooks and concerts. Also, this player only plays CD-R and does not support MP3. If your audio collection is MP3, then you should pass on the Insignia. Despite this, the NS-P4112 is a Bluetooth portable CD player which means you can pair it with a mobile device with Bluetooth technology.
Pros
Low price.
Good quality sound.
Includes a power adapter to connect to an electric outlet.
Cons
Short lifespan.
Doesn't support MP3 format.
Not a good choice for listening to audiobooks or concerts.
Buyer's Guide
What is a Portable CD Player?
A CD (compact disc) player is a device that plays compact discs. Earlier iterations were large or part of a boombox or stereo. The CD players became part of the natural progression of music players as customers wanted to easily carry the music player around. And thus, the CD player was born.
These gadgets are perfect if you are one of the following kind of people but not limited to:
Someone who owns a large CD collection that you'd want to listen to rather than throw or pack away.
Someone who wants to listen to music unencumbered from mobile app notifications.
Someone who loves the aesthetic of the 80s and 90s and would like to recreate that era for themselves.
Types of Portable CD Players
The consumer is spoiled for choice when it comes to CD players. They can be top-loading boomboxes that have a CD docking station conveniently located on the top of the gadget. Depending on the style of the boombox, the CD player will be portable but take up a fair amount of space. These devices, however, have their own speakers that are perfect to take around for get-togethers and intimate events. They also have other features like access to FM radio stations and several other controls to fine-tune your listening experience.
Portable CD players can be in the style called portable shelf systems. They are music systems that can play AM/FM radio, cassette tapes, CD files, and digital files via a USB memory stick. They are portable in that you can move this system from one place to another, however, you generally sit on a shelf with detachable speakers.
Then you can get a CD player with Bluetooth that lets you connect your device to your mobile device to stream music and safely receive calls while driving. Personal CD players are lightweight devices that usually fit in the palm of your hand. They are excellent options when you want to listen to music while doing other tasks and being mobile.
Considerations When Choosing Portable CD Players
To determine what is the best portable CD player, you must look at all the features available and see which would work for you. Sound quality is, first and foremost, but there is more to CD players than just their sound production.
Skip-Free Protection
This is one of the most important features you could ever want in a CD player. You will want to look for CD players with anti-skipping technology to ensure that your audio doesn't skip, especially when you are running or moving about with your CD player. This feature boosts the strength of the laser that reads the file on the CD. Plus, it has a memory buffer that reads the music in advance so that, should there be a bump, the device can continue playing music from memory.
Format Compatibility
Before you rush out to go get yourself a personal CD player, you need to check what CD formats it plays. The ideal CD player should be able to play CD, CD-R, CD-RW, WMA, and MP3, but this isn't always the case. Also, see if the device can access AM/FM radio in case you want to listen to something other than the loaded disc.
Accessories
Make sure that the CD player you are considering comes with as many accessories as possible. Something as basic as earphones do not always come in the box, even if you think that is a bare minimum. Other items to check for are rechargeable batteries, aux cables, USB cables, and AC adapters.
Warranty
Better safe than sorry is the common phrase that comes to mind when you think of warranties. Some companies will give you six months while others can be one year. The main thing to remember is to check that your device has a comprehensive warranty, just in case.
Other Features
If you want some extra connectivity, then look for CD players with Bluetooth. This allows you to connect to your phone or any other mobile device to listen to the audio. Something else to consider is the level of programmability. Do you want to alter the sound or are you happy with a simple device that has a volume bar and basic player controls?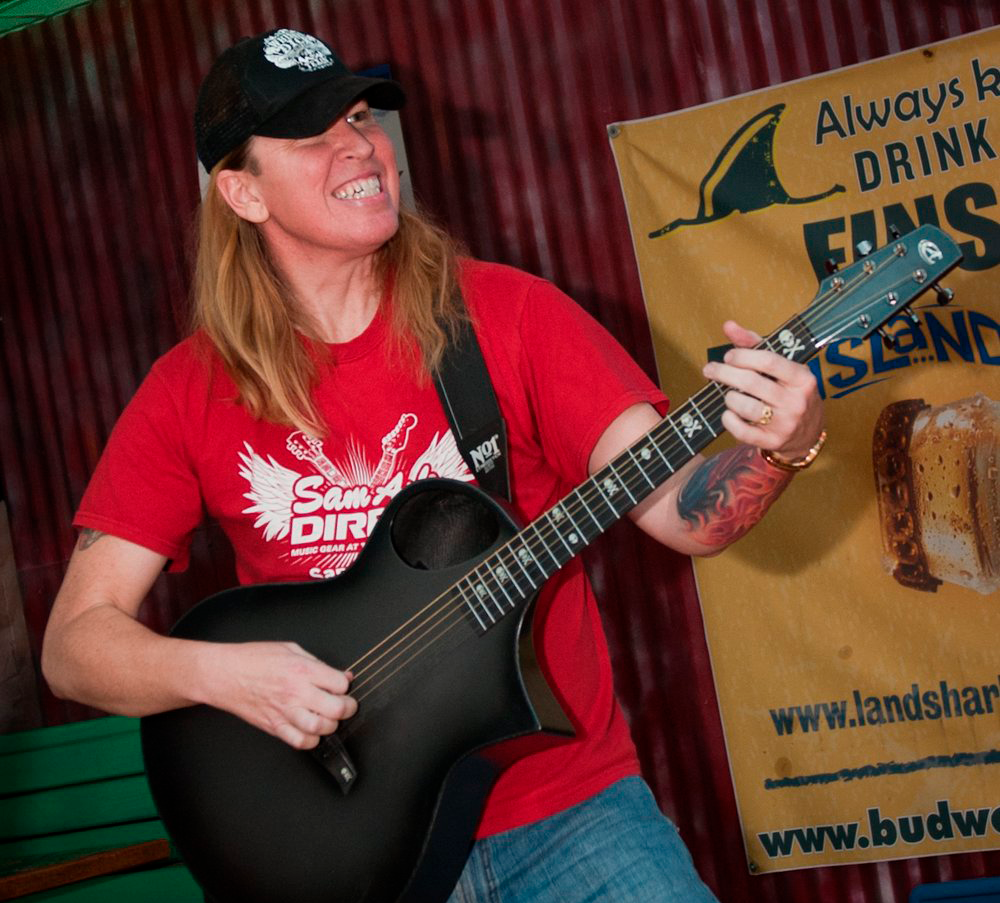 Hi everyone! I'm Thomas Moody, also known as Guitarzan.